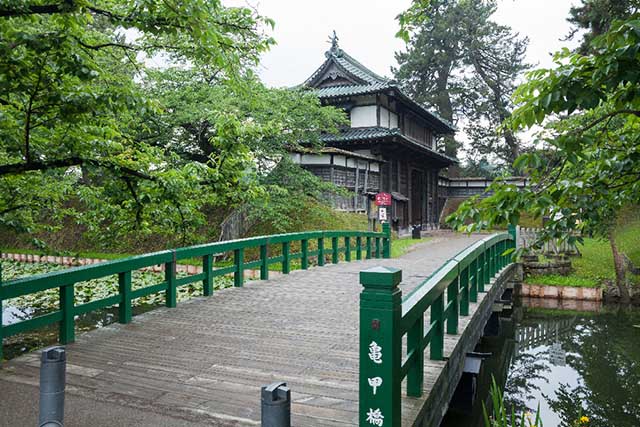 Hirosaki is a city as diverse as it is beautiful. Surrounded by natural beauty, and filled with stunning landmarks, beautiful cherry blossoms, unique quirks and a rich history, it's definitely a worthwhile place to visit if you're spending time in the Aomori area. The best way to get to Hirosaki from Tokyo is to take a Hayabusa train along the Tohoku Shinkansen from Tokyo to Shin-Aomori and then transfer to a local train to Hirosaki. All up this journey will take around four and a half hours, and cost about 17,500 yen.
Hirosaki Castle Park

If you have only limited time for sightseeing during your stay in the city, it's recommended you add Hirosaki Castle to the top of your priority list. Surrounded by a lush park that transforms from a blinding snow covered white to pastel cherry blossom pink as the seasons pass from winter to spring, once you visit there's really no questioning as to why it's become an Aomori landmark. Built in 1611 by the Tsugaru Clan and almost demolished by lightning a few years later, the castle is overflowing with history and legends that can truly only be experienced first hand. If you do go during winter or spring seasons, the areas hosts seasonal festivals each more fun and breathtaking than the next.

4.5

573 Reviews

Aomori Pref. Hirosakishi Shimoshiroganechou 1

0172338739

Open 24 hours[Paid area][4/1…

View All

02

Chosho-ji Temple and Zen Street

Chosho-ji Temple

For the lovers of zen and Buddhism, Chosho-ji Temple and the zen street leading up to it are good sightseeing opportunity not too far from the city centre. This is another one of the Tsugaru Clan former properties and as such houses various storied artifacts related to the clan. For 300 yen you can see some of the treasures inside these subtle wooden buildings. Either before or after visiting the temple, the tour around this district can be completed by strolling along zen street and admiring the unique design and architectural details of the different smaller temples.

4.0

55 Reviews

Aomori Hirosaki-shi Nishishigemori 1-23-8

0172320813

View All

Iwakiyama Shrine

Iwakiyama Shrine is a shinto shrine dating back to around the year 800 when a local folk-hero Sakanoue No Tamuramaro rebuilt it at the foot of the Mount Iwaki. The main charm of visiting this historical shrine is walking through the 22-metre tall torii gate, along the cobble stone path, and up to the mystical red shrine at the top of the path. Keep an eye out for the curious sculptures adorning the shrine, such as a couple of upside down monkeys among others.

Iwakiyama Shrine

Aomori Pref. Hirosakishi Hyakuzawa Terasawa

0172832135

[Summer] 8:00-17:00[Winter] …

View All

Tanbo Art

Hirosaki's rich creativity goes way beyond their musical outputs. One of the area's most fascinating and creative efforts is their 'rice paddy art' also known as Tanbo Art. Held annually in the village of Inakadate, the fields display massive, meticulously crafted works of art created completely using various varieties of rice plants. Rather than using paint, depth and definition are created by mixing the different color rice plants. Each year the area draws flocks of tourists eager to witness this unique and precise art-form. Inakadate station is just short 30 minute train trip from Hirosaki on the Konan Raiway Line. A five minute taxi ride from the station will take you straight to the Inakadate-mura Observation Platform where you can experience the work in its full glory. The artwork displays are themed, with previous years themes including "Gone With the Wind" and "Star Wars:The Force Awakens". Displays are typically ready to view from early June until October.