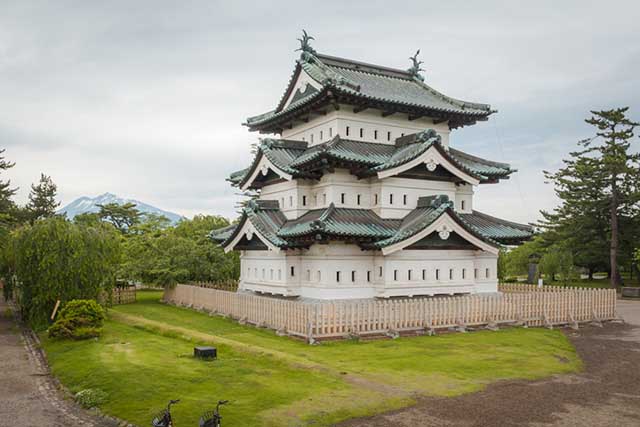 Located in the southwest of Aomori Prefecture, the castle city of Hirosaki is worth a visit. The city boasts a impressively rich history, unique culture, some of the best cherry blossoms in all of Japan, more apples than you can visualise and its very own one of a kind instrument.

Aomori Pref. Hirosakishi Shimoshiroganechou 1

0172338733

[4/1-11/23] 9:00-17:00* 4/23…

View All

Hirosaki City was during the Edo period the political and cultural capital of the Tsugaru Region. Centered around Hirosaki Castle, the city is still today considered a castle town. Built in 1611 by the northern Tsugaru samurai clan, the iconic castle was almost demolished by lightning and fire a few years later, but was rebuilt and remains standing to this day.

Over the past few decades the city has gone through a number of transformations expanding through annexation of neighbouring villages, with most recently in 2006 when the town of Iwaki, and village of Sōma both from Nakatsugaru District were merged into Hirosaki. With a current population of around 180,000 residents, the city is lively without being too crowded.

History tells us that the city's love for apples sprouted in 1875 when an American John Ing a teacher at To-oh Gijuku School treated his students to some apples. Supposedly the seeds from these apples were planted and as time went on the city became synonymous with the the fruit.

Today the self-promoted "Apple Colored Town Hirosaki" is one of the largest producers of apples in Japan. The city loves apples so much that they dedicated a park them! Known simply as Ringo Koen 'Apple Park' the park has become a must visit destination for visitors interested in learning all about the city's most popular produce.

No matter the season it's always a great time to visit Hirosaki but it's cherry blossom season when the area truly is at its peak. With over 2,600 cherry trees in Hirosaki Park alone, it's the perfect place to get lost in the pastel pink tunnels created by overhanging trees.

4.5

563 Reviews

Aomori Pref. Hirosakishi Shimoshiroganechou 1

0172338739

Open 24 hours[Paid area][4/1…

View All

To celebrate spring the city hosts the annual Hirosaki Sakura-Matsuri cherry blossom festival in Hirosaki Park beginning in late April and running through to early May. If you stick around during May you'll also be able to experience the incredibly unique Hirosaki Apple Blossom Festival. Just as the cherry blossoms begin to fall, the city's apples blossoms begin to bloom.

If you have any interest in Japanese music, there's plenty to learn and experience in Hirosaki city. Birth home to the tsugaru jamisen, this truly unique japanese instrument is similar in style to the more famous shamisen. Played in a more blues guitar technique, the performance style was spearheaded by blind female players called "goze". Today many live houses and restaurants in the area host performances of the local instrument on a regular basis.


From Tokyo, the best way to get to Hirosaki city via rail is by the Tohoku Shinkansen from Tokyo to Shin-Aomori station which will take around 3.5 hours and cost 17,000 yen. Then transfer to a local train to get to Hirosaki in around 30-40 minutes.

If you'd rather go by air, JAL operates multiple flights every day between Tokyo's Haneda Airport and Aomori Airport. The flight will take a little over an hour and generally the cost of a ticket floats around the 15,000 - 19,000 yen vicinity depending on demand and dates. If you've got time to spare and you're trying to save a little money it may be worth considering the bus services. Discount bus company Willer Express runs from Tokyo to Aomori, while stopping at Hirosaki along the way, the journey will take 10.5 hours, but tickets are dramatically cheaper costing about 4,500 yen each way.