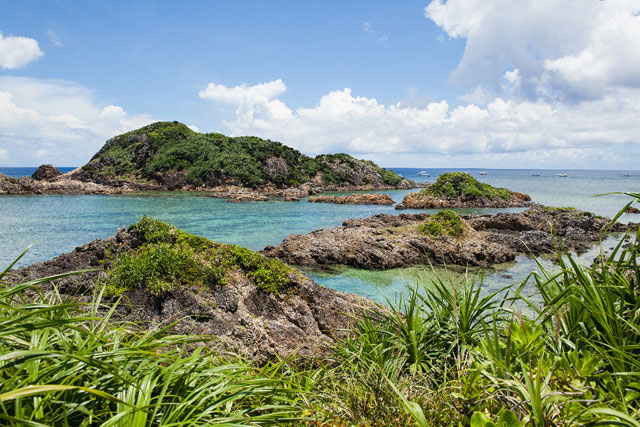 The water a pure sky blue, the shore dusted with pearly white sand and rainbow colored marine life weaving throughout the world famous coral reef sea, Ishigaki-jima island, also known as Ishigaki-jima is breathtaking beach getaway like no other. Located around 420 kilometers southwest of the main city of Naha on Okinawa's Main Island, Ishigaki-jima is the perfect place to disappear for a little while and explore the incredibly diverse scenes of Japan's coastal areas. With coral reefs branching out from the shore it's one of the country's (and potentially the world's) best spots to pop on some snorkeling gear and get up close and personal with life below sea-level.
In terms of scenery Ishigaki-jima is incredibly diverse. Though only 140 kilometers around, and 222 square kms in total, the area boasts beautiful coastlines, sugar cane fields and mountain ranges, including Mt. Omoto-dake, that rises 526 meters above sea level, making it the highest mountain in Okinawa. Formed by granite from the Neogene Period, the Mountain is integral to the ecosystem of the island, as it's home to the Miyara River which flows from the northeast side and the Nagura River which flows from the south.

If it's beaches you're looking for, you can't go past Yonehara Beach. This is one of Ishigaki-jima's most beautiful and understandably popular tourist spots. Sprinkled with white coral washed up on the shore, Yonehara Beach boasts countless opportunities for snorkeling and diving. On site there are showers, restrooms and changing facilities, and snorkeling equipment available for rent at the camping site nearby.

If beach hopping is more your style you can make your way to the western side of Ishigaki peninsula to explore the coves of Sunset Beach. A little more down tempo than the popular Yonehara, Sunset Beach is a hidden getaway. Though there are a number of habu jellyfish that inhabit the area, but nervous swimmers can rest easy knowing that the beach is surrounded by a net to protect swimmers from the pesky locals.

If hiking and camping are more your style, head into the body of Ishigaki as there's plenty to do. In the heart of Ishigaki sits lush palm forests, deep river systems, mangroves, and foliage-covered mountains ready to be explored. A unique way to explore the island is via the river Kayak Tours that depart in the mornings and afternoons. For around 4,000 to 6,500 yen you can take a 90-minute to three hour tour along the mangrove lined Miyara River, and Fukido Rivers. Given Ishigaki's tropical rainforest climate, you can visit all year round. The island itself has hot summers and warm winters. When planning your visit though, do be aware that the rainiest months are August and September, with tropical storms and typhoons happening on occasion, while December and July are the driest months on the island.

Ishigaki Airport offers direct flights between the island and Tokyo, Osaka, Nagoya and of course Naha. From Tokyo flights take around three hours, with a regular one-way fare costing about 70,000 yen. If you're bargain hunting it is possible to find discount fares for between 20,000 and 40,000 yen. Because most of the island's attractions are within a 30 to 45 minute drive of Ishigaki City, it's recommended you hire a rental car, which is easy to do given that most major Japanese rental car companies have outlets on the island.