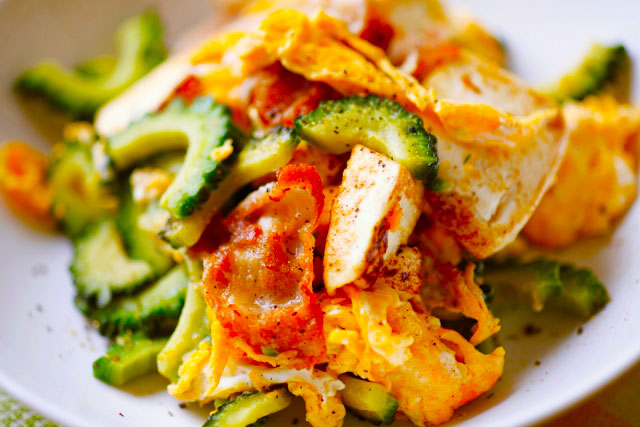 So, you've come to the Okinawa expecting restaurant menus to be filled with lots of seafood dishes because of course, you are visiting an island.

Surprisingly though, pork and vegetables rule on these islands. These ingredients are what you commonly find served in the restaurant scene.

Okinawans have a thing for longevity and their dishes which are heavy on the veggie side often reflect this. Here are some of the dishes you need to try while visiting the islands.
Goya Champuru

Ask about Okinawa's best dishes and this will definitely be at the top of the list.

Goya Champuru is a mix of bitter melon (Goya), spam, and scrambled eggs. Even though Goya is found outside of Okinawa, it definitely tastes better on the islands. It could be a little on the bitter side but it is still quite a tasty dish which can be enhanced when paired with the local beer.

Goya Champuru is commonly found in izakayas (Japanese dining bars) but Uchina Ryukyu Izakaya (located behind Naha City Tourism Centre) sure does a great job at it.

Rafute

Another one of the staples when it comes to Okinawan food is Rafute. This is pork rib stewed in a mix of soy sauce and brown sugar. The meat is tender, juicy and downright mouthwatering.

While in Naha, why not try cooking this delicacy yourself? "Taste of Okinawa" offers a cooking class where you'll learn how to make Rafute as well as other traditional dishes; you'll be the one who gets to eat it so no need to worry.

Kame Soba

Kame Soba (type of Japanese noodles) is a dish found on Irabu Island, one of the Miyako Islands.

This succulent bowl of noodles is served hot with a slice of pork rib, pork bone and soft tofu. This delicacy is served by Aniya-san at Irabu Kame Soba, a rustic restaurant on the northern end of Irabu Island.

You can also try the island's signature soba or Irabu Soba, which comes with pork backbone and skipjack tuna slices. A power combination of meat and seafood.

04

Sata Andagi and Tapioca Balls

Sata Andagi

Tapioca Balls

Sata Andagi are basically Okinawan sweet donuts and are a total treat.

Using an island technique, they are made by mixing flour, sugar, and eggs. They are then deep-fried in a way that the outside turns crispy brown while the inside remains soft. You can try these along with a refreshing cup of tea at the Ryukyu Mura in the town of Onna.

Another snack a bit less common but nonetheless are part of the local menu are tapioca balls. They are made with cassava starch and are softer than the Okinawan donuts. You'll find these just outside Seifa Utaki in the Nanjo District of Okinawa.

05

Umi Budou (green caviar)

Umi Budou (green caviar)

Umi budou literally means "sea grapes" but is called "green caviar" in English due to the way it looks.

You might still be wondering what exactly this food is. Simply put, it's seaweed. Which has now been recognized as a superfood. As you can imagine, it offers many health benefits and is jam-packed with minerals.

The reason why people like it, besides its nutritional value, is that it pops in your mouth and provides a simple yet salty flavor.

Tofu No Higa set

Okinawans take longevity seriously. Thus, their food tends to focus on ingredients that contribute to a long-lasting life.

Tofu is one that isn't to be reckoned with. Tofu at Ishigaki's Tofu No Higa is one of the best. They open bright and early to offer a variety of tofu sets starting at 350 yen which come complete with eggs, ground beef, and milk.

Tofu No Higa is hidden behind a thick palm tree forest along a semi-dirt road off so keep your eyes peeled.

Jimami Tofu

Jimami Tofu is tofu that's made from peanuts, rather than soybeans, and is an Okinawan specialty. It contains lots of vitamin E, which is said to do wonders for your skin.

Compared to soybean tofu, Jimami tofu's texture is springy and the taste is sweeter. Depending on the sauce, it can be an accompaniment to sake or dessert.

Pork Egg Onigiri

Pork egg onigiri is another Okinawan specialty and is a relatively simple food.

It's a rice ball with pork luncheon meat ("Spam") and eggs. Actually, it's not a true rice ball but more like a sandwich with rice and seaweed.

When you try this, you will gain respect for whoever discovered the combination of eggs and spam. This tasty food is easy to make and is perfect for breakfast. You can find different flavors with additional rice fillings at shops.

Blue Seal exterior

Blue Seal ice cream is known by its slogan: "Born in America, raised in Okinawa". The ice cream originated at the Okinawa military base in 1948 and is now a very popular item.

Eating Blue Seal ice cream is something everyone who travels to Okinawa must have on their bucket list! They create over 30 flavors, including unique Okinawan flavors. Beni-imo and Okinawan salt cookies are two popular flavors you should try!

Taco Rice

Taco rice has become a popular menu item that you can find almost anywhere in Japan, but it's originally from Okinawa.

As you can probably imagine from its name, it's a Mexican-style dish that was Japan-ified by using Japan's soul food, rice. It starts off with a bed of rice that's then topped with taco-flavored meat, chilies, lettuce, and cheese – pretty much what you would expect from a taco.

In Okinawa, schools often have taco rice on their lunch menus! I wonder what they have on Tuesdays.

Awamori - Zuisen

Awamori (various bottles)

Awamori is a drink made using Thai rice that usually has an alcohol content of around 25%. Which by my standards is quite strong!

If you're drinking it straight, you can use a small cup called an "Ochoko". The whole point of this strong drink is to enjoy the conversation you're having. While you get a kick out of your small cup of Awamori, see how much you can discover about the person next to you.

Orion Beer

It is said that Okinawan people are big drinkers. True or not, this stereotype came from Okinawa's special drink — Awamori. Orion beer is another reason, which leads people to think that Okinawa has a unique drinking culture.

Orion beer was established in 1975 and quenches a thirsty throat right away. It goes so well with Okinawan food and the hot weather. Orion beer has different types of beer, so have fun finding the best match.

13

Shops and restaurants where you can experience Okinawa's gourmet produce

Yunangi

Yunangi - Rafute

This is a super popular Okinawan restaurant, which has been loved since it first opened in 1970! It's popular not only for tourists but also with local people.

Their Rafute (a rich and soft braised pork with soy sauce) and Fu Chanpuru (Okinawan stir-fry) are especially popular options on their 50-item menu. You might have to wait in line, but it's worth the wait.

Shimatoate exterior

Awamori - Ender

If you're interested in trying Awamori but are not sure how to drink it, you should check out Shimatoate.

This bar offers over a hundred ways to drink Awamori! Drinking it straight, on the rocks or as a cocktail. No matter the case, you will undoubtedly be able to find your favorite way to drink Okinawa's special drink.

Their relish plates go amazingly well with their drinks. You can try both Okinawan food and drinks here.


URL: http://www.okinawa-yatai.jp/yatai

Okinawa Pref. Nahashi Makishi 3-11

08043190013

11:00-Next 1:00 (Food L.O. 2…

View All

Blue Seal - Blue Wave

International Street in Okinawa (also known as Kokusai-dori) is the main street where you'll find lots of entertainment. You can enjoy shopping and great food just by visiting this street.

There's also a Blue Seal International branch near the center of the street. Here they offer their remarkable ice creams with Okinawan flavors, as well as over 50 types of crepes and different flavored boba teas!

Stop by during your shopping spree and enjoy some relaxation time with their treats!


URL: https://en.blueseal.co.jp/

ブルーシール 国際通り

沖縄県那覇市牧志1-2-32

0988671450

View All

Pork Tamago Onigiri

Pork Tamago Onigiri's main branch is in Naha City. Here, every rice ball is made after the order, which means it's nice and hot when it reaches you.

They're just like sandwiches. Very easy to eat, even with one hand. In the morning when you're in hurry and need a light snack, why not try one? They also have branches at Naha Airport and in Chatan Town American Village Seaside.


URL: http://porktamago.com/

4.0

327 Reviews

Okinawa Naha-shi Matsuo 2-8-35

0988679550

8:00-21:00(Information desk …

View All

18

Inaka - specialty is Soki Soba

Inaka exterior

Soki Soba 390yen

Soki soba is an Okinawan noodle dish with spare ribs. Soki means "spare ribs" in the Okinawa language and soki soba is always on the long list of Okinawan food you should try.

Inaka offers you traditional soki soba, which has been a local favorite for a long time. They offer some pretty affordable prices too! The shop can be a bit hard to find - look for a yellow sign with a gorilla on top!

Okinawa soki soba inakahonten

Okinawa Naha-shi Matsuo 2-10-20

098-868-6430

View All

19

Hanasho Makishi - specialty is Jimani tofu

Hanasho Makishi exterior

There are a lot of places where you can try Jimani tofu in Okinawa. If you try it at Hanasho, it might just be the best one you've had!

Hanasho has several seats where you can eat their tofu right after you buy it. The taste of peanut will lightly spread throughout your mouth. Their sauce, which has a flavorful dashi (Japanese broth) taste, helps it to be even more delicious.

You will soon find out why Hanasho is recognized as the shop with the best Jimani tofu in Okinawa.


URL: https://www.ji-ma-mi-hanasyo.com/

Okinawa Pref. Nahashi Makishi 3-4-1 Main street market main street

0988638720

9:00-19:00

View All

Matsubaraya Seika exterior

Matsubaraya Seika - goods

Matsubaraya seika has an extraordinary flavored Okinawan snack, sata andagi!

Sata andagi is deep-fried dough, which is why they're often called "Okinawan donuts". They're usually eaten plain as they already have a slightly sweet taste.

Matsubaraya Seika offers their donuts straight from the oven. They come in various flavors, including mango, caramel, and pumpkin! They're not too pricey, so there's no need to hold back.

4.0

63 Reviews

Okinawa Pref. Nahashi Matsuo 2-9-9

0988632744

9:00-16:00

View All

21

Ishigufu Oroku Gushi shop

Ishigufu Oroku Gushi exterior

Aburi Soki set

Ishigufu is a place to try Okinawan soba, which is a wheat noodle that originated in Okinawa. People normally eat the soba with a pork-and-fish blended soup.

Ishigufu's Okinawan soba is famous for its broth, which is taken from Okinawa's precious pork known as "Agu pork". They also have a popular menu item that is a bowl of soba in their famous broth, topped with a big egg omelet! They have very good soki soba (spare rib noodles) for you to try too!


URL: https://www.ishigufu.jp/shop/gushi

22

Baku - Craft beer house

Baku - Craft beer house

Baku is one of the most famous beer bars for drinking craft beer in Okinawa. There are even people who come to visit Okinawa just to enjoy their beer!

The first thing you'll notice are the taps offering beers from all over Japan. They have over 20 types of beer to choose from, as well as tasty Okinawan food that can be a companion to your beer. You've also gotta try their rafute!

麦

沖縄県那覇市久茂地3-9-21 UD久茂地ビル2F

0988618915

View All

23

Taco rice café Kijimuna

Taco rice café Kijimuna - Taco Rice

Kijimuna is in a stylish shopping district called Umikaji Terrace, which has a variety of shops that will entertain you with their Okinawan culture!

The taco rice café Kijimuna is one of the best restaurants for enjoying an Okinawan meal with a beautiful ocean view. Their most popular menu item is Omutaco - taco rice with fluffy melting eggs on top!

Kijimuna has received numerous awards from local gourmet festivals for their excellent food. Don't miss Okinawa's number one taco rice during your stay!

タコライスcafe きじむなぁ デポアイランド店

沖縄県中頭郡北谷町字美浜9番地1 デポアイランドビルC棟2F

098-989-5100

View All

Makabechina

Makabechina interior

Makabechina set

Makabechina is a café that's situated in a traditional Okinawan house that dates to 1800. This beautiful building features a traditional red roof and still has bullet holes visible from World War II.

Their menu items are infused with a lot of Okinawan essence. Our recommendation is their special lunch option where you can taste different kinds of Okinawan relishes as side dishes.


URL: https://makabechina.ti-da.net/

Yama-no-Chaya Rakusui

View from the second floor window seat

Most popular dish "Zachibaru Teishoku" (1,350 yen tax ecluded)

Yama-no-Chaya Rakusui is located in a refreshingly green area which can be accessed by a small path through the woods. On the second floor, you can enjoy fabulous views of the ocean and its coral reefs. Visiting when it's high-tide is best.

Try their Sachibaru-teishoku, an Okinawan vegetarian meal with numerous side dishes, such as sea grapes and Jimami tofu! The location and meals of this restaurant make it the perfect place to enjoy the beauty of Okinawa.

4.5

68 Reviews

Okinawa Pref. Nanjoushi Tamagusuku Tamagusuku 19-1

0989481227

11:00-16:00(L.O.15:00)

View All

Umi Monogatari exterior

Umi Monogatari

By now, you've probably had numerous chances to try the Okinawan cuisine and check out the beaches.

But what about music?

At Umi Monogatari, you can enjoy the Okinawan food with live Okinawan music. It's open until midnight, making it the perfect place to end your day!

On Saturday evenings, they have three live performances starting at 7 pm, 7:45 pm and 8:30 pm. On every other night, they have four live performances starting at 6 pm, 6:50 pm, 7:40 pm, and 8:30 pm. An English menu is also available.


URL: https://umimonogatari.gorp.jp/

Okinawa Pref. Kunigamigunonnason Nakama 2246

0989833113

17:00-24:00(L.O.23:00/Last o…

View All