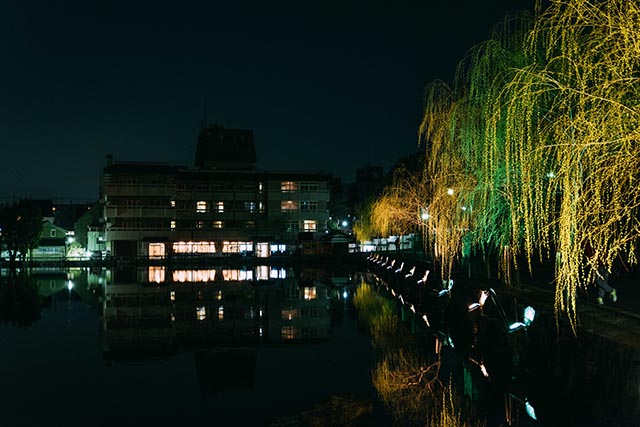 The streets of Nara are worth venturing out to explore after sunset too. Once the tourist buses has left, the streets remain mostly empty and quiet, leaving the city full of atmospheric spots that you can enjoy (almost) all by yourself. Here's our guide to Nara after dark.
Some of the trendy restaurants and shops in Naramachi are open until late and the narrow streets of this part of town are well worth a visit around dinnertime, as there are plenty of places serving up good meals for every budget. Or you can just go for a drink. In that case, we highly recommend the cozy café/bar, "Franz Kafka". We especially liked the impressive selection of heavy coffee-table books that the customers are free to enjoy.

Naramachi

Nara Nara-shi Chuincho , Gangojicho , Nishinoshinyacho

0742271820

View All

Once you're done exploring Naramachi, head north to Sarusawsa-ike, a small pond with atmospheric lights along the shore. It is a good place to relax, as there are plenty of benches all around the pond. Try to get a photo of the illuminated pagoda at Kofuku-ji reflected in the water.

Head up the wide set of stone stairs on the east side of the lake, called "gojuni-dan" or fifty-two steps, and take a better look at the massive pagoda of Kofuku-ji. This pagoda is the second highest in Japan, and a classic Nara landmark that dates back until the 730's. It looks very dramatic at night, thanks to the tasteful illumination.

04

Sanjo Dori & Higashimuki shotengai

Once you've absorbed the view, continue down along Sanjo Dori, one of the main shopping streets of Nara and turn right once you reach the covered showa-era shotengai called Higashimuki. This street leads up to the Kinsetsu Nara train station, and is filled with shops selling everything from food to souvenirs.

If you keep your eyes on the signs on your right you might be able to locate what the owner claims is the only craft beer bar in Nara – LBK Craft. Worth a visit thanks to their good selection of local beers. One the night of our visit, a big portion of their taps were offering several different brews from Kyoto Brewing co.