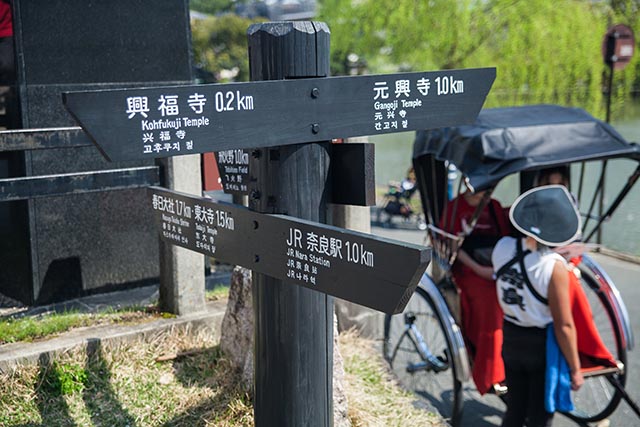 Nara is a small city that can easily be experienced on foot. If you plan to also visit the surrounding areas of Asuka and Horyuji, there are several bus and train passes that might be of good use.
Since Nara is a compact city, with most of its sightseeing spots located within walking distance, the need for public transportation catering to visitors is limited. The city has an extensive bus network that might be of use if you plan to venture a bit further away from the city center. There are few various bus passes ranging in price from 500 yen for one day or 1500 yen for a two-day pass that also covers the nearby Asuka area.

Nara is serviced by two main train stations. JR Nara Station and Kintetsu Nara Station. Kintetsu station is located a few minutes from Nara Park, Naramachi and most of the popular Sightseeing spots. The JR Station is located slightly further away. Walking between the two stations takes about 15 minutes. There are also buses connecting them.

The quickest way to travel from Osaka to Nara is by catching the JR Yamatoji line at Tennoji Station. The trip to JR Nara Station takes 33 minutes and cost 470 yen. If you'd rather leave from Namba station, you can use the Kintetsu Nara Line, albeit it's a few minutes slower – the trip takes 36 minutes – it's also a tad more expensive at 560 yen.

To get to Nara from Kyoto, you can take either the rapid Miyakoji train operated by JR that connects these two ex-capitals of Japan in roughly 45 minutes. There are usually two departures per hour and the ticket cost 710 yen. If you're taking a local train, the cost is the same but the travel time is 75 minutes instead. JR Nara station is located about 20 minutes on foot from Nara Park.

The trip between Kyoto and Nara by Kintetsu will set you back 1130 yen if you travel by their limited express train, and 620 yen if you opt for a slower connection.

Kintetsu also offers a rail pass exclusively to foreign tourists that will give you access to the buses in and around Nara, as well as free rides on the Kintetsu trains between Osaka, Kyoto and Nara. This pass costs 1500 yen for one day and 2500 yen for two days. The pass also gives you a 6% discount at the Bic Camera electronics stores in the area. There's also a five-day Kintetsu rail pass that covers an even larger area, extending all the way to Nagoya. This pass cost 3600 if purchased outside of Japan and 3800 if purchased in the country. Limited express trains incur an extra surcharge.