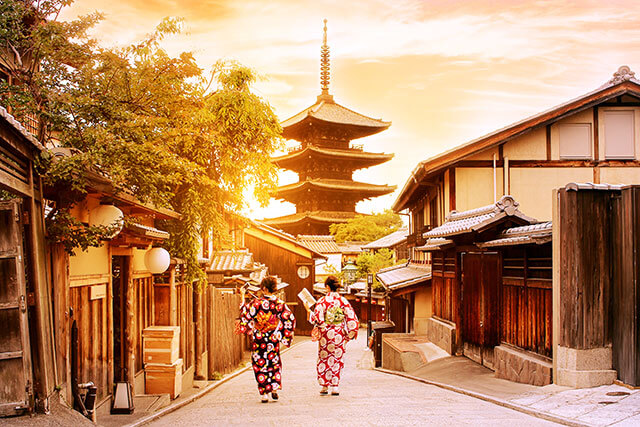 Kyoto, also known as Japan's Cultural Center is famous for its traditional festivals, old wooden tea houses and historical Buddhist temples.
Founded in the year 794, Kyoto has centuries of history and culture in its name.
This is the best place to go to if you want an authentic Japanese experience.
What to Do in Kyoto?

We did some research looking for cool places and sightseeing spots in Kyoto and have come up with our top 39 places we think are the must-visit locations in Kyoto .
If you're looking for the best things to do in Kyoto to add to your travel itinerary this year, check out one of the 39 places we've selected below.

02

Amanohashidate: The Renowned Iconic Landscape of the Historic Bridge to Heaven

Amanohashidate

Also known for its moniker, "Bridge to Heaven", Amanohashidate is a 3.6km long natural sandbar sprawling with nearly 8,000 pine trees.
It has mountains on both ends housing some ancient temples, a park and the Amanohashidate View Land which is a mini amusement park where the famous "Matanozaki" position started.

No wonder it is part of the Three Famous Scenic Views, would you believe this world-renowned iconic landscape is just two-hours from Kyoto by bus or train?

Kyoto Miyadushi Monju

0772228030

Free walking

View All

03

Experience World-class Specialty Coffee at % Arabica Coffee

% Arabica Coffee

Coffee Lovers unite! The world famous % (Percent) Arabica Coffee now has not one, not two, BUT THREE locations in Kyoto.
The first shop opened in Higashiyama, then came the one in Arashiyama, and the latest one blessing us with freshly brewed coffee near the Nishiki Market.
Before taking the world by storm, this is where this specialty coffee shop planted its roots.

Serving coffee harvested from its own coffee farm in Hawaii, the coffee shop climbed its way to fame and now has 43 branches in 11 countries.
Coffee addict or not, this is definitely a must-try when you go to Kyoto.

4.5

210 Reviews

Kyoto Ukyo-ku Sagatenryujisusukinobabacho 3-47

0757480057

View All

04

Find Tranquility in Arashiyama Bamboo Forest

Arashiyama Bamboo Forest

Around a 20-minute ride from Kyoto Train Station, take a step into serenity at Arashiyama's Sagano Bamboo Forest which is hailed as one of the "100 Soundscapes of Japan".

Listen to the relaxing sound of tall bamboo stalks swaying left and right while walking on the uphill trail leading to the magnificent Okochi-Sanso Villa.
The bamboo grove is open 24 hours a day, but the best time to visit is in the morning or sunset to avoid the flock of locals and tourists.

05

Have a Thrilling Joyride with a View by the Sagano Romantic Train and Hozugawa River Boat Tour

Sagano Romantic Train

See the scenic Arashiyama-Kameoka countryside in a different view by taking the Sagano Romantic Train.
The archaic train also known as "Sagano Torokko Ressha" runs along the Hozugawa River.

Heading back to Arashiyama, you can either take the Sagano Romantic Train or go and have a thrilling boat ride through the Hozugawa River.
The two hour boat ride travels through 16 kilometers of stunning views from Tanba-Kameoka back to Arashiyama.

Read more: 20 of the Best Things to Do in Kyoto with Kids

Boat Ride through the Hozugawa River

Kyoto Prefecture Kyoto City Kamigyo-ku, Kyoto prefecture Kameoka city

0758617444

9:00 (or 10:00)-17:20*Specia…

View All

06

Go Train Watching for Free While Lounging at the Public Arashiyama Foot Bath

Public Arashiyama Foot Bath

Kimono Forest

After a tiring day of visiting the wide array of temples, shrines and parks that Kyoto has to offer, drop by the Randen Arashiyama Station's foot bath.
For only 200 yen, you can have a calming foot bath from Arashiyama's own natural hot spring while watching trains go by, and the fee also comes with your own free foot towel.

After a relaxing dip, visit the Kimono Forest that features almost 600 cylinder-shaped pillars covered in brightly colored Kyoto's very own Yuzen Kimono textile which are also illuminated at night for a more dream-like effect.

07

Arashiyama's Hidden Gem: The 1,200 Enchanting Rakan Statues of Otagi Nenbutsuji

Otagi Nenbutsuji

On the fringes of Arashiyama, you'll come across the Otagi Nenbutsuji Temple which is home to nearly 1,200 eccentric Buddhist statues called "Rakan" meaning Buddha's disciples.
These adorable statues are made by the previous head priest Kocho Nishimura's sculpture students, so no two statues look the same.

Each one have their own pose or facial expression, there's a Rakan making a cheeky face behind a Hanya mask, another is holding what seems to be a cassette tape player and a pair is drinking sake together.

Kyoto Kyoutoshi Ukyou-ku Sagatorimotofukatanichou 2-5

0752851549

[Worship times]8:00-16:30

View All

08

Take a Spiritual Hike at the Fushimi Inari Shrine

Fushimi Inari Shrine

Fushimi Inari Shrine is dedicated to the God of Rice and Sake, Inari Okami.
It is famous for its "Senbon Torii", literally meaning "thousands of torii gates".
Stone foxes are scattered throughout the shrine, as they are depicted as the messenger of the Gods.

The hike up takes about 3 hours back and forth including quick stops to the iconic parts of the trail and is about an hour and a half to get to the summit where you can have a refreshing drink at the Purification Fountain.

4.5

24522 Reviews

Kyoto Kyoutoshi Fushimi-ku Fukakusa Yabunouchi cho 68

0756417331

[Awarding place] 8:30-16:30 …

【URL】http://inari.jp/en/

View All

09

Enjoy a Teahouse Experience with a Maiko or Geisha

Teahouse Experience with a Maiko or Geisha

Geisha and Maiko are meticulously trained artists who possess skills of dance, music and conversation.
Although the Maiko and Geisha experience at teahouses has been strictly limited to customers recommended by a regular client, some places have started to loosen their restrictions to welcome a diverse range of visitors, with experiences easily arranged online.

先斗町

京都府京都市中京区

View All

10

Have a Nihonshu Brewery Tour at Fushimi Sake District

Nihonshu Brewery

One of the biggest and most famous brewery district in Japan, Fushimi has nearly 40 different nihonshu breweries.
The district offers tourist-friendly English guided brewery tour which includes the historical Gekkeikan Okura Sake Museum that was founded way back the early 1980s.

You can also take the Jikkokubune Canal Cruise, which is an hour cruise through the Horikawa River on a quaint wooden boat with a stop by the Misunokomon Sake Museum.

4.0

324 Reviews

Kyoto Kyoutoshi Fushimi-ku Minamihamachou 247

0756232056

9:30-16:30 (Reception until …

View All

11

Go Café Hopping along the Philosopher's Path

Philosopher's Path

Pomme Café and Gospel

Tetsugaku no Michi or Philosopher's Path is around 2 kilometer-long path near Ginkaku-ji Temple.
The path is a popular "Hanami" or "cherry blossom watching "spot during spring due to the hundreds of cherry blossom trees along the path together with the number of souvenir shops, small temples and charming cafés in the area.

Among the local favorites are: Pomme Café, serving delicious homemade apple sweets and specialty apple tea and the chic café called Gospel which is known for its top quality scones and classic European style architecture.

12

Taste Kyoto's Farm-to-Table Obanzai Lunches

Obanzai Lunches

Obanzai is a Japanese traditional cuisine that originated from Kyoto, it refers to dishes that are mostly made up of locally sourced ingredients.

Among the numerous authentic restaurants in Gion is the AWOMB Nishikaya - famous for its Teori Sushi or Woven Sushi where they serve you visually stunning Obanzai Kyo-Yasai, these are carefully plated local vegetables, tempura and sashimi plus nori sheets and fluffy Japanese rice, then you get to make the sushi yourself.

Read more: What to Eat

Kyoto Kyoutoshi Shimogyou-ku Nambachou 405

05031775277

12:00-15:00(L.O.14:00)/17:00…

View All

13

Attend a Cooking Class and Learn to Make Wagashi in Gion

Make Wagashi

Satisfy your sweet tooth by having Wagashi or traditional Japanese sweets.
In Kyoto they have their own version of Wagashi called "Kyogashi" or Kyoto style confectionery, it is usually made by kneading raw ingredients into paste then molding them into different shapes depending on the season.

It is almost always served with "matcha" or Japanese green tea to balance the sweetness.
The classes usually take 40 minutes, where you'll have expert wagashi makers teaching you how to craft dainty Kyogashi for your family and friends.

14

Rurikoin Temple: A Stunning Live Piece of Art in Hiei

Rurikoin Temple

First of all, seeing that scenic view outside those gigantic 2nd floor picture windows and its reflection on the black table is like watching a painting come to life.
Located at the foot of Mount Hiei,Rurikoin Temple has one of the most scenic views in downtown Kyoto.

The temple is only open during spring and autumn but it is most commonly packed during autumn since the temple is famed for its autumn foliage.

4.0

245 Reviews

Kyoto Kyoutoshi Sakyou-ku Kamitakanohigashiyama 55

0757814001

10:00-16:30 (closing gate 17…

View All

15

Ine Funaya: A Traditional Lifestyle by the Sea at the Venice of Japan

Ine Funaya

Almost an hour from the Amanohashidate Station by bus, you'll reach one of Kyoto by the Sea's highlights: the Ine Funaya or Ine's Boat Houses.
These are over 200 traditional Japanese boat houses surrounding the bay, some are residential while others have opened their homes for tourists to experience authentic Funaya living.

The best way to tour the area is from the sea, you can either join large sightseeing tour boats or rent a sea taxi for a more personalized experience.

4.5

320 Reviews

Kyoto Prefecture Yosa-gun Ine-cho

0772320277

Please refrain from visiting…

View All

16

Cool Down with a Romantic Summer Dinner at Kamogawa's Noryo-Yuka

Kamogawa's Noryo-Yuka

A Kyoto summer tradition dating back to the 1600s, restaurants setup Kawadoko or Noryo Yuka – literally meaning "river beds", these are wooden platforms or decks temporarily installed above or beside the popular Kamogawa River from May to September every year.

Indulge in sumptuous authentic Kyoto cuisine or take your palate around the world with various foreign restaurants also available in the area.
This is arguably the best way to end a hot summer day in Kyoto for locals and tourists alike.

Kyoto Kyoutoshi Higashiyama-ku Ohashichou Sanjo Ohashi Bottom

Free walking

View All

17

Get Energized with a Healthy Brunch at Kawaramachi Street

Healthy Brunch

With its thriving Buddhism and rich agriculture, Kyoto has a lot of remarkable vegan and vegetarian-friendly restaurants.
One of the local favorites is the Apprivoiser Café in Kawaramachi Street.

Located just less than a 10-minute walk from the Kawaramachi Station, it is a whole food café serving fresh, homemade meals every day.
Their homemade granola and hot sandwich is a must try especially if you have a long day of touring ahead.

Kyoto Kyoto-shi Shimogyo-ku Uematsucho 716

0753516251

【URL】http://vegecafe.org/

View All

18

Go Star-watching at Shogunzuka: The Best Night View

Shogunzuka

A little out of the way in the Mt.Higashimaya area, Shogunzuka is a popular date night spot because of its stunning evening views from the Obutai – a large observation deck situated about 200 meters above ground.
According to the legend, this is where Emperor Kanmu decided to designated Kyoto as a new capital because he was deeply moved by what he saw from the then Shogunzuka mound.
The deck gives visitors an unobstructed view of Northern Kyoto.

Shogunzuka is about 20 minutes by taxi from Kyoto station, and if you want to take a stroll it's a 30-minute walk from Keage Station.
You can also take the Keihan bus, available every day during November and Sakura Season.

4.0

158 Reviews

Kyoto Kyoutoshi Yamashina-ku Zushiokukachouchou 28

0757710390

9:00-17:00 (Last entry time …

View All

19

Take a UNESCO World Heritage Sites Tour Along Kinukake no Michi

Kinkakuji Temple

Ryoanji Temple

Kinukake no michi is probably the most famous street not only in Kyoto but in all of Japan for being home to three UNESCO World Heritage Sites.

Kinkakuji Temple or Golden Pavilion is famous for its higher floors being completely covered in gold leaf.
Ryoanji Temple holds Japan's most famous rock garden which is a Karesansui or dry landscape garden holding 15 mystically placed stones.
Last but not the least is the Ninnaji Temple, which is home to probably the most beautiful grove of Omuro Sakura Trees.

All three temples are easily accessible to each other, starting from Kinkakuji Temple it is less than 20-minute walk to the Ryoanji Temple and from there about 10-minute walk to the Ninnaji Temple.

Kinukake-no-michi Road

Kyoto Kyoto-shi Kita-ku

View All

20

A Trip to Japan's Very Own "Park Guell": Domoto Insho Museum

Domoto Insho Museum

Tourists feel like being teleported to Barcelona's famed Park Guell when stepping into the Domoto Insho Museum.
Built and designed by Kyoto's master of Japanese painting, Insho Domoto in 1992, the museum itself is a work of art.

You surely won't miss its striking, eye catching exterior if you're doing the Kinukake no michi's UNESCO World Heritage Sites tour as the Domoto Insho Museum is just between the Golden Pavilion and Ryoanji Temple.

3.5

41 Reviews

Kyoto Kyoutoshi Kita-ku Hiranokamiyanagichou 26-3

0754630007

9:30-17:00(Last entry16:30)

View All

21

Line up for Kyoto's Best Wagashi - Demachi Futaba's Mame Daifuku

Demachi Futaba's Mame Daifuku

Mame daifuku or mame mochi is made from freshly made sticky rice and sweet azuki bean paste. It has won of the most delicious wagashi, selected by local and foreign professional chefs in the past.

There's always a long line waiting to get a taste of the famous confection but the rotation is so fast you can get your own fresh batch in just about 30 minutes, or completely skip the line by making a reservation by phone with a minimum of five orders.

Kyoto Prefecture Kyoto-shi, Kamigyo-ku Ichimachi-dori Imadegawa Kamiru Aerosecho 236

0752311658

8:30-17:30

View All

22

Simmer Down at the Sauna no Umeyu

Sauna no Umeyu

Kyoto is crawling with traditional public bathhouses but the one recently making noise is the Sauna no Umeyu in Kiyamachi-dori, just 15 minutes from Kyoto Station.
It is an old-fashioned communal bathhouse that was renovated back in 2015 and is now gaining fame with youngsters for its unusual, quirky feature – this sento has live music event.

At a low price, you can enter the sento, and for a fraction of the price you can rent your own towel and buy shampoo or soap too.

23

Go for a Dreamy Tour at Kodaiji Temple

Kodaiji Temple

The gorgeous illumination for a limited edition at the temple is definitely something you wouldn't want to miss on your Kyoto trip.
It is most famous during spring and autumn where the cherry blossom and autumn foliage light up in the evenings.

The Kodaiji Temple is also one of the most temple in Kyoto that has a Projection Mapping Light Show, making it on top of your must-visit spots list.
You can also hop on the other Shinto shrines in the area that features illumination such as Yasaka Shrine and Entokuin.

4.5

1493 Reviews

Kyoto Prefecture Kyoto-shi Higashiyama-ku Kodaiji Shimogawara-machi 526

0755619966

9:00-17:30(17:00Information …

View All

24

Dress up in a Kimono Rental and Wander through Gion

Kimono Rental

The Gion District in Kyoto is also known as the Geisha District because here you can watch Geishas in live performances or just walking around the streets.
Drop by one of the hundreds of Kimono rentals in Gion for an immersive Japanese culture experience.

Among the famous shops is Rei, for its large variety of kimono and yukata, having premium and budget options and for being tourist-friendly with its English speaking staff.

25

Pick up some Retro Goods at Maiko Antiques

Maiko Antiques

Maiko Antiques is filled with an eclectic range of retro antiques, perfect as a gift for friends back home.
The shop has everything, from fashion accessories to figures, as well as other weird and wonderful Japanese-themed vintage items.
It is located in the Gion area, hence the Maiko name, right next to the Kamogawa River.

Some Retro Goods

舞妓アンティークス

京都府京都市東山区小松町157

0755412626

View All

26

Save Some Bucks with a Kyoto City Subway and Bus One-day Pass

Subway and Bus One-day Pass

Riding buses is the most convenient and most economical way when travelling in Kyoto.
Aside from being close to popular tourist destinations, there's also just short distance between bus stops so it's easy to find one close to where you are.

One-day Subway and Bus Ticket gives you unlimited subway and bus rides throughout the day within the flat-rate zone, plus discounts on select establishments such as Kyoto Aquarium and the Kyoto Railway Museum.
However, during cherry blossom and autumn foliage season, subway is recommended as the buses may get too packed.

Kyoto Kyoutoshi Shimogyou-ku Higashishiokoujichou

0753714474

7:30-19:30

View All

27

Admire the Toji Temple – Japan's Tallest Pagoda

Japan's Tallest Pagoda

Seen from the shinkansen when arriving to Kyoto Station, the Toji Temple is another one of Kyoto's collection of UNESCO World Heritage Sites.
It is a 55-meter tall, five storied wooden pagoda which used to be the tallest building in Japan before the Tokyo Tower was built.

You can visit the temple on your spare time as it is just a 15-minute walk from the Kyoto Station and if you visit during the 21st of the month you'll get a chance to experience the Kobo Market too.

Kyoto Kyoto-shi Minami-ku Kujocho 1

0756913325

View All

28

Take Wonderful Photos at the Picture-perfect Canal of the Nanzenji Temple

Canal of the Nanzenji Temple

Right off the south end of the Philosopher's Path is the Nanzenji Temple.
Just at the base of the Higashiyama Mountains, it features quintessential Japanese architecture dating back to the 13th century, and an ancient aqueduct called "Suirokaku" that is based off of Roman architecture.

The Suirokaku connecting Kyoto City to Lake Biwa in Shiga is surely a crowd favorite seeing how picture-perfect it is especially during the sunset.

4.5

2178 Reviews

Kyoto Kyoutoshi Sakyou-ku Nanzenjifukuchichou

0757710365

[12/1-2/28] 8:40-16:30[3/1-1…

View All

29

Fall in Love with the Sakura Illumination at Nijo Castle

Sakura Illumination at Nijo Castle

Nijo-jo is a UNESCO World Heritage site along Takeyamachi-dori that was built in the early 1600s Edo Period.
Every year towards the end of March, the Nijo Castle illuminate nearly 300 cherry trees and the castle gardens, making for a popular date night destination for tourists and locals alike.

It's not as well-known as the other sakura illuminations in Kyoto so it's more comfortable for a leisurely walk around the gardens.

4.5

6983 Reviews

Kyoto City Kyoto City Nakagyo-ku Nijyotoru Horikawa Western Nishi Nijo Castle Town 541

0758410096

[Open Castle Hours] 8:45-16:…

View All

30

Taste the Delectable "10 minute Mont Blanc" at Sweets Cafe KYOTO KEIZO

10 minute Mont Blanc

Less than a 10 minute walk from the Nijo Castle, you'll find the Kyoto Keizo.
Famous for its freshly-made Mont Blanc that you have to consume within 10 minutes of serving, one needs to expect a long line of followers both local and foreign, but this dish is surely worth the wait.

The café seems art gallery-inspired with lots of wood and old scrolls, it also has an English and Japanese menu making it easier for tourists to pick their food.

4.0

22 Reviews

Kyoto Kyoto-shi Nakagyo-ku Ontomocho 293

0758210303

View All

31

Create Your Own Souvenirs at the Glass Workshop Nazuna

Glass Workshop Nazuna

Bring out the artist in you with this glass-blowing workshop here in the dated Fujimori Dormitory.
You can make your own hand-crafted teaspoon or chopstick rest with a professional glass-blower.

You can also have cup of coffee at the former sento turned café, Sarasa Nishijn just next to it.
The interior is mostly the same with the high glass windows and colorful wall tiles, a reminder of the almost 80-year-old sento it used to be.

Glass Workshop Nazuna

32

Unboxing Kyoto's Kitchen: Nishiki Market

Nishiki Market

Nishiki Market is called Kyoto's Kitchen because it has everything you need to make you own Kyoto Obanzai.
This bustling shotengai is the largest traditional market in Kyoto, consists of five narrow blocks filled with more than a hundred shops and restaurants selling everything from freshly picked kyo-yasai, wagashi or tsukemono (pickled vegetables).
Most of the vendors are also the farmer of the produce they are selling in the market.

Unique Tako Tamago Octopus

Kyoto Prefecture Kyoto City Nakagyo-ku Nishiki Koji Road Teramachi Takakura

0752113882

Depends on establishment

View All

33

Explore the Tanukidanisan Fudoin

Tanukidanisan Fudoin Entrance

Cute Tanuki

If you're looking for somewhere traditional to escape the crowds, head to Tanukidanisan Fudoin.
Go up the long staircase surrounded by statues of tanuki and you will be met with an amazing temple, with a design similar to Kiyomizudera, and a lush view looking out over Kyoto city.

Go up the long staircase

Tanukidanisan Fudoin

34

Actually on Fire Ramen

Fire Ramen

Menbaka, one of hundreds of ramen shops in Kyoto, has a unique approach to their craft - they set the bowl of ramen on fire.
Sit at the counter and grab a bib, because once the chef places the bowl of noodles in front of you he douses it liberally with flames.
This not only looks impressive, but the oil sears the green onion adding flavor to the simple soy sauce-style ramen.

Full of Green Onion

Kyoto Kyoutoshi Kamigyou-ku Minamiseyachou 757-2

0758125818

11:30-23:00

View All

35

Go Izakaya Hopping at Pontocho and Kiyamachi

Pontocho

Watch as the back alleys of Pontocho come to life in the evening.
With shops and restaurants showcasing classic Japanese architecture lining up the narrow street and the occasional maiko or geisha walking around, Pontocho takes you to a trip back in time.

If you're looking for a more modern experience offering unique twists to local Kyoto flavors, head on to Kiyamachi street just next to Pontocho.
One of its most notable bars is Pop Kyoto, you won't miss its eye-catching polka-dot door.

Read more: Nightlife in Kyoto

先斗町

京都府京都市中京区

View All

36

Discover "Long Life Design" at the D&D Department Kyoto

D&D Department Kyoto

A joint project between Chairman Kenmei Nagaoka of Kyoto City University of Arts and the Honzan Bukkoji Temple, the D&D Department Kyoto was born inside the Bukkoji Temple - just a ten-minute walk from Nishiki Market.

The shop focuses on "long life design" theme that means "a design which life will last for long time". It also has its own café with its homey Japanese style interior serving seasonal Japanese dishes made of Kyoto's own agricultural products.

4.0

1 Reviews

Kyoto Kyoutoshi Shimogyou-ku Shinkaichou 397 Motoyama Buddhist temple inside

0753433217

[Shop] 11:00-18:00[Cafe] 11:…

View All

37

Take Home Your Very Own Historic Kaikado Canister

Kaikado Canister

Over 140 years ago, Kaikado (開化堂) first opened its doors in Kyoto.
The year was 1875, during Meiji Era – Kaikado started making their now globally famous "chazutsu" or tin tea caddies using high quality tin plates imported all the way from England.

These long-established handmade chazutsus now hold the oldest history in Japan and are considered to be very valuable souvenirs by both tourists and local visitors in Kyoto.
Because of their unrivaled beauty and history, these tea caddies have their own exhibit at the Victoria & Albert Museum in London.

Kyoto Kyoutoshi Shimogyou-ku Kawaramachirokujou Higashi Irumomei Minatocho 84-1

0753515788

9:00-18:00

View All

38

Get This Instagram-worthy Giant Wata-ame at Jeremy & Jemimah

Jeremy & Jemimah

If you like sweets and Instagram, this is your Kyoto dream spot.
Jeremy & Jemimah is a wata-ame (cotton-candy) specialty store with two locations near Yasaka Shrine, a take-out booth in Gion and a dine in branch in Furukawacho Shopping Street where you can watch how each order of wata-ame is made.

Each fluffy piece costs around 600 yen, with wide array of serving options – have it in a cone or a bento box and flavors like traditional Japanese matcha and sakuramochi.

Kyoto Kyoto-shi Higashiyama-ku Shimobentencho 51-4

View All

39

Have an Aesthetically Pleasing Tea-break at Kaikado Café

Kaikado Café

Kaikado Café is built inside a nondescript 90-year old city tram warehouse just less than a ten-minute walk from its own small workshop and flagship store in Kawaramachi-dori.

The warehouse was left as it is on the outside, while the interior design of the café incorporates Nordic minimalism and Japanese craftsmanship featuring exposed concrete walls, light oak woods and Kaikado's very own trademark copper lamps.
The café lovers recommend their iced coffee and Kaikado cheese cake.

4.0

25 Reviews

Kyoto Kyoto-shi Shimogyo-ku Kawaramachidori 7-jo Agaru Sumiyoshicho 352

0753535668

View All

40

Enjoy Guilt-Free, Ethical, Organic Donuts at Koe's Donut Factory

Koe's Donut Factory

Koe's Donut Factory newly opened its first Kyoto store in March 2019.
The one of a kind donut stores have its own factory inside so you can watch how each donut is carefully made.
These low-calorie donuts contain mostly locally sourced organic ingredients like the eggs, milk and flour.

The first thing that will get your attention when you step into the store are over 500 hanging traditional bamboo-woven basket dome sourced by Architect Kengo Kuma from Kyoto's Takesada Shoten.

Read more: 20 of the Best Cafes to visit in Kyoto

Koe's Donut Factory

Kyoto Kyoto-shi Nakagyo-ku Shinkyogoku Dori Shijo Agaru Nakanocho 557

0757481162

View All

41

Grind Your Own Matcha at Mitsuboshien-Kanbayashisannyu-Honten in Uji

Mitsuboshien-Kanbayashisannyu-Honten

Match Image

Kyoto may be famous for a lot of things, its hundreds of temples, multiple World Heritage Sites, and delectable authentic Japanese restaurants, but the Uji district in Kyoto is widely known for one thing: Matcha.

Uji is believed to have the finest quality of Japanese green tea that here you can find everything Matcha, cakes, ice cream, smoothies and best of all, you can attend a traditional matcha-making ceremony at the Mitsuboshien-Kanbayashisannyu-Honten.

Read more: 14 of the Best Activities in Kyoto

42

Eat Breakfast Like a Local with Songbird Coffee's Fluffy Egg Sandwich

Songbird Coffee's Fluffy Egg Sandwich

Before heading off for a tour at Nijo-jo, head across the street to Songbird Coffee and have a bite of their famous Egg Sandwich.
Made up of fluffy omelet filled with cheese packed between two slices of soft bread, this sandwich is a locally recommended breakfast.

Other than the dainty matcha cafés, sumptuous obanzai lunches and bestselling wagashi shops - Kyoto is locally famous for its fluffy egg sandwiches with each breakfast cafés having different versions of it.

Read more: Breakfast in Kyoto

SONGBIRD DESIGN STORE.

Kyoto Kyoto-shi Nakagyo-ku Takeyacho Dori Horikawa Higashi Iru Nishitakeyacho 529

0752522781

View All

43

Wander the Kyoto University Campus and Student Dorms

Kyoto University

Kyoto University Goods

With an esteemed history stretching back to 1897, Kyoto University is one of Japan's most respected universities on a par with Harvard and Yale.
Located next to the Kamogawa River the campus is open for visitors to come in and have a look around.
Look out for the symbolic clock tower, pick up an exclusive notebook at the campus shop, and feel freeroam the decrepit student dorms.

Decrepit Student Dorms

Kyoto Kyoto-shi Sakyo-ku Yoshidahonmachi

View All

44

Have an "Only-in-Kyoto" Experience by Staying at a Machiya Style Hostel

Machiya Style Hostel

Machiya are traditional wooden townhouses native to Kyoto, Japan's ancient capital.
Some are now being used as hostels and are being designed to cater to tourists, providing wifi and using beds instead of the traditional tatami.

The machiya "Sowaka" meaning "Happiness" in Sanskrit, recently opened in the heart of Kyoto. It's a small luxury machiya, offering a classical Japanese living experience including a traditional tea ceremony and its own restaurant called La Bombance Gion.

Read more: Where to Stay in Kyoto

Machiya Style Hostel

Kyoto City

Kyoto is indeed a one-stop shop for tourists, especially those with only a few days to spend, this is your best way to experience all of Japan, from history, culture, tradition to the most important of all - food.
What with all these cafés, restaurants, shops and museums, and possibly record breaking number of UNESCO World Heritage Sites in one area, all in very accessible proximity of each other.
You can easily make a few days itinerary with these notable must-see spots on this list and make your Japan trip worth it.