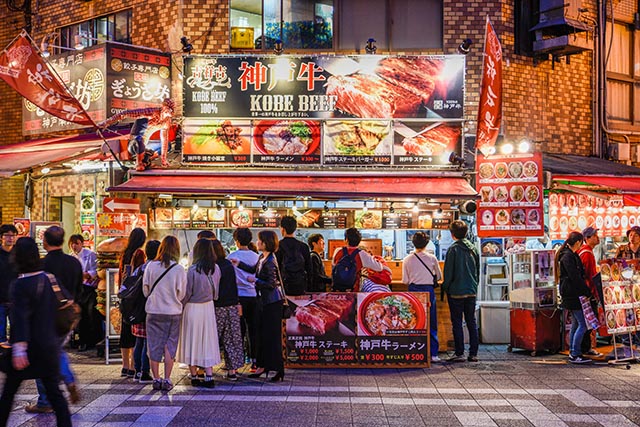 Being a major Japanese city, there is no shortage of great food in Kobe. Kobe Beef is without a doubt the start of the food show in this bustling city, yet the fun doesn't stop there. Moreover, do not worry if you are not a fan of beef, Kobe has plenty of other options too, so you are sure to find something that will suit your taste buds.
Kobe Beef

A trip to Kobe will likely feel incomplete without a Kobe beef dining experience. We encourage you to try it and also feel is part of the Kobe experience. That being said, for those on a tight budget there are options to get your wagyu fix while leaving a few yen to enjoy more of the finer things in life Kobe has to offer. At SHINGEN, the yakiniku set is more accessible than the teppanyaki style beef and give you the option of grilling the steak yourself while still enjoying the Royal XVII Kobe Beef.


Read more
Kobe Beef
Kobe is known all over the world for being the area where the most exclusive beef on the planet is produced.…

SHINGEN

神戸牛 神源 神戸三宮店

兵庫県神戸市中央区琴ノ緒町4-1

078-230-2918

View All

Baan Somdet Thai

There's a hidden gem in the bustling Sannomiya District and Baam Somdet is its name. Thanks to the generous menu, the decor, and the Thai music playing in the background, this is as good, tasty, and authentic as Thai food gets while traveling around Japan. The stir fry dishes and their signature Popia Sotto spring rolls will make you remember this place every time you think about Kobe.

BAAN SOMDET

兵庫県神戸市中央区北長狭通2-5-1 タイシンサンセットビル3F

0783212033

View All

CLINK Burger

Is there ever a bad time for a burger? We don't think so, so we strive to find the best of the best around Japan, and for your trip to Kobe we have you covered. In the hip Sakaemachi district, CLINK does Hawaiian-style burgers and they do them really well. To keep things healthy go for the avocado burger or if you want to skip out on the burger go for the locomoco dishes.

CLINK

兵庫県神戸市中央区栄町通3-1-12 伊藤ビル1F

078-777-7806

View All

Somen at Kikusui

Albeit primarily a sweets shop, Kikusui in front of Kobe Station also serves a few varieties of lighter meals during the lunch hours. One of their options is a delicious clear noodle soup made out of thin somen-noodles topped with fresh vegetables and a few slices of eel. It comes with a pot of light jasmine tea, and of course, their dessert options are certainly excellent too.

菊水茶廊 本店

兵庫県神戸市中央区多聞通3-3-15 菊水總本店神戸湊川神社正門前本店

0783820080

View All

Morning set

Due to the history of Kobe as one of the first cities in Japan where a significant number of foreigners settled, it should not come as a surprise that the city has a vibrant coffee drinking culture. All over Kobe you will find a large number of both modern cafés and their Japanese retro counterpart – Kissaten. Most Kissaten offer incredibly reasonable morning 'sets', where a cup of freshly brewed coffee, a slice of toast, an egg, usually sunny side up, and a salad, can be had for as little as 400 yen, that's usually less than the cost of the coffee alone. Coffee House Kobe (Coffee House Ido) adds a little twist to their morning set and makes its sandwiches on mini croissants while complementing them with a refreshing bowl of yogurt. The wooden architecture inside the cafe is cozy and very inviting. The interior details along with the baristas serious focus on the coffee-making are the perfect backdrop to enjoy a cup of joe made from charcoal roasted coffee beans and their breakfast sets. Coffee House Kobe located in Higashi-Nada is a great starting point for our recommended sightseeing day in Kobe.

Coffee House Kobe (Coffee House Ido)

coffee house 井戸

兵庫県神戸市東灘区御影本町6-2-22

0788223278

View All

Chinese food

As Kobe has its own Chinatown, there is an abundance of restaurants serving excellent Chinese food. None of these are likely to disappoint. Our advice is to walk along the main street that runs through Chinatown and have a look at a few different ones, as most have their menus on display in front of the shops, often in English too. Expect to pay around 1000 yen for a lunch meal and around twice as much for dinner.

Asian Street Food

In Chinatown you will also find a huge selection of various Asian street foods. Everything from sliced teppanyaki-grilled Kobe beef to fresh roasted Peking duck and steamed buns stuffed with meat or vegetables. Grab a few different varieties and something to drink, and head to the square in the middle where there is a pavilion with a few seats. Kobe Chinatown is located a few minutes' walk from Motomachi train station.

Hyogo Pref. Koubeshi Chuou-ku Sakaemachidori 1-2-chome, Motomachidori 1-2 chome

0783322896

View All

Sushi

Kobe is more famous for its beef than its seafood that is for sure, however this does not mean that you cannot have a good serving of fish and rice in Kobe. In fact, Miwa sushi is one of the best sushi restaurants we have ever been to. The place has been in operation for several decades, and the staffs have experience that would make many other sushi chefs feel insignificant in comparison. Despite this, they offer nigiri sets for less than 1000 yen. When we asked why, the staff replied that they are not really doing this to make money anymore, but rather as a volunteer service to their local community. Very generous indeed. Miwa Sushi is located just in front of the Nishi-Motomachi subway stop. Despite lacking language abilities, the staff will do their best to accommodate English-speaking visitors.

みわ寿司

兵庫県神戸市中央区元町通6-8-16

078-341-0836

View All

09

Kazamidori Honpo's Cheese Cake Soft Cream

Kazamidori Honpo's Cheese Cake Soft Cream

Before you venture up Kitano-cho's slope, make sure try the delicious cheesecake soft cream at Kazamidori Honpo. Not only is that soft cream served in a cute mini cone quiet fitting to the look of the neighborhood but the taste is like heaven in a cone and a nice complement to Kobe's savory food.

3.5

10 Reviews

Hyougo Pref. Koubeshi Chuou-ku Kitanochou 3-5-5

0782317656

10:00-17:00

View All

Mobile Hot Dog Stand

After a few a long day wandering about Kobe City and a few drinks well into the night, why not wrapping up with a stop at Kobe's own mobile hot dog stand? The locals love it as a post-drinking snack and frankly speaking we love it too. You'll find this gem under the gate at Higashimon Dori so don't miss out.

11

Blue Bottle Coffee in Motomachi

Blue Bottle Coffee in Motomachi

You started the day at an old-style kissaten so to keep with the theme of contrasts, why not getting your late-afternoon coffee fix at the new Blue Bottle Coffee store in the heart of Kobe's trendy shopping district. The high ceilings and simple wooden decoration provide a calm setting to wind down and think about everything you've learned and seen throughout the day.