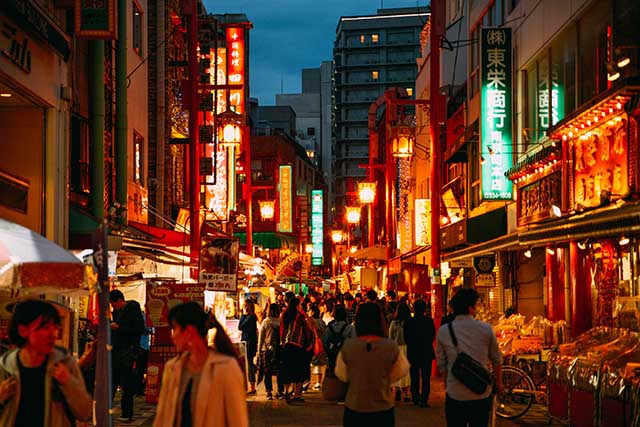 - Start the day with a trip to the Hyogo Prefectural Museum of Art. This museum has a great
collection of art with a connection to Hyogo prefecture. The structure is designed by Tadao Ando and is a piece of art in itself. If you did not have breakfast yet, grab a bite at the museum's
cool cafeteria. Hyogo Prefectural Museum of Art is located in located in the HAT Kobe district, an area that was built as a part of the recovery process after the earthquake in 1995.

- As the tragic earthquake and it's aftermath is such an integral part of the identity of this city, we think it is more or less a duty for any visitor to learn more about the tragic event that took place on the morning of January 17, 1995. To do so, head to the Kobe Earthquake Memorial Museum, located just next door to the Prefectural Museum of Art.

- Head to the train station at Kasuganomichi, located about 10 minutes from the Kobe Earthquake Memorial Museum, and hop on the train to Sannomiya, the biggest transit hub in Kobe and an area that is as close to a city center as it gets.

- Take a stroll along the Sannomiya Center Gai Shopping Street. One of the biggest of its kind in the prefecture. No matter what you are looking for, be it souvenirs or fashion, you are likely to find it here. There are also a plethora of restaurants in the area, so if you are getting ready to have lunch, this is a good time to grab something.

- Once you have reached the end of the shopping street, you have also reached Motomachi Station. From here Nankingmachi, the Chinatown district in Kobe, is just a mere stone's throw away. You will probably still be full as you just ate, but in case you feel like snacking on something sweet for dessert, we highly recommend the rice cakes covered in sesame seeds, or goma dango, as they are called in Japanese.

- Head over to nearby Kencho-mae Station, and take the Seishin-Yamate Line over to Shin-Kobe station. From there, hike up past Nunobiki falls and experience one of the most well known waterfalls in Japan.

- Continue up the hiking trail and you will eventually reach a cable car station. Take the Cable car up to the Nunobiki Herb Gardens. Once you are done exploring the biggest herb garden of Japan, go for dinner at the restaurant near the observation platform, and relax and dine while watching the skyline of Kobe turn into one of the most spectacular night views the Kansai region has to offer.