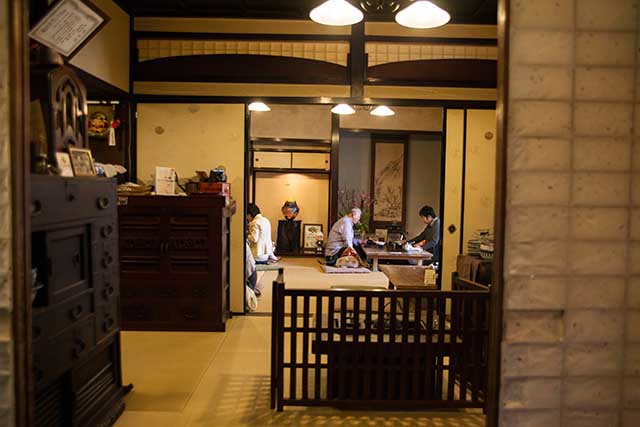 In Nagahama, tradition combines with modern cuisine to give visitors an authentic and refreshing eating experience.

In a city of longstanding tradition and creativity, it is not surprising to find a combination of old and new tastes in the restaurant scene. The old establishments are a fascinating reminder of Nagahama's history, while the new are keeping the old castle town at the
forefront of today's hospitality industry. As a visitor to Nagahama City, you can enjoy
traditional Japanese flavours in settings that will take you back to a bygone era. You can also take pleasure in new flavour combinations that highlight the richness of japanese food while keeping the experience fresh.
01

Yokarou - Yaki Saba Somen with a Touch of Yesteryear.

Yaki Saba

Yaki Saba is the most iconic food of Nagahama City; Slow-cooked mackerel on a bed of noodles. Nobody in town does it better the Yokarou, an establishment run out of a traditional
wooden house on the old Hokkoku Kaido highway. This is probably Nagahama's most
famous restaurant and crowds line up patiently to get a taste of the noodles while enjoying the comfort of the beautiful tatami rooms. This is Japanese tradition at its best.

4.0

106 Reviews

Shiga Pref. Nagahamashi Motohamachou 7-8

0749633663

10:30-15:00 (until sold out)

View All

02

Momiya Noppei Udon as Featured on Japanese TV.

Noppei Udon

Along Otemon Street, a short walk north of Kurokabe Square, is another popular dining spot for locals, tourists, and national celebrities. Its claim to fame is the Noppei Udon. A bowl of udon noodles garnished with colorful momiji (maple tree leaf) tofu and a giant shiitake mushroom. In keeping with the comfort theme, guests dine on floor seating in a low-light setting, surrounded by japanese memorabilia. Thanks to the detailed decoration, Momiya has also been the prefered shooting location for Japanese soap operas.

4.0

48 Reviews

Shiga Pref. Nagahamashi Motohamachou 7-15

0749620232

10:30-18:00

View All

03

Kotetu - Award Winning Ramen Served with a Big Smile

Although ramen is not a dish representative of the region, you can savor Kotetu's award-winning ramen in a laidback atmosphere just a short work south of Kurokabe Square. The shop is run by a young couple whose pork-bone based broth has been awarded thw "Best Ramen" status by popular food critics on a couple of occasions. English is spoken by one of
the owners and foreigners are welcomed with excitement.

Kotetu

04

Ohmi Beef Curry with a View.

96 Cafe is located right at the centre of Kurokabe Square. With a large open terrace at the intersection of Otemon Street and Hokkoku Kaido Road, the place is popular for its lively atmosphere during the warmer months of the year. The cafe offers a varied menu of local and western cuisine, but what stands out on the menu is the Ohmi beef curry and the black soft creams served as dessert. During the Hikiyama Festival, it is also a perfect spot from where to catch the kabuki performances without getting off your seat.

96 Café

4.0

14 Reviews

Shiga Pref. Nagahamashi Motohamachou 11-30

0749654844

10:30-17:00(L.O.16:30)

View All

05

Nagahama's Own Craft Beer

In a city of craftsmen it is quite fitting to find a local craft beer brewery. Nagahama Roman Brewery is recognize not only in the city but also around the eastern shores of Lake Biwa for its ale, weizen, pilsner, and stout beers. Pint after pint are brewed on the premises and served alongside platters of Ohmi beef, funa zushi, and a mouth-watering menu of pub fare. It is a great place to unwind after a long day of festival parades and sightseeing. As with other eateries in the city, the atmosphere is relaxed and unpretentious.

Nagahama Roman Brewery

Shiga Pref. Nagahamashi Asahichou 14-1

0749634300

[Weekday]11:30-15:00(L.O.14:…

View All