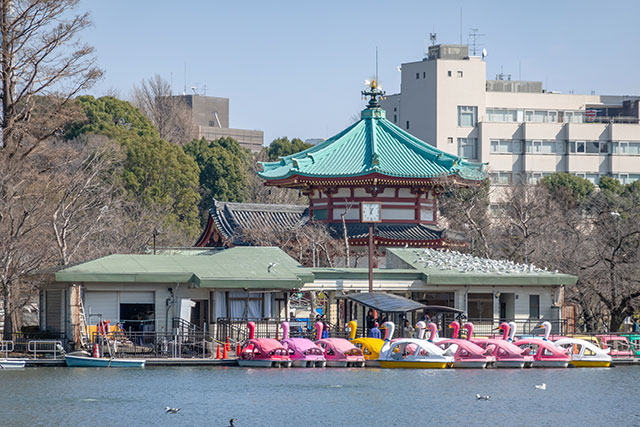 Ueno has always been a popular destination in Tokyo.
There is an interesting mix between new and old.
Within a short walk from one another you will find the busy shopping area around the station, the lush oasis of Ueno Park as well as the Yanaka area where many local artisans has set up shop.

To help you plan your trip, here are 16 recommendations for things to do while enjoying this city.
Ueno Park

Ueno Park

Once upon a time the land that makes up present day Ueno Park was the spot where a major battle during the Boshin War took place. Since then, the location has turned into a big oasis and one of the most popular city parks in Japan with more than ten million annual visitors

In spring, you can experience being in the wonderful world of sakura trees.
The Shinobazuno Pond 不忍池 is also fascinating.
It's comprised of three ponds—a boat pond, a lotus pond, and a cormorant pond. The Shinobazuno Pond has been loved by Japanese people for hundreds of years.
The park is easily accessed from the Park Exit of Ueno Station.

Read more
Ueno Park
A few minutes away from the bustling Ueno station you will find the most popular park in of Tokyo…

Cherry Blossom Season in Ueno Park
Ueno Park is easily the most popular park in Tokyo, with over ten million visitors a year. Along with the beautiful green space, this area is…

Shinobazuno Pond in Ueno Park

Ueno Park

4.5

5247 Reviews

Tokyo Taitou-ku Uenokouen - Ikenohata 3

0338285644

5:00-23:00(Entry prohibited …

View All

02

Pray to the Buddha's giant face

Buddha

In Ueno Park, there is a spot where you can greet Buddha…but only his face.
This Buddha used to rise six meters in height and have a full body.
But the head fell down in 1923 when the great earthquake occurred and has been preserved in the park ever since.

It is said to bring good luck if you touch the face. Because it can't drop any further, students sitting their entrance exams come here to pray not to "drop" their exam.

Buddha

Buddha

03

Taste mouth fulfilling joy at Shin-Uguisutei

Shin-Uguisutei

Uguisu Dango

This delicious sweets shop is also inside Ueno Park.
Their most popular menu item is Uguisu Dango 鶯だんご (600 yen), which is served on a small plate with three different colors of soft mochi stuffed with a sweet bean paste filling. Enjoy first with your eyes, then let these colorful sweets melt in your mouth.
They expect you to pay when the food is served, so be prepared when you order.

Shin-Uguisutei

Go museum Hopping

Tokyo National Museum

Ueno is famous for many things but it's mostly known as being home to some of Tokyo's biggest museums.
The Tokyo National Museum, the National Museum of Nature and Science, and the Tokyo Metropolitan Art Museum as well as several smaller yet impressive cultural institutions.

They host exhibitions throughout the year, so check their websites to help plan your visit. They are all located in the same area, so you can easily walk from one to the other.

Read more
Ueno Museums
In and around Ueno Park you will find many of the most interesting museums in Tokyo, all conveniently located …

National Museum of Nature and Science

Tokyo Taitou-ku Uenokouen 13-9

05055418600

9:30-17:00(Last entry16:30)

View All

4.5

906 Reviews

Tokyo Taitou-ku Uenokouen 7-7

05055418600

9:30-17:30 (until 20:00 for …

View All

4.0

541 Reviews

Tokyo Taitou-ku Uenokouen 8-36

0338236921

9:30-17:30 (Last entry 17:00…

View All

05

Visit a World Heritage architectural building

National Museum of Western Art

The National Museum of Western Art was established in 1959 to provide the Japanese public with a chance to explore western art.
The building itself is the first piece of western art that you will experience at this museum.

The French architect Le Corbusier designed the main building and is renowned as a pioneer of modern architecture. The museum has a new wing and a special exhibition wing where you can also enjoy the architecture. The entrance fee to see the permanent collection is 500 yen for adults.

National Museum of Western Art

4.5

906 Reviews

Tokyo Taitou-ku Uenokouen 7-7

05055418600

9:30-17:30 (until 20:00 for …

View All

06

Have Lunch on the Terrace surrounded by the woods of Ueno

Park Side Café

Park Side Café

After your museum visit or walk through Ueno's parklands, why not refuel with a tasty meal? The Park Side Café offers delicious food where you can enjoy the full taste of vegetables, as well as flavorful herbal and fruit teas that use seasonal fruits. Enjoy some time out with a pot of tea on their open terrace seats while being surrounded by woodlands.

Park Side Café

07

Enjoy the music at Tokyo Bunka Kaikan

Tokyo Bunka Kaikan

Tokyo Bunka Kaikan

After walking through the woods and experiencing the museum highlights, you might be in need of good music next.
One of the biggest venues in Tokyo for concerts, operas and ballet. The main hall can accommodate more than 2300 visitors and is highly praised for its acoustic qualities.

Inside the building you will also find one of the few dedicated music libraries in Japan, where you can enjoy classical music free of charge.

Tokyo Bunka Kaikan

4.0

104 Reviews

Tokyo Taito-ku Uenokoen 5-45

0338282111

View All

08

Experience Japan's oldest zoo

Ueno Zoo

Ueno Zoo

Ueno Zoo is the oldest zoo in Japan, opened back in 1882.
Today it's one of the most popular zoos in Tokyo, conveniently located in the middle of Ueno Park, just a few minutes walk from the station. More than 3000 individuals representing over 400 species live on the inside, making it the most diverse zoo in Japan.

Their most popular animal is the giant panda. The first panda was sent from China as a gift in 1972 and has been the icon of this zoo ever since.
The entrance fee is 600 yen for adults and the zoo is closed on Mondays.

Giant Panda

4.0

3031 Reviews

Tokyo Taitou-ku Uenokouen 9-83

0338285171

9:30-17:00

View All

09

Explore the Ameyoko Street

Ameyoko Street

Ameyoko Street

Ameyoko Street

One of the biggest outdoor markets in Japan where you can find everything from fresh fish and seafood to fashion and handbags. Hundreds of vendors are located along the street that stretches between JR Ueno and JR Okachimachi stations. Can get unpleasantly crowded during the weekends, but worth a visit for the bustling and somewhat "un-Japanese" atmosphere alone.

Minatoya

Minatoya

Minatoya is an eatery where you can get a bowl of rice topped with fresh fish for just 500 yen. They also have tasty takoyaki, a ball-shaped snack made from flour and octopus.

Shimura-shoten

If you want candies, look for the yellow sign of Shimura-shoten 志村商店.
They sell chocolates and other snacks for 1,000 yen that you would have to pay 2,000 yen for if you bought them from other shops.

Read more
Ueno Ameyoko and Street Food
Between Okachimachi and Ueno, on the Yamanote line, lies Ameyoko. This is one of the biggest outdoor markets in Tokyo, perhaps in all of Japan.…

Ameyoko Street

4.0

2734 Reviews

Tokyo Taitou-ku Ueno 6-10-7

0338325053

Depends on establishment

View All

10

Find your favorite Japanese HipHop at CASTLE RECORDS

CASTLE RECORDS

CASTLE RECORDS

Inside the Ameyoko Center Building, you will find this established music store that specializes in hip hop and club music CDs.
They have a tremendous selection of CDs, ranging from old to new.
If you are not familiar with Japanese hip hop, talk to the shop clerk.
These experts will be able to help you discover a sound that you'll love.

CASTLE RECORDS

Tokyo Taitou-ku Ueno 4-7-8

0362401190

View All

11

Cozy time at the retro style cafe Oka

Neapolitan Pasta

Cafe Oka

If you want to get a cup of coffee, don't go to a chain cafe when you could experience something very unique instead. Cafe Oka is located on the other side of Ueno Station from Ameyoko Street.

The stairs to the basement will lead you to a world that's filled with the atmosphere of the Showa era (1926-1989). Try their Neapolitan pasta with ketchup flavor to make your cafe stay completely nostalgic.

Cafe Oka

丘

東京都台東区上野6-5-3 尾中ビルB1F

03-3835-4401

View All

12

Shop wisely at the discount shop Takeya

Takeya

Takeya

At the Takeya Okachimachi branch 多慶屋 御徒町本店, you can buy everything very cheaply.They have pretty much anything, from food to furniture.
There are several buildings located close to one other, each with a different name, and they sell their products in different sections within those buildings.

You can decide which building and section to go to depending on what you want to buy. Be ready to shop hard, as their prices will surely tempt you.

Takeya

Takeya

Takeya

Tokyo Taito-ku Taito 4-chome 33-2

0338357777

View All

Panda Item

Panda Item

Since the Ueno Zoo received giant pandas from China in 1972, the entire city of Ueno has been recognized as the "City of Pandas". You can find numerous panda items during your stay in Ueno. Actually, you probably don't need to go out of the station to realize that it's the "City of Pandas". Panda-shaped Japanese traditional sweets, cheesecakes, macaroons, and even sandwiches with a panda's picture on the bread are all available inside the station.

Panda Item

14

Easy Walk to Yanesen area

Yanesen

Yanesen

From Ueno, you can access the Yanesen area very easily on foot.
It'll only take 20 minutes or so, but you might want to stop by interesting places along the way, such as the Ueno Atari where many unique events are held and the beautiful Nedu Shrine.

Starting from Ueno Station, walking through Ueno Park is the course we recommend. You will pass the Tokyo National Museum, then keep walking to the Tokyo University of Arts.
The Yanesen area is just after the university.

Read more
25 of the Best Things to Do in Yanesen
Get lost in the Edo-era stylings and retro vibe of the Yanesen area of Tokyo's Shitamachi. Consisting of the Yanaka 谷中, Nezu 根津, and Sendagi 千駄木 neighborhoods…

Yanesen

Tokyo Taitou-ku Uenosakuragi 2-15-6

Depends on establishment

View All

15

Only a five-minute train ride: Tokyo's popular destination Asakusa

Asakusa

Asakusa

Take the Ginza Subway line from Ueno Station to Asakusa, which is just five minutes away and home to Sensoji, Tokyo's oldest temple. The train ride costs only 170 yen or you can ride the Skytree shuttle for 220 yen, which you can catch from Ueno Station or the bus stop in Ueno Park.

If you want to get drunk in the daytime, you should go to Hoppy Street.
There you'll discover a Japanese happy drinking culture, even before it gets dark.

Read more
27 of the Best Things to Do in Asakusa
The area around Asakusa is noteworthy for being able to provide a multifaceted Tokyo experience within a surprisingly narrow area. Many tourists from…

Asakusa

16

Easy Access to Skytree

Easy Access to Skytree

Skytree Shuttle

The Skytree shuttle is the easiest way to access the Skytree from Ueno.
The bus comes every 15 to 20 minutes, with the ride taking about 25 minutes. The bus will take you to the entrance of Skytree, so you don't have to worry about getting lost.

Observation Deck

The views from the Observation Deck and the Observation Galleria are priceless. But if you want to see even more dramatic views, you can try their 50minutes long terrace tour.

Read more
Skytree Terrace Tour
Open in 2012, Tokyo Skytree is the world's largest tower standing at 634 meters. The tower is located in Sumida and is known for its colorful evening lights. …

Tokyo Sumida-ku Oshiage 1-1-2

0570550634

[Observatory] 9:00-21:00 (La…

View All

17

Hopping between extremely cheap bars

Hama-chan

Nikuno Oyama

In Ueno, you can find many Senbero bars.
"Senbero" are a place to get drunk and satisfied while spending only 1000 yen. Hama-chan 浜ちゃん, Nikuno Oyama 肉の大山, and Kadokura カドクラ are three popular bars where you can enjoy Senbero.

In addition, Kadokura's ham cutlets, Ohyama's deep-fried minced meat, and Hama-chan's fresh fish are unbelievably affordable yet tasty and so fulfilling too.They are all in the same area, so you can easily hop from one to another.

Kadokura

カドクラ

東京都台東区上野6-13-1 フォーラム味ビル1F

03-3832-5335

View All