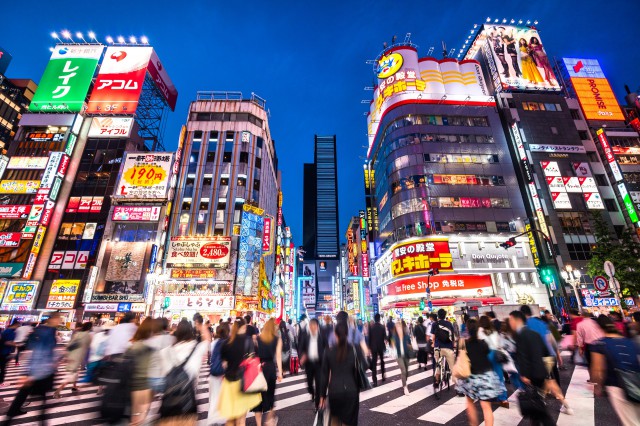 Shinjuku is a dazzling collection of diverse areas. Gourmet restaurants, every type of shopping, and a staggering list of activities all come together in one dense district in the center of Tokyo.

We'll break down the best party spots like Kabukicho, Shinjuku Golden Gai, and Omoide Yokocho. Hot tourist locations like Shinjuku Gyoen National Garden will be included.

This guide will also cover the adjacent Shin-Okubo area to give you the best picture of Shinjuku and its surroundings. Welcome to the big city.
01

Understand Shinjuku Station

Not only is Shinjuku Station massive, it's the busiest train station in the world. Many Japanese people even get lost in its confusing web of corridors and platforms. The first thing you'll need to do is follow the signs and figure out your exit.

The East and Central East Exits lead to Kabukicho, Golden Gai, Don Quixote, Bicqlo, and Hanazono Shrine.

The West and Central West Exits lead to Omoide Yokocho, Tokyo Metropolitan Government Building Observation Decks, where you can catch highway buses heading to Narita and Haneda Airports.

The South and South East Exits lead to Shinjuku Gyoen, Shinjuku Takashimaya, Tokyu Hands, NEWoMan, and the Shinjuku Expressway Bus Terminal, which is close to the New South Gate.

If you get lost, leave from the South East Exit and head down the stairs to find the Shinjuku Tourist Information Center, where you can ask for directions.

READ MORE

How to Navigate Shinjuku Station

Transportation

02

Shinjuku Expressway Bus Terminal

You can head to dozens of locations all over Japan from the Shinjuku Expressway Bus Terminal. It's a 4-story building that's directly connected to JR Shinjuku Station on the 2nd floor for ease of access. On the terminal's 3rd floor you'll find the drop-off point for the expressway buses, and the 4th floor is the loading area for departures.

Same-day bus tickets can be purchased from certain bus companies, but not all of them, so booking your bus tickets ahead of time is highly recommended. You can choose from the terminal's various destinations and make your reservations on this this website.
Happy travels!

READ MORE

Shinjuku Expressway Bus Terminal Busta

Transportation

On July 16th, 2020, a new complex, SHUKNOVA opened in Shinjuku Central Park. The new complex consists of both a diner, cafe, terrace, and a fitness club. Adjacent to the Shinjuku Central Park and also within walking distance from the shopping and entertainment districts of Shinjuku, the new complex SHUKNOVA would be an oasis for a little getaway in nature in the middle of the busy metropolitan city.

READ MORE

New Complex "SHUKNOVA" Open in Shinjuku Central Park

Parks

Kabukicho is among Japan's largest red-light districts, known to many as "The City That Never Sleeps". When the sun goes down the action heats up in the area's countless nighttime establishments.

While of course there are lots of bars and restaurants, you can also find more savory locations like Japanese arcades and batting centers (which start at 300 yen per round) to spend your time.

There are plenty of tourists and establishments welcoming foreign clientele, but you'll need to be careful. Some of these places will charge exorbitant rates afterwards, particularly the ones with hawkers outside. Be sure to research the establishments ahead of time to save yourself a lot of trouble.

READ MORE

Infamous Kabukicho

The imposing Godzilla head glaring down at Kabukicho from over a skyscraper is the stuff dreams are made of. Or nightmares.

In either case, you can't miss it. Every day from 12 p.m. to 8 p.m., Godzilla gives 9 hourly performances of the Godzilla theme song, accompanied by a roar and even a beam attack.

You can even touch Godzilla yourself to make it roar if you do one of the following:
1. Stay at Hotel Gracery
2. Dine at Cafe Terrace Bonjour at Hotel Gracery

Tokyo Shinjuku-ku Kabukicho 1-19-1 Shinjuku Toho Building 3F

05068685063

View All

A quick 8-minute walk from the West Exit of Shinjuku Station is the LOVE statue in front of Shinjuku i-Land Tower.

It's often referred to as the "Lover's Holy Ground", since legend has it that if a couple walks through the space between the "V" and "E", then they'll fall in love. The statue has been used in countless Japanese Dramas, and it's ripe for photographs.

Nearby you'll find an intersection used in the film "Your Name", specifically the scene in the movie from a time-lapse shot when the main characters switch bodies the first time.

Tokyo Shinjuku-ku Nishi-shinjuku 6-5-1

0333482850

7:00-23:00 (Building Open Ho…

View All

Hanazono Shrine is a Shinto shrine dedicated to worldly success and wealth, and it's also home to copper karajishi (the lion statues guarding shrines), which have been designated as Tangible Cultural Properties.

On the shrine grounds you'll find the Itoku Inari Shrine with its row of torii gates, a highly regarded power spot for people in the know. People come to Itoku Inari for harmony in marriage, fertility, and matchmaking.

In November the popular Tori no Ichi festival takes place, where merchants pray for good business by buying kumade bamboo talismans in the shape of a rake. But there's also the festival food stalls and bright hanging lanterns.

If you get hungry, you can pick up a manju, or steamed bun, at the Hanazono Shrine Branch of Hanazono Manju — the company's first take-out shop.

Tokyo Shinjuku-ku Shinjuku 5-17-3

0332095265

[Prayer Reception] 9:30-11:3…

View All

07

Free City Views at the Tokyo Metropolitan Government Building

Tokyo Metropolitan Government Building

Free City Night View from observatory at Tokyo Metropolitan Government Building

It's rare that an observation deck in Tokyo doesn't come with a price tag, but the Tokyo Metropolitan Government Building offers just that.

Marvel at the view of the mega city from 202 meters up, giving you a vista of Tokyo Tower, Skytree, and Mt. Fuji if the weather permits it. There's a cafe for you to rest your legs while enjoying the panorama, and a gift shop where you can pick up a souvenir to commemorate your time on top of the city.

Tokyo Shinjuku-ku Nishishinjuku 2-8-1 Tokyo Metropolitan Government first this government office building

0353207890

9:30-22:00

View All

This establishment likely needs no introduction. Robot Restaurant is decidedly not about the food.

People come from all over the world to see the ridiculous shows that feature radiant robots, performers in light-up outfits, and an absurd amount of lasers and lights — all set to a slamming soundtrack.

It is a truly unique and mind-boggling experience. Make sure to lock in some time to catch one of their unforgettable performances.

Popular tours: 34% OFF Robot Restaurant Shinjuku Tokyo Discount E-Tickets

READ MORE

14 of the Best Exciting Nightlife Activities in Tokyo 2019

Clubs / Live Houses

Omoide Yokocho Alley is located in the area around the West Exit of the O-Guard train bridge. The name loosely translates to "Memory Lane".

Originally a black market in the 1940s, Omoide Yokocho is now a bustling drinking area where the drinks are cheap and the food is good. Yakitori (Japanese chicken skewers) is what Omoide Yokocho is known for.

First-timers should try the classic Negima (chicken and onion) and Tsukune (chicken meatballs covered in a sweet sauce) skewers to get the authentic experience.

Some places are open all night, but you should check the shop's homepage before heading over for a smooth transition to the next bar.

10

Bar Hopping in Shinjuku Golden Gai

Golden Gai was a black market set up after World War II that transformed into a lively drinking spot, hosting over 300 tiny bars of around 9 sq. meters.

With that historical background in mind, slip into one of the dozens of standing bars crowding the streets and grab a drink. There's no need to commit to one spot, so after a round or two, head back out and see where you drift into next.

Word of caution though, there are often table charges where they'll bring out a small snack. This table charge is separate and can range from 500 to 1,000 yen, so budget accordingly.

READ MORE

Golden Gai

Izakaya Alleys

11

ISETAN: Department Store

With a history dating all the back to 1886, Isetan has long been regarded the premiere department store in Japan.

The flagship store in Shinjuku plays a critical role in influencing major brand name fashion trends in Tokyo and nationwide. The goods on offer here tend to be upscale, and the customer service is commensurate with the price.

Even if you don't plan on buying any clothes, cosmetics, or housewares you won't want to miss the basement floor depa-chika, which features all manner of first class food and drink from Japan and around the world.

After you finish shopping, head up to the rooftop to relax at I-Garden, which has an event stage, grassy spaces, and umbrellas chairs.

12

NEWoMan: Shopping Complex

Shinjuku's new destination for shopping outings is NEWoMan, a classy shopping complex catering to women.

They've got the latest fashions, lifestyle goods, and beauty products, but the dining options are what really sets NEWoMan apart. There are restaurants serving flavorful breakfast dishes and chic cafes offering picture-ready latte art all vying for your attention.

The Food Hall is open from 7 a.m. to 1 a.m., giving you every reason to stop in and dine at one of the popular restaurants. You're bound to find something good.

4.0

123 Reviews

Tokyo Shinjuku-ku Shinjuku 4-1-6

0353340550

11:00-21:30 * Saturday Sund…

View All

13

BICQLO: Electronic Store

High-quality electronics for affordable prices is the realm many consumers seek when looking for electronic shops in Japan. Just 3 minutes from the East Exit of the station lies Bicqlo, the mash-up shop you always wanted.

A combination of Uniqlo and Bic Camera, the facility holds 10 floors of home electronics, cameras, clothing, and apparel. There's even a GU (Uniqlo's discount sister shop) on the top floor. The hard part is leaving.

BICQLO BicCamera Shinjuku Higashiguchi

Tokyo Shinjuku-ku Shinjuku 3-29-1

0332261111

View All

14

Shop for Camera: Shinjuku West Exit

If you want to shop for electronics but are intimidated by Akihabara's mass of stores, head over to Shinjuku for a less daunting shopping experience.

By the West Exit of JR Shinjuku Station near Yodobashi Camera is located "Shinjuku West Exit Camera Town". This area is said to be Shinjuku's "electric town" where you can find any electronic item that you are looking for, from home appliances to camera parts. There are plenty of items here for the all the electronic geeks.

Since the area originally developed as a "camera town" there are still specialty camera stores such as Kitamura Camera and Map Cameras.

If you are looking to save a buck there are also second-hand camera stores.

Access: 4-minute walk from the west exit of Shinjuku station

Tokyo Shinjuku-ku Shinjuku 3-26-7

0333561010

View All

BEAMS JAPAN is a one-stop shop famed especially for its outstanding selection when it comes to fashion.

Tokyo is a fashion hotspot and at BEAMS JAPAN you can find all the latest fashion trends from local brands as well as international brands. BEAMS JAPAN offers a lot more than just clothing though, such as food, goods, collaboration, culture, arts, and crafts.

With more than 40 years of history, this shop boasts the charm of Japan to the world through which the world can admire the richness of Japanese culture.

Access: 3-minute walk from Shinjuku Station.

READ MORE

BEAMS JAPAN: flagship store in Shinjuku

Shopping Mall / Fashion

16

Asia's largest flagship store: Lush Shinjuku

Enjoy a unique shopping experience at the Lush Shinjuku store, opened on June 1st 2019, which has 4 floors, each one having its own concept and atmosphere.

As you move from floor to floor, you will notice that the scent, lighting, and music change on each floor. You will also find limited Lush products that are only found at this Shinjuku store.

The store uses very few text displays and instead makes use of icons, pictograms, digital screens and projections throughout the store which don't require text information. This method breaks down language barriers and ensures a great shopping experience for everyone.

Access: 2-minute walk from JR Shinjuku Station central east exit, 3-minute walk from Tokyo Metro.

17

Art Supplies: Sekaido Shinjuku

Sekaido's main store in Shinjuku offers a staggering number of products with everything from cheap items to expensive high-end items such as stationery and art supplies.

Even if you aren't planning to buy many things, it's still fun to just walk around and check out all they have to offer — there is so much to see you can easily spend hours here without getting bored! When you need to take a break, just stop by the store's cafe and get a tasty sandwich or piece of cake.

Access: 1-minute walk from Marunouchi Line / Shinjuku Line "Shinjuku 3-chome Station" Exit C-4
7-minute walk from JR / Odakyu Line / Keioh Line "Shinjuku Station"

4.5

28 Reviews

Tokyo Shinjuku-ku Shinjuku 3-1-1

0353791111

9:30-21:00 (excluding New Ye…

View All

18

Cigars & Pipes: Kagaya

Located on the first floor of the Kinokuniya Building at the far end of the walkway is the famed Kagaya. Open since 1962, Kagaya is a historic smoke shop specializing in smoking items such as cigars, cigarettes, pipes, and lighters.

The small shop offers a wide range of products from cheap cigarettes costing just 230 yen each, to the finest cigarettes costing 9,300 yen each.

Across from the smoke shop is "Kagaya 2nd" which opened in February 2015 and is where you can find a wide selection of electronic cigarettes and Shisha (Middle-Eastern water cigarettes) which have become especially popular in recent years among young people and foreigners.

Access: 5-min walk from JR Shinjuku Station

19

Trendy Caf & Shops: Mosaic Street

Mosaic Street is a glittering pedestrian byway that also connects the South and East Exits of Shinjuku Station. You'll come across trendy cafes and shops selling Japanese knick knacks, all of which fit nicely into the bright & modern aesthetic.

Simply walking through and taking in the rows of stylish establishments is a good time. In the winter, they also have a beautiful illumination that lines the walkway with vibrant lights.

Tokyo Shinjuku-ku Nishishinjuku 1-1-3

10:00-21:00※Depending on th…

View All

20

Shopping Area: Shinjuku Moa

Shinjuku Moa is the shopping area near the East Exit of Shinjuku Station. Each of the streets, including Moa 1st through to 5th Street, Moa Chuo-dori, and Moa Yasukuni-dori all have their own atmosphere.

You'll encounter fashion stores, unusual specialty shops, tons of restaurants and bars, and even home electronics stores. There are retail options from morning to nighttime. Be on the lookout for pedestrian streets with food stalls and tables too.

The beauty of chain restaurants is that they're both cheap and delicious. Don't shy away from trying a place just because you've seen it around town before.

Moyan Curry offers great Japanese style curries that take up to two weeks to make. They have up to over 20 different types of curry dishes for you to choose from.

Gyukatsu Motomura is a deep-fried beef cutlet specialty shop where the medium-rare cutlet is all the rage.
Kizuna Sushi has your choice of sushi with the killer price of 99 yen per piece.

And that's just to name a few. See for yourself what boosted these restaurants into the mainstream.

Read more:
Where to Eat in Shinjuku

Gyukatsu Motomura

Gyukatsu Motomura

READ MORE

Where to Eat in Shinjuku

Japanese Cuisine

もうやんカレー 利瓶具

東京都新宿区西新宿6-25-14 第2仲川ビル1F

0353235539

View All

Tokyo Shinjuku-ku Shinjuku 3-32-2 Moto Building B1

0333540171

View All

きづなすし 新宿歌舞伎町店

東京都新宿区歌舞伎町1-18-8 第1モナミビルB1・1F

0352871081

View All

22

Michelin-Starred Ramen

Ramen in Japan doesn't stop with Ichiran. Shinjuku is a hot spot for ramen, and competition is fierce.

Konjiki Hototogisu has been awarded a Michelin star making it the 3rd ramen place to receive one. People line up around the corner to get a bowl of their savory ramen. It's just 9 minutes away from the South East Exit.

While the wait for Konjiki Hototogisu will certainly be worth it, there are dozens of other shops in the area. Branch out and find the perfect bowl for you.

READ MORE

The Best Ramen in Shinjuku

Ramen

SOBAHOUSE 金色不如帰

東京都新宿区新宿2-4-1 第22宮庭マンション1F

0353154733

View All

23

Brooklyn Parlor Shinjuku

Brooklyn Parlor Shinjuku brands itself as a place where you can enjoy books, music, and culture, and it does not disappoint.

Upon entering its basement location, you'll find red brick walls, plenty of bookshelves, and cool R&B or jazz music playing in the background. Every Tuesday there's a free event called Good Music Parlor, where you can hear local DJs mixing it up live.

The food is seasonal, but the dishes are upscale American. Get a taste of Brooklyn from a comfy seated position in Tokyo.

Tokyo Shinjuku-ku Shinjuku 3-1-26 Shinjuku Maruianekusu Building B1F

0364577763

11:30-23:30[SundayPublic hol…

View All

24

Food Court: Sanagi Shinjuku

Sanagi Shinjuku is a vibrant creative space built around the themes of events, food, and culture. Inside there's a food court with food options like Thai-style rotisserie chicken and dim sum.

There's also an event space and a gallery where you can find inspired exhibitions and installments from new and up-and-coming artists. It all comes together for a new kind of experience near Shinjuku Station's South Exit.

READ MORE

Sanagi Shinjuku

Cafe

Tokyo Shinjuku-ku Shinjuku 3-35-6 Koshu Highway Under the Elevated

0353577074

11:00-23:00 (currently chang…

View All

The themed izakayas (Japanese bars) go all out in Shinjuku. There's Kyomachi Koishigure Shinjuku, which recreates an old-world Kyoto vibe with paper lanterns, bamboo plants, and traditional style walkways/roof tiling — right inside the izakaya!

The Lockup is a fun izakaya with a horror/prison theme. Prepared to be locked into a cell with a delightful menu of mad-scientist drinks and gruesome-looking dishes.

The Lockup

The Lockup

Ninja Trick House in Tokyo offers a flashy experience based on the early Edo period, complete with hidden walkways, fiery dishes, and ninja shows. It's a popular place for VIPs from around the world.

Popular tours: NINJA SHINJUKU Restaurant Reservation

Ninja Trick House in Tokyo

Ninja Trick House in Tokyo

Fishing Restaurant Zauo prepares the fish you catch in the restaurant, and the "Alice in Wonderland" restaurant lets you experience whimsical scenes straight out of the movie.

Fishing Restaurant Zauo

KIBORI Hokkaido Restaurant

東京都新宿区歌舞伎町1-16-3 セレサ陽栄新宿ビル6・7F

0352925516

View All

26

For Anime/Manga/Game Lovers

Artnia

Artnia

Artnia

Shinjuku stands alongside Akihabara and Ikebukuro as a focal point of otaku culture. You can visit the Animate Shinjuku comic book store which is just 3 minutes away from the East exit. Within their 4 floors, you can find lots of anime, manga, and character goods.

Then there's Artnia by Square-Enix. It's an official gift shop where you'll be surrounded by all of your favorite Square-Enix characters. But it also has a cafe and bar that serves things like Slime-shaped pancakes and sophisticated cocktails. It's a five-minute walk from Higashi-Shinjuku Station. Embrace your geekdom.

Artnia

4.0

96 Reviews

Tokyo Shinjuku-ku Shinjuku 6-27-30 Shinjuku Eastside Square 1F

0364576714

View All

27

Japanese Arcades: Game Centers

Commonly referred to as "Game Centers," arcades in Japan are a stimulating mix of flashing lights, loud music, and has an eclectic assortment of games.

There will be crane games with adorable plushies, next-level immersive virtual experiences, and rhythm games. Taito Station Shinjuku Gameworld is right outside the East Exit, and it has all the latest arcade crazes for you to sink your teeth into.

You can even immortalize the occasion at their purikura photo booths.

Can you really say you went to Japan if you didn't go to karaoke? There's every type of karaoke vibe available, from neon chain parlors to low-key mom-and-pop dives. Don't worry, they have a healthy selection of English, Chinese, and Korean songs too.

Pasela is a classy establishment with the decor of a Balinese resort, offering a warm color palette and chandeliers. You have to try their famous Honey Toast, a stack of bread topped with ice cream, fruit, and other sweets. Create some cherishable moments.

カラオケ パセラ 新宿本店

東京都新宿区歌舞伎町1-3-16 パセラリゾーツ2・4・5F

0352918351

View All

Yayoi Kusama Museum

Yayoi Kusama Museum

If you take the elevator of the Sompo Japan Nipponkoa Head Office Building to the 42nd floor, you reach the Sompo Japan Nipponkoa Museum of Art. The star of the museum's collection is Vincent van Gogh's "Sunflower" painting, which have been so impactful on the world that any sunflower painting presented now is immediately associated with Van Gogh.

The Yayoi Kusama Museum is 9 minutes from Waseda Station, and it's the only museum dedicated to the internationally celebrated artist. You can see her famous pumpkins, and other psychedelic works of art here. Reservations are needed.

Read more:
Yayoi Kusama Museum

READ MORE

Yayoi Kusama Museum

Art & Museums

This privately operated museum is a 7 minute walk from the East Exit of Shinjuku station, and it's a compact experience offering authentic samurai swords and armor displays.

English speaking staff will take you through the exhibits and answer any questions you might have. At the end of the tour you can: see a live samurai sword fighting performance, watch a samurai live music show, partake in a Japanese sword lecture or samurai caliigraphy lesson, and even wear samurai armor (take some unique pictures).

For those traveling with family, try a visit to the Tokyo Toy Museum or the Fire Museum to entertain the little ones.

Tokyo Shinjuku-ku Kabukichou 2-25-6 Yongwa 6th Building 1F

0364576411

10:30-21:00 (Last entry is 2…

View All

31

NTT InterCommunication Center

Established in 1997 to celebrate the 100th year of telephony in Japan, this museum and art center focuses on facilitating "a dialogue between science, technology, and artistic culture".

With yearly changing exhibits, there's always something new on display. It's a very cool way to experience the most cutting edge art and technology.

READ MORE

Open Space: in Transition at NTT ICC

Indoor Activities

4.0

12 Reviews

Tokyo Shinjuku-ku Nishi-shinjuku 3-20-2 Tokyo Opera City Tower 4F

0120144199

11:00-18:00

View All

32

Rakugo show at Suehirotei Theater

Japan is well known for its Kabuki and Noh theaters, but there are also many fascinating traditional performing arts shows you can enjoy such as Rakugo comedy shows.

Suehirotei is a long-established vaudeville theater that has held Rakugo shows since 1897. With over 100 years of history, the Suehirotei theater has preserved Japan's 400 year old tradition of comic storytelling so that modern audiences can also enjoy this art form.

Tickets cost 3,000 yen and you don't need to make reservations ahead of time unless you have a group of more than 10.

Access: Directly outside Exits E4 and E3 of the Shinjuku San-chome Station on the Tokyo Metro Marunouchi line and Fukutoshin line and the Toei Shinjuku line. It is a 15-minute walk from JR Shinjuku Station.

4.5

90 Reviews

Tokyo Shinjuku-ku Shinjuku 3-6-12

0333512974

[Daytime] 12:00-16:15[Evenin…

View All

Shinjuku is a big bustling city and its streets are lined with high-rise buildings, but nestled between the buildings is a lovely rooftop garden.

Opened in 2009, Qcourt is a beautiful and elegant English-style garden that provides a quiet and relaxing environment in the middle of a concrete jungle. Qcourt is located on the rooftop of Shinjuku Marui annex and it has 5 unique spaces including a Spring Garden which has a pond and a Rose Garden.

Access: 1-minute walk from Shinjuku-sanchome/Tokyo Metro Marunouchi Line A4 Exit 40

3.5

17 Reviews

Tokyo Shinjuku-ku Shinjuku 3-1-26

0333540101

11:00-20:00*Some tenants hav…

View All

Shinjuku Gyoen National Park is a quiet and relaxing space completely removed from the hustle and bustle of the surrounding city. It gives visitors a chance to catch their breath and decompress.

There are three areas of the park: a French garden, an English garden, and a Japanese garden, each with their own character and charm. Golden Gai and Kabukicho are also close by, so you can jump back into the action after a little rest.

Entrance is 500 yen for adults, 250 yen for students and seniors, and free for children 15 and under.

READ MORE

Shinjuku Gyoen

Parks

3.5

10 Reviews

Tokyo Shinjuku-ku Naitoumachi 11

0333500151

[10/1-3/14] 9:00-16:00 (16:3…

View All

35

Shinjuku Chuo(Central) Park

Set right in the center area of Shinjuku's towering skyscrapers (including Tokyo Metropolitan Government Building), lies Shinjuku Chuo Park.

It's a massive green space that stretches over 88,000 sq. meters, making it the biggest park the ward of Shinjuku operates. There are plenty of attractions, including sports facilities like a basketball court and a track, as well as playgrounds and grassy areas. Stop by for a shot of nature to refresh your senses.

In 2020, a new complex, including cafe and fitness opened in the park, known as Shuknova.

READ MORE

New Complex "SHUKNOVA" Open in Shinjuku Central Park

Parks

4.0

446 Reviews

Tokyo Shinjuku-ku Nishi-shinjuku 2-11

0333424509

open everyday

View All

The Knot Tokyo Shinjuku is a modern hotel set right in front of Shinjuku Chuo Park. It has the airy sophisticational feel of an art gallery coupled with stylish dining.

There's the Morethan Tapas Lounge, with its super popular and Insta-famous lunch buffet, and then there's the Morethan Grill, a chic yet comfortable restaurant where you can fill up on Italian food and wine.

Onsen Ryokan Yuen Shinjuku recently opened in May 2019, and it's aimed at those looking for contemporary Japanese lodging. The decor is clean and traditional, but its actually more like a hotel, offering rooms across 18 floors. An onsen on the top floor uses water shipped from Hakone, and there's even an open-air section for impressive city views.

37

Onsen (Hot Spring): Teruma-no-yu

Thermae-Yu is a sophisticated spa, eight-minute walk from Shinjuku Station's East Exit. Soak in their onsen which uses natural water shipped all the way from Shizuoka. You can also take advantage of their sauna facilities, hot stone baths, and massage chairs.

Should you get hungry, they have 2 restaurants, and a drink bar just so that you can rehydrate in style. Kick back in one of their lounges after your spa treatments and let the stresses of your travel slip away. Thermae-Yu is the place for recharging, so that your ready for more Shinjuku adventures.

4.5

124 Reviews

Tokyo Shinjuku-ku Kabukichou 1-1-2

0352851726

Open 24 hours

View All

You'll recognize the Park Hyatt Tokyo as the hotel where they filmed scenes from the movie Lost in Translation. It's a super swanky spot with amazing views of Tokyo, but you don't have to be a guest to visit the New York Bar on the 52nd floor where the film's two main characters meet.

The refined atmosphere and breathtaking views make it very popular with tourists and fans of the movie.

39

Hostel: BOOK AND BED TOKYO

Just outside of Seibu-Shinjuku Station lies Book and Bed Tokyo, an affordable hostel designed based on a bookstore. The warm lighting complements the woodwork and ample bookshelves in every corner, creating a book worm's paradise.

When you're ready to call it a day, crawl into you bunk and tuck youself into the corner of a bookshelf, or enjoy view of the city from your private room window.

There's also a cafe, so you can relax with a drink and choose from over 2,500 books to read from. For lovers of printed works, Book and Bed Tokyo is where you want to be.

BOOK AND BED TOKYO SHINJUKU

東京都新宿区歌舞伎町1-27-5APMビル8階

0362339511

View All

40

Experience a New World at Shinjuku Ni-Chome

Ni-Chome is the center of the LGBTQ community in Tokyo. You can find it in the eastern section of Shinjuku, in its own area of a bustling district illuminated by neon lights.

There are around 450 establishments catering to the LGBTQ community; you can find locals, expats, and tourists among the crowds visiting the bars, restaurants, and book stores. The drag shows are a particular highlight, offering a welcoming mixture of clients both Japanese and international.

It's a vibrant area that has an atmosphere of its own, and most people are simply out to enjoy themselves and celebrate LGBTQ culture.

41

Night Club Warp Shinjuku

When night falls Shinjuku reveals itself as a party district draped in neon. If you're looking for a great club, then we recommend Warp Shinjuku, a 5 minute walk from the East Exit of Shinjuku Station.

Recently opened in late 2018, Warp is a vibrant club with a dazzling array of lasers, screens, and lights. It opens at 7 p.m., so you don't have to commit to an all-nighter if you want to catch the last train.

Warp is divided into 3 floors. The Universe Floor is the main section, hosting international DJs and playing a mix of popular music including hip hop, techno, and house. Bar Meteo is a lounge area, and the Cosmo Room is a low-key spot for parties.

Shinjuku offers every type of nighttime entertainment, so be sure to do some exploring to get the full experience.

3.0

16 Reviews

Tokyo Shinjuku-ku Kabukicho 1-21-1 Daini Toa Hall Building B1F

0362789197

View All

42

Deep Night Life Experience: Kabukicho Red Noren Gai

Tokyo's red light district is known as Kabukicho and serves as a hub of nightlife entertainment around the clock.

In addition to hostess clubs and love hotels, it's also packed with affordable restaurants and bars. It's easily accessed through the large red gate entrance from the East Exit of Shinjuku Station.

43

Korean Town at Shin Okubo

Shin-Okubo is a buzzing area that's within walking distance of Shinjuku. And it's not just a tourist trap either. Japanese people often visit Shin-Okubo to get a taste of the affordable international food selection the area has to offer.

Korean Town is the main allure, with vendors selling all kinds of delicious Korean snacks that can accompany you on your stroll. The area can get pretty busy though, so be prepared to brave the crowd.