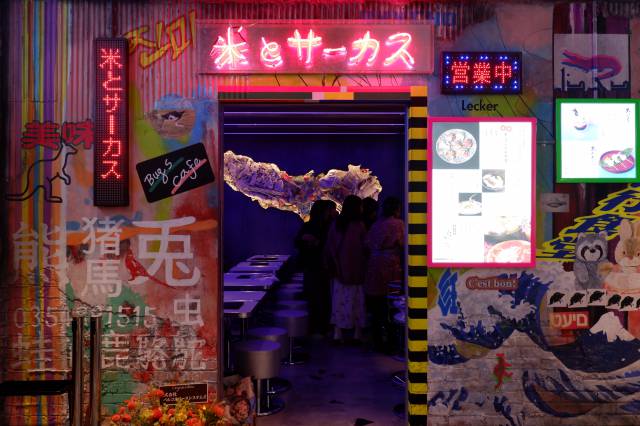 Shibuya is known for the iconic Shibuya Scramble Crossing and the Hachiko Dog statue. In this Shibuya Guide, we'll list all the best bars, cafés, Sushi restaurants, attractions, events, accommodations, and nightlife options for enthusiastic travelers visiting Tokyo for the first time.

With Shibuya being one of the top shopping and entertainment districts in Japan, it's no surprise that it has thousands of establishments offering traditional and modern Japanese goods and services. Whether you're traveling on a budget or looking to indulge, Shibuya has something to offer. Read on to know more about top tourist spots like Shibuya 109, Cat Street, and Shibuya Excel Hotel Tokyu.
01

Achieve Your Instagram Goals at Shibuya Scramble Crossing

Shibuya Scramble Crossing

― Keio Line Connecting Passage

If you're heading to Shibuya Mark City, you'll pass by the Keio Line Connecting Passage and will most likely notice people taking photos. This is because the glass bridge has a bird's-eye view of the Shibuya Crossing, and you can take as many photos as you want for free!



― Starbucks Coffee SHIBUYA TSUTAYA 2nd floor

Bookworms, rejoice! Inside the SHIBUYA TSUTAYA Book Store, you'll find Starbucks where you can get your coffee on the first floor, and enjoy it on the second floor where you get an amazing front seat view of the people crossing the intersection while reading your favorite book.

Starbucks Coffee SHIBUYA TSUTAYA 2nd floor

― CROSSING VIEW at MAG's Park (MAGNET by SHIBUYA109)

Formerly Shibuya Men's 109, MAGNET by SHIBUYA109 has a rooftop space called "MAG's Park". For a small fee, you can take your Instagram game to the next level and take photos on the observatory overlooking the Shibuya Crossing.

CROSSING VIEW at MAG's Park

― HOSHINO COFFEE in MAGNET by SHIBUYA109 (Hoshino Coffee 109 MEN'S)

Looking for a perfect breakfast spot and free photo spot? Hoshino Coffee in MAGNET by Shibuya109 offers fluffy pancake souffle and an unobstructed view of the photogenic crossing where you can take your foodie photo for your Instagram feed. The shop was formerly known as Hoshino Coffee 109 MEN's.

Tokyo Shibuya-ku Udagawacho 21-6 QFRONT 1F

0337702301

View All

02

Visit the Commemorative Photo Spot: Loyal Dog Hachiko

Hachiko

Loyal Dog Hachiko is one of, if not the most, popular landmarks in Shibuya. It is a bronze statue of the dog Hachiko, who passed away in 1935 after waiting for his friend, University of Tokyo professor Hidesaburo Ueno, for almost 10 faithful years in front of the Shibuya Station.

Tawareko Hachiko Statue

Another most-visited Hachiko statue is the one in Tower Records Shibuya, called Tawareko Hachiko Statue. This one is known for its intriguing pose where Hachiko is leaning sideways as if being blown by the wind (or music from the store?). Taking photos is free at both locations, so you can keep snapping photos until you get the right angle.

03

Teen Girls' Shopping Haven - Shibuya109

Shibuya109

This tube-shaped building can easily be seen from the Shibuya Crossing itself. Shibuya 109 sits right in the middle of the district's fashion hub.

The mall is known for its shops focusing on the Japanese Gyaru (Gal) fashion, making it popular for young women. The shops sell affordably priced clothes, costumes, shoes, beauty products and accessories relating to different subcultures that will surely be interesting to teen girls and the young at heart.

Virtual Gal

The mall is open daily from 10 AM to 9 PM, that's 11 hours of non-stop shopping for your Gyaru ensemble.

SPINNS

Related Article:
・Shibuya and Harajuku Shopping Guide: Tokyo's Fashion Hotspots

4.0

602 Reviews

Tokyo Shibuya-ku Dougenzaka 2-29-1

0334775111

[Shopping] 10:00-21:00[cafe …

View All

04

Go Shopping for Unique Souvenirs

Shibuya Hikarie

Shibuya Hikarie is located right in Shibuya Station and thus is easily becoming one of the new hottest shopping spots in the area. You can get cute souvenirs and gift ideas at AIUEO, it is a local shop that sells souvenirs like colorful candies and postcards. Another place to get cute gifts is at Claska Gallery and Shop, where they sell various traditionally crafted Japanese home items like pottery, condiment bottles, saucers, and the like.

Shibuya Hikarie

Shibuya Hikarie

4.0

525 Reviews

Tokyo Shibuya-ku Shibuya 2-21-1

0354685892

[ShinQs] 10:00-21:00 [Cafe &…

View All

― Mega Don Quijote

Mega Don Quijote Got no time for a souvenir run? Get interesting and quirky ones at the Mega Don Quijote in Shibuya. It's one of the biggest ones in Japan and is open 24hrs and has a variety of goods, like Japanese snacks, such as biscuits or Nori chips, houseware, beauty products, clothes, and they also have seasonal items during Christmas or Halloween.

Mega Don Quijote

Mega Don Quijote

5.0

13 Reviews

Tokyo Shibuya-ku Udagawacho 28-6

0570076311

View All

― Tokyu Hands

Tokyu Hands is Japan's biggest and most widely known DIY shop. It is a must-visit store especially for those who love arts and crafts, and you'll find something here no matter what your hobby is. They have a vast selection of local and international products, anything from kitchen utensils, gardening tools, sewing materials, stationery, to beauty products and so much more.

Tokyu Hands

4.5

6 Reviews

Tokyo Shibuya-ku Udagawachou 12-18

0354895111

10:00-21:00

View All

― Shibuya Center Street

If you are a tourist looking for a more traditional souvenir than the usual fridge magnets, chopsticks and Japanese Folding Fans, the best place to go is the Shibuya Center Street. You will also get to experience Japanese culture firsthand by mixing in with the locals and just having fun!

Shibuya Center Street

― Disney Store, Shibuya Koen-Dori

Disney Store, Shibuya Koen-Dori This Disney lover's haven is shaped like a small castle and inside you'll see lots of your favorite childhood characters.

Disney Store, Shibuya Koen-Dori

Disney Store, Shibuya Koen-Dori

You can buy various Disney character collectibles for you and the Disney lovers in your life. They also sell resort and admission tickets in the store.

Disney Store, Shibuya Koen-Dori

4.0

119 Reviews

Tokyo Shibuya-ku Udagawachou 20-15 Humax Pavilion Shibuya Koen line street

0334613932

[Weekday]11:00-20:00[Saturda…

View All

― Daiso

Daiso is the biggest dollar store chain in Japan. There are thousands of Daiso stores all over the country so you'll most likely find one no matter where you go. They have everything you can think of, kitchen products, snacks, beauty/cosmetic items, personal hygiene and much more.

07

Visit these Newly Reopened Establishments

SHIBUYA SCRAMBLE SQUARE

― SHIBUYA SCRAMBLE SQUARE

One of the most recently reopened establishments in Tokyo is the SHIBUYA SCRAMBLE SQUARE, which has been opened to the public again last November 1, 2019. One of its newest highlights, the Shibuya Sky, is a must-see as the observatory provides an astonishing 360-view of the Tokyo skyline, Tokyo Tower, Tokyo Skytree, and more.

SHIBUYA SCRAMBLE SQUARE

Shibuya Sky

Related Article:
・Shibuya Scramble Square / Shibuya Sky : Best Observation Deck in Tokyo

Tokyo Shibuya-ku Shibuya 2-24-12

0342214280

[SHIBUYA SCRAMBLE SQUARE Sho…

View All

― Shibuya Fuclas

This new upscale Shibuya Fuclas is a high-rise complex primarily focused on Tokyo Plaza Shibuya. There's a limousine bus that you can take from Haneda/Narita Airport that will take you to the 1st-floor bus terminal in Shibuya Fuclas.

Shibuya Fuclas

There is also a Rooftop Garden 'SHIBU NIWA' on the 17th – 18th floor of the plaza that has a lounge, bar, and restaurant.

SHIBU NIWA

― Shibuya Stream

Shibuya Stream is a commercial complex that has shops, restaurants, office spaces, and a luxurious hotel all in one place. The top half floors of the building are occupied by the new Google Japan Office.

Shibuya Stream

On the lower levels, you will find cafes, pubs, bars and restaurants, and the plaza facing Shibuya River where you can chill, enjoy the view and the breeze.

Shibuya Stream

― Shibuya Bridge

Shibuya Bridge is another commercial facility along the Shibuya River. It is designed to be a one-stop location catering to a diverse range of visitors. The complex has a hotel, cafes, restaurants, shops, offices and a nursery for families with young children. The Shibuya Bridge is built on the grounds of the former Toyoko Line.

― Shibuya Parco

Shibuya Parco is an extremely modern shopping destination that mixes culture, contemporary art, fashion, entertainment, and more. On the 2nd and 3rd floor of the mall is Shibuya Parco's stage for Japanese designers. It features pieces from renowned Japanese designers like Jun Takahashi and Nobuyuki Matsui. You'll find anything from casual wear to trendy Tokyo streetwear.

Shibuya Parco

Shibuya Parco

Related Article:
・Geek out at the new Shibuya Parco!

11

Stroll in These Cultural Japanese Fashion Streets

Harajuku

― Harajuku Cat Street

Among the top destinations in Shibuya is the Harajuku Cat Street. If you're expecting the street to be crawling with cute Neko (cats) – you'll be disappointed. But if you're looking for trendy fashion pieces, Instagram worthy cafés and cool vintage shops – this is a must-visit spot. The street connects the two main shopping hubs, Harajuku and Shibuya.

Harajuku Cat Street

Related Articles:
・Go Vintage Shopping in Ura-Harajuku
・Harajuku: Tokyo's Second Hand and Vintage Scene
・Cat Street: The Backstreet of Harajuku and Shibuya

Harajuku Cat Street

― Oku-Shibuya

Oku-Shibuya or Okushibu is one of Shibuya's hidden gems. It is a calm and stylish part of the district that has several amazing bars, good restaurants, and chic cafes. Among the favorite places to visit is Fuglen, a shop that has a cafe, a bar, and a furniture for sale. If you're into Scandinavian Style furniture, you'll most likely bring home a piece or two.

Fuglen Tokyo

Related Article:
・OKU-SHIBUYA

Cat Street

Tokyo Shibuya-ku Jingumae

View All

13

Experience Shibuya's Gourmet Dining

Shibuya Ramen

Ramen If you like Ramen, then you've come to the right place. Shibuya has some of the best chains scattered throughout the area. Some of the ones that you shouldn't miss would be Ichiran, Afuri, Niboshi Ramen Nagi, and Hayashi.

Related Article:
・The Best Ramen in Shibuya

If you're looking for a great Sushi place, Umegaoka Sushi Midori Sohonten梅丘寿司の美登利総本店 is the way to go. Their Sushi is served fresh daily, intricately sliced and prepared by experienced Sushi masters. The dishes come at reasonable prices, even the seafood platters.

Niku Yokocho渋谷肉横丁 is one of the most popular Yokocho spots in Shibuya. Located in Chitose Kaikan Building in Shibuya Center Gai, Niku Yokocho has 28 restaurants taking up two floors of the building. They have everything from Yakiniku to Yakitori so you can fill up with meat to your heart's content.

Niku Yokocho

Related Articles:
・The 12 Must-Visit Restaurants in Shibuya That Won't Break the Bank
・Where to Eat in Shibuya
・Where to Eat in Harajuku and Aoyama
・Shibuya, Harajuku and Omotesando:Newly opened Japanese cafes
・10 Delightful Restaurants and Bars in Omotesando

4.5

1106 Reviews

Tokyo Shibuya-ku Dougenzaka 1-12-3 Mark City East 4F

0354580002

[Weekday]11:00-15:00(L.O.14:…

View All

Tokyo Shibuya-ku Udagawachou 13-8 Chitose Kaikan 2F / 3F

0364161635

Depends on establishment (16…

View All

15

Explore Tokyo's Top Nightlife Hotspot

Izakaya 居酒屋

― Shibuya Nonbei Yokocho

Shibuya Nonbei Yokocho 渋谷のんべい横丁 or "Drunkard's Alley" as the name suggests is a narrow drinking alley in Shibuya. The street is lined with small Izakaya that can mostly fit only up to 4-5 people at a time. They offer cheap drinks, Yakitori, and laid-back music.

Shibuya Nonbei Yokocho

― Izakaya

Izakaya 居酒屋are commonly visited by locals looking to cool down after a day of work. With Shibuya being the center of nightlife in Tokyo, you can expect a lot of awesome Izakaya that are worth the visit. The most frequently visited are Toritake So Honten, Fukumimi Shibuya and Shirube Shibuya because of their great food and ambiance.

Toritake So Honten

― Tasu Ichi

Tasu Ichi タスイチ is a standing bar that serves two of the best things that ever existed: pizza and alcohol. They also have live sports events and a great ambiance for a night of bonding with friends and drinking. The place is popular with foreigners and will give you an amazing opportunity to meet new friends.

Tasu Ichi

Tasu Ichi

― North Village

North Village Dogenzaka Looking to chill for the weekend? North Village Dogenzaka is a Hookah Bar in Shibuya. They have friendly staff that will assist you with how to use the pots if this is your first time experimenting with shisha. The ambiance is very laid back and relaxing too.

North Village

― WOMB

WOMB For those who want to dance the night away, Womb is just the right place for you. It has four floors fully equipped with a high-quality audio system, funky laser lights and dancing strobe lights. The club also has different guest DJs every weekend, both local and international.

WOMB

Related Article:
・Nightlife in Shibuya

TASUICHI

東京都渋谷区宇田川町33-14

03-3463-0077

View All

17

Dine at Shibuya's Best Breakfast Spot

Hotel Koe Café

Hotel Koe Café is Hotel Koe Tokyo's bakery/restaurant. They have an unlimited bread buffet and affordable set meals guaranteed to start your day right. The hotel is located just a few minutes from Shibuya Station, so it can also be a good meetup or brunch date location.

Hotel Koe Café

Related Article:
・Breakfast in Shibuya

hotel koe

東京都渋谷区宇田川町 3-7

0367127251

View All

18

Try Out Various Local Activities

Mipig+Café

Shibuya is not only a food and shopping hub, but also a place for people of all ages to have fun. From animal cafés, where you can spend time with exotic pets like hedgehogs and snakes, to Go-Karting and VR, there is surely something for everyone.

― Animal Cafés

Shibuya is bustling with various animal cafés, from cute hedgehogs to snakes.

● There's the Chiku chiku CAFÉ ちくちくCAFÉ where you can have tea or coffee while watching and playing with hedgehogs in their dollhouses
● Owl House Cafe HOOT HOOT will fulfill your Harry Potter dreams of having your very own Hedwig while getting a cup of coffee
● Cat Café Mocha has coffee, manga, magazines and lots of cats
● Dog Heart from Aquamarine has adorable dogs such as poodles, beagles, and golden retrievers, while on the 3rd floor they have otters and meerkats
● Mipig+Café is a micro pig café, you can drink coffee while an extremely adorable micro pig naps on your lap, they also give you snacks so you can try to feed them

Related Article:
・Mipig Cafe Harajuku! Inescapable Micro Pig Cuteness!

― Street Cart

Experience Go-Karting around Tokyo wearing your favorite costume! Each Kart has an action camera and built-in speakers for a more personalized experience.

Street Cart

― VR PARK TOKYO SHIBUYA

Get the best virtual reality experience at VR Park Tokyo featuring multiple attractions such as adventure, horror, and racing.

VR PARK TOKYO SHIBUYA

VRPARKTOKYO (VR Park Tokyo)

Tokyo Shibuya-ku Udagawacho 13-11 KN Shibuya Building 4F

0334611311

View All

― Attend Shibuya's Famous Events

Shibuya Halloween

YOU MAKE SHIBUYA COUNTDOWN

● Shibuya Halloween

Being home to giant department stores and trademark shops selling Cosplay items and accessories for a reasonable price, Halloween is Shibuya's most awaited event. Every year, a massive crowd takes over the streets of Shibuya and has the time of their lives.



● New Year Countdown

Welcome the New Year at the world's busiest crossing, during New Year's Eve, the Shibuya Crossing is closed to cars and opened to countdown party people. It's a massive street party with live entertainment and fireworks.

20

Lounge at Locally Recommended Music Spots

Union record Shibuya

― TOWER RECORDS Shibuya

TOWER RECORDS Shibuya is another Shibuya landmark and a popular meeting spot too. Other than the Tawareko Hachiko Statue and the giant No Music No Life installation, people go here because of the massive collection of CDs and books.

TOWER RECORDS Shibuya

― Lighthouse Records

Lighthouse Records is a record shop in Shibuya that's DJ-oriented, with carefully set up turntables, audiophile merch and high-quality headsets, and massive LP records collection of various genres like techno, house, and nu-disco.

Lighthouse Records

Lighthouse Records

― Shibuya Milky Way LIVE & BAR

Shibuya Milky Way LIVE & BAR If you're up for some live music and a night of dancing, this is the spot for you. Shibuya Milky Way has an ample sized dance floor, great live music from awesome DJs, dancing laser lights and amazingly affordable liquor and cocktail options.

Shibuya Milky Way LIVE & BAR

― Zubar

Zubar 頭バー is a basement club popular for its eclectic atmosphere and well-known Tokyo DJs and artists playing on the regular. It is a mix of modern house music with a touch of the vintage ambiance of the club. The club also serves Taiwanese food, perfect for pairing with ice-cold drinks.

Beat Café

― Beat Café

Beat Café is for those who are more into the classics like music from the 70s or bands like the Smiths. It's a cool hang out place, has a nice ambiance and good drinks that start at 600 yen. The cafe also holds a lot of events especially if you go on a weekend.

22

Stay at Shibuya's Leading Accommodations

The Millennials Shibuya

―Shibuya Excel Hotel Tokyu

Shibuya Excel Hotel Tokyu Located in the heart of Shibuya, this hotel has lower rates than others of its level of luxury. It is directly connected to Shibuya Station and some of the best rooms have views of the iconic Shibuya Crossing. They also offer a sumptuous buffet breakfast every morning.


― The Millennials Shibuya

The Millennials Shibuya As the name suggests, is catering to traveling millennials and their accommodation needs. The hotel offers modern "Smart Pods" with everything you can ever need, huge storage, 80" screen, physical alarm and a control pod. It has amenities such as a shared lounge, communal kitchen and a coworking space.

Related Articles:
・The Millenials Hotel Tokyo

The Millennials Shibuya

The Millennials Shibuya

MUSTARD™ HOTEL

― Hotel Koe Tokyo

Hotel Koe Tokyo is one of the most popular trendy hotels in Shibuya. Mixing clean, modern design with comfortable spaces, the hotel has a restaurant, shops, and also holds cultural events to have the guests experience traditional Japanese hospitality.


― MUSTARD™ HOTEL

MUSTARD™ HOTEL is conveniently located in Shibuya Bridge. The main goal is to keep the guests close to everything that Shibuya has to offer; arts, music, entertainment, and culture. The hotel even has a Skateboard and Bike Rental for those who want to tour the city on their own.


―TRUNK (HOTEL)

TRUNK (HOTEL) is a boutique hotel focused on sustainable living and socializing. They get their food, furniture, and staff locally following their Local First value. So guests can expect a first-hand experience of Japanese modern living.


― WISE OWL HOSTELS SHIBUYA

WISE OWL HOSTELS SHIBUYA Is perfect for budget travelers, they have shared dormitories where you can either just rent a bed or share with your family and friends if you're traveling in a group. They also have Owl's Kitchen where you can order from a breakfast and café menu, and also transforms into a bar at night!

Related Articles:
・Hotels Walking Distance from Shibuya Crossing
・Where to Stay in Shibuya

渋谷エクセルホテル東急

東京都渋谷区道玄坂1-12-2(渋谷マークシティ内)

0354570109

View All

hotel koe

東京都渋谷区宇田川町 3-7

0367127251

View All

マスタードホテル渋谷

東京都渋谷区東 1-29-3

0364592842

View All

24

Go for a Morning Walk at Yoyogi Park

Yoyogi Park

Yoyogi Park is one of Tokyo's well-known parks, and it is a good spot for morning jogs or picnics by the pond. During weekends, you can watch street performers like the Rock and Roll Dance Group – Roller Family. They wear 50s fashion, sporting denim on denim and brushed up hairdo, dancing to 50s music.

Tokyo Shibuya-ku Yoyogikamizonochou , Jinnan 2

0334696081

Grounds are open at all time…

View All

Now you are almost fully informed about this vibrant city, but here are some additional travel tips for Shibuya visitors!

Travel Tips

― Exchange

Being a popular tourist spot, there's a lot of options for exchanging money in Shibuya. There's the Smart Exchange machine at the Blue Frog Information Center which is famous for its Instagrammable green train.

Related Articles:
・Where is the Best Place to Exchange Money in Shibuya



― Luggage

TOWER RECORDS 6F: The luggage service facility "Ecbo Cloak" has been launched in Tower Records Shibuya. You can leave your baggage here for a day for only about 300 yen per bag, tax included.

TOWER RECORDS 6F

TOWER RECORDS 6F

Related Articles:
・How to Leave your Luggage in Shibuya
・Store anything, anywhere, with 'ecbo cloak

26

Enjoy the one of Tokyo's liveliest neighborhoods in Your Own Way

Shibuya

So which tourist spot or activity made it to the top of your list? Shibuya has so much more to offer than just shopping, so whatever you feel like spending your vacation on, you don't have to go too far as the district has everything you'll need for a great time.