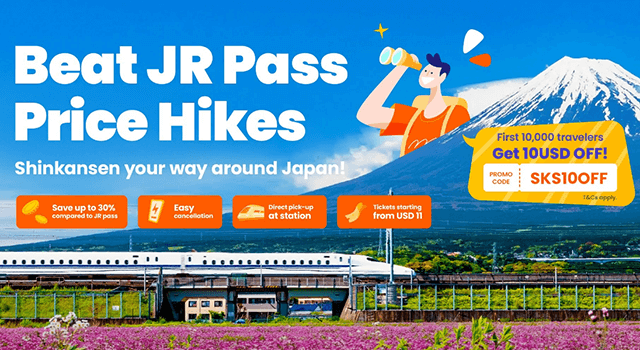 About the discount
Receive a US$10 discount coupon for Shinkansen tickets with a purchase of US$200 or more.

How to Use
You can receive a discount by purchasing from the URL introduced in this article.

In addition, a coupon code is required to apply the discount.
Please copy the coupon code below and use it.

Code: SKS10OFF

Purchase URL:https://www.klook.com/tetris/promo/ptpglobalsale/

Recommended for
This is recommended for travelers who will not be traveling long distances during their stay in Japan.
Most Shinkansen sections cost more than US$200 round-trip, so we recommend using this coupon!

*If you are staying in Japan for an extended period of time and will be traveling long distances many times, we recommend purchasing a Japan Rail Pass.
Click here to purchase a Japan Rail Pass.

Notes
The promo code SKS10OFF has a limited quantity of redemptions. First come, first served. 10 USD discount - 200 USD minimum spend on point-to-point Japan train tickets - 1 Time use - Expiry on 31 December 2023 23:59:59 GMT+8
The promotion is valid from Oct 6 until fully redeemed.
The promotion is valid only for bookings made via Klook's website and mobile app, excluding listings on third-party platforms (Agoda, Booking.com, Hotels.com etc).
The promotion does not apply to activities in the Non-Applicable Activity List, including flights, Universal Studios Japan and Klook Gift Cards, etc.
The promotion is valid for one-time use per user account only.
The promotion is limited. The promotion may be subject to additional terms and conditions, including but not limited to validity period.
Discount will be applied on the final price and displayed on the payment page if the promotion is successfully applied. No discount will be given if the promotion fails to apply.
Prices listed on page may be subject to change.
The promotion cannot be exchanged for cash or used in conjunction with other promotional programmes, offers, discount cards, vouchers or VIP privileges unless otherwise stated.
Klook reserves the right to require payment of fees or charges for any services offered by Klook.
You shall pay all applicable fees or charges, as described on Klook's website and mobile app in connection with such services selected by you.
Klook reserves the right to change its price list for fees or charges at any time, upon notice to you, which may be sent to you by email or posted on Klook's website and mobile app.
Your use (or continued use) of the services offered by Klook following such notification constitutes your acceptance of any new or revised fees or charges.
Klook supports payment in different currencies and rates can be converted into different currencies for your convenience. Activity rates indicated in a certain currency are at a rate determined by Klook, estimated using market spot rates. Payment currency will be clearly indicated at time of payment. Some credit cards may charge additional fees in handling certain currencies, please consult with your credit card issuer if additional charges will apply to your transaction.
The Promotion is non-refundable and cannot be re-transferred or sold to third parties.
The Promotions may be subject to additional terms and conditions as specified by Klook from time to time.
Klook reserves the right to suspend, cancel or modify the promotion at any time without prior notice. All decisions by Klook in conjunction with the promotion are final and binding and no discussions will be entered into or correspondences entertained in this regard.