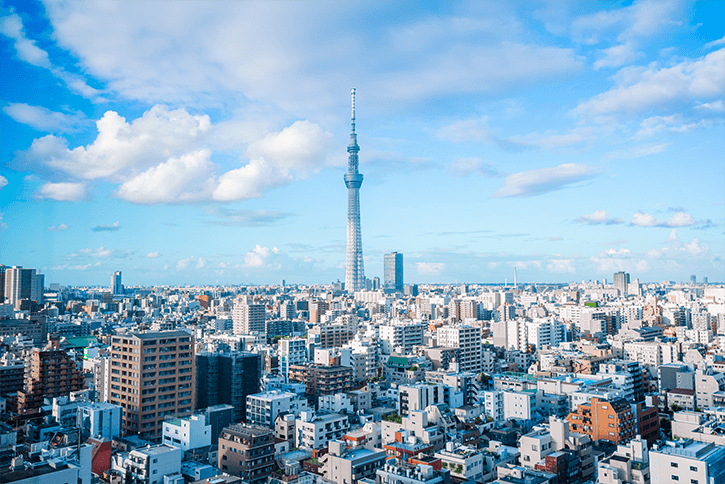 If you're an international visitor planning to spend a few days in Tokyo seeing the sights, the Greater Tokyo Pass might be just what you need to save time and money roaming the city. Read on to discover what the Greater Tokyo Pass is, how to use it, and a few of the places it can take you.

Photo: International visitors to Tokyo who plan to explore the metropolis and its surroundings by train should absolutely consider purchasing the Greater Tokyo Pass
01

What Is the Greater Tokyo Pass?

The Greater Tokyo Pass is a public transit pass for the greater Tokyo area, available to international visitors only. As a pass holder, you'll have all-you-can-ride access to dozens of private rail and bus lines in Tokyo and surrounding prefectures like Kanagawa, Chiba, Saitama, and Tochigi. For the full list of included rail and bus lines, see the Greater Tokyo Pass website (https://greater-tokyo-pass.jp/en/rosen/).

You can choose between a 5-day and a 3-day Greater Tokyo Pass, with different pricing and coverage:

* Children are charged the adult price starting from April 1st on the year they turn 12.

Note that the JR railway network isn't covered by the Greater Tokyo Pass at all. If your travel plans include a lot of JR trips—local or Shinkansen—the Japan Rail Pass might be a better choice.

The Tokyo Greater Pass can be purchased at Narita and Haneda Airports, as well as through the ticket machines at any of the Tokyo Metro stations including Tokyo Station (above). Photo by 潇 文 on Unsplash

02

Getting a Greater Tokyo Pass

The Greater Tokyo Pass isn't a physical object—you buy it as a kind of add-on for your PASMO PASSPORT , a plastic IC card with a rechargeable balance for one-tap entry into train stations and buses. (If you're familiar with the regular PASMO or Suica cards, the PASMO PASSPORT is basically a special version available only to international visitors.)

If you have a PASMO PASSPORT already, you can buy a Greater Tokyo Pass at Narita or Haneda airport, any Tokyo Metro station ticket machine (and some ticket machines on other lines), or one of numerous pass offices and information centers at major locations around Tokyo (including Ueno, Shinagawa, Shibuya, and Shinjuku).

If you don't have a PASMO PASSPORT, you'll need to buy one of those along with your Greater Tokyo Pass. PASMO PASSPORTs aren't sold at station ticket machines, so you'll need to make your purchase at the airport or a pass office or information center. For a full list of sale locations, see the Greater Tokyo Pass website.
https://greater-tokyo-pass.jp/en/ticket/

Note that you might need to show your passport when buying a Greater Tokyo Pass, to prove that you're an international visitor.

03

Using Your Greater Tokyo Pass

Once you have your Greater Tokyo Pass, simply use the PASMO PASSPORT card to tap in and out of train stations and buses as normal. As long as those stations or bus lines are part of the Greater Tokyo Pass network, your ride is free.

What kind of places can a Greater Tokyo Pass take you? Here are just a few examples:

- Enoshima Island: This picturesque island off the Kanagawa coast has been a popular travel destination for centuries. To get there, take the Odakyu Line from
- Shinjuku Station to Fujisawa Station. At Fujisawa Station, transfer to a train bound for Katase-Enoshima station.
- Although an additional fee is required, on weekends and holidays there is a limited express train that runs from Shinjuku Station to Katase-Enoshima Station without requiring a transfer.

Enoshima Island, the picturesque island off the coast of Kanagawa is accessible using the Greater Tokyo Pass and can be reached in under two hours from Central Tokyo. Photo by natsuki on Unsplash

Shibuya, Ginza, Asakusa, Ueno: Central Tokyo is crisscrossed with private trains and subways, and the Tokyo Metro Ginza Line lets you ride virtually all of them. Check out the famous "scramble" intersection at Shibuya, ride across to Ginza to browse its huge department stores and flagship brand locations, zip up to Asakusa to see the giant lantern at Kaminari-mon Gate, zag back to Ueno to stroll in the park and see the museums. Plan out an adventure in advance, or hop onto the subway and see what happens!

All of the usual must-see locations in Tokyo can be reached via trains using the Greater Tokyo Pass, including Shibuya's famous scramble crossing area (above). Photo by Jezael Melgoza on Unsplash

Mount Takao: If mountains (and tengu) are your thing, take the Keio Line from Shinjuku to Takaosanguchi. The trails up Mount Takao start just a few minutes from the station gates. (You can also ride to the top in comfort from the nearby Kiyotaki cable car station if you want to pay the fare—sadly, the cable car isn't covered by the Greater Tokyo Pass.)

Head to the western reaches of Tokyo to the Mt Takao area to experience the vast nature and history the area has to offer. With the Greater Tokyo Pass. Photo by wanderplans.com on Unsplash

Narita or Haneda Airport: Both of Tokyo's airports are in the Greater Tokyo Pass network (via Keisei Line for Narita and Keikyu Line for Haneda), so you can save yourself some hassle by buying your pass at the airport when you arrive, and/or timing your pass so that you can use it on the last day to ride back and catch your flight.

Nikko Toshogu Shrine: Take the Tobu Line from Asakusa to Tobu Nikko station in Tochigi, and you'll be a short bus ride from Nikko Toshogu Shrine. These buses aren't covered by the Greater Tokyo Pass either, but they're relatively inexpensive—just ¥500 for adults or ¥250 for children for a World Heritage Bus ticket that's valid all day long.

Despite its name the Greater Tokyo Pass affords access to various locations well outside the limits of the Tokyo Metropolis, including the Nikko Toshogu area, pictured above. Photo by AXP Photography on Unsplash

Another popular location outside of the Tokyo Metropolitan but is covered by the Greater Tokyo Pass in Yokohama City – particularly popular as night falls. Photo by Nagatoshi Shimamura on Unsplash

Yokohama: The Tokyu Toyoko Line will take you from Shibuya to Yokohama station in half an hour. From there, you can ride the Minato-Mirai Line to reach everything from seaside parks to Chinatown to the Cup Noodle Museum.

If you plan to be hopping on and off trains as you explore Tokyo, the Greater Tokyo Pass might be just what you need!