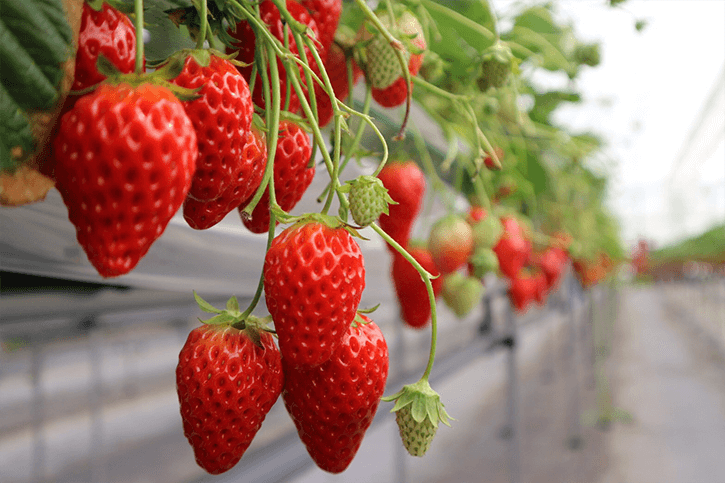 As Japan enters summer, several of the more tropical fruits come into season across the country, which in turn inspires the popular pastime of fruit picking.
Getting out amongst nature and the warm weather, many people will take a day to go and pick their favorite fruit for themselves, which not only allows you to see exactly where your fruit comes from, but also contributes towards a more sustainable way to enjoy the fresh produce that Japan has become famous around the world for.
From cherries and grapes to apples and strawberries, here we look at some of the best places to get your hands dirty and enjoy a day of fruit picking in Japan.
01

Strawberries and Blueberries in Chiba

Located to the east of Tokyo and with much more open space than the capital, the city of Chiba is home to a variety of agricultural businesses, including fruit farming. One such location where you can go and try these delicious fruits straight off the vine is Dragon Farm: a fruit farm specializing in the cultivation of both strawberries and blueberries.

While winter is great for picking strawberries, Japan's blueberries are always a delicious option during summer.

During the winter months, visitors to Dragon Farm can pick a variety of strawberries grown throughout the farm, while during the summer months, there is an equally impressive variety of blueberries to collect and enjoy. There are also English-speaking staff on hand to assist international visitors.

Entry to Dragon Farm is typically 1500 yen for children and 3000 yen for adults (middle school age and up) but can vary depending on the season. Entry grants visitors half an hour of all-you-can-eat fruit picking. But please note, they do only accept cash.

Address: 1354 Oguracho, Wakaba Ward, Chiba 264-0007

4.0

18 Reviews

Chiba Chiba-shi Wakaba-ku Oguracho 1354

0432353788

View All

For many years, Aomori has been known as the place to go in Japan for apples. Located in the northerly region of Tohoku, Aomori is a stunning prefecture of rolling hills and nature, perfect for fruit farming.

Nowhere in Japan is better known for bright, juicy apples than Aomori Prefecture in the northerly Tohoku region.

While there are several apple orchards scattered throughout the area that allow visitors to come and pick their own apples, a standout is Hirosaki City Apple Park. A sprawling location of more than 2000 apple trees spread across 5 hectares, there is no shortage of apples to be picked during the season, which typically takes place between early August and mid-November. Do be aware that harvesting season can vary depending on weather conditions though, so be sure to check in advance.

Adding to the apple adventures, Hirosaki City Apple Park also holds an annual apple harvest festival that typically takes place in early November. Here, visitors can enjoy a variety of apple-based goods and participate in all kinds of family friendly activities including live music and crafts.

Entry to Hirosaki Apple Park is free, although if you wish to pick your own apples, the cost is based on the overall weight of apples picked.
Address: Terasawa-125 Shimizutomita, Hirosaki, Aomori 036-8262

Aomori Pref. Hirosakishi Shimizutomita Terasawa 125

0172367439

[Ringo no Ie/Former Osanai F…

View All

In the same way that Aomori has become famous for apples across Japan, the prefecture of Yamagata is known across the country for its cherry production. While there are a number of varying fruit orchards across Yamagata, cherries have gone on to become their biggest export, today producing around 70% of Japan's supply.

Producing almost three quarters of Japan's supply, it's no surprise that Yamagata's cherries taste as good as they look.

Between late April and July there are quite literally hundreds of places across Yamagata where you can go fruit and cherry picking for yourself, but one farm that is guaranteed to offer a great variety is Yamagata Cherry Land & Kaminoyama Kanko Fruit Orchard.

Although several different fruits are grown here, the most famous are the cherries, which are said to possess a unique taste in comparison to those found on other farms due to being grown with as little human contact as possible.

40 minutes of fruit picking at Yamagata Cherry Land & Kaminoyama Kanko Fruit Orchard is 800 yen for children and 1600 yen for those over ten years of age, but please note this amount can vary depending on the type of fruit picked.

Address: Handoro-1241-47 Mikami, Kaminoyama, Yamagata 999-3223

5.0

1 Reviews

Yamagata Pref. Kaminoyamashi Mikami Handouro 1241-47

0236742345

9:00-17:00

View All

Famous for its natural scenery and views of Mount Fuji, Yamanashi prefecture is also home to some of Japan's best vineyards, many of which not only produce a delicious array of wines, but also give visitors the opportunity to come and pick their own grapes.

Serving as the base for some of Japan's finest wines, Yamanashi grapes are just as delicious straight from the vine.

One of these locations is the Misaka Farm Grape House, where between summer and fall, visitors can hand pick up to 20 different varieties of grapes. But in addition to simply picking and eating grapes, Misaka Farm Grape House also offers a number of unique hands-on workshops where you can learn to make jam and wine using your freshly picked fruits. Wine tasting also allows you to sample wine made using last year's harvest. Please note: these additional workshops outside of the standard fruit picking must be booked in advance.

Admission to the Misaka Farm Grape House varies depending on the time of year and conditions, so it is recommended to check in advance. While credit cards are accepted, fruit picking fees must be paid in cash.

Address: 656-1 Misakacho Natsumehara, Fuefuki, Yamanashi 406-0804

Also known for sprawling nature and incredible natural views, Shizuoka is home to a number of farms producing Japanese Mikans. Commonly known as mandarins in English, mikans are a delicious citrus known for their sweet and fruitful taste.

Blooming later in the year, mikans are the perfect fruit to pick for those who prefer the milder weather.

Centered around unique Spanish-style buildings with stunning views of the Shiranui Sea, Fukuda Farm, also known as Yunoko Spain Village, is a truly unique fruit-picking location. Primarily known for its mikans, which are typically in season between October and December, visitors here can enjoy an all-you-can-eat picking tour amidst a cool sea breeze. An on-site store also sells a variety of jams and juices made using the fruits grown on the farm.

The fee for fruit picking is 400 yen for adults and 300 yen for children. For those that wish to take home extra mikans that they have picked, there is an additional fee of 300 yen per kilogram.

Address: 2525 Chinnai, Minamata City, Kumamoto 867-0011

Kumamoto Minamata-shi Jinnai 2525

0966633900

[Mandarin orange picking][No…

View All

See here for fruit picking tours across Japan:

Fruit picking tours