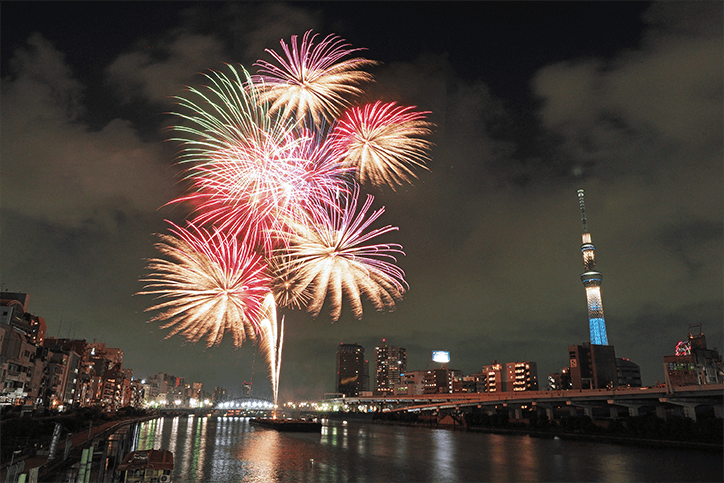 One of the hallmarks of summer in Japan, along with buzzing cicadas, watermelon and barley tea, is fireworks festivals (hanabi taikai). Japanese turn out to watch the skies exploding with light and color in July and August, often sporting yukata or jinbei traditional summer wear and toting folding fans, drinks and snacks. As Japan opens up following the coronavirus pandemic, 2023 marks the full return of fireworks festivals. This article will provide an overview of the major ones.

Hanabi literally means "fire flowers," and just like real flowers, fireworks are beloved in Japan not only for their beauty but their transience. Renowned at competitions around the world, Japanese fireworks are characterized by their spherical shape and concentric paper structure, allowing them to explode into perfect globes of changing colors, according to the Japan Hanabi Association.

Japanese fireworks range from shapes named after and inspired by flowers, such as kiku (chrysanthemum) and botan (peony) to more modern smileys and Doraemon faces. Another feature of Japanese fireworks is the term sutaamain ("starmine"), referring to rapid-fire launches of multiple shells. Traditional Japanese fireworks manufacturing began in the Edo era (1603–1867). The great warlord Tokugawa Ieayasu (1543–1616), founder of the Tokugawa dynasty that ruled during Edo times, is said to have been the first Japanese to see a firework when a British envoy and a Chinese merchant staged a display in 1613.
01

Sumidagawa Fireworks Festival, Tokyo

It was 120 years later when Ieyasu's descendant Tokugawa Yoshimune, the eighth shogun, put on a fireworks festival on the Sumida River in Edo (today's Tokyo) to placate the souls of people who died in outbreaks of famine and disease that began in 1732. This event evolved into the Tokyo Sumidagawa Fireworks Festival, which continues to be held every July (July 29 in 2023). This major summer event in Japan's capital draws nearly 1 million spectators to see pyrotechnics bursting over the Sumida River, Tokyo Sky Tree, Sensoji Temple and other local landmarks. Some of the other biggest fireworks displays in Japan include the following (note that some have paid viewing areas in addition to free spots).

02

Nagaoka Festival Grand Fireworks Show, Niigata

Drawing over 1 million spectators on August 2nd and 3rd, the Nagaoka Festival Grand Fireworks Show is held over the Shinano River, the longest river in Japan, in Nagaoka, Niigata Prefecture. The event dates back to a 1946 reconstruction festival held to revive the city after wartime devastation. Today it's famous for the 650-meter-long "Niagara" explosion created by supersized fireworks shells as well as "Phoenix" fireworks set to music. It's about a 30-minute walk from Nagaoka Station to the viewing areas along the Shinano River.

03

Lake Suwa Fireworks Festival, Nagano

Picturesque Lake Suwa, featured in numerous films and video games, plays host to one of Japan's most beautiful pyrotechnics shows, with 40,000 fireworks reflected in the waters and reverberating off the surrounding mountains, dramatically enhancing the sensory experience. The event draws nearly 500,000 people, and many inns on Lake Suwa, located some 25 km southeast of Matsumoto, accommodate guests who enjoy both the aerial displays and Nagano's eco-tourism options. The 2023 festival will take place August 15, but smaller displays are put on every evening in August, followed by All-Japan New Fireworks Competition, held in early September. Suwa Lakeside Park is a good spot for viewing.

The Lake Suwa Fireworks Festival in Nagano Prefecture presents 40,000 fireworks in a beautiful mountain lake setting. Image courtesy Suwa City.

With a history dating back over 100 years to 1910, the Omagari Hanabi festival is one of the most-attended fireworks events in Japan, drawing some 740,000 people. Roughly 18,000 fireworks are set off over the Omono River in Daisen City, Akita Prefecture, on the fourth Saturday of August (August 26 in 2023). One thing that makes the Omagari Hanabi festival stand out is that the pyrotechnics begin before dark, providing a rare spectacle of fireworks detonating in daylight skies. The Omono Riverside Ryokuchi Athletic Park commands an ideal view of the festivities.

Fireworks burst over the Omono River in at the Omagari Hanabi festival in Akita Prefecture.

05

Tsuchiura All Japan Fireworks Competition, Ibaraki

One of Japan's premier fireworks extravaganzas, the Tsuchiura All Japan Fireworks Competition will celebrate a century of thrills in 2025. This autumn celebration is held on the first Saturday of November (November 4th, 2023) along the Sakura River near the western shore of Japan's second-largest lake, Kasumigaura, in Tsuchiura City, northeast of Tokyo. With government-backed prizes, the competition is aimed at bringing Japanese fireworks to new heights, figuratively if not literally. It consists of three divisions: starmines, size 10 shells (one of the largest fireworks in terms of explosion diameter), and original displays. Another feature of the event is the "wide starmine" in which some 2,000 fireworks are set off over 6 minutes.

Held in autumn, the Tsuchiura All Japan Fireworks Competition in Ibaraki Prefecture is one of Japan's premier fireworks events.

4.5

54 Reviews

Ibaraki Pref. Tsuchiurashi Sanoko

0298261111

View All

06

Ise Jingu Dedication National Fireworks Festival, Mie

This major fireworks competition, one of Japan's three biggest along with Omagari and Tsuchiura, will be held for the first time in four years when the skies over the Miya River light up on July 15th, 2023. The best pyrotechnicians from across Japan will compete for prizes when they launch some 9,000 to 10,000 fireworks near Ise Jingu, one of the most revered Shinto shrines in the nation. The festival dates to 1953 and was originally organized to commemorate the 59th regular reconstruction of the sanctuary. Some 230,000 people gather every year in Ise City, Mie Prefecture, for this stunning aerial performance.

Mie's Ise Jingu Dedication National Fireworks Festival is another of Japan's great firewoks competiions. Image Courtesy Ise City.