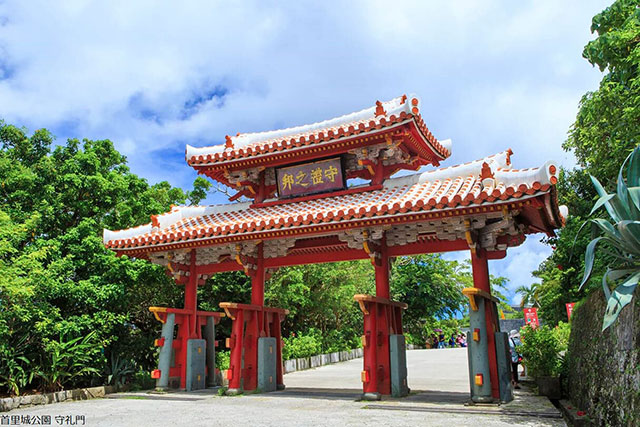 Okinawa, Japan's southernmost prefecture, is a popular tourist destination, blessed with beautiful nature, a tropical climate, and a rich, diverse culture. The archipelago was once a flourishing, independent nation known as the Ryukyu Kingdom (1429 to 1879), which traded with other Asian countries, such as China, the Philippines and Thailand. Historical buildings and structures from the Ryukyu Kingdom can still be seen across the islands, many of which stand out for their unique architecture and design.

Okinawa was also a key battleground during the Pacific War and close to 200,000 civilians and Japanese soldiers lost their lives during the Battle of Okinawa (1 Apr 1945 – 22 June 1945). After the war, Okinawa was placed under the United States control before being handed back to Japan in 1972.

In this article, we will introduce some of the most fascinating historical spots in Okinawa to add to your travel itinerary. By discovering these sites, it will hopefully stoke your curiosity to learn more about Okinawa's rich traditions and culture.

*All information provided in this article is current as of January 24, 2023.
01

Shuri Castle in Naha: A symbol of the Ryukyu Kingdom that radiates Ryukyu culture

Shuri Castle was built as a royal palace and administrative center, sometime between 1527 and 1555, during the reign of Sho Sei, the fourth king of the Second Sho Dynasty. Today, it attracts tourists with its bright red wooden structures and unique architectural style influenced by both Japan and China.

Throughout the centuries, Shuri Castle was burned down and rebuilt several times, including in the aftermath of the devastating Battle of Okinawa. After fire destroyed the castle, a committee was formed to restore its main structures. Several of these are now designated as National Treasures, including the seiden (designated in 1925) and the kankaimon, zuisenmon, hakuginmon, and shureimon gates (designated in 1933).

Many of Shuri Castle's buildings are painted with natural red lacquer and the pillars feature delicate dragon sculptures. The palace is surrounded by high walls and the compound features multiple chambers to explore, such as the hokuden (north hall) and nanden (south hall).

In the center of the compound is the seiden, which was featured on a 2,000 yen note to commemorate the 28th G8 Summit held in Kyushu and Okinawa in 2000. In 2019, a massive fire destroyed the castle's main structures, including the seiden and reconstruction efforts are currently underway, with the aim of restoring the seiden by 2026.

Situated on a 120-meter-high hill, Shuri Castle offers panoramic views across Naha. In the yohokoriden hall, which served as the site of succession rituals, a large video display illustrates the history of the Ryukyu Kingdom and the seiden's cultural significance.At the site, you can also learn all about the reconstruction process that is currently underway via panel displays and video footage.

[Access] Four minutes' walk from Shuri station on the Okinawa Urban Monorail.

4.5

78 Reviews

Okinawa Pref. Nahashi Shurikinjouchou 1-2

0988862020

[Open Hours (open everyday f…

View All

02

Tamaudun mausoleum in Naha: The UNESCO World Heritage-listed imperial tombs of the Second Sho Dynasty

Built by King Sho Shin of the Ryukyu Kingdom in 1501, Tamaudun was designed as a royal mausoleum for the Second Sho Dynasty (1469 to 1879), which took the throne by way of a coup. This dynasty continued for 19 generations, until the kingdom was incorporated into the Empire of Japan and became Okinawa Prefecture.

The mausoleum consists of three chambers: the east, center and west rooms. The center room was used as a resting place for the deceased before the washing of the bones, which was once a sacred ritual in Okinawa. The east room was used for the remains of kings and queens, years after the bones were washed, while the west room fulfilled the same purpose for other royal family members. The gravestone in front of the mausoleum lists the names of the royals who are interred here.

Though Tamaudun was severely damaged during the Battle of Okinawa, a major restoration took place between 1974 and 1977. In December 2020, Tamaudun was listed as a UNESCO World Heritage Site under the collective title of "Gusuku Sites and Related Properties of the Kingdom of Ryukyu". In December 2018, the royal mausoleum was also listed as a National Treasure of Japan and was the first Okinawan structure to receive the title.

Tamaudun's stone-walled compound is known for its coral stone grounds. This white coral stone is sourced from the sacred island of Kudaka and is believed to dispel bad spirits. Be sure to take note of the mausoleum's decorative elements, including the stone shisa lion statues that stand on top of the chambers. The shisa is the guardian lion of Okinawa and you can often see these statues on rooftops and house entrances throughout the prefecture.

[Access] 15 minutes' walk from Shuri Station on the Okinawa Urban Monorail.

4.0

415 Reviews

Okinawa Pref. Nahashi Shurikinjouchou 1-3

0988852861

9:00-18:00

View All

03

Nakijin Castle Ruins in Motobu: UNESCO-listed remains of the Hokuzan Kingdom

The Nakijin Castle Ruins are located on the Motobu Peninsula in northern Okinawa, less than two hours' drive from Naha. Before the Ryukyu Kingdom was established in the 14th century, Okinawa was divided into three kingdoms: Hokuzan to the north, centrally located Chuzan, and Nanzan to the south. During this period, the castle housed the Hokuzan king, hence it is also known as Hokuzan Castle, and is comparable in scale to Shuri Castle.

The Nakijin Castle Ruins are categorized locally as gusuku, which refers to stone-walled castles and forts built in the Ryukyu Islands between 1187-1314 (the Gusuku period). The ruins are surrounded by 1.5 kilometers of stone walls and located atop a 100-meter-high hill. Research suggests that its seven enclosed spaces had different uses. For example, the ushimi riding field was a training field for soldiers and horses while the shigemajokaku bailey was a residence for servants.

In 2000, the Nakijin Castle Ruins were listed as a UNESCO World Heritage under the collective title of "Gusuku Sites and Related Properties of the Kingdom of Ryukyu", and are also designated as a historic site of Japan.

Though availability may be limited, you can request a guided tour in English operated by a local volunteer group. Tickets for the ruins include entry into the Nakijin Village History and Culture Center, which is located adjacent to the carpark.

[Access] 40 minutes' drive from the Kyoga Interchange

4.0

1 Reviews

Okinawa Pref. Kunigamigunnakijinson Imadomari 5101

0980564400

8:00-18:00(Last entry17:30)[…

View All

04

Okinawa World in Nanjo: Experience the history, culture, and nature of Okinawa in its entirety!

Okinawa World is the largest theme park in the prefecture and is a great place to immerse yourself in Okinawa's history, culture and nature. Among its must-see attractions are the 300,000-year-old limestone cave, Gyokusendo (one of the largest in the country); Ryukyu Castle Town with its traditional, red-tiled Okinawa houses; and the one-of-a-kind museum park showcasing habu (poisonous indigenous snakes).

Ryuku Castle Town in Okinawa World is a replica of a traditional Ryukyu neighborhood, with some of its old houses listed as Tangible Cultural Properties of Japan. The village also has furu (ruins of traditional outdoor lavatories that also served as hog houses) and thatched-roofed kami asagi where religious services used to take place.

A highlight of any visit is trying on colorful traditional outfits from the Ryukyu Kingdom and doing a photoshoot. In times gone by, these outfits were only allowed to be worn by Ryukyu royal families and warrior clans. But now, anyone can wear them to simply walk around the town. In addition, the village is known for its workshops on weaving, dying, and glass blowing and there are various souvenir shops where you'll find unique local crafts and snacks.

The museum park also presents a spectacular habu and mongoose show daily, together with traditional eisa performances. Eisa is a summer Okinawan dance, accompanied by rhythmic drum beats and chanting.

Entrance to Okinawa World is 2,000 yen per adult, 1,000 yen per child (4 to 14 years of age), and free for children under 4.

[Access] 10 minutes' drive from the Haebaru Interchange

3.0

5 Reviews

Okinawa Pref. Nanjoushi Tamagusuku Maekawa 1336

0989497421

9:00-17:30(Last entry16:00)

View All

05

Himeyuri Cenotaph in Itoman: Pay your respects to the lives lost during the Battle of Okinawa.

This poignant cenotaph is dedicated to the Himeyuri student corps who died during the Battle of Okinawa. This group comprised 240 female students and teachers from the Okinawa Shihan Women's School and the Okinawa Daiichi Women's High School. During the Pacific War, they were mobilized to tend to wounded soldiers at military hospitals. More than half of these women died in 1945 and the cenotaph was built in the following year as a tribute. It features an altar for offerings of flowers, which can be purchased at the entrance.

As the number of World War II survivors continues to dwindle, places like the Himeyuri Memorial Museum play an integral part in highlighting the misery of war and the value of human life. It features six themed exhibition rooms and displays illustrating the severity of the war, including portraits of the deceased, survivor testimonies, and exhibits detailing the medical tools used by the student corps.

Admission to the the Himeyuri Memorial Museum costs 450 yen per adult while the nearby cenotaph is free to visit.

[Access] 30 minutes' drive from Naha Airport or in front of Himeyuri no Tou (Himeyuri Cenotaph) bus stop.

06

Peace Memorial Park in Itoman: A detailed insight into the Battle of Okinawa

Peace Memorial Park is situated in Itoman at the southern tip of Okinawa Island, which was known as the final front of the Battle of Okinawa. Overlooking the sea to the south-east, this 40-hectare park houses the Peace Memorial Museum, the Peace Hall, the Cornerstone of Peace (Flame of Peace), and the National War Dead Peace Mausoleum.

The Peace Memorial Museum was established as an homage to the victims of the Pacific War, as well as to pass down the history of the Battle of Okinawa to future generations. Although the museum is currently closed for renovation until April 30, 2023, it regularly hosts special exhibitions throughout the year.

The Peace Memorial Museum displays photographs, video footage, artifacts, and testimonials from war survivors while the Peace Hall is home to a 12-meter-high lacquered Buddha, the symbol of world peace. The Cornerstone of Peace was unveiled in 1995 and features an avenue of stone plates engraved with the names of more than 240,000 individuals. These include civilians and both Japanese and foreign soldiers who perished during the Battle of Okinawa.

The park is an important place for those who lost family and friends during the war, as they can reconnect with the deceased by visiting the cemetery and finding their names at the Cornerstone of Peace. Younger generations can learn about the profound impact of the Battle of Okinawa and the importance of world peace. More than one million people visit the park each year, including school children and mourners of those who sacrificed their lives.

Admission to the park is free. A one-day bus ticket (100 yen) allows you to explore the park with ease. Visiting the Peace Memorial Museum costs 300 yen while the Peace Hall costs 500 yen.

[Access] In front of Heiwa Kinendo Iriguchi (Peace Memorial Park) bus stop

4.0

1 Reviews

Okinawa Pref. Itomanshi Mabuni 444

0989972765

[Park] 8:00-22:00

View All

07

The Former Japanese Navy Underground Headquarters in Tomigusuku: A tunnel complex used during the Battle of Okinawa

The Former Japanese Navy Underground Headquarters are housed in a tunnel complex in Tomigusuku, which is located in the south of Okinawa Island. This tunnel was built to protect the Oroku Airbase (now Naha International Airport) in preparation for the Battle of Okinawa, with its shelter designed to resist bomb attacks by American forces.

Using simple tools such as pickaxes and hoes, 3,000 soldiers worked day and night over the course of five months to build the tunnel. It is roughly 20 meters deep and 450 meters in length, with 300 meters of the tunnel now restored.

As the bombardments raged, the tunnel complex accommodated around 4,000 soldiers, many of whom were either killed in battle or died by suicide. The brutal reminder of those who took their lives can be seen all around the tunnel, with holes made by hand grenades and a commander's final poem etched into the wall of his room.

The shelter was abandoned after the war, but following restoration efforts, parts of the facility are now open to the public for educational purposes. After descending the steps that lead to the war museum, you can access the operation room and commanding officer's room once used by the navy. Weapons, uniforms, and letters written by the soldiers are also on display.

On Fridays, there is a peace education program that includes a free guided tour (limited to 19 people). It includes visits to the memorial tower and the museum, as well as guided commentary as you explore the interior rooms of the tunnel complex.

[Access] 30 minutes' walk from Oroku Station on the Okinawa Urban Monorail.

4.5

407 Reviews

Okinawa Pref. Tomigusukushi Tomigusuku 236

0988504055

9:00-17:00(Last entry16:30)

View All