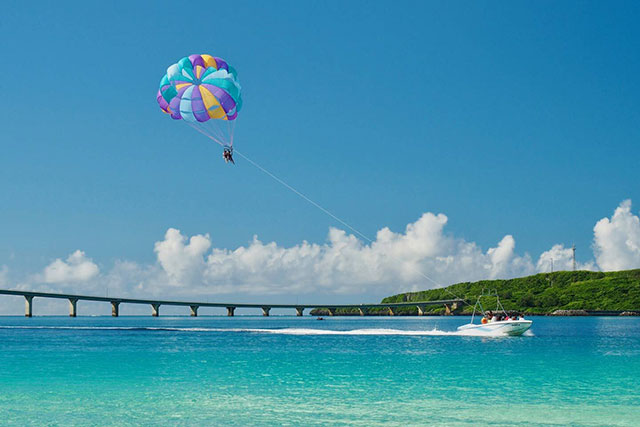 Visiting a picture-perfect tropical paradise such as Okinawa is a full bucket list experience in itself, but why not make your vacation even more memorable by trying out some fun marine sports activities while you're there?

This top 10 guide for marine sports activities will allow you to experience the panorama of blissful clear blue oceans from a variety of adrenaline-filled angles, as well as meet many beautiful ocean creatures who live below its surface.

Read on for the ultimate marine sports guide of the Okinawan oceans, with many exciting tours to choose from containing activities suitable for both adults as well as young children.
01

1. Snorkel amongst tropical fish in the clear blue ocean

Snorkeling

Snorkeling tops the list for fun marine sports in Okinawa! This accessible ocean activity is perfect for all ages and swimming levels. Simply pop on the goggles and breathing snorkel and float above the water to catch a glimpse of the amazing tropical sea creatures and coral reefs that adorn the beautiful Okinawan ocean.
Small children or swimming beginners can still take part on shallow beaches – the charm of Okinawa is that there is plenty to see even close to the shoreline! For those who want more of an adventure, take one of the many tour boats out to one of the amazing offshore snorkeling points.
Snorkeling can be enjoyed on the main island, as well as on the remote islands, some of which can be visited as a day trip from the main island.


▶ More details on snorkeling tours

02

2. Try parasailing for exhilarating birds-eye ocean views

parasailing

Feel the wind on your skin as you sail through the sky above crystal-clear oceans! Parasailing is one of the most popular marine activities available in Okinawa, and locals pride themselves on the variety of ocean views available on their parasailing tours – from sparkling emerald seas to oceans with bright blue hues. You will feel just like a bird flying in the sky during this adrenaline-pumping marine sport.
Why stop at parasailing during the daytime – make sure to try a sunset paragliding experience for the best views of the glorious sunset over the endless ocean horizon.

▶ More details on Parasailing tours

03

3. Enjoy scuba diving at a mystical location known as the 'Blue Cave'

Blue Cave

The Blue Cave is a tunnel-shaped sea cave located along the Maeda Cape in Onna Village, one of the most popular resort areas on the main island of Okinawa. The name comes from the reflections cast by the sun that make the surface of the sea inside the cave appear a vivid, ethereal blue color.
This popular sightseeing spot is best enjoyed via scuba diving or snorkeling, although scuba diving is recommended for the ultimate Blue Cave experience. There are plenty of tours available for beginners that offer comprehensive scuba diving training sessions as part of the tour. View this mystical cave deep underwater and marvel at the wonders of nature!


▶ More details on Blue Cave tours

04

4. Sail the Okinawan ocean in a sea kayak

Sea Kayaking

Suitable for both children and adults, sea kayaking is a fun and easy way to experience the amazing oceans that surround Okinawa. Just hop aboard your kayak and paddle away to see reams of colorful tropical fish and coral reefs in the clear blue waters.
Some tours offer glass-bottom kayaks for next-level views of the sea life beneath you, and if you join a sea kayaking tour in the early evening, you may be able to catch one of Okinawa's magnificent sunset views too.

▶ More details on sea kayaking tours

05

Take a stroll at the bottom of the ocean on a sea walking tour - ideal for non-swimmers

Sea walking

Did you know that it is possible to take a walk at the bottom of the ocean? On a sea walking tour, participants are fitted with special helmets that regulate oxygen for easy breathing, and then given free rein to walk along the seabed amongst the bright tropical fish and cute sea creatures.
The intimate views of natural ocean habitats are spectacular, and thanks to the special helmets, your head will remain completely dry – ideal for those who wear glasses or don't want to get their hair or face wet. Even non-swimmers are welcome to take part in this easy and safe marine sport.

06

6. One of Okinawa's best kept secrets: Snorkeling with whale sharks

Whale shark

Anybody with an interest in visiting Okinawa has surely heard of the amazing whale sharks on display at Okinawa's famous Churaumi Aquarium. However, did you know that in some places in Okinawa, it is also possible to get up close and personal with real whale sharks in the ocean?
Whale shark snorkeling is an exhilarating once-in-a-lifetime experience that you will surely never forget. Depending on the tour, children aged four and up may join in the fun snorkeling inside a giant ocean pen with majestic whale sharks.

07

7. Try a sunset and starlight stand-up paddle boarding tour

SUP

Stand-up paddle boarding, widely known as 'SUP', is a fun marine sport perfect for beginners. The large boards are much more stable than a regular surfboard and maneuvering around is easy with the help of a single paddle.
In clear Okinawan waters during the daytime, it is possible to see coral reefs and tropical fish in the water as you float along, but don't miss the breathtaking sunset and starlight SUP tours, where you can view an incredible sea of stars become one with the ocean.

▶ More details on SUP tours

08

8. Fish for colorful sea life on a fishing tour

Fishing tour

子どもから大人まで一緒に楽しめる「魚釣り体験」が、おすすめランキング第8位です。

釣りは日本各地で体験可能なアクティビティではありますが、亜熱帯気候に属する沖縄の海ならではのカラフルな魚を釣って楽しめるのが魅力です。

沖縄での釣り体験は主に2種類あります。1つはビーチや磯場などの陸で行う「岸釣り」。もう1つは船上から行う「船釣り」です。岸釣りは個人で気軽に楽しむこともできますが、ツアーに参加して体験する船釣りでは、釣った魚を料理してくれる近場の料理屋さんを教えてもらえることも。

沖縄本島には釣り道具店やレンタルショップもあるので、ぜひ気軽に挑戦してみてはいかがでしょうか?

▶ More details on fishing tours

09

Swim with friendly dolphins

Swimming with dolphins

Dolphins are known for their sweet and playful nature and are loved by children and adults all over the world. Many people dream of one day swimming together with these gentle ocean mammals, and luckily for dolphin-lovers, Okinawa has many dolphin swimming tours available.
Renaissance Okinawa Resort offers several dolphin interaction programs, including the option to hold on to the dolphin's back be pulled along - as long as the participant is over 110cm tall. The resort also has other ocean interaction programs, including the option to swim with stingrays, sea turtles and more.

10

10. Experience the thrill of Flyboarding

Flyboarding

Flyboarding is a recent marine sports trend in which riders are propelled into the air on a board connected to a long, pressurized hose. Feel the adrenaline rush as you blast into the air and reach great heights above the clear blue ocean. Although Flyboarding can be enjoyed on lakes, the panoramic tropical views of Okinawa undoubtedly make this one of the best places to try this fun sport.
Although it is said to be hard to keep your balance at first, riders soon get hooked on the exhilarating feeling of soaring up into the sky. Give it a go!