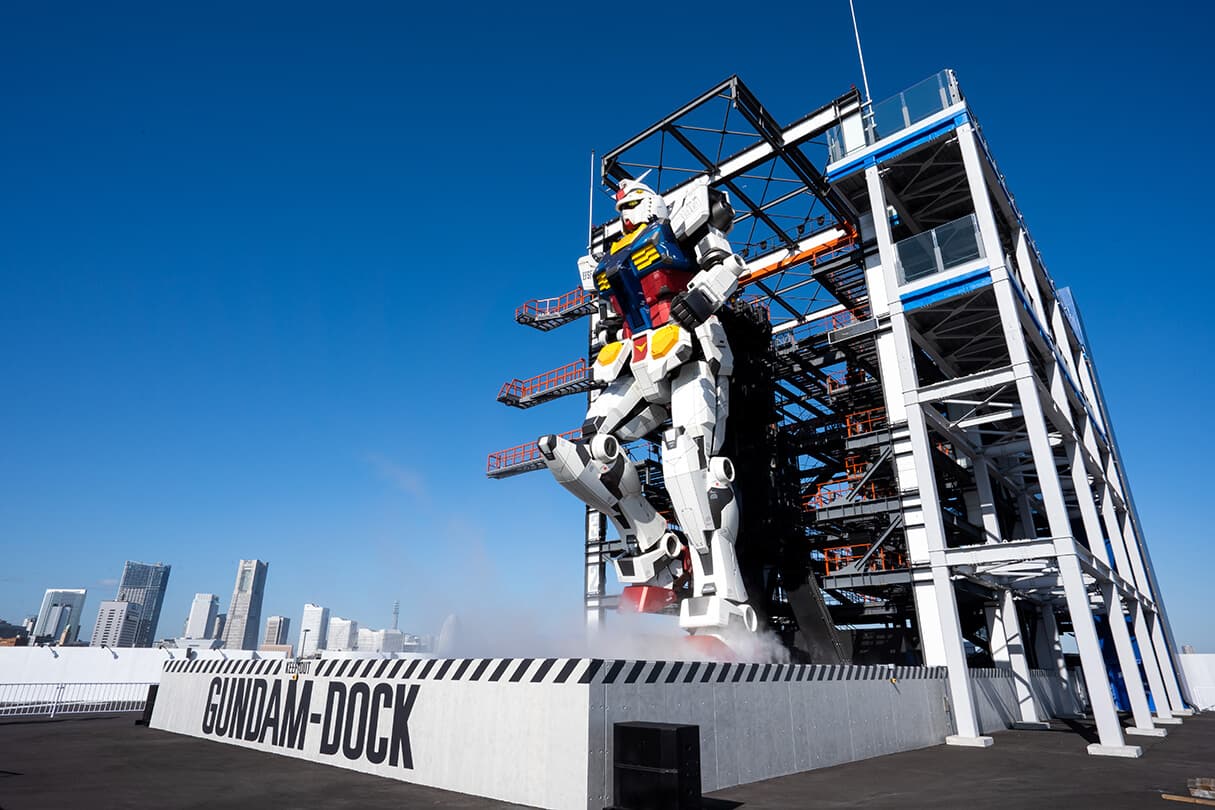 As the legend goes, the Japanese Mobile Suit Gundam stood as the last line of defence for the human race in an epic battle between earth and enemies from space. It was widely believed that Gundam was lost forever more after surviving a battle between the Earth's people and an army of spacenoids.

Years later though, a number of parts from the Gundam suit were found in the ocean surrounding the Yamashita Pier in Yokohama. In response to the discovery, engineers from across Japan were brought in to analyse and reconstruct the enormous mechanical suit, which today stands 18 metres tall at GUNDAM FACTORY YOKOHAMA, ready for mobilisation should the earth come under attack once again.
Thankfully, there are no intergalactic threats on the horizon, meaning visitors can now enjoy Gundam suit up close and personal as part of a fun-filled day out at GUNDAM FACTORY YOKOHAMA, a limited time event running until March 31st, 2023.
Located in GUNDAM-DOCK and impossible to miss as it stands watch beside the bay, the Gundam is an incredibly detailed recreation of the pilot-operated suit seen throughout the widely popular manga and anime series.

The Gundam suit, as explained virtually through the informative on-site ACADEMY ©SOTSU・SUNRISE

But not only impressive in its appearance, the Gundam is also fully motorised, allowing it to move its entire body within the dock in an incredible display known as the "startup experiment". This event, accompanied by a thematic combination of music, smoke and sound effects, would have you certain you'd stepped right into a scene from the show as the Gundam is preparing for battle.
While visible from the ground, visitors can also enjoy the display from the dedicated viewing spaces within the adjacent GUNDAM-DOCK TOWER. Here the Gundam can be viewed up close and personal all the way to its enormous head in a truly one-of-a-kind experience.

02

Learning at the Academy

Located within GUNDAM FACTORY YOKOHAMA complex is the futuristic GUNDAM-LAB, home to a fascinating and educational series of attractions known as ACADEMY.
Here, visitors are greeted by a plethora of exhibitions that look as though they were taken straight out of the Gundam universe. Designed to be enjoyed by Gundam fans and those new to the franchise alike, here you can get up to speed on the history of Mobile Suit Gundam, its characters and how the robots are designed to operate through a series of physical and augmented reality displays.

Located beside the life-size Gundam, GUNDAM-LAB is home to the Academy, Café and official store. ©SOTSU・SUNRISE

03

Getting Your Own Gundam

Once up to speed on your favourite Gundam suits and pilots,THE GUNDAM BASE YOKOHAMA Satellite is the perfect spot to browse one of the largest ranges of official Mobile Suit Gundam merchandise and souvenirs.

THE GUNDAM BASE YOKOHAMA Satellite offers fans the chance to take home their own one-of-a-kind Gundam collectibles. ©SOTSU・SUNRISE

Here, visitors can not only find a number of exclusive items and collectibles not sold anywhere else, but an extensive range of Gunpla kits. These kits, which are extremely detailed models designed to be assembled by hand, have become as legendary as the Gundam series itself, allowing fans to enjoy the satisfaction of building their own miniature Gundam suit to display at home.

Nothing builds an appetite quite like a day of robots and retail therapy, which makes GUNDAM Café YOKOHAMA Satellite the perfect spot to relax and refuel.
Offering a menu of unique Gundam-themed meals and snacks exclusive to GUNDAM FACTORY YOKOHAMA, visitors here can enjoy items such as a delicious cheeseburger set, with the option to purchase drinks that come in Gundam branded bottles you can keep.

GUNDAM Café YOKOHAMA Satellite offers guests an exclusive Gundam-themed menu not found anywhere else. ©SOTSU・SUNRISE

An outdoor terrace area also serves as the perfect place to kick back with a coffee featuring Gundam latte art, all while taking in the views of the life-sized Gundam suit across the complex.
Nearby, exclusive Gundam capsule and vending machines also offer one-of-a-kind collectibles and refreshments sporting original Gundam designs.

05

Operating Hours and Ticketing

GUNDAM FACTORY YOKOHAMA is open Monday to Friday 11:00 to 19:00 (with the last admission at 18:00) and Saturday, Sunday and holidays from 10:00 to 20:00 (with last admission at 19:00). Please note, the facility is closed on Tuesdays.
General admission to GUNDAM FACTORY YOKOHAMA is:
¥1650 for adults (13 years and over)
¥1100 for children (7 to 12 years)
*Children under 6 years old enter free, up to 3 per adult.
Tickets for the Gundam Dock Tower are separate from general admission, but general admission is also required to enter GUNDAM-DOCK TOWER. Admission to GUNDAM-DOCK TOWER is:
¥3300 for adults and children (7 years and over)
*Children under 6 years old enter free, up to 3 per adult.
*Re-entry is not possible.
Tickets are available for purchase online:
https://gundam-factory.eventos.tokyo/web/portal/151/event/265/

GUNDAM FACTORYYOKOHAMA is located inside Yamashita Wharf at:
279-25 Yamashita-cho, Naka-ku, Yokohama, Kanagawa 231-0023

The Gundam Factory Yokohama's location within Yamashita Wharf. ©SOTSU・SUNRISE

Approximately 45 minutes by train from Shibuya Station, visitors can take the Toyoko Line, which turns into the Minatomirai Line, to Motomachi-Chukagai Station. Via exit 4 from Motomachi-Chukagai station, GUNDAM FACTORY YOKOHAMA is 7 minute walk away.
Alternatively, GUNDAM FACTORY YOKOHAMA is a 3 minute walk from the Yamashita-Futou bus stop on the Yokohama Articulated Bus BAYSIDE BLUE route.

Kanagawa Yokohama-shi Naka-ku Yamashitacho 279-25 Yamashita Pier

View All