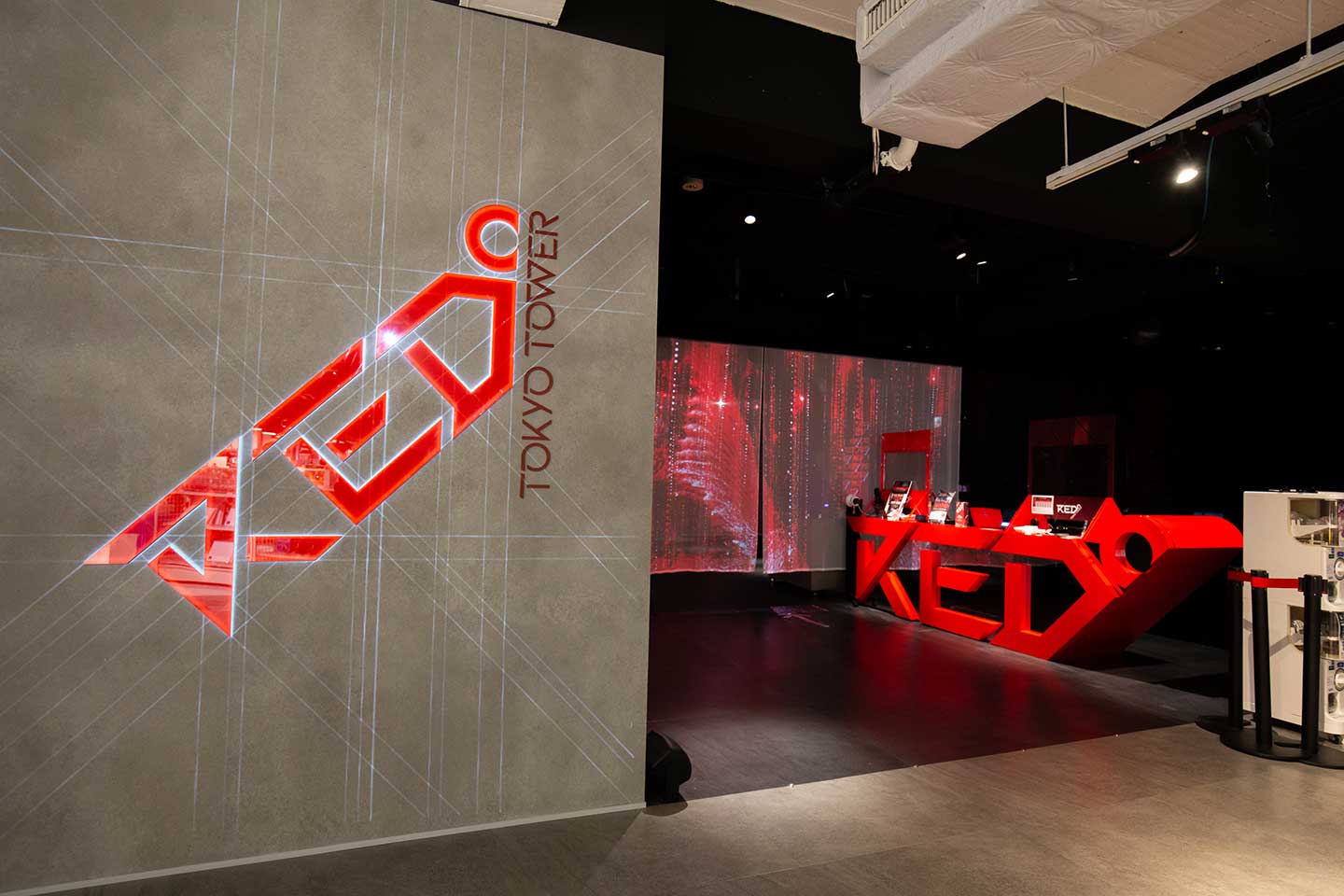 Few industries have evolved over the years like the world of video games. Gone are the days of sitting in front of the television, furiously mashing buttons in an effort to save a pixelated princess trapped in a castle. Today, the line between video game and reality is more blurred than ever.
Taking full advantage of the technology that has elevated gaming to this level is RED TOKYO TOWER, a new multi-level gaming complex situated beneath the iconic Tokyo Tower.
With "zones" spread across levels one, three, four and five, the complex is like no other, and has something for everyone in a digital world at the forefront of gaming technology.
In the Wonder Zone, thrusting visitors into the world of high-speed simulation, is Boat Race. A virtual reality (VR) boat racing experience in which up to 6 players can compete while experiencing realistic wind, water spray and vibration effects that make it seem as though you're actually out on the water.

The futuristic entrance to RED TOKYO TOWER, where visitors enter through a hallway of light.©RED゜TOKYO TOWER

For those with young children up to 12 years of age, there is also Red Kids, a space consisting of physical play areas such as trampolines and climbing walls. There are also a number of digital art attractions where children can draw, create, and interact with colourful and imaginative designs.
Gaming fuel can also be found on this floor at Red Shokudo, the in-house restaurant. Here you can find a menu of traditionally Japanese inspired dishes, along with coffee, tea and alcohol.

02

Level 3: Inspiration Zone

In the Inspiration Zone, visitors begin by stepping into the spacious Red Lounge. Here, players can test themselves in the fast-paced action of the VR Kat Walk system, or soak up the nostalgia on retro video game booths in a futuristic communal area.

Red Lounge offers the perfect space to relax and chase high scores on retro gaming booths and VR simulators.©RED゜TOKYO TOWER

Nearby, visitors can also pick up official RED branded apparel and merchandise at Red Mart, or at Red Gacha, try your luck in the rows of gaming and esports related gachapon unique to RED TOKYO TOWER.

The virtual reality system Kat Walk in which players can run on physical treadmills to move in-game.©RED゜TOKYO TOWER

03

Level 4: Attraction Zone

This is where things get physical. Creating a fusion of gaming and real life, the Attraction Zone makes you the main character through the use of your body's movement in a wide variety of unique games.

The Attraction Zone's Valo Jump measures the body's specific movements, bringing the player right into the game.©RED゜TOKYO TOWER

Here, you can perform aerial tricks in the augmented reality of Valo Jump, hit home runs in the VR Red Sports Baseball, blast your way to victory in Red Shooting laser tag, or even get behind the controls and fly a real-life drone at Red Drone. All this and much more awaits visitors throughout the sprawling Attraction Zone.

04

Level 5: Ultimate Zone

At the height of RED TOKYO TOWER is the Ultimate Zone, where some of the most cutting-edge technologies are on display alongside a variety of physical tabletop games.
At Red E-Motor, visitors will find a number of state-of-the-art driving simulator systems, allowing you to strap yourself in and experience what it's really like to get behind the wheel of a race car, complete with fully realistic motion, car controls and handling.

Simulator systems at Red E-Motor offer visitors the chance to experience the feeling of real-life car racing.©RED゜TOKYO TOWER

Tucked away in amongst the digital displays of the Red Royale room, those with a love of card games can get their fix with a hand of Texas Hold 'Em. Catering to both seasoned players and beginners, Red Royale also holds classes and competitive poker events.
Paying homage to the games before video games, Red Bodoge also offers visitors a chance to sit with their friends and others to play a number of board and card games in a relaxing, laidback atmosphere. Regular events are also held here.

At Red Bodoge, visitors can enjoy tabletop board games amidst a relaxed atmosphere.©RED゜TOKYO TOWER

With a focus on competition and esports, Red Arena is a space populated with the latest in high-end PC gaming technology. While designed to host esports competitions within a contained setting, this space is also used for gaming related seminars and workshops.

The high-tech Red Arena, where multiplayer esports competitions and educational workshops take place.©RED゜TOKYO TOWER

Lastly, at Red Stand, visitors can take a break and enjoy refreshments from an original RED food and drink menu. The perfect way to round out a fun-filled day of virtual action and adventure and reflect on your high scores.

Tickets for RED TOKYO TOWER are available via the official website and come with a variety of options and prices depending on the time of day and the amount of time you plan to spend gaming. The options available are:
Red Passport: An all-you-can-play ticket that allows for entry at any time with no time limit from 10:00 to 22:00 (re-entry only available until 21:00)
General admission: ¥2,500
University/high school student: ¥1,900
Junior and elementary school students: ¥1,000
Night Passport: An all-you-can-play ticket that allows for entry any time after 17:00 with no time limit until 22:00 (re-entry only available until 21:00)
General admission: ¥1,300
University/high school student: ¥1,000
Junior and elementary school students: ¥600
Offcial Website: https://tokyotower.red-brand.jp/tickets/

From Shibuya station, visitors can take the Hanzomon Line or Ginza Line to Aoyama-Itchome Station, then transfer to the Oedo Line until Akabanebashi Station. From here, RED TOKYO TOWER is about 10 minutes' walk, located directly beneath Tokyo Tower.

RED° TOKYO TOWER(レッド トーキョー タワー)

東京都港区芝公園4-2-8 TOKYO TOWERフットタウン内 1F 3F-5F

0120210519

View All