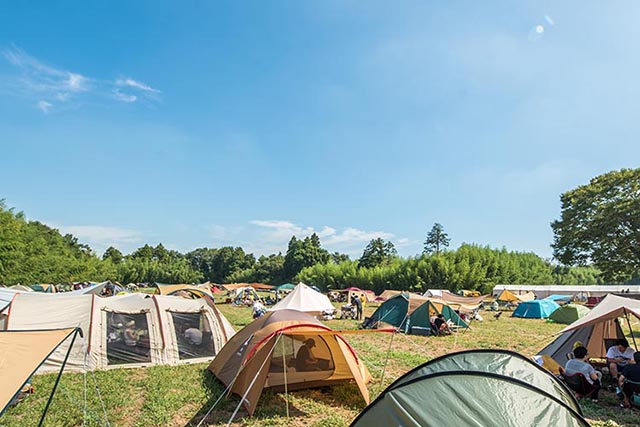 If you've always wanted to try camping, but thought staying overnight would be too much of a hurdle, why not try day camping?
There are campgrounds in the Kanto region that can be used for day trips from Tokyo. These six recommended campgrounds in the article include campgrounds that can be enjoyed from beginners to experts, campgrounds that are accessible by train, and campgrounds that do not require reservations and can be enjoyed at low prices.
All of them are located in the middle of the great outdoors, yet they are conveniently accessible within one to three hours from Tokyo.
01

Star Village (Ichibanboshi) in Chiba

Star Village (Ichibanboshi Village) is a stylish campground with treehouses that look like something out of a picture book.
Once passing through the forest, campers will be surrounded by lush green pastures that make it hard to believe that it is only an hour away from Tokyo.
The entire site is free, so not only can you pitch your tent wherever you want, but you can also drive in, use an open fire, and stay over with your dogs.
Fireflies, beetle collecting, and star gazing at night can be enjoyed in the park with cute ponies and cows.
This year, the camp will be open from March 2021 to November 28, 2021. If there is space available on the day of the event, reservation is not required, but it is better to make a reservation in advance since it gets crowded during the high season.

02

Nagatoro Auto Camp in Saitama

Nagatoro Auto Campground which is located about 90 minutes drive from central Tokyo is a popular campground run by a female owner. Since the campground is clean and well-equipped, it is popular among many female campers.The campground has been awarded the gold medal in the "Campchelin 2020" which is an award run by Camp Jyoshi, the largest camping women's community in Japan with 60,000 followers on Instagram.
This award is given to campsites which have gained popularity, support and to people and organizations that have contributed to the development of camping culture.

This camping ground is equipped with contactless drive-through reception which allows campers to enter the site with their car. Since the area is famous for kayaking and many other outdoor activities, the area is well equipped with supermarkets and shops.
As of August 2021, there are no special rates for day camping, but it is possible to use the campground as a day trip.

Saitama Chichibu-gun Nagatoromachi Ido 559-1

0494660640

View All

03

cazu Camp Ground in Saitama

Easily accessible by bus too as the cazu campground is located a few minutes walk from Kubashi bus stop, this campsite is famous for fireflies between June to July. From Hannno Station on Seibu Line, there is a direct bus to Kubashi bus stop which takes about 30 minutes. The campsite is run by a lumber dealer and all the firewood can be purchased and used at a reasonable price (1000 yen for day camping).

04

Mt Fuji at fumotoppara camping ground in Shizuoka

Fumotoppara is well known as a sacred place for campers. It is accessible within two hours car ride from Tokyo, and is recommended for day campers who want to enjoy a more unusual experience.
As the name "Fumotoppara" suggests, it is located at the foot of Mt. Fuji from all areas of the campground. It is also perfect for those who want to enjoy camping in nature with a spectacular view. In the vast grasslands of the tent sites, you can breathe in the cool air and feel refreshed and free from the stress of everyday life.
At night, the sky is so full of stars that you can see them with the naked eye, and you can enjoy the luxurious experience of being in a planetarium. Cars are allowed on the site, so you can enjoy it from the comfort of your car on cold days.
Day camping is available until 5:00 p.m. on the same day, so overnight stays are also popular for those who want to do some stargazing.

05

Super Cheap Akiba Shrine Camping Ground in Shizuoka

About a three hours car ride from Tokyo, the Akiba Shrine Campground is a campground where you can enjoy nature and leisure in a vast environment with the clear Kida River right in front of you.
Although the facilities here are simple, with water and toilet facilities only, the main attraction is the low price of 300 yen per person for both overnight and day camping. Campers will need to bring all their gears and must make sure to watch the weather forecast as the camping ground is located next to the river. There is no need to make reservations in advance, so you can use the site whenever you feel like it.
You can enjoy activities such as river fishing and hiking, not to mention playing in the river, but canoeing is popular as it is more exciting due to the fast flow of the river.
The site is completely free of charge, with open fires allowed and free entry and exit. You can drive in and out of the site without carrying heavy luggage from the parking lot to your tent.

Shizuoka Hamamatsu-shi Tenryu-ku Harunocho Ryoke 345

0539850518

View All

06

Oarai Camping Ground in Ibaragi

The Oarai Campground is a large campground surrounded by pine trees, which has been selected as one of the 100 best places in Japan for forest bathing. Located adjacent to the Oarai Coast, an hour and a half hour car ride from Tokyo, you can enjoy both the lush nature and swimming and other activities.
As it is located in the city, there are direct sales centers, fish markets, and supermarkets nearby, making it convenient for shopping and access. If you are on a budget, you can buy fresh seafood at the fishing port and barbecue it for a luxurious camping experience.
Day camping is available at the barbecue corner and free tent sites, and no advance reservations are required, so you can just show up on the day. About 250 tents can be set up in the spacious grounds, and it is recommended for those who want to enjoy a private camping experience without being crowded. There are also aquariums, museums, and hospitals in the vicinity in case something goes wrong, so people with children can enjoy themselves with peace of mind.

Day camping is not available on Saturdays only.

5.0

1 Reviews

Ibaraki Higashiibaraki-gun Oaraimachi Isohama Machi 8231

0292672276

View All