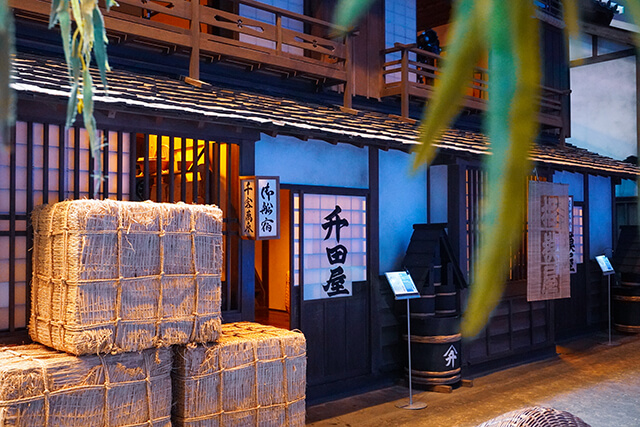 Many things have become convenient, smart and comfortable. However, there are times when you may miss the nostalgic retro days of the past. Here are 6 recommended retro spots in Tokyo, Kanagawa and Saitama area that anyone can take a visit to see how Japan may have looked like back in the Edo, Taisho, Meiji, and the Showa era.
01

1960's Japan: Showa Era at Seibu Amusement Park

Renewed in the spring of 2021, Seibu Amusement Park is a traditional amusement park located in Tokorozawa City, Saitama Prefecture. The theme of this renewal is "a world wrapped in warm-hearted happiness", and the park has been recreated to look like a town in the Showa era of the 1960s, a period of rapid economic growth.

Aside from Godzilla thrilling ride, the Sunset Hill Shopping Street is a must visit retro spot with many photo opportunities. People working there are dressed in a costume from the 60's and create a lively street to look like how it was back in the 60's (Showa era) and visitors can enjoy the Showa era vibe.

02

Shin-Yokohama Ramen Museum: Downtown Japan in 60's

The Shin-Yokohama Ramen Museum (a.k.a. Ra-Haku), located in Yokohama City, Kanagawa Prefecture, is a food theme park where you can enjoy the flavors of famous ramen stores from all over Japan in a retro Showa-era cityscape.

Asakusa Kairaiken, which started Japan's first ramen boom, and Hakata's Hatchan Ramen, which is only open at night, are just a few of the special ramen places that visitors can try at this museum.
However, the ramen stores change irregularly, so checking the webpage prior to visit to see if your favorite place is open is recommended.
In addition to ramen, there are old-fashioned candy store "Yuyake Shoten" and the coffee shop and snack shop "Kateko"too. If you like to immerse yourself in the retro Showa era vibe and like ramen, this is the place to go.

5.0

1 Reviews

Kanagawa Pref. Yokohamashi Kouhoku-ku Shinyokohama 2-14-21

0454710503

11:00-21:00(L.O.20:30)

View All

03

Reminiscent of Tokyo in 50's and 60s: Daiba Ichome Shotengai

Inside the shopping mall, Decks Tokyo Beach in Odaiba, a Daiba 1-Chome Shopping Arcade recreates the streets of the 1950s and 60s Japan. There are candy, old-fashioned toys, and retro pop games available here.
Among them, the "Icchome Playland," where visitors can enjoy over 100 retro games, is very popular, with table games representing the Showa era such as Invader and Pac-Man, as well as games that can be played for only 10 yen.

Besides the arcade of games and candies, Daiba School of Hauntings, a haunted house that was once voted the third scariest haunted house in Japan, and the Yokai Museum, is also another popular attraction to try out here.

Tokyo Minato-ku Daiba 1-6-1 Dex Tokyo Beach Seaside Mall 4F

0335996500

11:00-21:00

View All

04

Edo Tokyo Museum: Time travel from Edo to the present day! Learn about the history of Edo

The Tokyo Edo Museum, located in Sumida-ku, Tokyo, is a museum where you can learn about the history and culture of Edo-Tokyo. Inside the unique building that resembles a warehouse on stilts, there are exhibits that will help you learn about life not only in Edo, but also in the Meiji, Taisho, Showa, and Heisei periods.

Inside the museum, there are so many detailed and realistic exhibits, such as elaborate dioramas and full-scale models of downtown life, that it is impossible to see them all in just one visit. There are also exhibits that you can actually touch and experience, so you will never get bored even with small children.

4.5

2182 Reviews

Tokyo Sumida-ku Yokoami 1-4-1

0336269974

9:30-17:30 (Admission is 30 …

View All

05

Time tripping at Edo-Tokyo Open Air Architectural Museum

The Edo-Tokyo Open Air Architectural Museum is an open-air museum opened in Koganei Park in Koganei City, Tokyo in 1993. Meticulously reconstructed and restored, preserving them for present and future generations to admire and learn from, historic buildings of high cultural value from the Edo to early Showa eras are on show in the museum's park-like grounds.

The entire site covers about 7 hectares, and once you enter the park you'll feel like you have taken a ride back in time to a Japan of bygone eras.

READ MORE

Time tripping at Edo-Tokyo Open Air Architectural Museum

Art & Museums

4.5

353 Reviews

Tokyo Koganeishi Sakurachou 3-7-1 In the Metropolitan Koganei Park

0423883300

[Apr.- Sep.] 9:30-17:30[Oct.…

View All

06

Get lost in the city of Edo: Fukagawa Edo Museum

The Fukagawa Edo Museum, located in Koto-ku, Tokyo, is a full-scale reproduction of the streets of the late Edo period. The museum, which recreates the lives of various Edo merchants, is compact but full of atmosphere and is very worth seeing.

The museum is a three-minute walk from Kiyosumi-Shirakawa Station, where you can learn about the former streets of the Kiyosumi-Shirakawa area, which is now known as a fashionable café town.