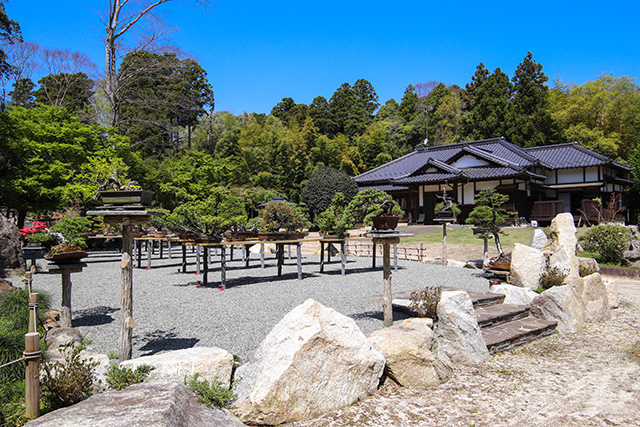 Adam Jones is the only American bonsai artist in Japan who has his garden exploring new possibilities in bonsai while respecting tradition and formality. By combining his Western standpoint with the aesthetic sense that has been handed down from generation to generation in the Japanese mind, he is on his journey to be the new bonsai evangelist who can unite different cultures and carry on the tradition to the next frontier.
Originally derived from Chinese culture into Japan during the Heian period and penetrated Japanese culture, this profound natural beauty has attracted many locals and international enthusiasts alike. And Adam Jones, the founder and the owner of Tree House Bonsai is one of those who got lured into the charms of bonsai. Not intended but by chance, he stumbled into Manseien, one of the 6 gardens left in the Omiya Bonsai Village in Saitama prefecture where he happened to change career and pursue a bonsai artist. Within a kilometer radius from Toro Station in Saitama prefecture, this small Omiya Bonsai Village once flourished with 30 bonsai gardens at its peak. Now left with 6, the village which gained its administrative district name as Bonsai-Cho (meaning Bonsai Town) in 1940 is a mecca of bonsai. Tucked away in a quiet residential area and at one of the most prestigious gardens, Manseien, with a history of 170 years, this is where Adam spent five years training to be a professional bonsai artist.

"The kind of quality and history of Manseien makes it quite a powerful garden. And I was very interested in what they were doing and quality of the trees that they had, and so, as I was going there on Saturdays, kinda like hanging out then, eventually, we developed a rapport and such that I was able to convince them to let me study."

Manseien at Omiya Bonsai Village

Manseien at Omiya Bonsai Village

02

Life as "Deshi (disciple)"

Countless restlessness nights and overworking hours in addition to cultural gaps, it is almost unimaginable the hardship Adam had gone through. He shared his experiences as a deshi (disciple) and stated that

"I'm never going to be able to function inside the Japanese cultural etiquette as smoothly as a native Japanese 'cause I wasn't born and raised here. There are always going to be situations where I don't understand. For me, that was the hardest thing about deshi (disciple) Interpersonal and social pressure. That's a challenge."

Being non-native and starting unfamiliar with the language, it is already treading him to a thorny path. As Adam would put it. "The concept of "deshi" and "oyakata" is not like a student and teacher relationship. It is more like learning by doing and more to the point, learning by assisting the garden owner with the tasks that they need to do to operate their garden." This "master-disciple relationship" is one in which the master is in a "superior" position. It is a contract and the deshi (disciple) cannot go against the master. If a deshi can not stand it, or can not accept it, there is no other way but to be excommunicated. Of course, if the master does something to the disciple that is unacceptable from a common-sense point of view, that is a different matter, but in most cases, the world of the arts is such that the disciple has to endure. From an outside perspective, being in like an indentured servitude under so much stress and pressure for five years sounds cruel and unbearable. Needless to say, there are many that have got enough of it and left prior to finishing the apprenticeship. But like Adam, who had a true passion for bonsai, kept his training ongoing despite all these challenges.
While some may only see the hardship in deshi life, what interests a person unfamiliar with bonsai is having a different mindset where converting five years of apprenticeship into five cycles in plant life. From not knowing anything about plants to finding out the development, the growth patterns of the trees as years go on, it is already inviting enough to jump into the world of bonsai and should be worth the hard work to unravel the secrets.

When looked back, Adam described that "This idea of rest, it's not a concept that you have. This job, they are alive. These bonsai are alive. They are plants you have to pay attention to everyday. And they are your inventory. So if you are not paying attention to them, and they get sick or they die, or if some problem happens, it's bad for business. Why would you want your inventory to be ruined. So necessarily it's the inherent vice of living plants that you have to pay attention to them everyday. And if you have students or you have deshi, you have workers, then that's great 'cause you can spread out the responsibilities. But for me now, I'm just by myself so I have to do this everyday. Working as a deshi with those many long hours of hard work, it doesn't stop when you become a professional. If you can't handle it as a deshi, when you do not have to worry about the business, you are not going to be able to do it as a professional, when you are trying to run a business. Not only do you have to pay attention to the trees, you have to pay attention to the business too. So it is good that practice."

03

Tradition Meets Modernity

"This is never happened before, this is not supposed to happen"

Graduating with multiple degrees from the university, acquiring permanent residency, and opening a bonsai garden in Japan is already groundbreaking. There is a rise in the grafting of new customs on old traditions of bonsai seen here. Having such a unique background, it is exciting to follow him on instagram and other social medias to find out how he will collaborate the two cultures, and bring out a new sparkle, new beauty to bonsai that no Japanese could have ever imagined.

Adam Jones, the founder and owner of Tree House Bonsai

As an American who resides in Japan, he can analyze the two worlds more than anyone else can. As a professional, he can offer new insights that have not already existed in the Japanese bonsai and serve as a bridge between the two cultures. Since it's only in the past decade or so that many westerners have begun to show huge interest in bonsai and come to Japan to pursue an apprenticeship, it is still an uncharted area that needs to be cultivated. Adam, the pioneer of bonsai who has put in the work to learn the language has an understanding of the network of other bonsai gardens and knows how the system functions in Japan, plans to turn his Tree House Bonsai into a garden where visitors from abroad can "experience the Japanese garden but without the concerns of the language barrier".

Tree House Bonsai

Tree House Bonsai

He then further shared his dreams and the future of Tree House Bonsai as "I want people to come here and enjoy some tea, and just relax and not feel oppressive like some of the gardens in Omiya Bonsai Village. If they are here, I don't want to make a situation where I have to entertain them, or the other way, that visitors feel like they are intuding on my home. As I develop the landscape, I put something like gazebos or benches so that visitors can sit there and enjoy". Indeed, just like Adam planned, his Tree House Bonsai has a relaxed atmosphere with beautiful voices of the birds chirping and the vast greenery that surrounds the garden. Just standing out under the sun gazing at these amazing bonsai is pleasing to the eye and feels like your souls have been cleansed. Time flows slowly in this garden, and it is a perfect place to drop by for hours to get away from the bustle and hustle of the city.

Gazebos next to the house is a perfect place to have picnic with friends and family

View of the garden from the hidden bench under the trees. This is one of best places to view the bonsai recommended by Adam

04

Bonsai is Nature, Culture and Individual

Perhaps no Japanese bonsai artist could have ever analyzed the bonsai from the perspective of two worlds before as much as Adam could. More, no one could have done it because everyone is Japanese. The Japanese idea of work is about the continuation of a theme or culture. Having various theories and opinions, perhaps one of the reasons why Japanese people felt disturbing to break out of the mold was due to a sense of belongingness. In a country on a small isolated land with one race, it was hard for people to become a rebel and do something different. Yet in one sense, this helped to pursue the continuation of a theme, or culture which helped to preserve such history. As Adam would put it, "inside the Japanese culture, the individual is not important. We're shokunin (artisan) not Adam Jones. The historical approach is to respect what came before you to continue ".
He then further explained that typically"high-end trees are taken care of, styled and worked on by professionals on behalf of the owners. Whereas in the English-speaking world, many owners themselves enjoy the practice of making and working on the trees. Also, the professionals in the English-speaking world tend to be more like guides or teachers. In comparison, in Japan, professionals are doing the skilled work on the trees, and developing them on behalf of the owners". Adam's ultimate plan is to offer the opportunity for both forgein and Japanese bonsai enthusiasts alike wanting to study through a more hands on approach to learning about and enjoying bonsai the chance to work with him at his garden. It is very interesting to be able to hear this kind of insight as no westerners have ever tried to pursue a career in bonsai in Japan. Only he can and he will continue to revolutionize and bring new insights to the world of bonsai.