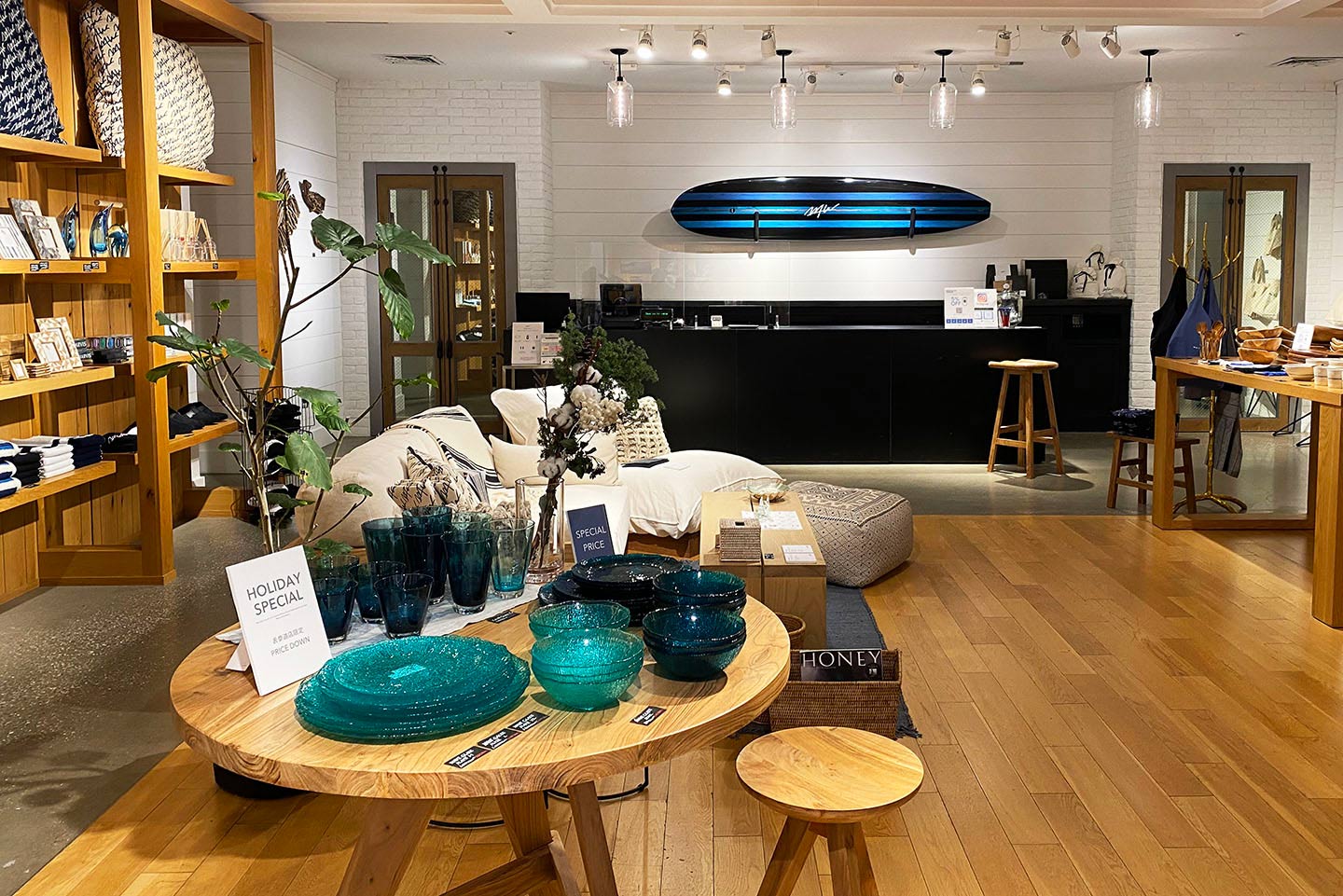 Miscellaneous goods or zakka in Japanese range from bags, wallets, accessories, cushion covers, tableware and dozens more all at an amazing price. These items are great, useful souvenirs that can be used every day. Here are 20 best stores around Harajuku, Omotesando and Aoyama area to take a notice of if you are in the area.
niko and .... is a general merchandise store about 5 minutes walk from Meiji-jingumae Station. The store sells apparel as well as miscellaneous goods, greenery, and furniture. Many of the products are unisex designs in a vintage American style and its sundries are designed to blend in well with daily life so it is recommended as gifts. The store is very spacious with two floors, and has a cafe.

02

Asoko Harajuku (Harajuku)

A popular miscellaneous store in Osaka has opened in Harajuku, offering a wide range of edgy and unique items ranging in price from 21 yen to around 20,000 yen. The original face-printed pouches and store bags are one of the best selling items in the store. The store is located 5 minute walk from Harajuku Station.

ASOKO Harajuku

Tokyo Shibuya-ku Jingumae 6-27-8

0367126752

View All

03

Alice on Wednesday (Harajuku)

Alice on Wednesday is a store about 3 minute walk from Meiji-jingumae Station, and has its main store in Nagoya. As its name implies, the store is based on Alice in Wonderland and the entrance is deliberately made it short for customers to bend down to enter. Inside the store, there is a room with a motif of the Red Queen and a motif of the Cheshire Cat as if customers are lost in the world of Alice in the Wonderlands. Goods sold are reasonably priced at around 1,000 yen with everything under the theme of the fairytale.

4.0

12 Reviews

Tokyo Shibuya-ku Jingumae 6-28-3 Canonville

0364279868

11:00-20:00

View All

04

MoMA DESIGN STORE (Harajuku)

Located on the third floor of the GYRE building with CHANEL on the first floor, a mere 3 minute walk from Exit 4 of Meiji-jingumae Station will lead the customers to MoMA DESIGN STORE. This is the first select store in Japan created under the supervision of the Museum of Modern Art in New York. The products displayed here are carefully selected by the buyers from all over the world. The items displayed are more like works of art than miscellaneous goods, making them perfect as gifts for your loved ones, family and friends or as a reward for yourself.

4.0

15 Reviews

Tokyo Shibuya-ku Jingumae 5-10-1GYRE3F

0354685801

11:00-20:00

View All

Marc Jacobs, a fashion brand born in New York, is known for its pioneering designs. However, many people may not know that they have their first bookstore in Asia, BOOKMARC which is located on Cat Street. Cat Street is a 2 minute walk from Meiji-jingumae Station. The store displays a collection of about 2,000 books inspired by the brand's founder, Marc, as well as miscellaneous goods such as bags and apparel accessories. There is also a gallery in the basement where visitors can enjoy exhibitions of famous artists.

A 2 minute walk from Takeshita Exit of Harajuku Station, CRAFTHOLIC sells colorful and pop interior lifestyle goods. The store used to be called "aCCENT STYLe Harajuku", but when it was reopened, the store changed its name to "CRAFTHOLIC Harajuku".
The cute character products based on the concept of "aliens visiting Earth from the planet called Craft" are a popular item, and especially the hugging pillows, which are extremely comfortable to the touch are a best selling.

Tokyo Shibuya-ku Jingu-mae 1-chome 20-11F93 Harajuku 1F

0368045674

View All

07

Found MUJI (Omotesando)

MUJI offers a wide range of simple and easy-to-use products. MUJI's "Found MUJI" is a store that gathers long standing necessities without becoming obsolete from all over the world and offers them in a way that suits the Japanese lifestyle. For example, sashiko, an indigo dyeing, and tie-dyeing, which have been carefully produced in India, are made into cushion covers, bags, and drawstring cloths that can be easily picked up for daily use. While maintaining MUJI's clean and uncluttered design, the products are full of individuality. This store is located about 2 minutes walk from Omotesando Station, Exit B2.

08

Flying Tiger Copenhagen (Omotesando)

A 2 minute walk from Omotesando Station's A2 exit, Flying Tiger Copenhagen is a store with a wide variety of Scandinavian goods. Inside the store, there are many colorful items that are typical of Scandinavian goods, such as sundries, fabrics, kitchenware, party goods, toys and other unique items. The eco-bag designs sold at the checkout counter are so original and cute that many choose to buy and use them even when they are not for shopping purposes.

Tokyo Shibuya-ku Jingumae 4-3-2

0368045723

10:00-20:00

View All

09

PASS THE BATON (Omotesando)

Located on the B2 of a shopping complex, Omotesando Hills, PASS THE BATON is a miscellaneous store that proposes a new kind of recycling. The shop has a variety of items but mainly antiques. There is also a dedicated counter for selling recycled items, so if any visitors have something in good condition to sell, they can stop by here.

PASS THE BATON Omotesando Hills

Tokyo Shibuya-ku Jingumae 4-12-10 Omotesando Hills West Building B2F

0364470707

View All

10

ZARA HOME (Omotesando)

ZARA HOME is located just outside Exit B3 of Omotesando Station. The store offers a wide variety of items that incorporate the latest trends each season, with new items arriving twice a week. There is a wide range of homeware items made of high quality materials and designs. The color variations and designs are so sophisticated that you can't stop looking. There is also a wide variety of miscellaneous goods and clothes for babies too.

Tokyo Minato-ku Minami-aoyama 5-1-22 Aoyama Rise Square 1F

0364185171

View All

11

AWESOME STORE (Omotesando)

AWESONE is a miscellaneous store in Omotesando that offers a wide variety of reasonably priced goods with great looks and functions. This is the place to go if you want to be picky about the design of your everyday items. Ths store is located 3-minute walk from Omotesando Station Exit A1.

Awesome Store

Tokyo Shibuya-ku Jingumae 5-8-7 Omotesando IIDA Building 1F/B1F

0364506021

View All

12

Spiral Market (Omotesando)

Spiral Market is located on the second floor of a cultural facility complex, Spiral, just outside Omotesando Station's B1 or B3 exit. This miscellaneous shop features a variety of products from simple stationery to tableware to unique artworks. The shop also has a wide range of Scandinavian goods and accessories, and is especially recommended for those with a natural taste.

H.P.DECO is 3 minute walk from Exit A1 of Omotesando Station, and its concept is "living with a sense of art". Under such concept, the store features unique and elegantly designed tableware and antique furniture, mainly imported from France, selected by buyers regardless of style or age. The display, which changes with the seasons, is like an art gallery, giving customers a different experience every time they visit. The general merchandise starts at 300 yen and has a wide variety of delicate and cute animal embroidery items by CORAL&TASK, a Brooklyn, New York brand that has attracted many fans in Japan.

ELEPHANT is a miscellaneous store that carries a selection of goods based on modern Scandinavian design from the 50s and 60s, as well as vintage interior design and artists' works. The unique curves of the vessels and glasses are especially recommended as they bring a little art into your daily life. The store is located about 7 minutes walk from Omotesando Station, Exit A2.

15

galerie doux dimanche (Omotesando)

A 5 minute walk from Exit A2 of Omotesando Station, "galerie doux dimanche" was born as a space where people can directly experience the works of artists active in Paris and other European countries. Here at the Aoyama branch, the store and gallery space in a house host exhibitions by artists from Japan and abroad, as well as selling selected miscellaneous goods, picture books, postcards, and accessories that are not sold anywhere else.
It is a wonderful place where customers can come into contact with small artworks that add a little color to your daily life.

16

& Collection (Omotesando)

& Collection offers designers items selected from around the world, with a focus on artworks. There are a variety of miscellaneous items that will surely bring a little something special to your lifestyle. Vakinme, a natural body care product from Sweden, and wall objects created by overseas artists are some of the best selling items. & Collection is only a 2 minute walk from Omotesando Station Exit B1, and the stylish atmosphere of the store will make your gift-giving heart skip a beat.

& Collection Omote-sando Main Store

Tokyo Minato-ku

0334091202

View All

17

ENCOUNTER Madu Aoyama (Omotesando)

ENCOUNTER Madu Aoyama is a general merchandise store with a history of more than 20 years. It offers heartfelt select items that connect makers and users. Inside the store, there are household goods such as tableware with different designs and vivid tenugui (hand towels). Also, the fabrics from overseas designers, and items with beautiful Japanese designs are a popular item and must not be missed. The store is about a 3 minute walk from Omotesando B3 exit.

18

WTW (Aoyama/Omotesando)

WTW stands for "Waiting for the wave". As the name implies, the store displays original marine furniture and interior sundries. Under the concept of "urban, surf, and natural," the sundries are inspired by the relaxing feeling of waiting for waves at the beach. Many of the items are unisex in color and design, so they are recommended for both men and women. There are two stores around the area: WTW OMOTESANDO, a limited-time store on the basement floor of Tokyu Plaza Omotesando Harajuku, and a permanent store, WTW AOYAMA, which is an 8 minute walk from Omotesando Exit B1.

ACTUS Aoyama is located about 6 minutes from Gaienmae Station. As you pass through the café-like entrance, the first thing that greets the customers is a lot of greenery. There is a wide range of greenery from small, easy-to-care-for plants to tall, impactful ones. Inside the store, with its high ceilings and clean lines, customers can both enjoy shopping and its beautifully laid out interiors.. Many of the products are imported from Europe and feature designs and colors that are rarely seen elsewhere.

Francfranc Aoyama Store is located along the Aoyama Dori toward Gaienmae station if customers choose to walk from Omotesando Station exit A5. Alternatively, it is about 4 minutes walk from Gaienmae Station.
This is the flagship store of the popular interior design brand Francfranc, which reopened on Friday, September 28, 2018.The store's open and airy interior is filled with natural light and features a lineup of interior goods that will make your everyday life more enjoyable. The store also offers a wide variety of artificial flowers, so you can make your own long lasting bouquet. Many of the products are both practical and cute, making it a great place to look for gifts.