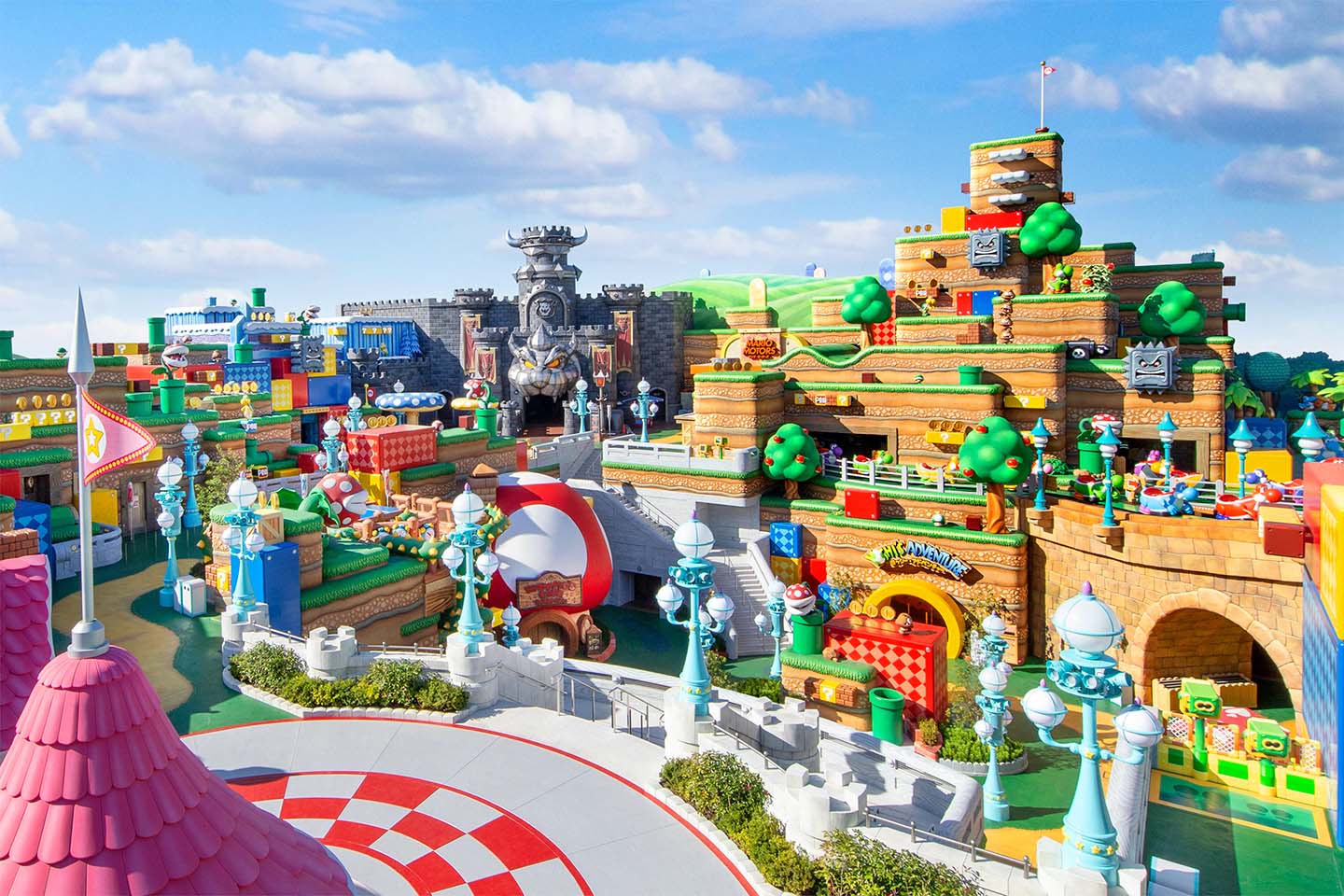 In preparation for a brighter 2021 ahead, here are few of the highly anticipated new properties, theme parks, shopping malls and etc. set to open their doors in 2021. Plan ahead so that when you visit Japan next, you can stop by some of these places listed to enjoy the new side of Japan.
Super Nintendo World is planned to open at Universal Studios Japan sometimes in early spring (planned to open in February but has been postponed and new dates has not been announced yet). The new area will bring Nintendo's biggest video game franchises to life with new rides, Mario Kart: Koopa's Challenge, Yoshi's Adventure and Power-Up Band Key Challenges. For Mario Kart, riders will be wearing a VR headset and just like the game, will speed around the track on their cart to pick up items and throw them at opponents to slow them down. And other rides like Yoshi's Adventure will let the visitors hop on the back of Yoshi just like Mario and snake around the area. Of the three, the Power-Up Band Key Challenge which requires an additional fee plus the need to buy a special wristband but its a new thrilling activity which will let the fans track points and coins that are scattered around the area using their smartphones

4.0

10821 Reviews

Osaka Osakashi Konohana-ku Sakurajima 2-1-33

0570200606

Depends on Sunday

View All

Anime theme park in Awaji Island in Hyogo prefecture has announced an opening of a new attraction, Dragon Quest Island, to be opened in spring 2021. The popular role-playing video game series Dragon Quest will come to live using rich nature and digital imaging. In an outdoor setting in the vast area of some 8,000 square meters, visitors will walk on foot like the game to tackle some missions.

3.5

67 Reviews

Hyogo Awaji-shi Kusumoto 2425-2 Hyogo Prefectural Awajishima Park

0799647061

10:00-22:00(depending on the…

View All

Nijigen No Mori Theme Park (Naruto and Boruto Shinobi-Zato) Tickets & Transport

¥6,400

Update date:2023/12/04

For a major makeover, the Seibu Amusement Park has temporarily closed from November 2020 and due to reopen in spring 2021 with a completely different look. The new Seibu Amusement Park due to open will look like a town from the 60s when Japan was under high economic growth. There will be a shopping district and attractions using CGs and other latest technologies.

Due to open in spring 2021 near Ebina Station on Odakyu Line, the Romancecar Museum is the first permanent indoor exhibition facility since the Odakyu Line opened in 1927, and its concept is "a railroad museum that both children and adults can enjoy. The museum is planned to consist of a "History Theater," displaying cars from the Odakyu Line's inaugural year, such as the Moha1; a "Romancecar Gallery," displaying trains from past generations of Romancecars; a "Diorama Park," simulating the Odakyu rail line; a "Train Operation Simulator," using the actual cab of the Romancecar LSE express train; and a museum shop.

Nestled at the base of Mount Fuji, Fuji-Q Highland is one of Japan's most popular amusement parks. While there are many roller coasters, Fujiyama, known for its panoramic views, will set up an observation deck due to open in summer 2021. This outdoor observatory is 55m high and is located outside the park. From the observatory, visitors can witness the giant twisting slide of Fujiyama while hearing the screams of the adrenaline seekers riding on it.

READ MORE

Access Guide : How to get to Fuji-Q Highland Information

Amusement Parks

Yamanashi Pref. Fujiyoshidashi Shinnishihara 5-6-1

0555232111

9:00-17:00*Changes depending…

View All

Fuji-Q Highland E-Tickets

¥6,900

Update date:2023/12/04

06

Toy Story Hotel at Tokyo Disney Resort

Aiming to open within 2021, for the 5th official Disney Hotel in Japan, Toy Story Hotel is due to be open at Tokyo Disney Resort sandwiched between the Hilton Tokyo Bay and Sheraton Tokyo Bay Hotels. The exterior of the hotel is planned to look like a toy as the theme is a "toy tower" symbolizing all the toys that Andy, the boy in "Toy Story," had, including Woody and Buzz Lightyear.

For the first time in Japan, in March 2021, the five star, and a member of The Leading Hotels of the World, Fauchon L'Hotel will open their 2nd hotel, Fauchon L'Hotel Kyoto in Kyoto within walking distance from the famous sightseeing district such as Gion, Higashiyama and Kawaramachi-Shijo. The hotel will feature 59 guest rooms with a restaurant, bar, tea salon and a spa.

Part of Marriott International, W Hotels Worldwide will debut its first hotel in Japan in Osaka. W Hotels Osaka is set to open on March 16th 2021 will feature 337 guestrooms and suites, restaurants and cocktail-centric bars. The hotel is Tadao Ando who is recognized as one of the leading Japanese architects. Set within a walking distance from the famous Shinsaibashi area, this is a great hotel to stay for those who wish to easily spend the whole day shopping, dining and sightseeing.

Wホテル大阪

大阪府大阪市中央区南船場4丁目1番3号

0664845355

View All

09

ROKU KYOTO, LXR Hotels & Resorts

Hilton announced their first LXR Hotels & Resorts property in Asia Pacific, ROKU KYOTO, LXR Hotels & Resorts which will be set to open in Kyoto in fall 2021. The hotel will feature 114 rooms with various experiences and activities, spa treatments paired with natural hot springs, pool and fitness center facilities, dining, and more. The new hotel will be part of the Shozan Resort Kyoto, home to some of the notable Japanese gardens, historic architecture and authentic tea houses.