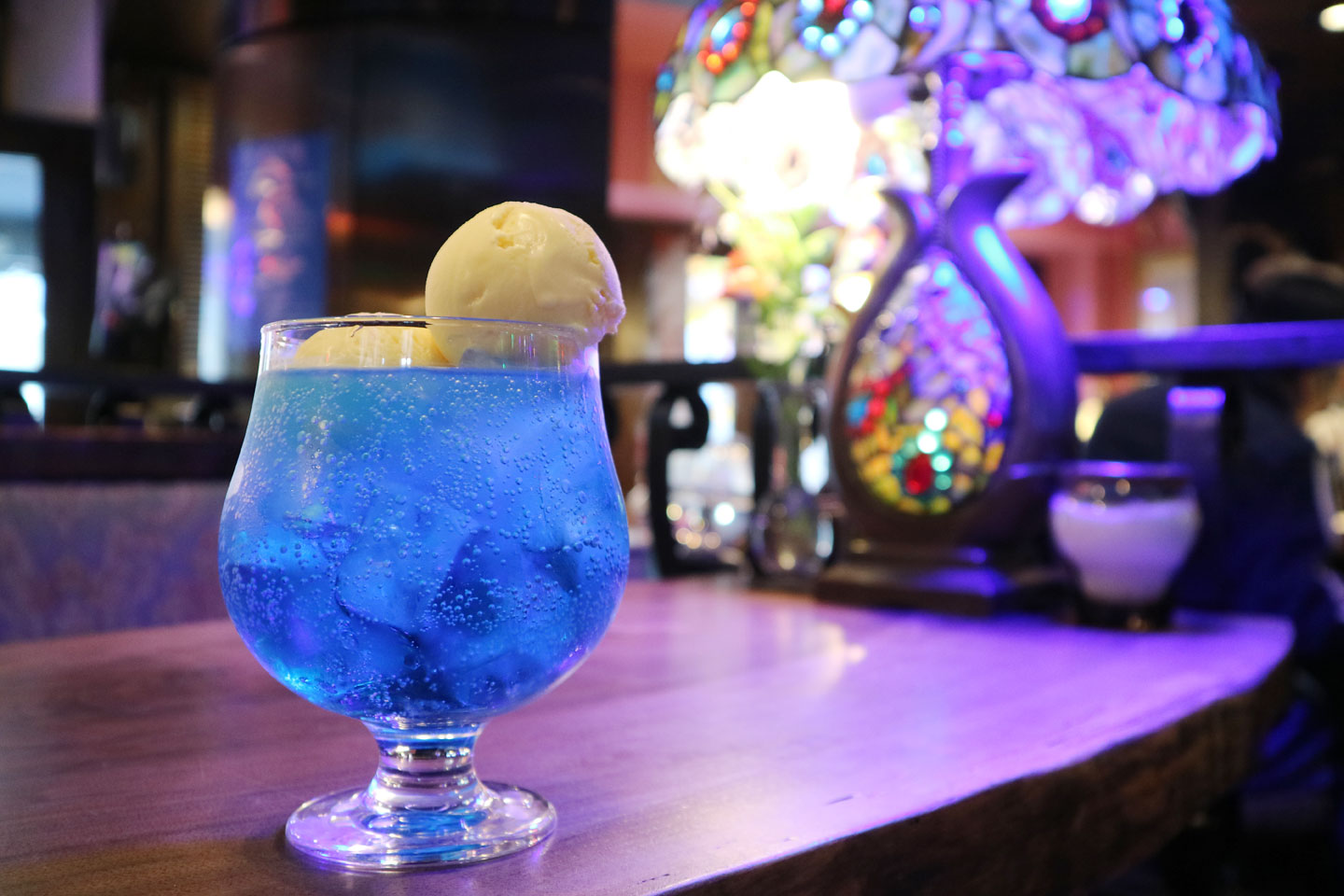 Cream soda topped with a scoop of ice cream and a single cherry sparkling bright with vivid neon color is a fizz that has been popular among many Japanese since the 70s. The drink bellows with nostalgia especially when drunk at a retro vibe cafe and brings back childhood memories. For what could be accurately described as ice cream soda, the traditional one comes in neon green colored "melon soda" which unlike its name doesn't have any fresh melon but more artificially flavored usually made from blending club soda and melon syrup. Even McDonald's sell these sodas, sometimes topped with ice cream on sale during limited summer months. But, rather than going somewhere you can go most likely in many of the touristy countries, wouldn't it be much more exciting to drink these in a retro vibe 70s green-and-orange naugahyde booth or beneath an elaborate chandelier only available in Japan? Here are the top 5 recommended cafes to go for these colorful treats.
01

yuria pem peru (Kichijoji)

Yuria pem peru, located in Kichijoji, is a long-established coffee shop named after a character in a poetry by Japanese novelist and poet of children's literature, Kenji Miyazawa. This store is famous not only among cream soda fans, but also among those who like these retro atmospheres.

Served for more than 40 years, the classic "Yuria Pem Peru Cream Soda," has a neon red color from using pomegranate juice topped with a huge scoop of ice cream. Unlike its looks, the soda has a mild sweetness with sourness from the pomegranate. As the ice cream melts with the soda, the red turns into a pink color.

READ MORE

15 of the Best Things to Do in Kichijoji

Best Things to Do

02

Caroline Diner (Harajuku)

Based on an American diner in the 1950s, the interior is decorated with a checkerboard floor and set up stainless table, and high stools. The diner serves 7 different flavors of soda such as melon, strawberry, orange etc. The ground floor is already interesting enough to take a visit as if customers came to a movie set, but the basement floor lit up in neon signs with photobooth is also a popular location for an instagrammable moment. Aside from the colorful sodas, the diner also serves burgers and sandwiches too.

READ MORE

Shibuya and Harajuku Shopping Guide: Tokyo's Fashion Hotspots

Best Things to Do

CAROLINE DINER

東京都渋谷区神宮前2-14-11

0367211960

View All

Gion, which looks like a good old coffee shop but has a somewhat psychedelic atmosphere. The antique-style interior is strangely matched with neon lights and swing chairs, creating a space that looks like something out of a movie. Because the shop is open till late at 2am past midnight, some locals take a visit here to use as a bar, not as a coffee shop. At Gion, the neon blue colored, blue hawaii soda topped with ice cream is most popular.

READ MORE

What to Do in Asagaya

Best Things to Do

gion

東京都杉並区阿佐谷北1-3-3 川染ビル1F

0333384381

View All

04

Books Itomai (Itabashi)

In March 2019, the stylish cafe "Bookstore Itomai" opened in Tokiwadai, Itabashi, known to those in the know. The warm wooden interior is divided into a bookstore and a coffee shop. The name of the cafe is derived from the word "itoma," which means "time off," and it is said that the cafe's hope is for customers to take "time off" to spend a relaxing time while reading a book. There are also loft-like seating areas up the stairs too. Replicating the colors of a sunset, the cream soda served at Books Itomai has two colors, red and blue in the beginning which as the ice melts, the colors slowly mix up into a purple color.

Various food samples line the showcases in front of the store, Knit, a retro coffee shop in Kinshicho. In the spacious store, the interior is decorated with reddish-brown naugahyde sofas and glass lamps with classic music in the background. Cream sodas served here are a classic melon soda topped with vanilla ice cream. Together with the soda, many locals order a pancakes which comes in two pieces, each about three centimeters thick stacked on top of each other. It has a crispy surface but very fluffy when eaten. It is not served with maple syrup, but with a rich and refreshing sweetness of iced molasses.