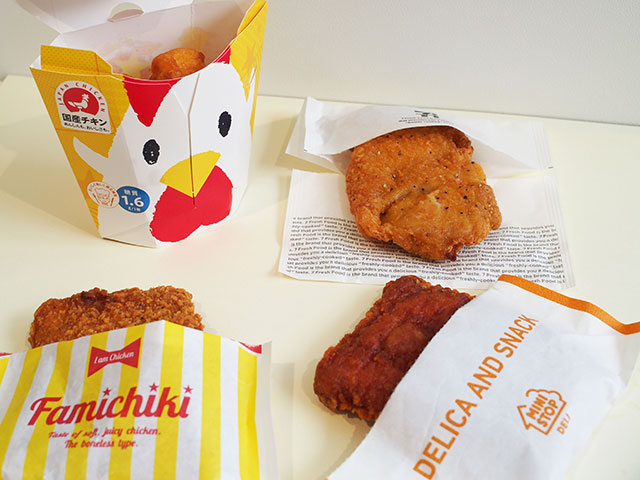 Tasty but cheap and good, there are a wide range of fried chickens sold at different convenience stores with each having distinctive characteristics, from the texture of the coating and juiciness of the chicken, to the seasoning. Of all the hot snacks to choose from, these chickens are by far the most fans. This article will help you see its differences by stores so that you can look for it on your next visit to Japan.
01

Overview of Fried Chickens by Convenience Stores

The NAVITIME editorial team selected popular "fried chicken" from four Japanese convenience stores (7-11, Family Mart, Lawson, and Mini Stop) and evaluated them. (Rated with 5 stars out of 5)

Name:FAMICHIKI (ファミチキ)
Price:180yen (tax inclusive)
Size:★★★★★
Tenderness:★★★☆☆
Crispiness:★★★☆☆
Recommeded Level:★★★★☆
Flavors:Original, BBQ, Cheese, Spicy (Karamucho flavor), Spicy (Mala flavor) Korean (Cheese Dak Kalbi), Soy Sauce
Comment:Deep-fried battered and breaded coatings with its crumbs provide the chicken its crispness, however, it can get greasy after a while. The tenderness, the juiciness and the crispiness of the boneless chicken is perfect.

Name:Spicy Juicy Chicken (ジューシーチキン 辛口)
Price:180yen tax inclusive
Size:★★★★☆
Tenderness:★★★☆☆
Crispiness:★★★★☆
Recommeded Level:★★★★☆
Flavors:Original、Spicy、Spicy (Mala flavor)
Comment:Compared to other chickens, the batter is not so thick and makes this chicken light. But the crumbs from the coating makes this chicken crispier. As the name implies, once you take a bite, the juiciness from the chicken seep out the spices and makes this chicken quite hot.

Name:NANACHIKI(ななチキ)
Price:203yen tax inclusive
Size:★★★☆☆
Thickness:★★★★★
Crispiness:★★★★☆
Recommeded Level:★★★★★
Flavor:Original
Comment:From the crispiness standpoint, its might be lacking a bit. Compared to other fried chickens, this Nanachiki can taste its juiciness and the tenderness more like a steak, rather than fried.

Name:Karaagekun(からあげクン レギュラー)
Price:216yen tax inclusive
Chewiness:★★★★☆
Tenderness:★★★★★
Recommeded Level:★★★★★
Flavors:Regular (Original), Red (Spicy), Cheese and other limited edition flavors
Comment:Aside from the usual fried chicken "L-chiki", this chicken nugget, Karaagekun is one of the Lawson's most recommended product. The nuggets come in bite size and its tenderness and chewiness seeps out the juiciness of the chicken making it go for seconds.

Everyone's favorite will depend but the Navitime editorial team came up with a conclusion based on sampling each of these chickens. It is difficult to say which one is the best, but 7-11's "Nanachiki" is what the team would recommend the most. Its steak like juicy chicken can not be obtained with that quality and price anywhere else. If you are not satisfied with just the chicken, drop by at Mini Stop to get its french fries along with the "Juicy Chicken" as these two go well together. Nonetheless, "Famichiki" from Family Mart always come as a one of the top ranking in many Japanese food charts along with the chicken nugget "Karaagekun" from Lawson. So, if your next destination is Japan, why not try sampling all and pick your favorites!