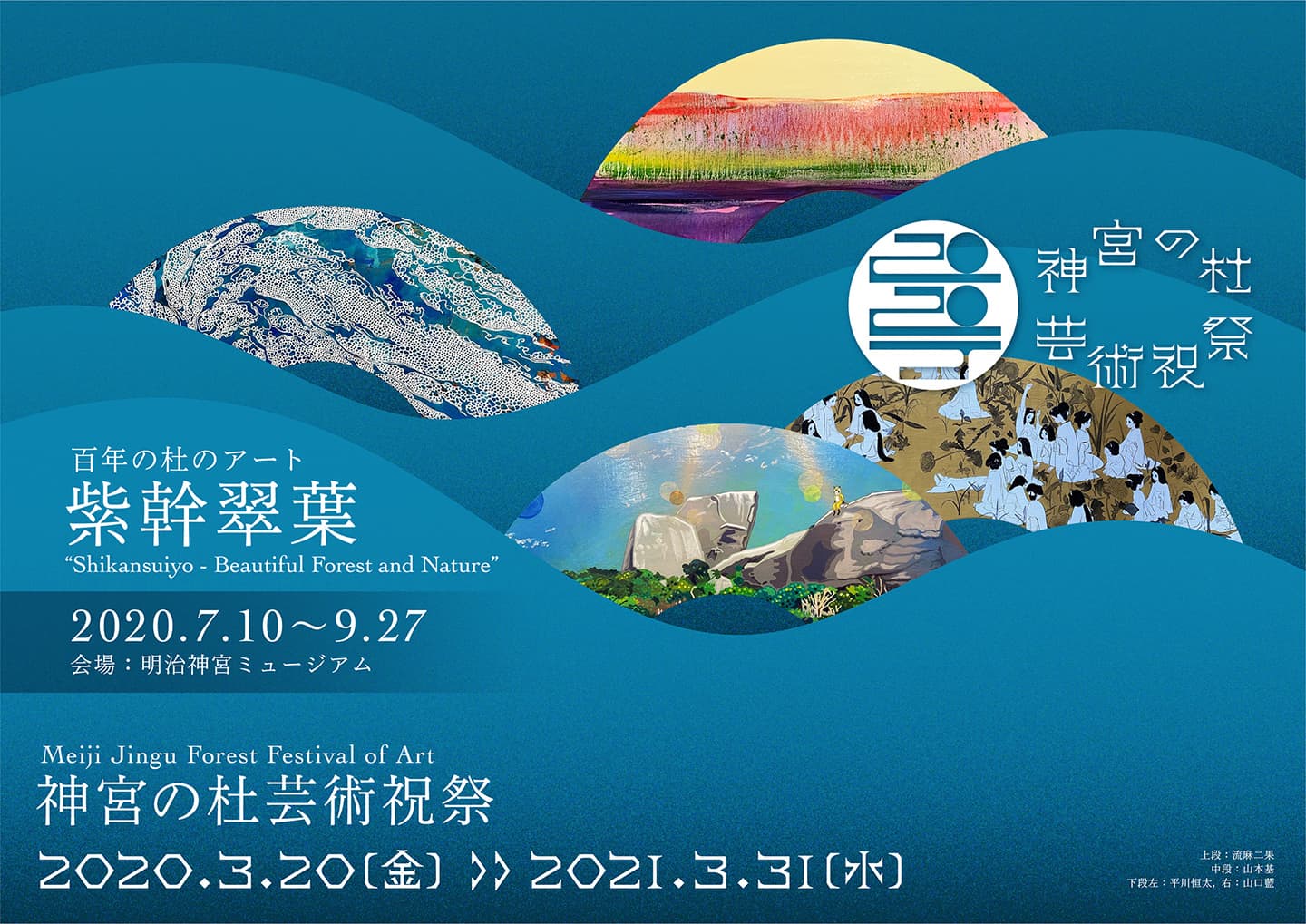 The minute you step on the other side of the torii gate, a calm silence replaces the relentless bruit of crowded city and, you seem to get lost into an enchanted forest. In the serene atmosphere of tranquility and austerity, the art and culture festival "Meiji Jingu Forest Festival of Art" is being held for a limited time at Meiji Jingu Shrine to celebrate its centennial this year with a focus on the relationship between Japanese art and culture and, the natural world.
Among the festival, the art exhibition "Shikansuiyo-Beautiful Forest and Nature" takes place between July 10th to September 27th 2020 inside the Meiji Jingu Museum, which was newly opened in 2019 and also within the premises of Meiji Jingu Shrine. The exhibitor used this rarely used Japanese word, "Shikansuiyo", a metaphorical expression to refer to a beautiful scene of nature to commemorate the centennial anniversary of the shrine as well as the man-made forest that surrounds it

There are about 40 artworks taking in the shape of a traditional Japanese style such as "byoubu" (a Japanese folding screen), "kakejiku" (a Japanese folding screen), and "sensu" (a Japanese folding fan) but all have a common theme where the artworks are depicting the "nature" and "culture" that coexist in Meiji Jingu shrine and its man-made forest.

"The Iris Garden" by Ryo Shinagawa

"Hagoromo Balloons" by Taro Yamamoto

Out of the many artworks exhibited, there was one art that was different from the others. At first glimpse, "Japanese Frog" by Kengo Nakamura seems very odd to be in such an exhibition as it features colorful frogs on a dark red canvas in more pop art, resembling somewhat that of Andy Warhol.

"Japanese Frogs" by Kengo Nakamura

However, as you interview Kengo Nakamura the reason for exhibiting such pop art, he kindly explained that through his painting, he wanted to express a kind of a fusion of Japanese and Western art using both the traditional and the modern techniques incorporating the influence of a pop culture that he grew up in. He then went onwards to further elaborate his idea by saying that his painting, "Japanese Frogs" is a Japanese art because it is drawn on "washi paper", a traditional Japanese paper. And it uses a very standard painting techniques. However, he said that although such red color like Cinnabar-color called "Shu" were already available in Japan back then, getting such vivid red color seen in his painting was difficult. As time went on and after the war in 1945, with the rapid growth of the economy, cheap red paints affordable for moreless anybody was created. With this breakthrough, Kengo said that it was easy for anybody to create different variations of red which wasn't able to be done in the olden days. He chose red as the main color because not only it is the color used on auspicious occasions but also blend in well with the greenery that surrounds the museum.

Kengo Nakamura standing infront of his artwork, "Japanese Frogs"

Kengo said some may find it odd for his painting to be in such a sacred museum within the premises of the shrine but he thinks that his painting can also serve as storyteller, who delivers the history of the birth of the term "Japanese art". Some may already know but the term "Japanese art" is still new, more its only about 200 years old-ish, because this term was brought up by an American art historian, Ernest Francisco Fenollosa who developed a conviction about the quality and importance of Japan's artistic tradition back in the late 1800s. Its as if though the term "Japanese art" grew up together with the Meiji Jingu shrine, only just the term was 100 years-ish older.

04

Open-air sculpture exhibition

In the run up to this art exhibition, 'Tenkukaikatsu', an open-air sculpture exhibition began in March and will last till December 13th 2020. Such leading artists like Kohei Nawa and Atsuhiko Misawa present their sculptures dispersed in the premises of the Meiji Jingu shrine. Their artworks draw on the unique environment of the exhibition, as well as on the history and culture of the shrine.