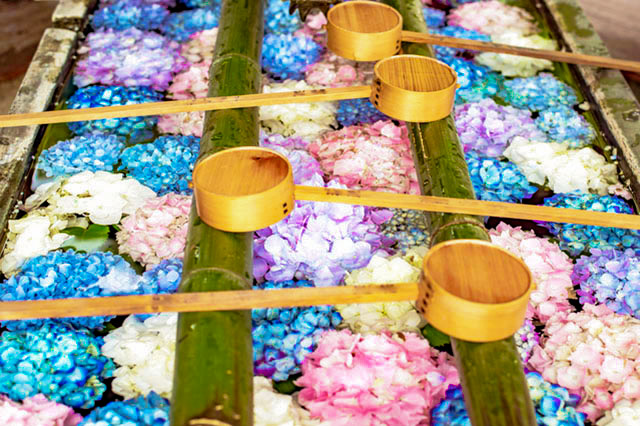 Kyoto is one of Japan's most popular sightseeing destinations, with countless cafes, boutiques, shrines, and temples to discover. But if you're looking for Instagrammable spots to visit with your girlfriends, you're also in luck. In this article, we will introduce some of the most photogenic sightseeing spots the city has to offer that are particularly popular with women. Whether you're looking for cute shrines or envy-inducing desserts, there's something for everyone.
Enshrining the gods of marriage and child-giving - Susanoo no Mikoto and Kushiinada Hime no Mikoto - the Okazaki Shrine is understandably popular with women looking to find a life-long partner and start a family. It's decorated with Koma-usagi (guardian rabbit) motifs, which are believed to bring good fortune because of their cute appearance. You can purchase a variety of rabbit-inspired charms that make for an ideal souvenir or just capture pics to share with your Insta-family.

Access: A 15-minute walk from Keage Station on the Kyoto Municipal Subway

Rabbit at the shrine

Fortune slip in the shape of a cute bunny

Okazaki Shrine

4.0

109 Reviews

Kyoto Kyoutoshi Sakyou-ku Okazakihigashitennouchou 51

0757711963

9:00-17:00

View All

Situated on a mountain slope, this long-established temple is revered for assisting those with eye disease, with its main deity being Kannon. It's beautiful throughout the year, with hydrangeas blooming early in summer before the autumn leaves ignite the garden in brilliant hues of red and yellow. The inner temple building and main hall are connected via a long corridor while their Hana Chozu (washing water basins filled with flowers) have garnered media attention for their beauty.

Access: 10 minutes by car from the Nagaokakyo Interchange (Kyoto Jikkei Expressway) or 10 minutes by car from the Hankyu Line's Nishiyama Tennoyama Station

Floating hydrangeas on chozuya, purifying fountain

Kyoto Nagaokakyo-shi Jododani Do No Tani 2

0759560017

View All

This small shrine lies within the Shimogamo Shrine precinct and is dedicated to the mother of Emperor Jinmu who is said to have been extremely beautiful. Princess Tamayori has been worshipped as a god since ancient times, with devotees applying makeup to a face drawn on the surface of an ema with the belief that it will bring beauty inside and out. Also within the precinct is Aioi-no-yashiro, a shrine featuring a tree that's connected to another tree in what's considered a symbol of love and successful marriage.

Access: 20 minutes by car from JR Kyoto Station

Mirror shaped ema (wooden plaques that people write their prayers or wishes on) Sold for 800yen

Decorate it using your own makeup

Kawai-Jinja Shrine

4.0

125 Reviews

Kyoto Kyoutoshi Sakyou-ku Shimogamoizumigawachou

0757810010

6:30-17:30

View All

Yasaka Koshin-do is a small temple just below the Yasaka Pagoda that's recently become incredibly popular on Instagram. It features hundreds of colorful amulets known as Kukuri-zaru that hang before your eyes, particularly in the small hall that stands in front of the temple's main hall. Yasaka Koshindo is dedicated to the guardian warrior, Shomen Kongo, and the three wise monkeys, with the Koshin faith incorporating elements from Taoism, Shintoism, and Buddhism. Photos taken here are sure to capture the attention of your Insta followers!

Access: Around 19 minutes on foot from Gion Shijo Station

A good fortune charm, Kukurizaru, literally translated as monkeys snuggled up at Yasaka Koshin-do

Yasaka Koshin-do

4.0

56 Reviews

Kyoto Kyoutoshi Higashiyama-ku Kinenchou 390

0755412565

9:00-17:00

View All

Founded around 800 years ago, this temple near Uji City has recently soared in popularity on Instagram due to its heart-shaped window. It's located in the guest hall and is known officially as the Inome Window, with its traditional Japanese design used in historical buildings over the last 1,400 years. Aside from this photogenic window, the temple also features beautiful ceiling paintings and holds regular yoga lessons overlooking the temple gardens. If you're after a memento of your visit, you can purchase a Mizuhiki Yubiwa that's said to bring good relations.

Access: About 12 minutes on foot from the Okuyamada Shojuinguchi bus stop

Shojuin Temple

These windbells are a good to decorate in summer

Featuring around 600 yuzen poles that are beautifully decorated, this "forest" is situated at Randen Arashiyama Station along the Arashiyama Shopping Street. It's a great way to kill time while waiting for your train and is particularly atmospheric at night when the forest is illuminated. The poles are laid out according to traditional Japanese patterns and are interspersed with paths that are easy to navigate on foot. There are several shops nearby where you can rent kimonos, which will make your visit to the Kimono Forest even more photogenic and Instagrammable.

Access: The Kimono Forest is directly connected to Randen Arashiyama Station

Kimono Forest

Kimono Forest

07

Specialty Hands-On Ume Experience Shop Choya

At this plum specialty store, you can try your hand at making a variety of plum wines or syrups. There are five different kinds of plums to select from, as well as five types of sugar and four different sakes. Simply taste each one to decide what you like, then blend them to create your very own umeshu or syrup. The plum syrup needs to be aged for about a week while the plum wine needs around a month or more before it's ready to drink. The interior of the store is highly photogenic and it's a fun activity to do with your gal pals.

Access: A 10-minute walk from Karasuma Oike Station

Medium-sized bottle (2,000 yen) + Organic Nanko Plum (90 yen) + Kompeito Sugar (150 yen) = 2,240 yen

Easy to understand explanation by the staff

Inside the Choya Ume Specialty Shop

Kyoto Kyoutoshi Nakagyou-ku Horinouechou 108CASAALAMODEROKKAKU1F

View All

This retro-styled cafe offers a range of Instagrammable menu items, including their Jelly Punch (700 yen) that's decorated with colorful fruits. The cider is undeniably refreshing while the jellied fruit will slide down your throat with ease. Coupled with the blue-tinged light of its interior, you can see why the Tea Room Soirée has been making regular Instagram appearances. Keep in mind that the cafe only opens at 1:00 pm and on busy days may be sold out of Jelly Punch by as early as 4:00 pm.

Access: Four minutes on foot from Kyoto Kawaramachi Station

Jelly Punch (700 yen, tax inclusive)

Inside the Tea Room Soirée

Exterior of Tea Room Soirée

A freshly baked cannule is offered in a stylish antique setting at the Canele Café in Kyoto. Located on the 5th floor of a multi-tenant building, the pink walls are lined with antique desks and chairs, creating an out-of-the-ordinary atmosphere.

Access: 8 minute walk from Kyoto City Hall Station

4.5

3 Reviews

Kyoto Kyoto-shi Nakagyo-ku Kawaramachi Nijo Agaru Shimizucho 362 JOY Building 5F

0757562041

View All

10

Rental Kimono: IRODORI KYOTO Karasumaru

Wearing a kimono and wandering through the quaint streets of Kyoto is definitely a must experience when you come to Kyoto.
The kimonos at IRODORI Kyoto Karasuma are mostly vintage and designs are very unique and original. The shop also offers hair braiding, hair accessories, and must items for wearing kimono, all can be borrowed.

Access: 8 minutes walk from Karasuma Station.