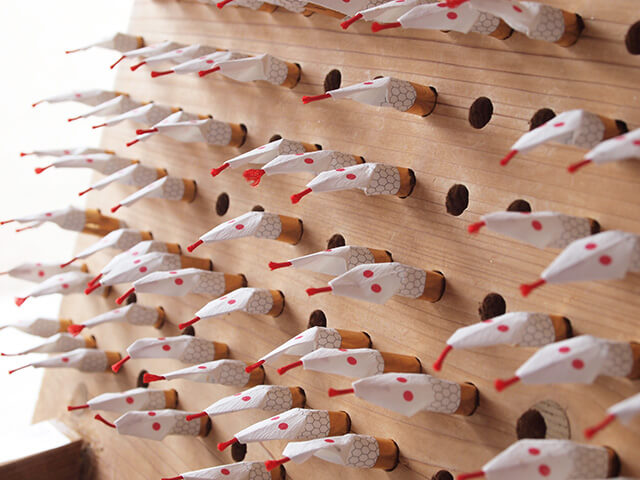 Iwakuni in Yamaguchi Prefecture is best known for its wooden Kintaikyo Bridge, which features five structurally beautiful arches. Not too far from this iconic bridge, you can find another of the city's unique attractions: the Iwakuni Shirohebi (white snake) Museum. The white snake is native to Iwakuni and is believed to bring good fortune, especially in the financial realm. If you're a snake lover or looking to find a way to increase your fortune, we recommend that you visit the snake-related facilities in this city.
01

Iwakuni Shirohebi Museum

Iwakuni Shirohebi Museum

There are six white snake-rearing facilities in the city, which together house about 1,000 snakes. The Iwakuni Shirohebi Museum is a 10-minute walk from the Kintaikyo Bridge and offers an introduction to this lucky animal's history and ecology through videos, interactive exhibitions and quizzes. As you browse the exhibitions, you will come to understand why white snakes are so well respected in the city. In addition, the quizzes will test your knowledge regarding how they eat and the secrets of their white scales.

Iwakuni Shirohebi Museum

You can also see live snakes at the museum within terrariums that simulate their natural living environment. If you're extra lucky, you might even see cute baby snakes too.

White snakes

While the origin of these white snakes is still unknown, it is said that they first appeared during the Edo period. The white snake is the albino variety of the Japanese rat snake and features red eyes. This species is only found in Iwakuni and was registered as a nationally protected animal in 1972.
The museum also sells a variety of white snake goods, such as a fortune slip (containing shed white snake skin) and a gold plate charm (both cost 550 yen). It is believed that these items will increase your financial success if you keep them in your wallet.

Financial Good-luck Charm

3.5

37 Reviews

Yamaguchi Pref. Iwakunishi Yokoyama 2-6-52 (in YoshiKaoru park)

0827355303

9:00-17:00

View All

02

Iwakuni Shirohebi Shrine

Iwakuni Shirohebi Shrine

The Iwakuni Shirohebi Shrine was constructed in 2012 and attracts worshippers who wish for prosperity in business and economic fortune. There are also snake rearing facilities within the shrine. While this sacred animal hibernates in winter, you can still check them out at the indoor snake zoo.

Throughout the compound, you can see charming snake-motif decorations. For example, when you first walk into the shrine, you should purify your hands by washing them using the snake-shaped water tap at Chozuya. You can also find stone-lanterns and bronze wind bells hanging from the eaves of the temple roofs.

White snake Omikuji

The shrine shop next to the main hall stocks a range of sacred but cute charms. The most eye-catching item is the fortune slip that's folded like the head of a white snake. These cute snake heads can be seen poking out of the fortune slip box - it's hard to resist taking photos! Another popular item is the Shuin red ink stamp (300 yen) that will serve as proof of your visit to the shrine. Snake-motif stamp books are also available here, so you can start collecting stamps from other shrines in this if you like.

Shuin red ink stamp

Yamaguchi Pref. Iwakunishi Imadumachi 6-4-2

0827303333

9:00-17:00

View All

Vegetrip

Tanaka Seika, a renowned fruit and vegetable vendor based in Iwakuni, owns two fruit juice bars in the city. Their latest branch can be found on the first floor of JR Iwakuni Station, making it accessible for many tourists. Using top-quality seasonal fruits, they provide a range of fruit juices and smoothies. The Shine Muscat Smoothie (1,100 yen including tax) is topped with large green grapes. If you enjoy the natural flavor of fruits, try one of their cold-press juices that are prepared with no additives, not even sugar. Their colorful fruit sandwiches (550 yen) are also recommended. Takeaway options are available for all of their food items.

Vegetrip

山口県岩国市尾津町5丁目11-1

08028987911

View All

04

White snake motif sweets to take home

The sweet shop, Fugetsudo, creates white snake-motif sweets that are worth trying if you have a sweet tooth. Shirohebi manju, a steamed cake with sweet bean filling, is available at the Iwakuni Shirohebi Museum. Fugetsudo is within walking distance of the Kintakyo Bridge where you can buy Shirohebi Ichigo Daifuku, a rice cake stuffed with bean paste and strawberries.