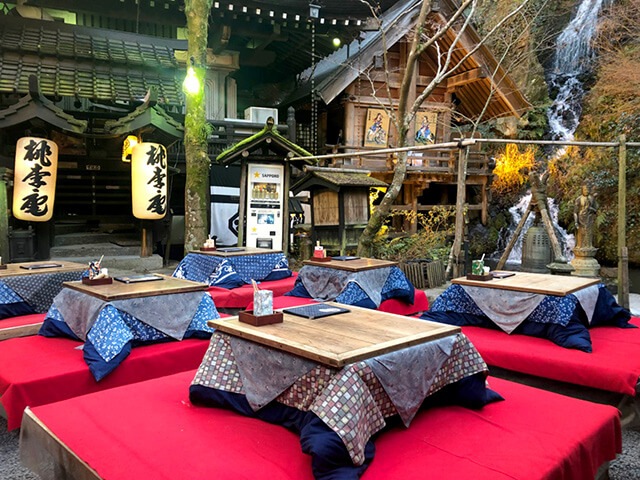 Located in the eastern part of Yamaguchi Prefecture, Iwakuni boasts a magnificent wooden arch bridge known as Kintaikyo. Iwakuni-native white snakes are also one of the major attractions and there are several snake-related spots in the city. However, the charm of Iwakuni isn't limited to its structurally beautiful bridge and nationally protected snake. From a recreational park to an eclectically designed restaurant and a charming bakery with a heartwarming story, here's a selection of spots in Iwakuni that will make your trip worthwhile.
Grand Chief Bakery

Situated within walking distance of the Kintaikyo Bridge, the Grand Chief Bakery offers a range of baked goods inherited from a long-standing bakery called Muran. Muran once provided buns to Grand Chief, a local hamburger shop, but had to close its doors due to the lack of a successor and the deterioration of its premises. When Grand Chief's owner was concerned about losing this perfect bun, one of the veteran bakers from Muran told him he'd join their team. The Grand Chief Bakery was established as a result in 2017.

If you are a hot dog fan, you should try their Mangalica Dog (520 yen). Mangalica is a Hungarian pig that produces rich and boldly flavored pork - perfect for sausages. You can also try their hot dog buns (200 yen) with savory and sweet fillings.

3.0

1 Reviews

Yamaguchi Pref. Iwakunishi Iwakuni 2-chome 5-32

0827280181

View All

02

Hachigamine Grand Park

Dinosaur plaza

On sunny days, you can visit Hachigamine Grand Park. This spacious, entrance-free park features playground equipment, a souvenir shop, a campsite, and a small zoo, making it a pleasant outing for families and groups of friends.

For those looking to take fun photos, be sure to visit the dinosaur plaza where you can see 11 life-size dinosaur replicas. Some of these dinosaurs come with fun features such as flashing eyes and roaring sounds. If you're spending a day at this park with small kids, you can ride the 32.65-meter high Ferris Wheel (300 yen) and the Mini Steam Locomotive (300 yen). From the top of the Ferris Wheel, you can capture beautiful views of the Seto Inland Sea. Both of these are only available on weekends, holidays, spring and winter break periods.

Ferris Wheel

Hachigamine Grand Park opens throughout the year from 9 am to 7 pm (9 am to 5 pm between September and April).

Yamaguchi Pref. Kugagunwakichou Seta Azaya work 260-1

0827523751

9:00-17:00[SaturdaySundayPub…

View All

03

Charcoal grill restaurant Irori Sanzoku

Irori Sanzoku

Irori Sanzoku is the place to be if you don't want to miss out on dining at a popular local restaurant. Of their six branches, three can be found on the same compound in the Kuga district. While the name of this restaurant translates as "Bandit's Hearth", it more accurately resembles a chaotic amusement park, with warmly lit paper lanterns, banners, dinosaurs and samurai warrior objects. It is said that Irori Sanzoku attracts more than 4,000 customers a day during busy periods.

Irori Sanzoku

Each restaurant has a slightly different decor and menu, but they all provide these ultra-popular dishes: charcoal-grilled Sanzoku Yaki skewered chicken (803 yen), oversized Sanzoku Musubi rice balls (528 yen), and umami-rich Sanzoku Udon (638 yen). The most popular branch, Sanzoku, offers outside seats where you can enjoy the restaurant's tasty dishes backed by a beautiful green forest.

Outside Kotatsu seet

4.0

242 Reviews

Yamaguchi Iwakuni-shi Kugamachi 1380-1

0827823115

10:00-24:00(L.O.23:00)

View All

04

Stop at Irori Sanzoku's gift shop before you go home

This gift shop is located next to Sanzoku and sells a variety of exclusive snacks, such as skewered chicken flavor chips, rice crackers, and tea. You can also get their most popular dishes to takeout, including skewered chicken, rice balls, gyozas and ohagi rice cakes.