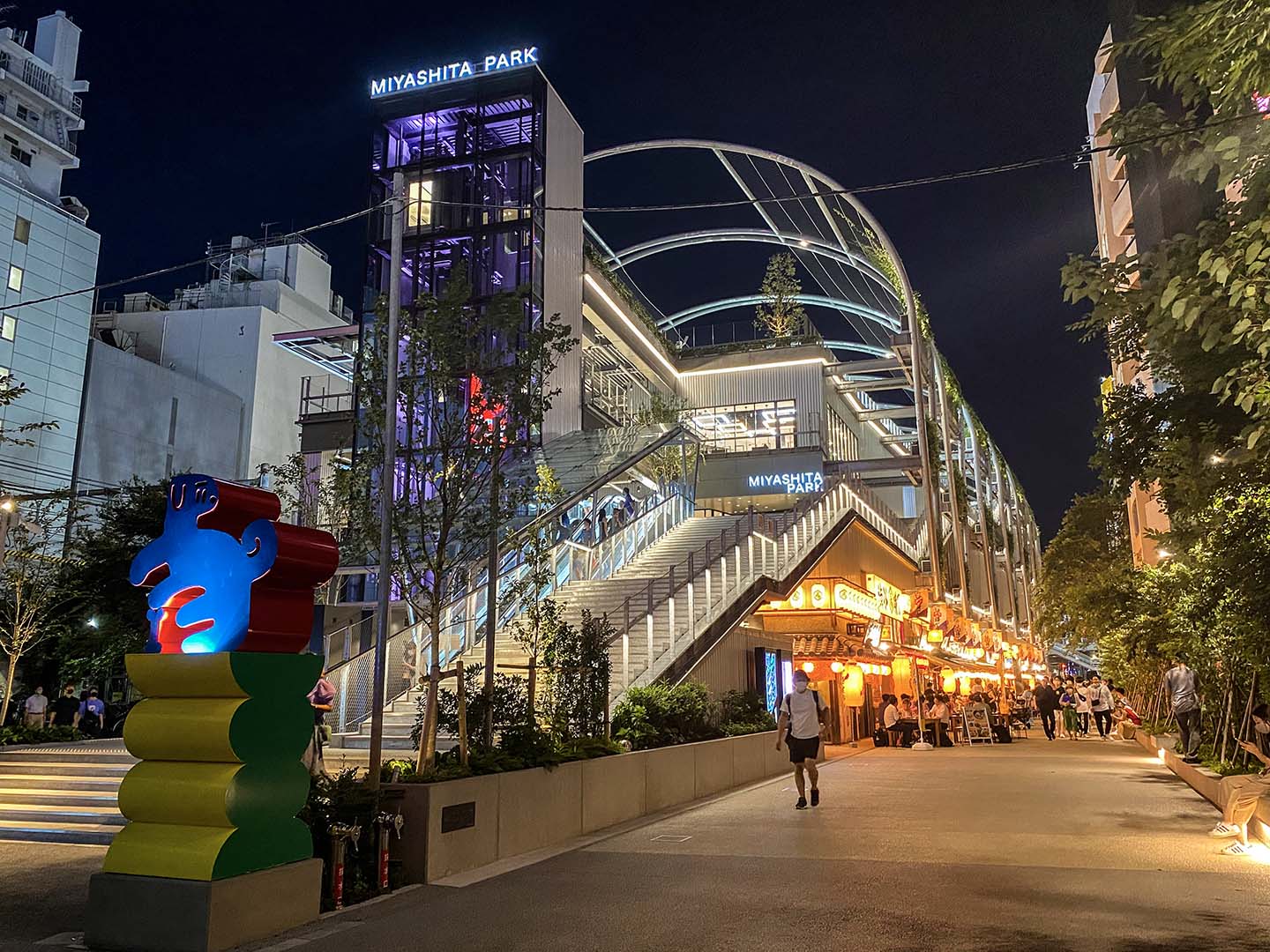 Located between Shibuya and Harajuku, a new cultural hot spot, Miyashita Park reopened as a three-story, multi-purpose complex on July 28th. It includes new playground space on its rooftop, as well as equipped with commercial areas, parking lots, and lodging spaces all within the same compound.
The shopping mall features a spacious atrium and an outer mall with corridors overlooking the bustling cityscape of Shibuya. There are around 90 eclectic stores in the complex, with an emphasis on fashion, food, culture and nighttime entertainment. It consists of the South Block and the North Block where the two blocks are connected by the pedestrian bridge built above Mitake Dori Avenue.
South Block
The south block is an indoor shopping mall with restaurants and shops. On the ground floor, there is a Shibuya Yokocho Alley featuring 19 eateries, offering a variety of authentic local cuisines from all over Japan. On the 2nd floor, there is a world's first make-your-own KitKat shop run by Nestle along with the wildly popular California smoothie chain Jamba which made its debut in Japan for the first time opening two stores in the country, one here at the Miyashita Park and the other at Minami-machida Grandberry Park. There is also a skate park, bouldering walls, and a sand court for beach volleyball where visitors can enjoy sports in the sun surrounded by greenery in the middle of the city on the rooftop.

READ MORE

KitKat Chocolatory Miyashita Park

Parks

North Block
The north block is an outdoor shopping mall which has many luxury brand shops, including the world's first Louis Vuitton men's flagship store on the ground floor. There is also a hotel on the rooftop, and an entertainment complex "Or" which consists of a cafe on the first floor, an art gallery on the second floor, and a music bar on the third floor.

The 24-hour Shibuya Yokocho alley on the first floor features 19 eateries, offering a variety of authentic local cuisines from all over Japan. Shibuya Yokocho will also serve as a communal space where DJ performances, regional festivals, and anime events are planned to take place.

READ MORE

24hour Shibuya Yokocho Alley

Night Views / Illuminations

Fast foods like McDonald's, Taco Bell, and Ippudo's spin-off ramen bar Kuro Obi are available on the third floor at Food Hall.

Apart from its three above ground floors, there are two ground floors in Miyashita Park, which is allocated to parking spaces for vehicles, motorbikes and bicycles.

There is a skate park, bouldering walls, and a sand court for beach volleyball on the rooftop space, with, a spacious lawn and a cafe.

06

Entertainment Complex "or"

Directly under "sequence MIYASHITA PARK" hotel, a multi-purpose entertainment facility focusing on street/art/fashion/music/design has opened. It consists of three floors – a cafe on the first floor, an art gallery on the second floor, and a music bar on the third floor.
1F CAFÉ & BAR
Open Hours: 8:00am-5:00am
(8:00-23:00 for a while due to Covid-19)
During day time, it is used as a cafe serving a special menu in collaboration with the new lemonade and pasta specialty store, New Cinema Parlor, opened in Okinawa in October 2019. After 5pm, it'll change into a bar serving alcohol while listening to genreless music selected by DJs.

Lemonade 600yen (tax inclusive) Lemon carbonara 1,320yen (tax inclusive)

2F ART GALLERY & MUSIC BAR
Open Hours: 13:00-5:00
(12:00-23:00 for while due to Covid-19)
Shohei Otomo or otherwise known as Shohei, designed the wall art incorporating some elements of "Wa", a Japanese cultural concept usually translated into English as "harmony". Like the 1st floor, this new style art gallery can also enjoy genreless music and drinks by DJ's selection after 5pm.

Wall Art designed by Shohei Otomo

Smoking room is also designed by Shohei Otomo

MUSIC BAR / EVENT SPACE
Open Hours: 20:00-5:00 the next day
(17:00-23:00 for while due to Covid-19)

Inviting DJ's across the world, here guests can experience a high-quality sound system and powerful special lighting. In addition to regular seats, there are gold seats, platinum seats, and black VIP seats.

Gazing through towards Harajuku from Gold seat

08

Hotel: Sequence Miyashita Park

Sequence Miyashita Park is a hotel building connected to the complex and opened to guests on August 1st 2020. Based on the concept of a friendly connection with people, towns, and culture in their own style, it adopts a number of unique and convenient systems that have never existed in hotels.

Unlike any other hotel, this hotel introduced a flexible check-in and out where visitors can check in at 5pm and check out at 2pm on the following day. Having this flexibility, this extends the visitors free time. Plus, breakfast is available until noon so there is no rush in waking up early. Great hospitality for those late risers. What is more futuristic about this hotel is that there is also the stress-free latest ICT technology that does self-check-in, room check-out, and cashless support by face authentication.

Floors 6 to 17 are solely for hotel guests with rooms ranging from bunk beds to double and twin rooms to suites. However, the hotel's rooftop bars and a restaurant which is on the 18th and the 5th floor will be accessible to non-guests, so any visitors can sip on a fancy drink while enjoying the panoramic view of Shibuya in the background.

The area around Shibuya station is still undergoing a massive redevelopment and many of the places are surrounded by skyscrapers. Luckily, the rooftop on Miyashita Park has few buildings to block the view, creating a great photo opportunity in the middle of a metropolis, especially after sunset. If you go low and find the right position, the new public art of the famous dog, the Hachi, looks as if he is howling into the night sky looking for his beloved master.

Rayard Miyashita Park
Shibuya Miyashita Park Building 2nd floor
1-26-5 Shibuya, Tokyo
3-minute walk from Shibuya Station on JR
Or Exit B1 on the Tokyo Metro Hanzomon/Ginza/Fukutoshin/Lines, the Tokyu Toyoko/Den-en-toshi Lines.