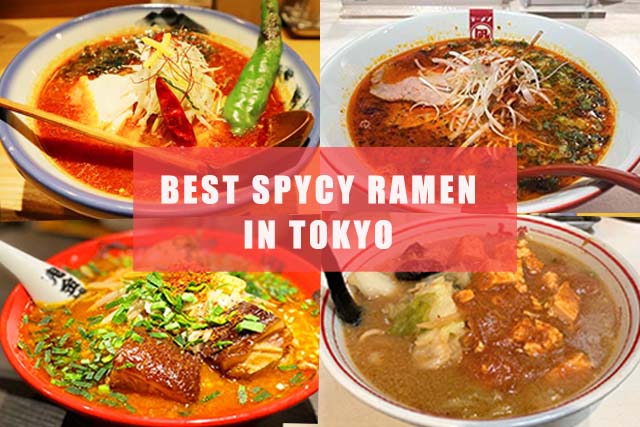 It's no secret that Japanese ramen is incredibly popular. But if you get tired of ordinary ramen, why not try spicy ramen?

There are many restaurants in Shibuya, Shinjuku, and Ikebukuro that focus on spicy ramen, which is not only hot but also delicious. In this article, we will introduce several ramen restaurants that are easily accessible and popular with locals.
Most give you the option to customize the level of spice to suit your taste buds and have ticket vending machines available in English. So why not try eating spicy ramen to create some culinary memories during your trip to Japan.
01

AFURI Kara Kurenai "AFURI 辛紅"

Yuzu Kara Kurenai Ramen "柚子辛紅らーめん" (1,080 yen)

With stores in Shinjuku and Ikebukuro, this is a spinoff of the famous ramen restaurant AFURI and is tourist-friendly, with ticket vending machines in English.
We highly recommend their Yuzu Kara Kurenai Ramen (1,080 yen), which is topped with char siu, radish, spring onion, yuzu peel, iwanori (rock seaweed) and manganji togarashi (a large pepper from Kyoto that's not spicy).

When it comes to the addition of chili, you can select from 10 different levels of spice (we recommend level 3) when ordering their Kara Kurenai Ramen and Yuzu Kara Kurenai Ramen, as well as your preferred type of noodles (N.B. extra is charged for spice levels 5+).

If you're familiar with Malatang cuisine from Sichuan, then you can expect a similar level of heat.

✔ Level of spice:
3rd: 🔥
10th:🔥🔥🔥🔥🔥

Access: two minutes on foot from Shinjuku Station East Exit or a one-minute walk from Ikebukuro Station West Exit

AFURI (Ikebukuro)

Tokyo Toshima-ku Nishiikebukuro 1-23-1

0369031905

View All

02

Karashibi Miso Ramen Kikanbo "カラシビ味噌らー麺 鬼金棒"

Premium Ramen "特製カラシビ味噌ラー麺" (1,200 yen)

Specializing in miso ramen, this unique restaurant is designed like an oni (demon) amusement park, with their Premium Ramen (1,200 yen) a must-try.

After purchasing your meal ticket, you then line up to let the staff know your preferred level of spiciness (referred to as "kara") and numbness of the pepper (referred to as "shibi").

Five different levels are offered, although an extra charge of 150 yen is applied for the fifth level of spiciness. To ensure it is foreigner-friendly, English language ordering is available. If you're not sure where to find the restaurant, it's adjacent to the tsukemen specialty restaurant, Kikanbo.

✔ Level of spice:
Normal: 🔥 🔥 🔥
Onimashi:🔥 🔥 🔥 🔥 🔥+🔥

Access: three minutes on foot from Kanda Station

Related Article:
Karashibi Miso Ramen Kikanbo: Super Spicy Ramen in Tokyo

03

Ramen Nagi Butao "ラーメン凪 BUTAO"

Red King (Akao) "赤王" (830 yen)

Also offering English-language ticket vending machines is this Shibuya-based restaurant that specializes in four different kinds of tonkotsu (pork bone broth) ramen. It's made using a homemade chili oil base and flavored with a variety of vegetables that help to bring out the "umami" (savory) taste.

We highly recommend their Akao Ramen (830 yen), which you can order with your preferred amount of Ichigeki, a secret spicy sauce that's available in 10 different levels.

✔ Level of spice:
1st: 🔥
10th:🔥🔥🔥+ half

Access: a one-minute walk from Kanda Station

Related Article:
Ramen Nagi BUTAO : Four kinds of exquisite Tonkotsu Ramen in Tokyo

04

Mouko Tanmen Nakamoto "蒙古タンメン中本"

Mouko Tanmen "蒙古タンメン" (820 yen)

Mouko Tanmen Nakamoto is arguably the most famous restaurant in Japan for spicy ramen, with up to 10 levels of spiciness available. If you like your food fiery, we recommend their extra-spicy Hokkyoku Ramen "北極ラーメン" (850 yen), which is served at the 9th level of spiciness (beware before you take your first mouthful!)

If you're after something milder, we highly recommend the Mouko Tanmen (820 yen). It's served at the 5th level of spiciness and features spicy mabo tofu on miso tanmen noodles.

✔ Level of spice:
Mouko Tanmen:🔥🔥🔥
Hokkyoku Ramen:🔥🔥🔥🔥🔥+🔥

Access: There are several branches, one of which is a four-minute walk from Shibuya Station Hachiko Exit and another a seven-minute walk from Shinjuku Station

05

― Related Articles to Tokyo Ramen

・The Best Ramen in Ginza 2020
・The Best Ramen Near Tokyo Station
・The Best Ramen in Shibuya
・The Best Ramen in Shinjuku