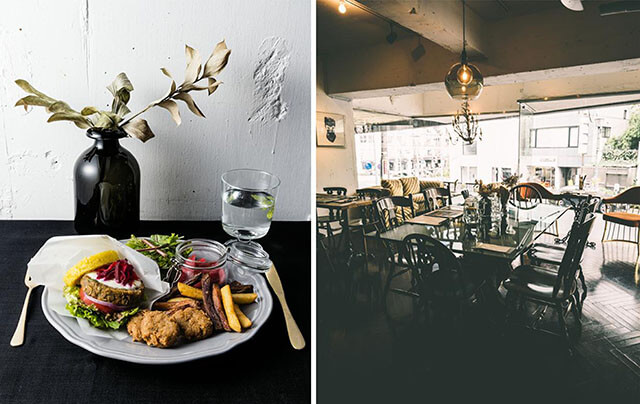 Rumor has it that Tokyo isn't a vegan or vegetarian-friendly city, but the wave of plant-based eating has crashed upon its culinary shores.
In this article, we will walk you through a range of eateries that offer vegan and vegetarian options, from casual cafes to high-end restaurants in a variety of genres.
True herbivores and curious foodies should check it out!
Afuri is a renowned ramen shop that features refreshing chicken broth that is accented with yuzu, an Asian citrus fruit.
The shop takes pride in providing non-MSG ramen and their vegetable ramen is no exception.
Solely using aromatic vegetables, such as onions, carrots, and celery for the broth, Afuri's colorful, seasonal vegetable toppings will whet any vegan's appetite.

Afuri

Seasonal Vegan Ramen

One of the most accessible vegan ramen shops in Tokyo is T's Tantan, with branches at Tokyo Station, Ueno Station, and Narita Airport.
Everything on the menu, from their nutty, sesame-based Tantan noodles to shoyu (soy sauce) and tonkotsu-style (pork broth) ramen is made without using any animal products.
Using flavorful ingredients like lemon, pumpkin seeds, and chives, their ramen dishes taste no different from the regular animal-based version.
Depending on your choice of ramen, you can also add side dishes, such as deep-fried soy meat or a mapo tofu bowl for a small extra charge.

T's Tantan

White Sesame Tantan Noodle

4.5

611 Reviews

Tokyo Chiyoda-ku Marunouchi 1-9-1 JR Tokyo Station ticket gate Ekyu Keiyo Street 1F

0332188040

7:00-23:00(L.O.22:30)

View All

Sorainoiro's Kojimachi and Tokyo Station branches offer vegan and vegetarian-friendly ramen, including sesame-rich Vegan Tantan noodles and nutritious Vegi (Vegetarian) Soba.
The Vegi Soba uses orange bell pepper noodles, but you can ask for gluten-free rice noodles if you prefer.

Soranoiro NIPPON

Vegan Tantan Noodle

Tokyo Chiyoda-ku Marunouchi 1-9-1 Tokyo Station No.1 Street Tokyo Ramen Street B1F

0332117555

8:30-23:00(L.O.22:30)

View All

Operating four stores in Tokyo, Ain Soph promotes healthy yet appetizing vegan dining options that will put a smile on your face.
Of their various locations, the Kabukicho branch, known as Ripple, specializes in vegan hamburgers, all of which are made without any meat or animal-based ingredients.

Ain Soph Ripple

The menu includes a Ripple Cheeseburger and a Crispy Soy Chicken Burger, both of which feature succulent patties made from soy meat and fresh vegetables.
You can add French fries or soup to your hamburger dish for a small extra charge to make your meal even more enjoyable!
Soar, Ain Soph's Ikebukuro branch, also serves vegan hamburgers, as well as some gluten-free sweets.
Read more:
Tokyo: Vegan burger speciality store Ain Soph Ripple

Crispy Soy Chicken Burger

Kick your craving with Vegan Mac & Cheese

AIN SOPH.Ripple (Kabukicho Restaurant)

Tokyo Shinjuku-ku Kabukichou 2-46-8 sun block 1F

0363803205

View All

Organic Table by Lapaz is a hip vegan and vegetarian restaurant produced by stylist Yukari Ota whose work is often featured in Japanese women's fashion magazines.
Their burger selection includes Soy Fillet Avocado and Teriyaki Tempe (an Indonesian soy-based product), with patrons offered a choice of side dishes and buns.

Organic Table by Lapaz

ORGANIC TABLE BY LAPAZ

Tokyo Shibuya-ku Jingumae 3-38-11

0364389624

View All

CITY SHOP is an edgy delicatessen brand that offers nutritious and visually enticing food options to urbanites. Specializing in pizza, their CITY SHOP PIZZA can be found on the second floor of Shibuya Stream commercial complex.
Patrons are invited to try out the custom-made vegan pizza experience here, with the option to choose everything from crust to cheese to main toppings and garnishes.

CITY SHOP PIZZA

Most of the main toppings feature colorful, plant-based ingredients, such as marinated cauliflower, tri-color potato gratin and tropical fruit salad.
At the same time, there are other healthy options, including 100% plant-based vegan cheese and a black bamboo crust filled with mineral-rich bamboo charcoal. All of these choices are made at a factory line-style counter, so it's fun to see how your crusty feast gets built.

You can choose toppings.

Vegan Custom Pizza

CITYSHOPPIZZA Shibuya Stream

Tokyo Shibuya-ku Shibuya 3-21-3 SHIBUYASTREAM 2F

0364193700

View All

Two Dogs Taproom

Two Dogs Taproom in Roppongi is another pizza place that caters to vegans and vegetarians. At this American-style restaurant, you can choose your pizza size, sauce, and toppings to build the vegan pizza of your dreams.

貸切パーティー&クラフトビール Two Dogs Taproom 六本木

東京都港区六本木3-15-24アリエスビル2F

0354130333

View All

India is home to one of the most vegetable-focused cuisines in the world.
NATARAJI began operations as an Indian restaurant in 1989 and now runs four branches in the Tokyo area.
Combining Ayurvedic wisdom and organic, homegrown vegetables, this long-standing establishment is known for its nutritious and comforting home-style Indian curries that cater to vegetarians and vegans.

NATARAJ in Harajuku

You can be also available for Vegan homemade naan breads and lassis.

All of their Tokyo branches offer a lunch buffet on weekdays where you can eat vegan or vegetarian curries to your stomach's delight.
Vegan options are also available for their homemade naan breads and lassis, a sweet yogurt-based drink.
In addition, Nataraji uses natural curry spices imported from India and GMO-free cooking oil to bring out the flavor of its wholesome ingredients.

5.0

13 Reviews

Tokyo Shibuya-ku Jingumae 6-28-6 Cue Plaza Harajuku 8F

0364277515

11:30-23:00(L.O.22:30)

View All

If you are up for a delicious fusion of Japanese and Mexican food, PARATACO in Daikanyama is the place to be.
This restaurant offers a wide choice of vegan and vegetarian options, all of which are prepared with natural seasonings and organic vegetables.
Their signature dish is a vegetable taco set, which features four tacos with different toppings. These toppings change every two months and include some Japanese-inspired options, such as kinpira gobo (stir-fry burdock root) and nasu nibitashi (braised eggplant).

PARATACO

Vegetable Tacos

Tokyo Shibuya-ku Daikanyamachou 13-6

0364525156

11:00-20:00(L.O.19:00)

View All

Healthy Tokyo is Japan's first wellness-minded, all-vegan cafe and specializes in the use of CBD, aka cannabidiol.
This natural substance, which is obtained from organically grown hemp, is believed to have a range of health benefits that include stress relief and the removal of facial redness.

Currently, Healthy Tokyo has two locations: Haneda International Airport and Harajuku. The latter branch recently opened on February 1st, 2020 and offers delectable CBD-infused offerings that include cheesecake, mont blanc, gateau au chocolat, organic matcha and coffee.
The store also showcases an extensive collection of CBD oils, topical creams and other CBD-infused products.

Healthy Tokyo in Harajuku

Vegan Cheesecake

HealthyTOKYO CBD Shop&Cafe

東京都渋谷区神宮前3-27-14 キャラット原宿 1階

0344056203

View All

Trueberry is a vegan cafe that has three locations in Tokyo: Nakameguro, Omotesando and Shibuya.
It boasts an array of organic offerings that contains no preservatives and additives. From cold-pressed juices to parfaits and smoothies, their treats are made with nutrient-rich superfoods to give a healthy boost to your body.

Read more:
Vegan friendly CBD Shop & Café in Harajuku

Trueberry in Shibuya

Smoothies

Gonpachi is a traditional Japanese pub that provides vegan-friendly options. The name of the establishment might ring a bell for Hollywood movie fans as this was the izakaya featured in Kill Bill.
This world-famous restaurant can be found near Roppongi Station and offers vegan dishes that include grilled vegetable skewers and tempura.
The biggest attraction for vegans is their sushi, which features fresh and crisp seasonable vegetables that are also a feast for their eyes.

Read more:
Gonpachi: Vegan and Halal friendly Japanese Izakaya in Roppongi

Gonpachi in Roppongi

Vegan Nigiri

Motivated by the idea of bringing out the full flavor of seasonal ingredients, Japanese restaurant WA (倭) prepares dishes with minimal use of seasonings and additives.
This unconventional restaurant welcomes vegans with their six course meals that are made using 40 different vegetables.
Curated by French chef Mr. Wakamatsu, WA's artistic meals are sure to catch any foodie's eyes.
This is a reservation-only restaurant and halal and gluten-free meals can also be arranged by prior request.

WA (倭)

Vegan Course Meals

倭 西麻布

東京都港区西麻布4-10-1 ラポート西麻布B1

0364276689

View All

09

Shojin Ryori (Buddhist Cuisine)

Shojin Sougo (宗胡) is a Japanese restaurant specializing in Shojin Ryori, a Buddhist devotional cuisine prepared with seasonal vegetables and gentle seasoning. While keeping the tradition of Shojin Ryori, this restaurant adds a slightly modern touch to the dishes, with artistic plating and the use of plant-based western ingredients like truffles. Two vegan course meals (10,000 yen for eight dishes, 12,000 yen for 10 dishes) are available at dinner time, with an advance reservation required.

Shojin Sougo

You can choose reasonably Vegetarian Lunch set.

Located at the foot of Tokyo Tower, Tokyo Shiba Tofuya Ukai is a kaiseki restaurant that serves elaborate multi-course meals.
It specializes in tofu and its soy offerings are crafted using high-quality soybeans and spring water from Hachioji, Tokyo.
As it's also renowned for its impeccable service and exquisite plating, this place will make your trip to Tokyo even more special.
They offer multi-course meals at lunch and dinne, and can arrange a vegan-friendly menu upon reservation.

Tofuya Ukai

Kaiseki Ryori

Tofuya Ukai

4.5

932 Reviews

Tokyo Minato-ku Shibakouen 4-4-13

0334361028

[Weekday]11:45-15:00(L.O.14:…

View All