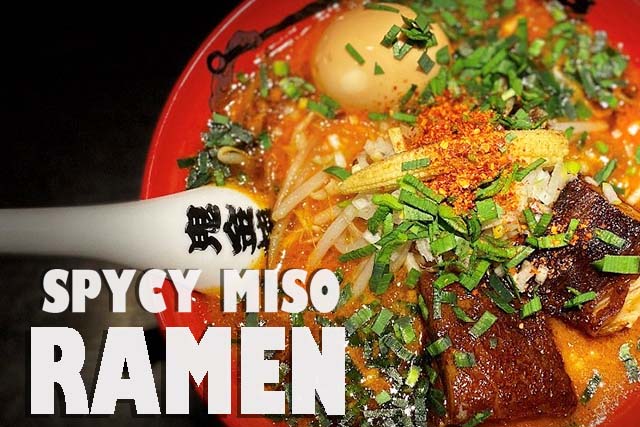 "Karashibi Miso Ramen Kikanbo" is a 2 minute walk from Kanda Station in Tokyo, in an area known as Japan's "ramen battlefield".

During the ten years since the restaurant first opened it has regularly featured on television and in other media, and is quite well known to those that crave hot, spicy food in the Tokyo area. As an indication of how hot the ramen is, "Karashibi" in the name refers to "spicy and numbing" ramen (and "Kikanbo" is a demon's gold club). The ramen here is a spicy miso ramen broth made using specially selected chili pepper and spices, combined with Chinese Sichuan peppers (giving the numbing effect), finished off with flavorful vegetables.

Read on for information about the restaurant such as ordering, access, things to be aware of, menu recommendations and so on.
This is the queue before noon on weekdays. Be ready for a long queue, because from noon you could be waiting until 3 to 4p.m. to get in!

02

The popular menu item "Specially Made Karashibi Miso Ramen"

Premium ramen "特製カラシビ味噌らー麺" (increased spiciness, normal numbness) (1200 yen including tax)

The young corn represents the kikanbo (demon's gold club).

The hot and spicy miso soup topped with kakuni (sweet & tender simmered pork), chashu, seasoned eggs, young corn, bean sprouts, green onions, etc.

03

Important points to note about ordering

One thing to keep in mind about the store is that you need line up after buying a meal ticket, and you'll see two queues outside the store: one is for those who have already bought their meal tickets, and the other is for those waiting to buy tickets.

If you're not sure what to order, you can refer to the vending machine's upper left menu where you'll see recommendations.

You'll choose your ramen's spiciness and numbness while lining up and let the staff know when you take your seat (using English is OK).

"Kara" (heat) and "Shibi" (numbness) can be adjusted to your liking, with options "None/Less/Normal/Increased" available, and you can also choose the maximum heat level "Onimashi" for an additional ¥ 150.
* Onimashi is extremely hot and spicy, so it's not recommended unless you really like your food at lava-like heat levels.

Inside the restaurant where the background music of Japanese Taiko drums sounds

Demon masks and gold clubs are displayed everywhere.

If you don't have enough spices, you can add tabletop spices. Tissues, toothpicks and paper aprons are also available.

There are many orders for "normal" levels of spiciness and numbness, but those who like more of a fiery taste experience will level-up the heat and numbness.

05

Access / Shop Information

【Access】
2 minutes on foot from Tokyo Metro Ginza Line [Kanda Station]
JR Chuo Line, Yamanote Line, Keihin Tohoku Line [Kanda Station] East Exit / North Exit 3 minutes on foot
4 minutes on foot from Toei Shinjuku Line [Iwamotocho Station]

Next door is actually a specialty store for tsukemen, "Karashibi Tsukemen Onikin", so be sure to head for the right entrance.

【Opening hours】
[Mon-Sat / Holiday] 11: 00-21: 30
[Sun] 11: 00-16: 00
May close during business hours

【Method of payment】
No card / No electronic money

【Official web site】
https://kikanbo.co.jp/