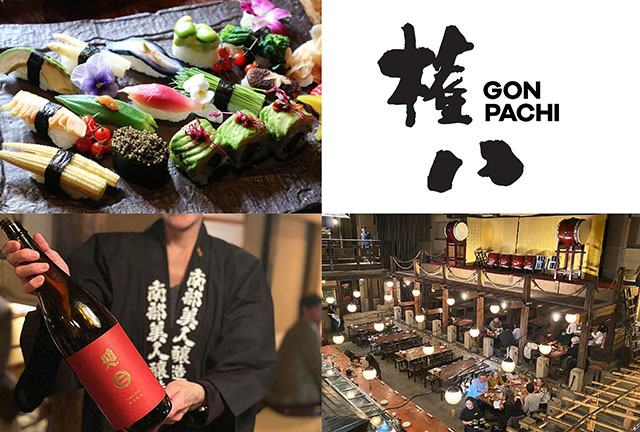 Specializing in sushi, kushiyaki (grilled skewers) and tempura, Gonpachi (権八) is a traditional Japanese izakaya that's become popular with visiting tourists.
It's named after a protagonist in Japanese kabuki and has several branches in Tokyo, including  Ginza and Shibuya.
In this article, we introduce the Nishi-Azabu branch that you can enjoy some of the vegan and halal dishes.
Gonpachi Nishi-Azabu

The Nishi-Azabu branch of Gonpachi opened in 2001 and has since become world-famous thanks to its appearance in the film "Kill Bill" and a visit by the former President of the United States, George Bush.
The interior is decorated in an authentic Japanese style while the staff all speak fluent English to make ordering easy for foreign guests.
If you're craving sushi, there's also a SUSHI Gonpachi Nishi-Azabu on the third floor.
Gonpachi Nishi-Azabu is open until 3:30 am and is just 10 minutes' walk from Roppongi Station.

03

― Various Vegan Menu Items

Gonpachi Vegan Nigiri

Gonpachi Nishi-Azabu offers a variety of vegan options, although this isn't always apparent on the official website.
Their vegan dishes include grilled vegetable skewers, vegan tempura, and a tempura rice bowl, all of which are available at reasonable prices, considering the high-end atmosphere of the restaurant.

A highlight is undoubtedly their Gonpachi Vegan Nigiri (4,800 yen), which includes 12 vegan nigiri and three vegan rolls featuring fresh and crisp seasonal vegetables (such as eggplant, shiitake, okra, Japanese ginger, baby scallion).
If the price of this set meal seems a bit steep, you can also order single pieces from 250 yen.

04

― Sample the world's first Vegan-certified Sake: Nanbu Bijin

Junmai-shu of Nanbu Bijin

Umeshu of Nanbu Bijin

Complement your vegan nigiri with a glass of Nanbu Bijin (南部美人), which became the world's first vegan-certified Japanese sake in 2019.
While sake is made only using rice, water, and koji (used for fermentation), the certification was acquired so that vegans can drink with confidence.
It's the same original taste and high-quality sake and available in three different types - Junmai-shu (純米酒), Dai Ginjo (大吟醸), Umeshu (plum liqueur) (梅酒).

05

― A Vegan Menu is also offered at SUSHI Gonpachi Nishi-Azabu

SUSHI Gonpachi Nishi-Azabu

Vegan Nigiri

If you're dining upstairs at SUSHI Gonpachi Nishi-Azabu, you'll also be able to find vegan-friendly nigiri and vegetable rolls here.
Their authentic, Edo-style sushi is made right before your eyes by their chefs using fresh, seasonal ingredients.

07

― Halal Wagyu Beef Set Courses

Halal Ozaki-Beef Steak Course

Ozaki beef

Muslim diners can eat with peace of mind thanks to Gonpachi's halal options, which include Japan's celebrated wagyu beef.
You can opt for the Halal Wagyu-Beef Steak Course (8,800 yen) or splurge with the Halal Ozaki-Beef Steak Course (19,800 yen).
The price difference reflects the rarity of ozaki beef, which is sometimes referred to as "phantom Japanese beef" and is often served to first-class passengers on Japanese airlines.
Please note that all meat is cooked following halal principles and advance reservations are required.

Gonpachi Nishi-Azabu

Opening hours:
・Gonpachi Nishi-Azabu 11:30 am to 3:30 am daily
・SUSHI Gonpachi Nishi-Azabu (3F) 5:00 pm to 2:00 am daily

Access:
A 10-minute walk from Tokyo Metro's Roppongi Station, Nogizaka Station or Hiro Station.