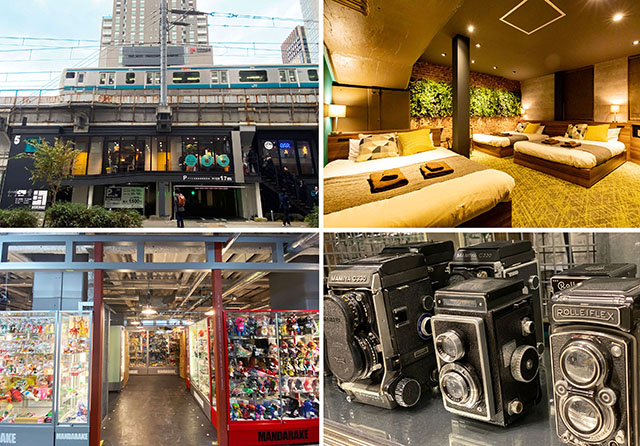 SEEKBASE AKI-OKA MANUFACTURE is a commercial facility, newly opened in December 2019, located under an overpass between Akihabara and Okachimachi Station.
The facility's focal point is the UNDER RAILWAY HOTEL AKIHABARA, which is a new style hotel that takes advantage of the characteristics of the area under the overpass.
In this article, we'll introduce the shopping and gourmet areas around the hotel, and take a close look at the hotel itself.
01

What exactly is "SEEKBASE AKI-OKA MANUFACTURE"?

What exactly is "SEEKBASE AKI-OKA MANUFACTURE"?

SEEKBASE AKI-OKA MANUFACTURE is an easy to access commercial facility located just a 3-minute walk from Akihabara Station.
SEEKBASE is made up of three core sections, i.e. the UNDER RAILWAY HOTEL AKIHABARA, as well as an Akihabara specialty store area known as "The Tools", and an eating and drinking area called "The Meals".
Further new stores are set to open in the spring of 2020!

02

UNDER RAILWAY HOTEL AKIHABARA

UNDER RAILWAY HOTEL AKIHABARA

UNDER RAILWAY HOTEL AKIHABARA is a new type of hotel which was created by making clever use of the limited space under the overpass.
The hotel was designed in accordance to the concept of "Urban Lohas", resulting in guest rooms based on earthy colors which give them a natural atmosphere and calm ambience.

03

― 13 Different Types of Rooms

Type-L Room

Type-H Room

Type-D Room

The hotel has 13 types of rooms available.
In addition to the doubles, there is a large room that caters for families and groups where up to 7 people can stay, and there are also other rooms that can accommodate more than two people.
There is also a room type that features a loft bed, setup in a way to give the feeling you are staying hidden away in a secret place somewhere, despite being in a hotel in the middle of Tokyo!

Please use of a QR code as your entry key

Located underneath an overpass

A nice feature of the hotel is the use of a smartphone QR code as your entry key, and the semi-outdoor corridor leading to the rooms from the lobby brings perspective to actually being located underneath an overpass.
Due to the location under the rail overpass, train noise can be somewhat of a concern, but closing the room door reduces the train sounds to comfortable levels.

04

― Reasonably Priced Rrooms

A double room will set you back around 8000 yen per night, whilst the large 7 person room costs around 25000 yen, which works out to be quite affordable at around 4000 yen per person.
Therefore, it's generally financially beneficial to stay as a group of people, but keep in mind that prices will vary depending on the season.

05

― Cafe & bar "KEY'S CAFÉ"

Cafe & bar "KEY'S CAFÉ"

The hotel's reception area also features a casual cafe and bar, which is open to both hotel guests and non-staying customers.
Of course Key's Café offers coffee, but in the evenings you'll also find pasta and craft beer so you'll be able to enjoy a light meal.
It opens from early morning at 7 am.

Access:Go straight out of Akihabara Station Electric Town Exit and walk for 3 minutes. It is located under the viaduct connecting Akihabara Station and Okachimachi Station.
Reservation site: Booking.com

07

Recommended Shops within "The Tools" shopping area

The Tools area is where you'll find specialty stores for products such as anime and manga figurines, model railways, cameras and audio equipment; essentially all the things you'd expect to find in Akihabara.
Let's take a look at some of the stores.

08

― Habikoro toy scaleton

Habikoro toy scaleton

This is a store for train lovers, specializing in model trains and railways.
Being located under a railway overpass with trains constantly running directly overhead, the store is in somewhat of a fantasy location for railway fanatics.

The model trains

In addition to the model trains such as daily commuter trains and the Shinkansen, there is also a Plarail track setup in the store (as well as plenty of accessories for Plarail available also).
So, if you are looking for model trains and related accessories, come and check out the store.

Mandarake CoCoo

Mandarake's first Akihabara store is famously known as a mecca for fandom, and now "The Tools" is host to Akihabara's 2nd store.
Mandarake is a specialty store for vinyl figurines, so special that it actually boasts the world's largest inventory.
There is a wide range of figurines available, including monsters and Tokusatsu characters.
Some of their vintage items can be expensive, so take your time making choices that best suit your budget and interests.

2nd BASE

Sanpou Camera, a long-established camera store which has been in business for over 40 years, has brought their new store 2nd BASE to The Tools.
With a main focus on film cameras, the store's concept is "a secret base for camera enthusiasts to feel free in".
The store's lens are particularly recommended, and in fact they sell film camera lens which can be attached to digital cameras, allowing for greater levels of flexibility and options for digital photo taking.

final STORE

final STORE is a shop directly managed by the Japanese earphone/headphone brand "final".
They sell discerning products such as the "MAKE series" of volume self-adjusting earphones, and of course they stock all the latest technology such as wireless earphones.

AUDIO MIJINKO

AUDIO MIJINKO is an audio equipment specialist store which focuses on amplifiers and speakers.
They sell original new and vintage products, and the store allows you test their products in-store before purchasing also.
There is also a workshop in the store that can take care of your audio equipment repair needs.

13

Introducing recommended shops in the eating and drinking area "The Meals"

At the time of writing, "The Meals" area only has one store that offers alcoholic beverages, however new stores will open in rapid succession in the spring of 2020, so be on the lookout for those also.

14

― Hitachino Brewing Tokyo Distillery

Hitachino Brewing Tokyo Distillery

Hitachino Brewing Tokyo Distillery is Tokyo's first dining bar that distills craft spirits.
The drink menu features original spirits, as well as unique liqueurs made from malt whiskey and spirits, plum wine, rice shochu, baked yuzu and kelp made at the Hitachino distillery.
There are also many food dishes available that use local ingredients.

Tokyo's first dining bar that distills craft spirits

15

Interesting places nearby

16

― 2K540 AKI-OKA ARTISAN

2K540 AKI-OKA ARTISAN

2K540 AKI-OKA ARTISAN is home to 50 shops selling handmade products from all over the country, and has a variety of unique interior goods, toys, art, clothes, hats, shoes, bags, jewelry and more.
Everything is artistically designed and unique, often one of a kind, making your visit a very interesting experience even if just window-shopping.

Read more:2k540 Aki-Oka Artisan

CHABARA

This is a food department store that features specialty regional foods and dishes from all over Japan, some of which are rare items not readily available in Tokyo.
There are about 30 stores in total, allowing you a great insight into Japanese food culture. This area also includes a specialty coffee shop, and a vegetarian restaurant which features Buddhist cuisine.

Ramen Yokocho

Chuka Soba Aoba

Ramen Yokocho is a famous ramen shop near Okachimachi Station.
If you like ramen, this is the spot you'll want to visit. Ramen Yokocho has a total of 5 stores, and no matter which store you choose you'll be able to enjoy delicious original ramen. Maybe you can take up the challenge to try a bowl of ramen from each store!

Read more:Chuka Soba Aoba

Tokyo Chiyoda-ku Kandaneribeicho 13-1

View All