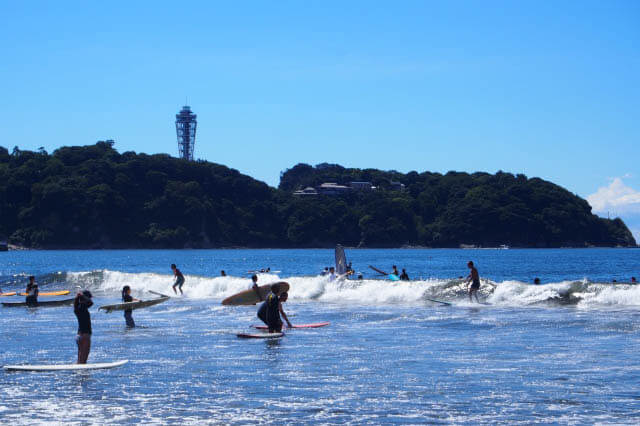 Situated along the Shonan coast of Japan's Kanagawa Prefecture, Kamakura and Enoshima are popular tourist spots and home to hot springs, caves, temples and shrines.
The Enoshima-Kamakura Freepass is a convenient and economical option for visitors wanting to explore the area, including transportation and discounts at select attractions.
In this article, we'll introduce the methods of transportation using the freepass to help you plan your trip to Kamakura.
01

What's the Enoshima-Kamakura Freepass?

If you're traveling to Kamakura from Tokyo, you can use the Enoshima-Kamakura Freepass.
The freepass includes two routes of unlimited rides, as well as a round-trip journey on the Odakyu Line.

Unlimited Rides
・ Enoden Line
・ Odakyu Line (Only between Fujisawa and Katase-Enoshima station)

Round-trip
Odakyu Line between your preferred departure station and Fujisawa Station

Enoshima-Kamakura Freepass

If you're traveling from Shinjuku Staion, the freepass costing 1,520 yen.
Be aware that the fares vary depending on the departing Odakyu Line station.
You need to purchase a freepass at the Odakyu Line's service center or from one of the ticket vending machines (the English language is available).

Odakyu Line's service center at Shinjuku Station

The ticket vending machines

02

Traveling from Tokyo to Kamakura using the Enoshima-Kamakura Freepass

If you're traveling from Tokyo, you opt to alight at Shinjuku Station and board the one-hour express service to Fujisawa Station.
Once you're at Fujisawa Station, you'll need to catch the train for Katase-Enoshima Station.

Shinjuku Station

Fujisawa Station

If you want to go directly to Katase-Enoshima Station from Shinjuku Staion, you can also opt to catch the Romancecar (a limited-express luxury tourist train) makes the journey to Katase-Enoshima Station for 630 yen extra without any transfers.
You need to purchase a Romancecar ticket at the Odakyu Line's service center or from the ticket vending machines.

Odakyu Line's Service Center

The ticket vending machines

* On Saturdays, Sundays, and holidays, you can go from Shinjuku Station to Katase-Enoshima Station without any transfers and add-on fee by Rapid express trains.

When you arrive at Katase-Enoshima Station, you can walk to Enoshima with around 15 minutes, so we recommend that you explore Enoshima first.

Walk from Katase-Enoshima Station to Enoshima

Enoshima Shrine

Next, walk about 10 minutes from Katase Enoshima Station to proceed in the opposite direction to Enoshima and you will reach Enoden's Enoshima Station.
From there, catch the Enoden and take about 20 minutes to Kamakura Station.
The Enoden offers convenient access to a variety of sightseeing spots, with unlimited travel allowing you to hop on and off as many times as you like.

Enoden's Enoshima Station

― If you want to go directly to Kamakura without exploring Enoshima, transfer to Enoden from Fujisawa Station and head to Kamakura Station.
The journey takes around 2 hours.


― Also, if you want to go directly to Kamakura from Tokyo Station, you take the train on the Yokosuka Line.
The journey takes around 1 hours and fare is 940 yen.
Be aware that this route isn't available with the Enoshima-Kamakura Freepass.

Read more:
Access Guide : How to get to Kamakura from Tokyo Station

Tokyo Station

Kamakura Station is the place to head if you want to visit the Kotokuin Temple (famed for its "Great Buddha") and the Komachi-dori shopping area while Hase Station is the access point for the 8th-century Hasedera Temple.
Fans of the Japanese manga series "Slam Dunk" shouldn't miss a visit to Kamakura-kokomae Station, which appears several times in the series.

The scene of Slam Dunk

You can alight at Enoshima Station to visit the Enoshima Shrine and Enoshima Aquarium, as well as feast on the local specialty, nama shirasu don (raw whitebait rice bowl).
At the end of the day, travel back to Katase-Enoshima Station or Fujisawa Station from where you can make the return journey to Shinjuku along the Odakyu Line.

04

Unlimited Enoden rides with the Noriorikun one-day pass

Even if you don't have an Enoshima-Kamakura Freepass, you can still enjoy unlimited rides on the Enoden with the one-day Noriorikun pass.
They're available for purchase from ticket vending machines at stations along the Enoden Line, as well as from some consignment sales facilities and cost 650 yen.

Noriorikun one-day pass

Enoden

05

Japan Travel by NAVITIME Train & Route Finder

Official web:
・Japan Route Finder & Calculator:To Enoshima
・Japan Route Finder & Calculator:To Kamakura