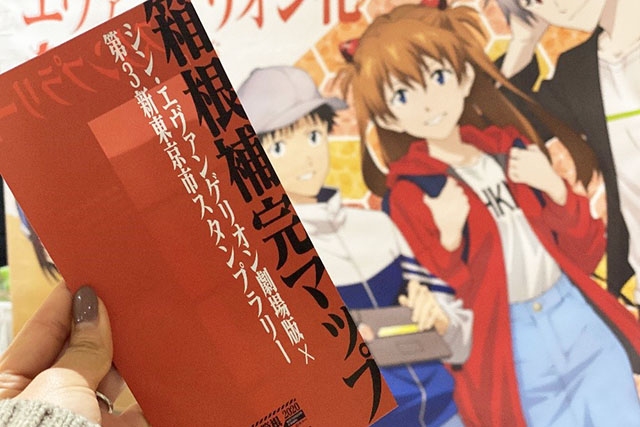 Commemorating the "Evangelion: 3.0+1.0" movie release that's scheduled for June 27 2020, a large collaboration event "Evangelion x Hakone 2020 Meet Evangelion in Hakone" is being held by the Odakyu Group between January 10 and June 30.

This event is taking place in Hakone, a popular tourist destination that is known for its scenic nature, onsen (hot springs) and art museums.
Two-meter tall Evangelion Unit-01 display

Evangelion fans should grab this once-in-a-lifetime opportunity and visit Hakone where a number of Evangelion-themed attractions and displays have been created.

Two-meter high displays of Evangelion Unit-01 and the Nerv complex, sales of exclusive merchandise and an Evangelion-themed spa resort are all part of this event.

Evangelion, officially known as Neon Genesis Evangelion, is a Japanese robot anime which started in 1995 as a TV series. The story takes place in an imaginary city, Tokyo-3, where a global cataclysm called Second Impact creates an Antarctica explosion, leading to the death of half the Earth's population. Tokyo-3 is under threat from monstrous beings called Angels. To save humanity from these destructive creatures, two teenagers, Shinji Ikari and Rei Ayanami, try to combat them using large bio-machine manned robots called Evangelion.


While the initial release of the series earned little acclaim in Japan due to its complex storyline, Evangelion's reputation grew over time and it is now one of the most beloved animes in the world. Following on from two TV series and three movies that were released in the late '90s, Evangelion: 3.0+1.0 is the long-awaited final film in the "Rebuild of Evangelion" tetralogy. It's particularly anticipated considering the eight-year break since the third film was premiered.

Why in Hakone?

In Evangelion, Hakone is chosen as the site of the dystopian city of Tokyo-3 and many shots in the anime were inspired by this beautiful mountain resort town.

Even before this collaboration event, Hakone has been an important place for passionate Evangelion fans who want to discover its screen-worthy scenes, from ordinary townscapes to chaotic battlefields. Hakone-Yumoto station, a hub station in the area, also features an official Evangelion store, which is packed with an array of merchandise.

04

― What kind of collaboration events can we expect?

05

1. Tokyo-3 Stamp Rally

Hakone Supplementary Map

Stamp Rally is a unique game where you visit different locations to collect stamps in a booklet. This game commonly incorporates train stations, roadside stations, and Japanese tourist spots, giving visitors a chance to experience places they might not find otherwise. In some cases, visitors can win prizes according to the number of stamps they collect.

Hakone Supplementary Map

You can get the stamp rally booklet "Hakone Supplementary Map" when you purchase the Hakone Free Pass. This discount excursion ticket offers unlimited use of transportation in Hakone, including buses and trains, as well as a discounted round trip to Hakone.

If you access the "Translated Website" on the back, English map is available.

You can get an Evangelion sticker for five stamps and a plastic file folder for all 14 stamps.

The booklet includes information about the locations of all the stamps, as well as featuring various locations that were featured in the anime. So if you have time to explore this sacred town, seize the opportunity and embark on your holy expedition. Depending on the number of stamps you collect, you can earn event-exclusive Evangelion goods. The lineup of these goods will change on April 1.

06

2. Nerv headquarters take over the Togendai Station "桃源台駅"

Togendai Station

Togendai Station is a terminal on the Hakone Ropeway that features a gorgeous view of Mt. Hakone's Owakudani crater.

During the collaboration event, Togendai Station has been transformed into Tokyo-3 Station, with nearly every detail given a Nerv-themed makeover. Aside from changing its walls, floors, ceilings, elevator entrances, and even the bathroom signs, the station also features an Evangelion souvenir shop.

A souvenir shop stocked with various Evangelion goods

Togendai Station is one of the stamp locations for the stamp rally, so this is a must-stop for all Evangelion fans.

During the collaboration event, seven Evangelion-robot-themed buses are traveling throughout the town of Hakone, setting the mood for this large project.

Five vehicles from Hakone Tozan Bus have been designed to reflect Unit-01, Unit-02, Unit-00, Mark.06, and Unit-08.

In addition, bus stops have been designed with the Evangelion theme and the bus announcements are being read by voice actress Kotono Mitsuishi who plays Misato Katsuragi in the anime.
The buses featuring Misato's voice are running between Odawara Station and Hakonemachi-ko (Hakonemachi Line (H Line)), with the content of the announcements different at each of the bus stops.

You can search for the current location of each Evangelion-themed buses here.

Two vehicles from Odakyu Hakone Highway Bus have also been designed to Evangelion wrapping and are running between Gotenba and Hakone, and Shinjuku and Gotenba.

08

4. The "Spear of Longinus" monument

Spear of Longinus "ロンギヌスの槍"

Hakone Gora Park is a spacious park that features western-style landscaping and various types of flowers and vegetation throughout the year. It's usually renowned as the perfect spot for a leisurely walk, but Evangelion fans should include it in their itinerary to see the "Spear of Longinus" monument.

In the anime, this extraterrestrial artifact possesses a power to penetrate the A.T. Field and can be used as a lethal weapon against Angels. The monument rises to 3.7 meters and is firmly planted in the ground. The display runs until the end of March.

Spear of Longinus" monument can be found behind the iconic water fountain.

The entrance to Gora Park is 500 yen, but the fee is waived for Hakone Free Pass holders. The easiest way to access the park is by bus, as the Hakone Tozan Railway is out of service due to the destructive typhoon that affected Hakone in 2019.

Kanagawa Pref. Ashigarashimogunhakonemachi Goura 1300

0460822825

9:00-17:00(depending on the …

View All

09

5. Second Impact Bath at Hakone Kowakien Yunessun

The Second Impact Bath is designed to reflect the image of an ocean saturated with blood

Yunessun is an onsen amusement park that is known for its quirky drink-themed baths such as sake, coffee, and green tea. Unlike the majority of onsens that require patrons to strip naked to take a soak, you can bathe in a swimsuit in Yunessun. Swimsuits and towels are available to rent for a small fee, so you can visit here empty-handed.

This popular spa complex is now completely consumed by Evangelion-themed decorations, which increases the excitement even more! Yunessun's iconic water slide bath, Rodeo Mountain, is now transformed into a blood-red Second Impact Bath and will make you feel like you're experiencing the catastrophic explosion. The mysterious cave bath right beneath Rodeo Mountain has also been transformed into a crimson-colored ocean.

This Second Impact Bath is scheduled to be replaced with a LCL bath on April 1. LCL is a translucent, amber-colored liquid that allows pilots to mentally sync with the Evangelion units and breathe freely during combat.

Similar to Togendai Station, you can find many elements of Evangelion throughout the premises, including the automatic entrance doors, the large staircase leading up to the front desk, and the locker room signs.

Shito kama (Japanese fish cake) "使徒かま"

Three restaurants in the spa resort are serving various collaboration dishes, such as Rei Ayanami's favorite garlic ramen with no roasted pork, an all-red Second Impact jello, a Unit-01 Sundae, and Angel-shaped Kamaboko (Japanese fish cake).

Kanagawa Pref. Ashigarashimogunhakonemachi Ninotaira 1297

0460824126

[Netsusan (Wednesday bathing…

View All

45% OFF Hakone Kowakien Yunessun Onsen Theme Park E-Ticket

¥1,400

Update date:2022/06/26

・Event Dates: January 10 – June 30, 2020
・Access: Japan Route Finder & Calculator: To Hakone-Yumoto "箱根湯本"
・Official website: https://eva-hakone.com/en/

Image of Evangelion-themed Hakone Free Pass tickets

・How to join the stamp rally

【STEP.1】Purchase a Hakone Free Pass, Hakone Sightseeing Cruise and Hakone Ropeway 1-day Pass, Hakone Kamakura Pass or Fuji Hakone Pass.
【STEP.2】Present your ticket at any booklet distribution spot and receive a "Hakone Supplementary Map".
【STEP.3】Collect stamps at the designated stamp locations.
【STEP.4】Aim to collect five stamps to get an Evangelion sticker or collect all 14 stamps for a plastic file folder. The lineup of prizes is scheduled to change on April 1.
【STEP.5】Visit any prize exchange location and pick up your prize.

Even some drink vending machines are decorated with Evangelion artwork

In addition to all these amazingly cool collaborations, there are also convenience stores and drink vending machines wrapped with Evangelion stickers. So true fans really can't afford to walk mindlessly in Hakone!