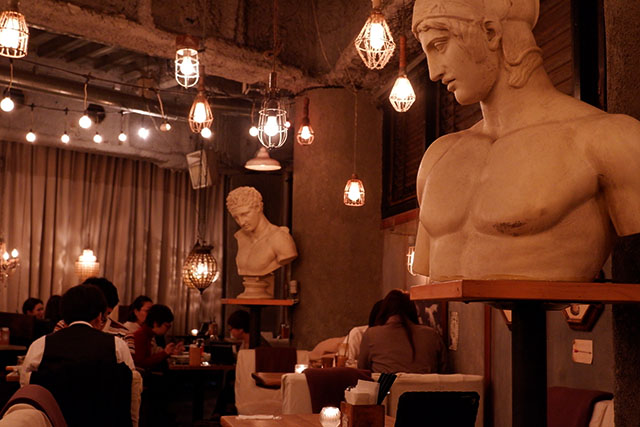 Shibuya is home to one of the world's busiest railway stations, as well as being a dining and entertainment hub.
It's packed with late-night cafes and bars that are ideal for travelers wanting to "kill" time before catching an early morning train, as well as those who just want to enjoy a relaxing night out alone.

In this article, we'll introduce some of Shibuya's cafes, bars, and restaurants that are open until late at night, as well as information about their Wi-Fi and power outlet availabil-ity.
Inside the Brooklyn themed studio type restaurant, many candles, sculptures, and antique accessories are lined up, creating an extraordinary atmosphere. The images from projection mapping projected on the wall add some nice taste to the restaurant. It is recommended for date night and girls night out. There are cozy sofas to keep you comfortable too. We suggest you make a reservation as it is a very popular restaurant.

● information

・Opening hours: 12:00 pm to 11:30 pm
・Wi-Fi: Available
・Power outlets: Depends on seat

and people jinnan

and people jinnan

Hot cocoa 650 yen , Honey nut ice cream 380 yen (all excluding tax)

and people jinnan (アンドピープル神南)

東京都渋谷区神南1-20-5 NAVI渋谷6F

0364551354

View All

02

Starbucks SHIBUYA TSUTAYA

With counter seats that overlook bustling Shibuya Crossing, the Starbucks SHIBUYA TSUTAYA is conveniently open until 4:00 am.

It offers all of the brand's signature drinks, although they're only available in tall sizes to reduce congestion. The coffee shop forms part of a multi-story Tsutaya store, with plenty of books, magazines, and CDs to browse if you do have to wait for a seat.

● information

・Opening hours: 6:30 am to 4:00 am
・Wi-Fi: Available
・Power outlets: Available

Starbucks SHIBUYA TSUTAYA

Tokyo Shibuya-ku Udagawacho 21-6 QFRONT 1F

0337702301

View All

Located on the ever-popular Shibuya Center-gai Shopping Street, this late-night spot is an ideal place to lose a few hours if you happen to miss the last train. It conveniently stays open until 5:00 am, with both caffeinated and alcoholic drinks available.

You can feast on a range of pizza and pasta dishes, followed by deli-cious cheesecake, all while enjoying the vintage-inspired furnishings selected by the owner himself.

● information

・Opening hours: 11:30 am to 5:00 am
・Wi-Fi: Available
・Power outlets: Available

Udagawa Cafe

Udagawa Cafe

3.0

29 Reviews

Tokyo Shibuya Udagawacho 18-4 LD & K Building

0364169087

View All

04

Risotto Cafe Tokyokichi

Renowned for its delicious risotto featuring prosciutto and porcini, this stylish cafe is open until 11:30 pm throughout the week and until 4:00 am on Fridays and Saturdays.

It's a great option if you're after a late-night meal, with a wide selection of full meals and light snacks available. The cafe is especially popular with girls-only gatherings, with the seemingly small space able to accommodate large groups.

● information

・Opening hours: 11:30 am to 11:30 pm (Monday to Thursday), and 11:30 am to 4:00 am (Fri-days, Saturdays and public holiday eves)
・Wi-Fi: Available
・Power outlets: Available

Risotto Cafe Tokyokichi

リゾットカフェ 東京基地 渋谷

東京都渋谷区宇田川町28-1 高山ランドビル7F

0337708960

View All

Located within the Q FRONT Shibuya shopping center, WIRED TOKYO 1999 combines a book and cafe across the building's 6th and 7th floors.

It's designed around the concept of a "lively study room", with the bookshelves towering to-wards the ceiling and antique-inspired decorations throughout. Aside from coffee and tea, the menu also features craft beer, wine, and grilled dishes, with seats available for a maximum of two hours.

● information

・Opening hours: 10:00 am to 2:00 am
・Wi-Fi: Available
・Power outlets: Available

WIRED TOKYO 1999

「WIRED TOKYO 1999

3.5

31 Reviews

Tokyo Shibuya-ku Udagawacho 21-6 QFRONT 7F

0354591270

View All

Instantly recognizable thanks to its red neon sign and illuminated exterior, Cafe FLAMINGO is hidden in a back alley of Shibuya.

Step inside to admire its Amer-ican-inspired interior, with sparkling mirror balls hanging from the ceiling and an enticing menu that honors the U.S.A. You can grab drinks and meals until 5:00 am, accompanied by revelers who congregate here after parties and events in the Shibuya area.

● information

・Opening hours: 11:00 am to 5:00 am
・Wi-Fi: Available
・Power outlets: Available

4.0

3 Reviews

Tokyo Shibuya-ku Udagawacho 10-2

0364165513

View All

A former strip club-turned-stylish cafe, tokyo salonard cafe: dub is open late into the night for drinks and meals. The interior is decorated with vintage furniture and warm lighting, creating a cozy space to while away a few hours until your early morning train.

If you're not sure what to order from the Italian-inspired menu, we recommend the "Assorted five kinds of appetizers(おまかせ前菜5種盛り合わせ)" to sample a few different options.

● information

・Opening hours: 12:00 pm to 12:00 am (Monday to Thursday); 12:00 pm to 3:00 am (Friday); 2:00 pm to 3:00 am (Saturday); 2:00 pm to 11:00 pm (Sunday and public holi-days)
・Wi-Fi: Available
・Power outlets: N/A

tokyo salonard cafe: dub

tokyo salonard cafe:dub

東京都渋谷区道玄坂1-11-3 富士商事ビル2F

0334630724

View All

08

Cafe x Lounge Microcosmos

Located on the 8th floor of a building at the entrance to Nonbei Yokocho ("Drunkard's Alley"), Cafe x Lounge Microcosmos is conveniently located just a stone's throw from Shibuya Station.

During the day, it's a sun-dappled cafe, while at night, it transforms into a club-style lounge with a central dance floor. It's a good option if a few too many drinks have led to you missing the last train, with guest DJs playing most nights of the week.

● information

・Opening hours: 11:30 am to 2:00 am (Monday to Thursday); 11:30 am to 5:00 am (Friday, Sat-urday and public holiday eves)
・Wi-Fi: Available
・Power outlets: Available

Cafe x Lounge Microcosmos

4.5

10 Reviews

Tokyo Shibuya-ku Dougenzaka 2-23-12 Fontisville 2nd Floor

0334096581

[Lunch] 12:00-15:30 [Brunch…

View All

Open 24 hours on weekends, VANDALISM Shibuya is a casual bar and cafe just five minutes' walk from Shibuya Station.

It regularly hosts film screenings and traditional Japanese vaudeville shows, as well as being a convenient spot for freelance workers to get work done.
There are complimentary Wi-Fi and plenty of power outlets, as well as chargers for a variety of mobile phones.

● information

・Opening hours: 11:00 am to 12:00 am (Monday to Thursday); 24 hours on weekends and public holidays
・Wi-Fi: Available
・Power outlets: Available

VANDALISM Shibuya

This popular cafe is eclectically decorated with mismatched furniture, creating a calming, slightly arty atmosphere where you can relax with a good book or catch up on emails.

There's a large blackboard detailing the daily specials, with the cafe's signature menu items including Shibuya Keema Curry and homemade sweets. In addition to complimentary Wi-Fi, there are plenty of charging points available.

● information

・Opening hours: 11:00 am to 5:00 am (Monday to Saturday); 11:00 am to 12:00 am (Sunday)
・Wi-Fi: Available
・Power outlets: Available

Sakuragaoka Café

If you're after a traditional izakaya experience late at night, then 27 CrazyForce is the place to head. It's in an area of Shibuya surrounded by clubs, making it a great option for a drink or meal before a night out or while waiting for the first train home.

Settle in at the bar to watch international soccer games on the big screen or opt for one of the comfortable sofas with your date.

● information

・Opening hours: 6:00 pm to 5:00 am
・Wi-Fi: Available
・Power outlets: Available

27 CrazyForce