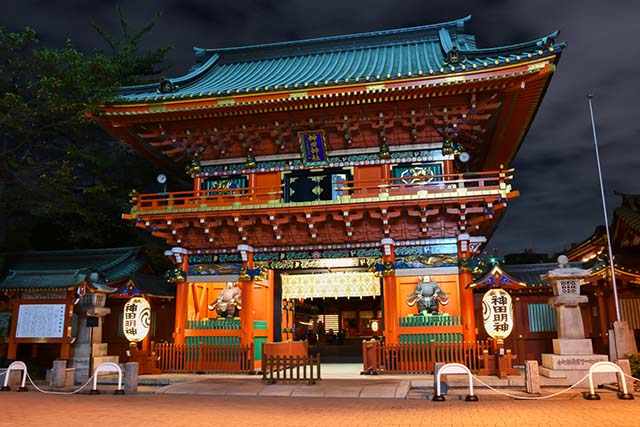 Kanda Myojin Shrine is undoubtedly a must-visit place in Tokyo. It's also one of the popular power spots, or spiritual hot spots, in the city center.

The temple is open to the public 24 hours a day and is renowned for the Kanda Festival, one of Japan's three great festivals. The newly-opened culture complex by the shrine, EDOCCO, also entertains visitors with its fine array of restaurants and shops, as well as Japanese art displays, and holds various events throughout the course of the year.

This article will provide you with an introduction to discover the very best that the shrine offers.
01

About Kanda Myojin Shrine

About Kanda Myojin Shrine

Kanda Myojin Shrine was originally founded in 730 near Otemachi, Tokyo, and was relocated to its current location in 1616. Marked as a power spot for thriving businesses, it attracts many business owners and business people who come to make New Year wishes in January (long queues are expected).

Collaboration with animation "Bang Dream!"

It is also close to Akihabara, the mecca of Japan's Otaku culture, as well as the Jinbocho and Ochanomizu areas, both of which are clustered with cafes and bookstores selling old books.

If you visit after dark, you can relish the night view, with the shrine illuminated by 580 lanterns until 23:00, although it remains open around the clock.

02

Things to see in the precinct

Things to see in the precinct

As you enter through the bright red gate of Kanda Myojin Shrine's front approach (the Zui-shinmon gate), you'll be welcomed by the equally breathtaking view of the main temple building.

A large statue of Ebisu and the admiring statue of Daikoku

Things to see in the precinct

A large statue of Ebisu (the god of fishermen and businessmen) and the admiring statue of Daikoku (the god of good harvest and matrimony) are certainly worth a look. There are also various auxiliary shrines around the main complex, and it would be ideal to spend at least an hour in the precinct to fully enjoy them.

03

EDOCCO (EDO Culture Complex)

EDOCCO (EDO Culture Complex)

EDOCCO (EDO Culture Complex)

EDOCCO is a multi-purpose building on the grounds of the Kanda Myojin Shrine. Having opened as a cultural center for Shintoism in December 2018, EDOCCO has also become a popular dining and shopping destination. Besides the mouth-watering cuisines served at the on-site restaurants, the complex also offers a wide range of facilities, such as a reception area for the shrine's visitors and a place to purchase amulets.

It also has many souvenir shops and a studio where visitors can experience traditional Japanese culture and a VIP lounge with a rooftop garden. The next section of this article will guide you through the various floors of EDOCCO that are worth checking out.

04

― Basement Floor (EDOCCO STUDIO)

Basement Floor

The basement floor of EDOCCO is known as EDOCCO STUDIO. The EDOCCO Café is particularly recommended here, as you can enjoy classical Japanese dance shows accompanied by matcha tea and Japanese sweets.

You can also participate in mini-workshops to experience Japanese cultures, such as tea ceremony, calligraphy, origami and Japanese kimono dressing. The EDOCCO Chaya (茶屋) is open every Monday and Thursday from 10:30 am to 3:30 pm, and the admission fee is 3000yen.

06

Classical Japanese dance show with matcha and Japanese sweets

Classical Japanese dance show

(11:00 am-/12:00 pm-/1:00 pm-/2:00 pm-/each session lasts/ is 15 minutes)

07

Japanese Kimono fitting

Japanese Kimono fitting

The area around Kanda Myojin Shrine provides various photo-friendly spots, so why don't you go out and take some memorable pictures while wearing a lovely kimono?

Note: The reception for renting kimonos closes at 5:00 pm.

It is highly recommended to check the studio's schedule as there are also a wide variety of workshops available daily.

08

― Ground Floor (EDOCCO SHOP and EDOCCO CAFÉ)

EDOCCO SHOP IKIIKI

EDOCCO SHOP IKIIKI

If you are looking for unique souvenirs, the EDOCCO SHOP IKIIKI on the ground floor is the perfect place to visit.

The shop offers Edo period "Iki" items in a modern form that you can find only here, including Edo period themed goods, modern ritual articles, sacred wine or sake, lucky charm and Daikoku biscuits.

EDOCCO CAFÉ

If you're hungry while exploring the culture complex, the EDOCCO CAFÉ MASUMASU will satisfy your stomach with its delicious lunch menu and selections of sweets. In the evening, however, the café transforms into a gastro bar serving Japanese oden and sake (from 6:00 pm).

EDOCCO CAFÉ

Why don't you try both and compare the completely different atmosphere between the daytime and night?

10

― Kanda Festival "神田祭"

Kanda Festival

The Kanda Festival is the most famous festival in Tokyo and is held every second year for six days in mid-May.

Since the Edo period, the festival has been described as one of Edo's three great festivals, as well as one of Japan's three major festivals.

The highlight of the festival is its Shinko-sai tradition where around 500 participants parade while wearing traditional costumes from the Heian period.

11

― Setsubun Festival's Bean Throwing Ceremony "節分祭豆まき式"

A bean throwing ceremony is conducted during the Setsubun Festival, which celebrates the last day of winter and is held from 2:00 pm on the 3rd of February every year. The ceremony is well-known throughout the country, with Japanese celebrities joining in to welcome good fortune and drive away evil spirits.

Some of the beans that are thrown during the ceremony have winning tickets and those who are fortunate enough to pick them up win a prize.

The prizes tend to be home appliances since Kanda is close to Akihabara.

12

― Edo Tokyo Art Illumination Exhibition produced by the Japan Art Illumination Expo "江戸東京あかり展"

Edo Tokyo Art Illumination Exhibition

Craft Cocktail Bar

Edo Tokyo Art Illumination Exhibition

The Edo Tokyo Art Illumination Exhibition is a participatory exhibition, which takes place in EDOCCO STUDIO between Saturday, 7th December 2019 and Sunday, 9th February 2020.

A unique feature of the exhibition is its magnificent interactive pieces, such as Aomori Nebuta, which boasts an advanced speech recognition system that moves according to one's speech. Visitors can also enjoy Japanese craft cocktails at the studio's Illumination Craft Cocktail Bar. As various events are held for a limited period only (such as the night market), it is recommended to check the event schedule in advance.

Edo Tokyo Art Illumination Exhibition

● Access
5 minute-walk from Ochanomizu Station
7 minute-walk from Akihabara Station (Electric Town exit)
5 minute-walk from Shin-Ochanomizu Station (B1 exit)
5 minute-walk from Suehirocho Station

● Kanda Myojin Shrine
Opening hours: 24 hours daily
Official website: https://www.kandamyoujin.or.jp/what/

● EDOCCO
Opening hours: 10:00 am-10:00 pm
Official website: https://edocco.kandamyoujin.or.jp/en/

● EDOCCO CAFÉ -MASU MASU-
Opening hours: 11:00 am-10:00 pm
It opens as a Japanese gastropub, MASU MASU, from 6:00 pm serving sake and traditional food such as oden.
*11:00 am-6:00 pm on Sundays and public holidays

● EDOCCO SHOP IKIIKI
Opening hours: 11:00 am-6:00 pm

● Edo Tokyo Art Illumination Exhibition produced by the Japan Art Illumination Expo
Opening hours: Mon – Thu 10:00 am- 7:00 pm (Last entrance 6:30 pm)  
Fri – Sun 10:00 am- 8:00 pm (Last entrance 7:30 pm) 

Tokyo Chiyoda-ku Sotokanda 2-16-2

0332540753

9:00-17:00

View All