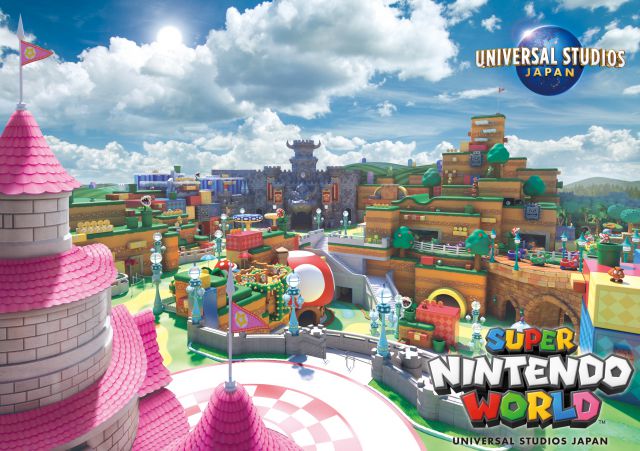 There are many reasons that so many visitors flock to visit Japan every day, from delicious cuisine such as Sushi and Yakitori, to tradition and culture such as Shrines, Temples, and castles, and of course pop culture like Anime and gaming. In 2020 the Olympic and Paralympic games will be coming to Japan and as a result the country is seeing a huge amount of new attractions, festivals, and other changes.

If your interests are cultural, we will give you the scoop on where you can stay in a historical castle, where you can see the best art exhibitions and when famous Shrines will finish their current renovations.
If you're looking for excitement, we have the details on what's new in Tokyo Disneyland and Osaka's Universal Studios Japan. If you don't mind traveling a bit, we can even lead you to the world's largest Godzilla, also new in 2020.

To make sure you make the most of your Tokyo 2020 trip, read on!
01

Tokyo Olympic and Paralympic Games 2020

Tokyo will be taken over by the Olympic (July 24, 2020 – August 9, 2020) and Paralympic (August 25, 2020 – September 6, 2020) Games in 2020. This means that the city is seeing a slew of upgrades to athletic facilities, such as a new national stadium, new stores, transportation, and much more. Visitors can expect a futuristic vision in the 2020 games as Japan intends to use cutting edge technology (such as robotics) to make sure Olympics fans in Tokyo and beyond can all join in on the spectacle.

Tokyo Olympic and Paralympic Games 2020

New national stadium

Please note that there will be changes in Japan's usual national holidays due to the Olympics. Marine Day and Sports day will be moved to July 23 and 24 while Mountain Day to August 10, the day after the closing ceremony. The aim of this change is to reduce traffic congestion, but it can also affect opening and closing hours in stores and restaurants.

National holidays due to the Olympics

Official website for the Olympic and Paralympic Games Tokyo 2020

Related Articles:
・Japan Olympic Museum

02

Exciting New Worlds Coming to Tokyo Disneyland and USJ (Universal Studios Japan)

03

― Tokyo Disneyland "New Fantasyland"

In 2020 Tokyo Disneyland will be expanding with its 'New Fantasyland' based on the world of Disney classic, Beauty and the Beast. Adults can enjoy a hefty dose of nostalgia as they stroll through Belle's village which will include Maurice's Cottage and Gaston's Fountain (but likely no sheep). The 'Enchanted Tale of Beauty and the Beast' will take place in the castle itself. The area will also feature Disneyland's first full scale indoor theater, the Fantasyland Forest Theater.

Over in Tomorrowland visitors can spend time with adorable Baymax on 'The Happy Ride with Baymax'.

New Fantasyland

The Happy Ride with Baymax

Chiba Pref. Urayasushi Maihama 1-1

0570008632

Sales Hours differ depending…

View All

Tokyo DisneySea Direct-Entry Tickets (1-Day Pass)

¥107

Update date:2023/05/30

04

― Universal Studios Japan "Super Nintendo World"

Universal Studios Japan in Osaka has been extremely secretive about its new expansion, Super Nintendo World. Newly released images seem to indicate that there will Mario Kart and Yoshi themed rides and an area dedicated to Donkey Kong. The new expansion will be open to the public before the start of the 2020 Olympics so look forward to having your own Mario Party in USJ!

Super Nintendo World

Super Nintendo World

3.0

2 Reviews

Osaka Osakashi Konohana-ku Sakurajima 2-1-33

0570200606

Depends on Sunday

View All

Universal Studios Japan Osaka Studio Pass E-Tickets

¥18,600

Update date:2023/05/30

05

Futuristic Aquariums, Miniature Theme Parks, Godzilla and More!

06

― Shikoku Aquarium "四国水族館" in Kagawa

In March 2020 the Shikoku Aquarium will officially open its doors. This "Next-Generation Aquarium" has a theme of showing off the wonder of Shikoku's waterscape so visitors can enjoy not only observing fish but also seeing how they act in their natural habitats and how they change with the seasons.

This aquarium will also feature a Shark Shadow Aquarium, where you can see the large shadowy profiles of Hammerhead sharks as well as a large dolphin area which promises a spectacular sunset over the Seto Inland Sea.

Shikoku Aquarium

07

― Small Worlds Tokyo in Tokyo

In Tokyo a new type of theme park is set to open, Small Worlds Tokyo will be home to miniature areas based in reality and fantasy. Feel like a giant by passing through the Gulliver tunnel and then take your time enjoying the Sailor Moon, Evangelion, Global Village, Space Center, and Kansai International Airport models.

It's not just viewing though; advanced 3D mapping is available so that you can join your favorite area and make items to display as well. It's set to open April 25, 2020 and will make the perfect indoor adventure if you are caught in rainy spring weather.

Small Worlds Tokyo

Evangelion Area

08

― Itsukushima Shrine's O-torii Gate "厳島神社" in Hiroshima

Popular sightseeing place and UNESCO World Heritage Site Itsukushima Shrine has unfortunately been covered by scaffolding for renovation as of June 2019. These repairs are expected to take one year so visitors can expect this beautiful floating Shrine to be fully viewable by summer 2020.

Itsukushima Shrine's O-torii Gate

09

― DMM Kariyushi Aquarium "DMMかりゆし水族館" in Okinawa

Okinawa, already famous for its wealth of natural beauty, will be opening a new aquarium in April 2020, the DMM Kariyushi Aquarium. Their focus will be blending art installations with underwater environments to create a new type of aquarium enjoyment. It's not far from Naha airport so it is much more easily accessible than the Okinawa Churaumi Aquarium, which is good news for those who have limited time on the island.

DMM Kariyushi Aquarium

DMM Kariyushi Aquarium

10

― Okinawa Kokusai Goodwill Street "国際通りのれん街" in Okinawa

Over in Naha the street known as "the miracle mile" is set to get some new editions as the site of Mitsukoshi welcomes the new Okinawa Kokusai Goodwill Street. Those who are interested in the varieties of Japanese cuisine available in Okinawa will love the new food court and shoppers are sure to be delighted by the variety of shops. All of the stores will open in February 2020.

Okinawa Kokusai Goodwill Street

11

― Godzilla Interception Operation "ゴジラ迎撃作戦" in Awaji Island

Summer 2020 will mark the arrival of the world's largest Godzilla as part of the Godzilla Interception Strategy-National Godzilla Awajishima Research Center in Nijigen no Mori, an animation park not too far from Kobe and Osaka.

Marketed as "life-size", you really have to see it to believe it. There will be a small platform set up so that visitors can grab that perfect selfie as they disappear into Godzilla's open jaws. Monster movie fans can look forward to event-limited goods and food as they take on the king of monsters.

Godzilla Interception Operation

Hyogo Awaji-shi Kusumoto 2425-2 Hyogo Prefectural Awajishima Park

0799647061

10:00-22:00(depending on the…

View All

Nijigen No Mori Theme Park Ticket & Bus Packages (With Naruto and Boruto Shinobi-Zato + Godzilla Options)

¥11,800

Update date:2023/05/30

12

― 2020 MEET EVANGELION "エヴァンゲリオン×箱根 2020" in Hakone

To commemorate the release of "Shin Evangelion", scheduled for June 2020, a large-scale project will be held in Hakone from January 10 to June 30, 2020.

The Hakone area, known as the "3rd New Tokyo City", will become the stage, with a range of Evangelion-themed designs taking over everything from buses to train stations.

The famous Hakone Kowakien Yunessun hot spring amusement park will be covered with Evangelion themed displays and characters, with even the hot spring baths themselves filling with LCL allowing even the youngest Eva pilots to connect with their Evangelion Unit.

2020 MEET EVANGELION

Hakone Kowakien Yunessun

Togendai

Kanagawa Pref

View All

13

Renewed Shopping Paradise, Shibuya

Shibuya has always been known as a modern shopper's paradise, but in 2020 visitors can expect even more options to fill their day.

14

― Shibuya Scramble Square "渋谷スクランブルスクエア"

Shibuya Scramble Square offers yet more shopping options as well as a new way to view the iconic Shibuya Crossing – from Shibuya Sky. This great observation area also has hammocks so that you can rest your feet from all that shopping.

Related Articles:
・Shibuya Scrambled Square & Shibuya Sky : Best Observation Deck in Tokyo

Shibuya Scramble Square

Shibuya Sky

15

― Shibuya PARCO "渋谷PARCO"

Shibuya PARCO, a large shopping mall, has recently opened its doors. It features both high-end and pop-up shops, but its crown jewel is the new Pokemon Center and Nintendo store.

Related Articles:
・Geek out at the new Shibuya Parco!
・Nintendo Tokyo: A look at Japan's first Nintendo store

Shibuya PARCO

16

― SHIBUYA FUKURAS "渋谷フクラス"

SHIBUYA FUKURAS is an exciting new gateway to this neighborhood as you can travel directly there by bus from Tokyo's airports. Visitors should check out Shibuya-san, a trendy information center with multi-lingual support, and Pepper Parlor, a new type of robot dining experience.

Related Articles:
・Shibuya Fukuras Tokyu Plaza Restaurant and Entertainment Guide
・Beams Japan Shibuya - the best souvenir shop

Pepper Parlor

SHIBUYA FUKURAS

17

What's New in Yokohama in 2020: Shopping, Gundam, Transportation and more!

In the summer of 2020 port city Yokohama intends to rival nearby Odaiba with its very own life-size, 18 meters tall, Gundam, and this one will move! You can visit this ambitious project, called the Gundam Factory "ガンダムファクトリーヨコハマ", at Yamashita Pier which is surrounded by beautiful parks and Yokohama Chinatown as well.

To ensure the best views and most convenient travel in the Minato Mirai sightseeing area Japan will be introducing it's first aerial gondola, the Yokohama Air Cabin. This 630-meter-long gondola will connect the JR Sakuragicho Station with Unga park in around 3 minutes. This means it will be much easier to access the Yokohama World Porters shopping mall and the Yokohama Red Brick Warehouse. The district expects it to open commercially before the start of the 2020 Olympics.

Gundam Factory

JR East is also developing a brand-new tower complex as part of Yokohama station. With a bright atrium, rooftop gardens, and commercial facilities this is likely to become a Yokohama landmark. One of the tenants will be NEWoMan"ニュウマン横浜", a mall focused on luxury shopping for women.

Car lovers should check out the Nissan Pavilion Yokohama, which is described as an interactive center where visitors can experience the latest in vehicular technology. It will also be used a showroom for the newest Nissan models with a focus on electric cars. It will only be open for a limited time starting from Summer 2020.

NEWoMan Yokohama

Finally, lovers of the arts should not miss the Yokohama Triennale 2020 "ヨコハマトリエンナーレ2020", which will have its base in the Yokohama Museum of Art, close to the Minatomirai station. This will be a celebration of contemporary art featuring world renowned and up-and-coming artists.

Yokohama Triennale 2020

18

Finally See Kiyomizudera in all its Glory – What's New in Kyoto

19

― Kiyomizudera Temple "清水寺"

UNESCO World Heritage Site, Kiyomizudera, has been under construction and partially covered by scaffolding for around three years now. But finally, for the 2020 Olympics this ancient Temple can be enjoyed in all of its glory! A big point of interest in the Temple is the Otawa waterfall, which is actually where the Temple gets its name (Kiyomizu means clear or pure water) and is believed to have wish granting powers.

Kiyomizudera Temple

4.0

33 Reviews

Kyoto Kyoutoshi Higashiyama-ku Kiyomizu 1-294

0755511234

[Gates open]6:00[Gates shut]…

View All

20

― Kyoto City KYOCERA Museum of Art "京都京セラ美術館"

The Kyoto City KYOCERA Museum of Art will be opening on March 21, 2020. This will be a modern art museum with a historical twist as the museum itself actually dates back to 1933. Two lead Japanese architects, Aoki Jun and Nishisawa Tezzo, have worked to create a contemporary building that retains its historical elements.

Kyoto City KYOCERA Museum of Art

Pre-opening event: From December 21, 2019 to May 31, 2020

京都市京セラ美術館

京都府京都市左京区岡崎円勝寺町124

0757714334

View All

21

Stay in a Castle or a Luxury Hotel, New Accommodations Coming to Japan in 2020

22

― The Ritz-Carlton, Nikko "ザ・リッツ・カールトン日光" in Oku-Nikko

On the banks of Lake Chuzenji in May 2020 the Ritz Carlton Nikko will open its doors. For visitors who would like the benefits and conveniences of large luxury hotel without sacrificing the beauty of the Japanese outdoors, this promises to be a perfect blend of the two. You can make reservations on the official website.

Ritz Carlton Nikko

23

― Ozu castle stay "大洲城キャッスル・ステイ" in Ehime

Have you ever dreamed of staying in one of Japan's beautiful castles? As of Spring 2020 your dreams can come true at the Ozu castle stay.

This historical treasure is said to have been in use since 1331, though a fire did eventually destroy some of the buildings they have since been authentically rebuilt and now are ready for overnight guests.
The group behind this project, VMG Hotels, actually specializes in historical boutique hotels.

If you are interested in immersing yourself in traditional and historical Japan, it would be a good idea to check their website!

URL: https://www.vmg.co.jp/hotels/oozu/

Ozu castle

4.0

123 Reviews

Ehime Pref. Ozushi Ozu 903

0893241146

9:00-17:00 (Last entry at 16…

View All

24

― eSports Hotel e-ZONe in Osaka

In Osaka's electronics district, Nihonbashi, a new type of hotel experience is set to begin. In April 2020 Japan's first e-sports and gaming hotel e-ZONe will open. 3 floors will be dedicated as a gaming area while the top 4 floors will be guest rooms. For those who are just coming for a competition and not staying overnight there will be shower rooms in the basement to make your trip more convenient.

Related Articles:
・eSports Hotel e-ZONe Open in Japan in Spring 2020

e-ZONe

esports hotel e-ZONe 電脳空間

大阪府大阪市浪速区日本橋4丁目9-7

0666957082

View All

25

Exciting Events in 2020: Art Festivals, Harry Potter, and Banksy

26

― Northern Alps Art Festival "北アルプス国際芸術祭2020"

In terms of art festivals in Japan, The Northern Alps Art Festival has been a favorite in recent years. Based in Omachi in beautiful Nagano prefecture, the aim of the festival is to challenge artists (any participants are welcome to enter) to prepare works of art using the themes of 'water', 'wood', 'soil', and 'sky'.
As a result, the festival is a celebration of Japan's rural areas as well as a modern reflection of increasing environmental consciousness.

It will take place from May 31, 2020 to July 19, 2020.

Northern Alps Art Festival 2020

● Here are some other Japanese art festivals we recommend:

・ Oku-Noto Triennale 2020 "奥能登国際芸術祭"
・ Biwako Biennale 2020 "BIWAKOビエンナーレ"
・ Tokyo Biennale 2020 "東京ビエンナーレ"
・ Sapporo International Art Festival 2020 "札幌国際芸術祭"
・ Ichihara Art x Mix 2020 "いちはらアート×ミックス"

27

― Banksy: Genius or Vandal?

The UK based artist Banksy has received international renown for works like his 'balloon girl'. Now, he is coming to Yokohama ASOBUILD with one of the largest exhibitions of his art featuring more than 70 original pieces.

The exhibition asks the question, 'Banksy: Genius or Vandal?' so head on over and discuss. The provisional dates for Yokohama are March 15, 2020 to September 27, 2020. Regional showings are also planned for cities such as Osaka, so keep your eyes peeled.

Banksy: Genius or Vandal?

28

― Harry Potter: A History of Magic

Originally displayed at the British Library in London, special exhibition 'Harry Potter: A History of Magic' is coming to Japan in 2020.

It will include not only rare sketches by author J.K. Rowling but also historical artifacts that trace the history of magic in Europe, so that visitors can get some background on what inspired this beloved book series.

You can visit the Harry Potter exhibition in Kobe from September 5 to November 8 and then in Tokyo from November 21, 2020 to February 21, 2021.

Harry Potter: A History of Magic

4.0

129 Reviews

Tokyo Chiyoda-ku Marunouchi 1-9-1

0332122485

10:00-18:00[Friday]10:00-20:…

View All