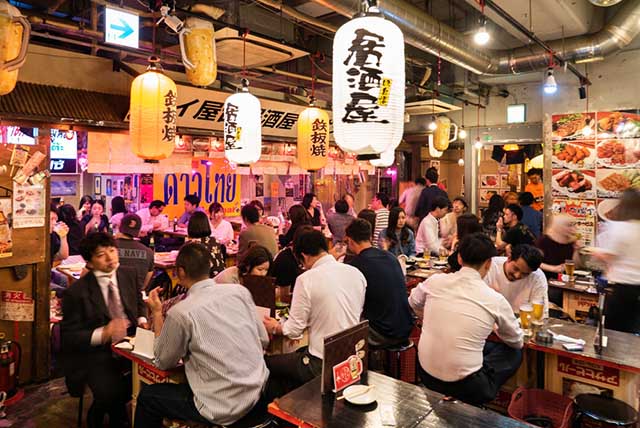 Shibuya is well-known for its iconic (and hectic) crossing, numerous shopping malls, and historical Hachiko statue, but did you know that it is also a hub of Japanese and international cuisine? Whether you're craving Japanese classics such as Ramen, Sushi, and Yakitori, or you just need a café to relax from the hustle and bustle, you'll find a restaurant or Izakaya that caters to it in Shibuya.

There are diverse food choices from high-end to casual dining at various price points. Moreover, most of the restaurants are tourist-friendly, with English speaking staff and English menus.

Here we listed the top restaurants where you can get budget and time-friendly meals without having to spend hours on line or sacrifice enjoying a unique atmosphere!
WIRED TOKYO 1999

WIRED TOKYO 1999 The perfect hangout spot for bookworms, Wired Tokyo 1999 has a café, bookstore, and a bar in one place. It is located in the same building as the Tsutaya Bookstore and the walls of the bar are the bookshop's shelves. This is the kind of place you can enjoy going to whether you're alone, with friends, or with a partner. There is also free Wi-Fi.

The café serves perpetually hot coffee, a good wine selection, craft beer, cocktails, freshly made pizza, and a lot more. Their best-sellers are Crispy Pizza with Prosciutto and Fresh Salad as well as the Bunmeido Dorayaki French Toast paired with a cup of their Uji Matcha Latte.

WIRED TOKYO 1999

Related Articles:
・Breakfast in Shibuya
・Shibuya, Harajuku and Omotesando:Newly opened Japanese cafes

WIREDTOKYO1999

Tokyo Shibuya-ku Udagawacho 21-6 QFRONT 7F

0354591270

View All

04

Umegaoka Sushi no Midori Sohonten

Umegaoka Sushi no Midori Sohonten Shibuya Branch

Umegaoka Sushi no Midori Sohonten Shibuya 梅丘寿司の美登利総本店 渋谷店 is dubbed as the best budget all-you-can-eat-Sushi in Tokyo. They are famous for their red Sushi (tuna Sushi set), which is freshly procured at Toyosu Market. You can sit at the counter where the Sushi masters freshly prepare the sushi while you wait.

Umegaoka Sushi no Midori SouHonten adheres to three values: "freshness", "technique" and "care", this shows in all the food they serve as they are all fresh and carefully presented, even on their buffet days. Their best seller is the fatty tuna, which is so tender that it melts in your mouth.

Umegaoka Sushi no Midori English Menu

Umegaoka Sushi no Midori (Shibuya Shop)

Tokyo Shibuya-ku Dougenzaka 1-12-3 Mark City East 4F

0354580002

View All

05

Conveyor-Belt Sushi: Katsu Midori Sushi

Katsu Midori Sushi

Katsu Midori Sushi

Katsu Midori Sushi Seibu Shibuya 回し寿司 活 美登利 西武渋谷店 is the local's "Everyday Conveyor-Belt Sushi". It is affordable and accessible compared to other Kaitenzushi places, and the quality of the seafood is undeniably excellent as they source them directly from Toyosu Market.

The size of the serving is also substantially better. Usually in Kaitenzushi, the seafood on top of the rice is smaller but in Katsu Midori, the seafood covers the whole piece of Sushi.

Katsu Midori Sushi Menu

Katsu Midori Sushi

The ambiance is also lively, due to the chefs shouting over each other for the orders and the happy families and groups of friends having lunch. You will surely feel the unique atmosphere of an authentic Sushi restaurant.

回し寿司活美登利 西武渋谷店

東京都渋谷区宇田川町21-1 西武渋谷店A館8F

0357284282

View All

06

Conveyor-Belt Sushi: Genki Sushi

Genki Sushi

Genki Sushi

Genki Sushi Shibuya 元気寿司 渋谷店 is one of Japan's biggest conveyor belt Sushi chains or Kaitenzushi. There's one right in the heart of the Shibuya shopping district, so when you get tired and hungry from your Shibuya shopping, head on to Genki Sushi for your affordable Sushi fix.
The chain is equipped with modern technology, having an electronic tablet for each counter seat. The menu is available in multiple languages and you can order everything from the tablet.

Genki Sushi

The menu changes depending on the season, too, so you're guaranteed that the seafood they are serving is fresh. It is best to come early, as the lines can be longer during peak hours.

Genki Sushi English Menu

GENKI SUSHI Shibuya

Tokyo Shibuya-ku Udagawacho 24-8 Leisure Plaza Building 1F

0334611281

View All

07

Sushi train at 100 yen: Uobei

Uobei

Sushi

Uobei Shibuya-Dogenzaka 魚べい 渋谷道玄坂店, also known as "Lightning Sushi", this is not your ordinary conveyor belt Sushi. Instead of the plates continuously going around the belt, Uobei uses miniature trains that stop directly in front of you then go back to the kitchen to pick up more orders. So, you're not only paying for good food but a great experience too, especially for families with kids.

You begin by ordering your preferred dish on the touch panel computer screen that each seat has. The menu is offered in several languages, including English. After you order, your food will arrive in front of you using the miniature train at high speed, so you can eat it fresh from the kitchen.

Uobei Shibuya Dogenzaka

Tokyo Shibuya-ku Dogenzaka 2-29-11 Dairoku Central Building 1F

0334620241

View All

Ichiran

Ichiran 一蘭 is a Ramen house that focuses solely on Tonkotsu ramen. They also have branches overseas in the USA and across Asia, making the chain globally famous. Instead of making new flavors, Ichiran keeps on improving the current Tonkotsu Ramen flavors that they have, and this is what makes their Ramen special.

The Ramen is highly customizable to your liking, you can change or add toppings, choose the flavor's strength, spiciness and even the firmness of your noodles. The restaurant has an all counter seating with booth dividers so it's just you and your Ramen, nothing else. The best part? They are open 24 HOURS!

The Best Ramen in Shibuya

Related Article:
・The Best Ramen in Shibuya

一蘭 渋谷店

東京都渋谷区神南1-22-7 岩本ビルB1F

0334633667

View All

一蘭 渋谷スペイン坂店

東京都渋谷区宇田川町13-7 コヤスワンB1F

0334640787

View All

10

― Meat Lover's heaven "肉横丁"

Shibuya Niku Yokocho

Niku-Zushi 肉寿司 (Meat Sushi)

Shibuya Niku Yokocho 渋谷肉横丁 is meat lovers heaven on earth. It's two full floors of various restaurants selling Yakiniku and Yakitori. There are endless choices of grilled meat and seafood to choose from, there are some Sushi and noodle options too. Also, all the restaurants here offer Demae, or delivery service.

Shibuya Niku Yokocho

Among the favorites are Niku Tenno Kuni, serving a one of a kind "Uniku". This is their version of Sushi where instead of seafood, they use juicy slice of grilled sirloin with a sea urchin on top. This place is best for those who want to try sushi but are not into raw food.

Shibuya Niku Yokocho

Tokyo Shibuya-ku Udagawachou 13-8 Chitose Kaikan 2F / 3F

0364161635

View All

Hakushu

Hakushu Teppanyaki 白秋 is the place to go if you are craving some authentic Teppanyaki goodness. They've been serving succulent Kobe and Wagyu beef since the 1960's. It is a family-owned restaurant where you get to see a few generations of the family running the place together, which helps in giving a warm and cozy feeling to it.

It is not as cheap as the other items on this list but it is definitely something you don't want to miss on your Shibuya trip. They're almost always fully booked, so make sure to plan and reserve your seat at least a month or two in advance especially if you're coming in as a group.

神戸鉄板焼 白秋

東京都渋谷区桜丘町17-10 MCDビル 1F

0334610546

View All

14

― Shabu shabu / Sukiyaki "しゃぶしゃぶ / すき焼き"

Nabezo

Nabezo is a famous Japanese all-you-can-eat Hotpot chain featuring sumptuous Wagyu Beef slices. At an affordable price, you get premium quality meat and crisp vegetables, side dishes and different soup base options.

The frequently chosen soup is Shabu Shabu and Sukiyaki, with Shabu Shabu made with meticulously selected beef tail boiled to perfection and Sukiyaki made from special Koikuchi soy sauce and high-quality brown molasses. Their meat is delivered directly from the market and cut in the restaurant itself, so it's very fresh.

Nabezo Shibuya Koen Dori

It has a great ambiance and has friendly staff that will teach you how to best enjoy your hotpot. This is a must-try experience when you go to Shibuya. It is best enjoyed with a couple of friends or colleagues on a cold winter day.

鍋ぞう 渋谷公園通り店

東京都渋谷区宇田川町20-15 ヒューマックスパビリオン 渋谷公園通り 8F

05031464393

View All

鍋ぞう 渋谷センター街店

東京都渋谷区宇田川町31-2 渋谷BEAM 6F

05031464394

View All

Han no Daidokoro Kadochika, Shibuya

Yakiniku

Han no Daidokoro 焼肉バル 韓の台所 is well known for its high-quality Wagyu Beef Yakiniku, best paired with Korean Side Dishes. They also serve Kobe Beef here for a lower price than in other Yakiniku restaurants. They have counter and table seating for those who come in groups.

The grilled Wagyu is best when lightly dipped in soy sauce and a little Wasabi on the side. Their Wagyu beef Sushi is also worth coming here for, especially for those who are not into seafood.

The menu is also available in English and the staff can speak English as well to accommodate foreign customers.

Toritake

Toritake Sohonten 鳥竹総本店 is an Izakaya that is very popular with the locals. They serve affordable but delicious Yakitori, and this is why all floors of the stores are frequently full. Their grilled vegetables are also good, especially the stuffed bell pepper. It is also notable that the serving size is surely great for the price you're paying.

Toritake

It is better to go here earlier as there can be long lines, especially during dinner time. Also, know that there is a high chance that you'll be sharing your table with other people when the place is busy.

Toritake

Tokyo Shibuya-ku Dougenzaka 1-6-1

0334611627

View All

鳥竹 二丁目店

東京都渋谷区道玄坂2-6-3

03-6455-2830

View All

20

― Halal food "ハラールフード"

You can have japanese halal beef. (Vegetarian menu available)

GyuMon

GyuMon 牛門 is one of the few Halal certified Yakiniku restaurants around Japan. They have a Muslim chef, so it is guaranteed that your food is handled properly. The Halal BBQ Lunch is only about 2000 yen and is filling enough with chicken, beef, soup rice, and a salad. You will also see a lot of local Muslim customers and they use a separate grill that's only for making the Halal dishes.

It's a great place to hang out with friends after work or on a weekend. It has a chill ambiance too that will let you experience traditional Japanese Yakiniku dining. Please note that if you are going for the Halal menu, book your reservations at least 2 days before your planned date.

Official Web Site: https://gyumon.shopinfo.jp/

牛門

東京都渋谷区渋谷3-14-5

0354692911

View All

22

― Japan Route Finder & Calculator:To Shibuya

Official web:Japan Route Finder & Calculator :To Shibuya


Overall, Shibuya is a very diverse district, not just with shopping, but with the food too. Therefore, you don't need to spend a lot to eat good food, even if it's steak or all-you-can-eat meals. Most of these places are great for sharing with your family and offer not just hearty meals but a warm dining experience.


Related Articles:
・Best Things to Do in Shibuya: Your Ultimate Travel Guide
・Shibuya and Harajuku Shopping Guide: Tokyo's Fashion Hotspots
・Where to Eat in Shibuya

Shibuya

Tokyo

View All

魚民 渋谷南口駅前店

東京都渋谷区道玄坂1-3-1飯島ビル 8階

0334761688

View All

渋谷っ子居酒屋 とととりとん

東京都渋谷区道玄坂2丁目7-3 三喜ビル3F

0354895882

View All

博多串焼 ジョウモン 渋谷店

東京都渋谷区道玄坂2-19-2 ムルギービル2・3F

0364161633

View All