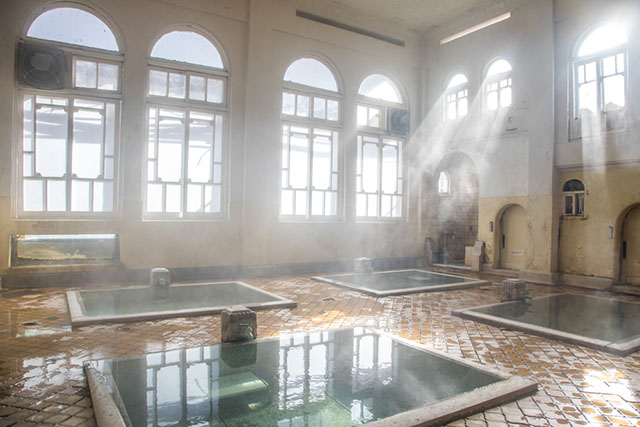 Japan is the land of Onsen. These hot springs have been lauded for centuries for their health benefits and also for their rejuvenating effect on the mind and spirit due to the beauty of their locations. In this article we will guide you to the best hidden Onsen in Japan and some of them are even easily accessible from major cities like Tokyo, Osaka, and Kanazawa. Travel to sacred mountains, enjoy outdoor baths with milky waters, see the Hells of Beppu, and whatever else you can dream of!

Read on to find out how to properly use a Japanese hot spring, where to find a private Onsen, and how to locate budget-friendly, local public baths.
01

Get the Hidden Onsen Experience Near Tokyo

If you're spending your vacation mainly in Tokyo but still want to enjoy an authentic and historical Onsen town, then Hakone Onsen, in Kanagawa, is your answer. Surrounded by natural beauty such as mountains and the well-known Lake Ashi (Ashinoko), full of attractions like boat rides and cable cars, as well as great local cuisine, Hakone is a great day trip or weekend destination. There are a number of Ryokan and public baths in this picturesque area all sourced from natural spring water.

Hakone

For a classic Onsen vibe surrounded by nature we recommend Tenzan. This large complex has everything you need to enjoy your day including Tatami rooms for resting and a sauna as well as a number of baths only 1300yen. For a unique hot spring experience, we recommend Yunessun, a kind of Onsen theme park. Those who are shy, rejoice! This complex is bathing suit friendly! There are also a variety of special baths: a wine bath, coffee bath, and a green-tea bath, so which do you want to try? Tattoo wearers can enjoy the 'Yunessun' area (swimwear area) if their tattoos are covered by swimwear or a rash guard. They are available for rent.

URL:
・Tenzan Onsenkyo
・Hakone Yunessun

Hakone Yuneesun

4.5

356 Reviews

Kanagawa Ashigarashimo-gun Hakonemachi Yumoto Chaya 208

0460864126

9:00-23:00(Last entry22:00)

View All

3.5

5 Reviews

Kanagawa Pref. Ashigarashimogunhakonemachi Ninotaira 1297

0460824126

[Yonesun (Wednesday arrival)…

View All

To enjoy the beautiful Japanese seaside head to Atami Onsen, in Shizuoka. The name Atami literally translates to hot ocean, referring to the city's bountiful hot springs. Atami has been known as an Onsen town since the 8th century and has no doubt had its share of important visitors throughout history. Just a ten-minute walk from the train station is public bath Nikkotei Oyu. The water for this bath is directly from the source and not altered in any way preserving its minerals and also its extreme heat, so exercise caution. The minerals from this water have been said by many to help with skin conditions and other health problems, whether that's true or not we aren't sure, but you will definitely be softer! There are indoor and outside baths which are gender segregated. Enjoy historical baths, unfiltered spring water, and beautiful views.

Nikkotei Oyu

4.0

43 Reviews

Shizuoka Pref. Atamishi Kamijukuchou 5-26

0557836021

9:00-18:00(Last entry17:00)

View All

02

Hot Spring Fun close to Osaka

Legends say that the gods themselves created the oldest Onsen town in Japan, Arima Onsen, in Hyogo Prefecture. Arima is in the mountains beyond Kobe and is surrounded by beautiful foliage and views as well as narrow alleyways perfect for strolling, this ancient town is also one of the few places in Japan where you can spot real Geisha. Unlike other hot springs, the water here is not of volcanic origin but rising naturally from the Earth's bedrock, as a result it is especially full of nutrients.

Arima Onsen

Legends say that the gods themselves created the oldest Onsen town in Japan, Arima Onsen, in Hyogo Prefecture. Arima is in the mountains beyond Kobe and is surrounded by beautiful foliage and views as well as narrow alleyways perfect for strolling, this ancient town is also one of the few places in Japan where you can spot real Geisha. Unlike other hot springs, the water here is not of volcanic origin but rising naturally from the Earth's bedrock, as a result it is especially full of nutrients.

There are two types of springs native to the area, Kinsen and Ginsen, translated respectively as Gold and Silver. You can try both types at Kin no Yu and Gin no Yu, Arima's public bath. It's recommended to buy a two-for-one pass to use both for a discount. If you opt for this plan then you need to bring your own towel, but soap and shampoo are included in the price.

URL:Kin no yu and Gin no yu

Ginnoyu

4.0

211 Reviews

Hyogo Pref. Koubeshi Kita-ku Arimachou 833

0789040680

8:00-22:00(L.O.21:30)

View All

3.5

72 Reviews

Hyogo Pref. Koubeshi Kita-ku Arimachou 1039-1

0789040256

9:00-21:00 (admission until …

View All

Take an Onsen Meguri, or hot spring pilgrimage, at Kinosaki Onsen, in Hyogo Prefecture. Known as the 7 Onsen Town, Kinosaki has its very own hot spring guardian at Onsen-ji temple. Legend has it that the healing powers of these springs were due to this deity. So, if you're open to it, join the locals and pray to him before bathing. A huge benefit of Kinosaki is all seven of their springs are close to each other so you can easily Onsen hop. The springs have their own meanings but Kouno-yu seems to be a favorite, likely because bathing here is said to bring you happiness in your marriage as well as longevity.

URL:Kinosaki Hot Springs

Kinosaki Onsen

03

Head North for a Winter Wonderland Hot Spring Adventure

Ginzan Onsen, in Yamagata Prefecture might be Japan's most charming winter village. Witness traditional Japanese architecture hugging the river that runs through the center of Ginzan which also features a huge waterfall. The name means silver mine hot spring, referring to the town's history. Cold weather and great spring water also mean that exceptional Sake is brewed in this area. For a modern public bath with interesting triangular shaped pools try Shirogane-yu. Or if you're interested in private baths that can be reserved, Omokage-yu, it's JPY2,000 for 50 minutes.

URL:Ginzan Onsen(pdf)

GinzanOnsen

Nyuton zan

Nestled in the mountains of Akita prefecture you'll find Nyuto Onsen. This charming hot spring resort town remains relatively unknown, even in modern times. There is one natural outdoor spring, Ippon-matsu Onsen, located on one of the areas many hiking trails. Anyone can use it free of charge, but there is no changing room or any facilities. We recommend staying at one of the charming Ryokan in the area and purchasing the Yumeguri-cho pass so that you can use any of the local baths. Tsurunoyu is a popular choice and the oldest Ryokan in the area. There you will discover milky waters, indoor baths, and a large mixed outdoor bath with an infinity pool feel.

Tsurunoyu Onsen

Nyuto Onsen

04

Explore Onsen in Neighboring Beauties; Gunma and Nagano

Kusatsu Onsen , in Gunma Prefecture, is a beautiful hot spring town that rose to fame after a German doctor recommended the waters for their health benefits. In Kusatsu you will find cobalt blue waters, hiking, skiing, and even an active volcano. It is claimed that the waters can cure any sickness (except love sickness of course). Try Otakinoyu which features wooden pools with different temperatures for those who find standard Onsen temperature a tad too hot. Or famed Sainokawara Rotenburo, one of Japan's largest outdoor baths which can hold up to 100 bathers.

Read More:
・Kusatsu Onsen Overview
・The Quintessential Onsen Experience: Kusatsu by Night
・What to Eat in Kusatsu Onsen

URL:Kusatsu Onsen Portal site

Kusatsu Onsen

Kusatsu Onsen Chiyono-yu

In the year 989 a divine message was whispered about a water that can cure 40,000 illnesses, or so ancient legend says. The site of that water is Shima Onsen Overview, also in Gunma. Hinatami Yakushido, a Temple dedicated to the Buddha of healing is on the spot of the hot spring. This area has 42 wellsprings registered and most gush forth naturally. These springs are said to be beneficial for skin and digestion and spring drinking water is also available. There are three public baths open 7 days a week in this Onsen town, and they are called Kami no Yu, Kawahara no Yu, and Gomuso no Yu. Tourists may bathe from 9:00-15:00, after that they are reserved for locals.

Read More:
・What to Do in Shima Onsen
・The Magic of Sekizenkan

URL:Shima Onsen Association

Shima Onsen

If you're interested in witnessing monkeys using the hot springs the best place to see it is in Shibu Onsen, in Gunma Prefecture. Besides the Jigokudani Monkey Park there is a beautiful town with cobblestone lanes and traditional Japanese wooden buildings. If you stay at a Ryokan you can participate in the Kyu-to Meguri tour which lets you to use all 9 baths. This is because it is said that if you visit all of them, you can obtain perpetual youth and longevity! If you aren't staying overnight the Shibu-Oyu bath house is open to day-trippers, but please note it is very hot.

URL:Sibu Onsen

Shibu Onsen

Kyu-to Meguri tour

Jigokudani Snow Monkey

Shimochi-gun, Nagano Prefecture Yamanouchi-machi Shibu Onsen

0269332921

10:00-18:00

View All

Nagano prefecture is well-known for great skiing, beautiful mountain scenery and also Nozawa Onsen. This is a classic town with a modern art twist. Artist Taro Okamoto (creator of the Tower of the Sun in Osaka) was a frequent visitor, and you can see many of his pieces when walking around. There are 13 public bath houses here which are called Soto-Yu. They are managed by local families and there is no charge to enter, but there is a donation box outside, so please donate what you can to keep this old culture thriving.

・Get to Know Nozawa Onsen
・Nozawa Onsen Eateries: Editors' Favorites
・The Local Treats of Nozawa Onsen

Public Onsen in Nozawa

Nozawa Onsen

4.5

141 Reviews

Nagano Shimotakai-gun Nozawaonsenmura Toyosato

0269853155

View All

05

Hidden Onsen near Historical Kanazawa

Travel to Kaga Onsen, in Ishikawa prefecture, for water that comes from one of Japan's sacred mountains – Mount Hakusan. There are three main hot spring areas here, and a legend of a Buddhist priest on a pilgrimage that goes along with them. There is Yamanaka Onsen which is called "the rejuvenating" due to its revitalizing properties. Yamashiro Onsen, also known as "the versatile", both secular and extravagant, it is known for its performing arts and festivals. Finally, Katayamazu Onsen, or "the rejoicing". With its beautiful views of Mount Hakusan and large lake it is easy to see where it got its name. Kaga Onsen is just 25 minutes from Kanazawa by train, with local bus service to the various Onsen areas.

Yamashiro Onsen

Katayamazu Onsen

Kaga Hot spring village

Ishikawa Kaga-shi Komatsu-shi

0761726678

View All

06

Travel to the Ultimate Onsen Destinations; Shikoku and Kyushu

Get spirited away at Dogo Onsen, in Ehime Prefecture. This hot spring is in the city of Matsuyama and the area around the Onsen still has the vibe of a hot spring resort without sacrificing the conveniences of city life. The design of this Onsen partially inspired Yubaba's Bath House in Studio Ghibli's Spirited Away. It is also known as a bath frequented by the Japanese Imperial family. Dogo Onsen Honkan has two types of baths as well as a number of different price plans. These could include tea and a snack, or even touring the bathing facility reserved for the Emperor. As of January 2019 it is under construction so if it is unavailable during your stay try nearby Tsubaki no Yu, which uses the same spring water.

URL:Dogo Onsen Official

Dogo Onsen Honkan

Dogo Onsen Kamino-yu

Finally, we invite you to visit the city of steam, Beppu Onsen, in Oita Prefecture. This Onsen has the largest volume of hot spring water in Japan and as a result the entire city gives off puffs of steam. Visit the Hells of Beppu while you are here to see a variety of different colored ponds ranging from cobalt blue to bright red. Hell bus tours are available and there are plenty of foot baths to rest your feet as you travel. Visitors are recommended to try Jigokumushi, or hell-steamed cuisine. At the Jigokumushi Kobo Steam Cooking Center (Jigokumushi Kōbō Kannawa) you are even welcome to bring your own ingredients. Try Takegawara Onsen, a public bath with a fee of 100 yen which also features sand baths. Or if you want to get messy before getting clean, head to Beppu Onsen Hoyo Land Kon-ya Jigoku for mud baths!

Read More:
・Nightlife in Beppu City
・What to Do in Beppu
・Kannawa Onsen - The Hottest Place in Beppu
・Onsen Hopping in Kyushu

Peppu Onsen

Chinoike Jigoku "Blond Pond Hell"

07

How Do I use Hidden Onsen in Japan? Are there any rules?

Smaller towns will likely have little to no English assistance so let us tell you the basics. Here are some Onsen instructions; at the entrance to the baths you will find two different colored curtains with Kanji on them indicating which gender the bath is for. It's simple to remember, blue is for men, and red is for women. Generally, there will be a locker for your shoes outside, and on the inside you will find more lockers. These are for your clothes!

How Do I use Hidden Onsen

Visitors often feel shy about getting naked with strangers so you can use a small towel for modesty as you head to the bathing area. The most important notes are, shower and properly wash your body and hair before getting in the bath, and do not put your towel into the bath. A final important note is that most Onsen in Japan do not allow visitors with tattoos.

We hope that you can visit some of these Onsen during your stay in Japan. Happy bathing!