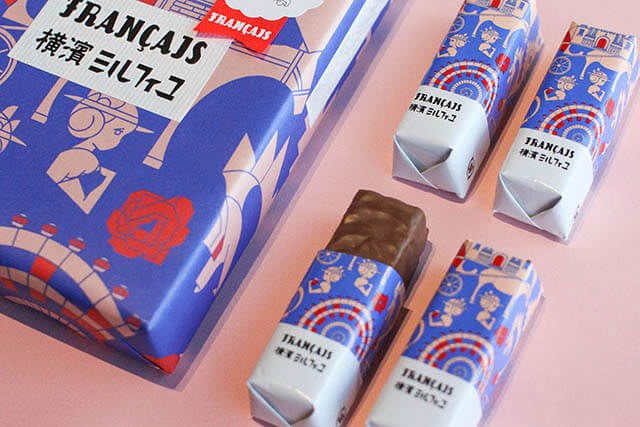 The Port of Yokohama opened in 1859 and celebrated its 160th anniversary this year.
It has been home to many foreigners over the years, and international exchange has been developing since the port's inception.
Today, Yokohama continues to grow as Japan's largest trading city, with a history-infused cityscape that still retains its memories of the past with old residential areas for foreigners and large passenger ship terminals.
The Yokohama of today has popular spots like Minato Mirai, Yamashita Park and the well-known Yokohama Chinatown.

As with many areas of Japan, Yokohama also has a range of classic souvenirs associated with its locale.
Most of the items we will introduce here can be purchased for around 1000 yen or less and are available near Yokohama Station, and we will also look at some products that are exclusive to the recently opened "Yokohama Hammerhead".
Be sure to pay attention to the eye-catching and cute packaging that comes with many of these souvenirs too!
01

Akai Kutsu (Yokohama Chocolate)

Akai Kutsu is a popular product that pays tribute to a 1920's nursery rhyme of the same name, set in Yokohama, written about a girl in red shoes.
The product is as adorably cute as it is wonderfully quirky, as it's literally a pair of small, 5cm long red shoes made from chocolate!
The package also comes complete with the lyrics of the nursery rhyme included within.
A set of 3 chocolate shoes (yes, chocolate shoes!) can be purchased for around 800 yen.

Akai Kutsu

02

Yokohama Millefeuille (Francais)

Limited to the Kanagawa region of Japan, Yokohama Millefeuille is an exclusive tea flavored, souvenir version of Francais' popular Millefeuille range.
A box of the sweets can be purchased for around 1000 yen for 8 pieces, and as each millefeuille is individually wrapped in attractive packaging it makes an ideal gift to be handed out amongst your friends or colleagues.

Yokohama Millefeuille

03

Caramel (Yokohama Caramel Labo)

Yokohama Caramel Labo is a store specializing in hand-made caramels which newly opened in October 2019, inside the harbour-side Yokohama Hammerhead shopping complex.
The store offers a total of 11 different caramel flavors, with the "Uji Matcha" variety being the most popular. A set of 10 caramels can be purchased for around 1100 yen.

Hand-made Caramels

Uji Matcha Flavor

04

Hayama Carreau de Chocolat (LES PÂTISSERIES LA MARÉE DE CHAYA)

"Hayama Carreau de Chocolat" are rich and moist, orange liqueur accented chocolate cake slices.
Each cake comes in its own individual box and costs around 300 yen, and larger packages can also be purchased.
For convenience, a small fork is included with each cake, so you can give in to temptation and eat your cake immediately!

Hayama Carreau de Chocolat

05

Yamate Seiyokan Meguri (ENOKITEI YAMATE YOKOHAMA)

"Yamate Seiyokan Meguri" are classic old-fashioned and cute chocolate cakes from "Enokitei", the company representing one of the few Western buildings remaining in Yokohama's old foreign residential district called Yamate.
Built in 1927, Enokitei itself now operates as a café and also makes various confectionaries.

The chocolate cakes come in a box of 4 varieties: cherry, orange, black tea, and green tea. They can also be purchased individually for around 300 yen each, but only directly from the café itself. There is also a gift set with tea available which comes highly recommended.

Yamate Seiyokan Meguri

06

Ariake Harbour (Ariake)

"Ariake Harbour" are small chestnut cakes that are as synonymous with Yokohama as Tokyo Bananas are with Tokyo, and the well-loved cakes bring delight to the palates of both locals and tourists.

There are various flavors available such as marron, gateau chocolate, milk cheese and berries, and each cake will only set you back around 150 yen.
Not by accident, the cakes are shaped like ships, and the wrapper illustration is also that of an ocean going sea-liner, both of which pay tribute to the port town of Yokohama.

Ariake Harbour

07

Yokohama Renga / Shiro Renga (Yokohama-Motomachi Mutekiro)

"Yokohama Renga" is a chocolate cake that is very representative of Yokohama, being made in a brick-like shape in tribute to bricks (renga) that originated in Yokohama's Motomachi area.
The cake is a deeply rich chocolate cake that is a combination of freshly baked cake soaked in walnut sauce, then finished off with alluring touches of apple and brandy.

"Yokohama Shiro Renga" (white brick) is the semi-baked, light eating cousin of the chocolate renga.
As the name suggests, this cake uses white chocolate and in combination with raspberries it brings an appealing sweet and sour taste.

Each cake costs around 200 yen, and whilst they can be stored and eaten at room temperature, it's suggested to cool the cake in the refrigerator before eating to maximise the taste experience.

Yokohama Renga / Shiro Renga

Combination with Raspberries