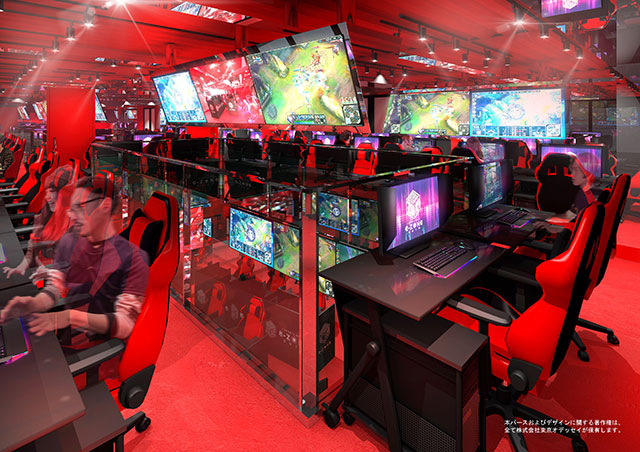 Japan's first e-sports based hotel "e-ZONe Denno Kukan" will open in Nipponbashi, Osaka in May 2020.

The "Denno Kukan" within the hotel's name is the Japanese term for "cyberspace", loosely defined as "a virtual space existing within and between computer networks". It is an applicable name chosen to represent the world of e-sports.

e-ZONe will open in April 2020 and is scheduled to be fully operational from May 11, 2020. The hotel has already started accepting online bookings since November 1, 2019 via various accommodation websites, offering a special but limited "Opening Commemorative Accommodation Plan", which provides guests with a package entitling them to the experience of enjoying e-sports for up to 19 hours during their stay.
01

The concept is e-sports × lodging

eSports Hotel e-ZONe

The concept of e-ZONe is basically an e-sports facility that provides accommodation.

Time to sleep, but can't stop playing! Need a little more time to enjoy the game? Can you relate to this? Well this hotel is your dream place in such situations, a gamer's paradise, as it provides a space where you can game at any time, sleep at any time, and then continue gaming to your heart's content playing as many games as you like.

eSports Hotel e-ZONe

e-ZONe is not only intended for individual guests as there are other ways enjoy the hotel, such as off-campus and overnight stays before e-sports competitions. In fact, even if you are new to e-sports, e-ZONe will provide you with a great introduction to the gaming world.

e-ZONe sponsored competitions and events are also planned, and the hotel aims to encourage communication and interaction between players.

02

Full facilities on 9 floors

eSports Hotel e-ZONe

The hotel has a total of 9 floors, with 1 floor underground and 8 above ground floors. The first (1F) to third (3F) floors are the gaming floors, providing many game consoles and also live stream gaming.

The fourth (4F) to eighth (8F) floors are the accommodation levels, where 94 beds provide accommodation. There is also an e-cabin for women, allowing them use of the facility with safety and peace of mind.

eSports Hotel e-ZONe

The B1F has a permanent shower floor, and there are up to 71 high-spec PC booths with live streaming capabilities in the facility, allowing guests to fully enjoy the e-sports experience.

The hotel's interior has an appropriately futuristic design and color scheme that makes it feel like literally stepping into a gaming world.

eSports Hotel e-ZONe

e-ZONe is located between Namba and Nipponbashi in the downtown area of Osaka.

There are several nearby stations allowing easy access.
Access to e-ZONe is as follows:

Sakaisuji Subway Line Ebisucho Station 7 minutes walk
Nankai Main Line / Takano Line Namba Station 9 minutes walk
Midosuji Subway Line Namba Station 10 minutes walk
Kintetsu Osaka Line Nipponbashi Station 10 minutes walk