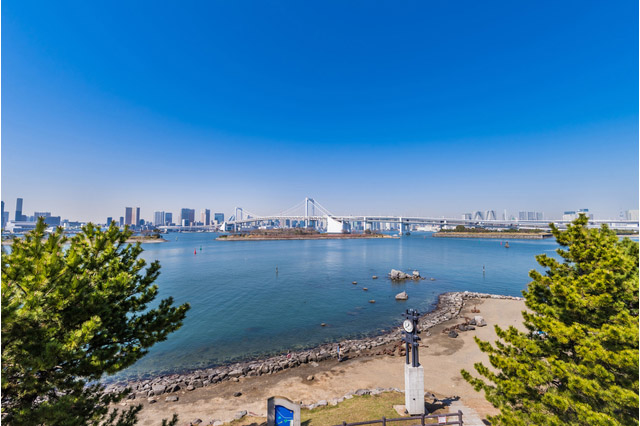 It has been 3 years since the release of the hit animation movie "Your Name", and now director Makoto Shinkai is back with his long-awaited latest project, "Weathering With You".

This is a story in which a boy and girl are at the mercy of the choice of their own fates, during a time when the harmony of the weather is going crazy (which is apparently representative of our own reality under a future clouded by climate change). Hina, a girl with mysterious power that allows her to control the weather, meets a runaway boy, Hodaka, who left home to come to Tokyo. This romantic story between the two characters has exceeded 10 billion yen in box office revenue in one month, and has caused great excitement and interest amongst anime movie fans.

A pilgrimage to the real-life sites that the "Weathering With You" locations were based on is becoming a very popular outing, and in this article we'll introduce some of those spots to you so you can enjoy some movie-inspired exploration and sightseeing of your own.
01

Kisho (Weather) Shrine (Koenji Hikawa Shrine)

It is said that "Kisho Shrine" within the precincts of "Koenji Hikawa Shrine" in Suginami-ku, Tokyo is the one and only shrine in Japan that has control over the eight weather phenomena (sun, clouds, rain etc.). In the movie trailer the shrine's "Geta Ema" (weather sandal charms) appeared, and in the main story the characters Suga and Natsumi visited this shrine to learn about the duties of the legendary weather maiden (Hareonna). Please note that the closing time differs between summer and winter.

Kisho (Weather) Shrine (Koenji Hikawa Shrine)

高円寺氷川神社(気象神社)

3.5

43 Reviews

東京都杉並区高円寺南4-44-19

0333144147

View All

02

Roppongi Hills Rooftop Sky Deck

This is the place where Hina prayed for sunny weather when asked by the organizer of the Jingu Gaien Fireworks Festival for clear weather for the event. This is the Tokyo City View's "Sky Deck" observation area, on outdoor viewing area on the 52nd floor of Roppongi Hills Mori Tower. From a height of 270m above sea level, you can experience being high up in the sky, feel the wind, and enjoy a starry sky night-view even in the city center.

Roppongi Hills Rooftop Sky Deck

Tokyo Minato-ku Roppongi 6-10-1

0364066652

11:00-20:00 (Last entry 19:3…

View All

Nozokizaka is in Takada, Toshima-Ku and is said to be the steepest slope in Tokyo, with a maximum gradient of 22%. Also known as Munatsukizaka, this short but very steep hill runs parallel to Shukuzaka St to its east. This street was the model used for the slope that appeared in the sun-filled scene after Hina's declaration of "The weather will be fine now !".

Nozokizaka

04

Odaiba Seaside Park Observation Deck

The location of the first job Hodaka and Hina received after starting their Hareonna (Sun Girl) business was at the Odaiba Kaihin Koen (Seaside Park) Observation Deck. This is an observatory deck looking out across to the Rainbow Bridge and Tokyo's surrounding skyscrapers, and is famous for its beautiful night views. The Rainbow Bridge, which is lit up at night, has both a summer illumination pattern (April to October) and also a winter illumination pattern (November to March).

Odaiba Seaside Park Observation Deck

The Yoyogi Kaikan is an important place that appears many times in Weathering With You, and most significantly the movie shows a shrine on the roof of this building where Hina attains the power of Hareonna. Located in front of Yoyogi Station in Shibuya-Ku, this 1969 constructed building is now abandoned. The building has eight floors above ground and one underground floor, but due to its age and condition dismantling began in August 2019, and is due to finish in January 2020 (so be quick to see it!). Perhaps disappointingly for fans of the movie, there is actually no shrine on the roof of the building, but the shrine is in fact the Asahi Inari Shrine mentioned below, so read on!

Yoyogi Kaikan

Asahi Inari Shrine is the inspiration for the shrine on top of the Yoyogi Kaikan where Hina attains the power of Hareonna. This shrine is located in Ginza, Chuo-ku, between Chuo-dori and Showa-dori, in the Daihiro Asahi Building. Start in the shrine's hall of worship on the building's ground floor, then take the elevator to the 8th floor, head up to the rooftop via the emergency stairs, and you'll arrive at the main hall glistening under the blue sky. Walking along the road to the shrine creates a mysterious sensation between every day modernity and extraordinary otherworldly spirituality. Please note that you cannot visit on Sundays and holidays because the building is closed.

Tokyo Chuo-ku Ginza 3-8-10

View All

07

McDonald's Seibu Shinjuku Station

This is the location of Hina's part-time job and where she first met Hodaka. This spot was identified by seeing Shinjuku's Yunika Vision monitors from the seat where Hodaka sat. Supposedly Hodoka was sitting on the 4th floor of this restaurant which is very popular with students.

McDonald's Seibu Shinjuku Station is easily accessible from Toei Oedo Line's Shinjuku Nishiguchi Station, Seibu Shinjuku Line's Seibu Shinjuku Station and JR Yamanote Line's Shinjuku Station.

McDonald's Seibu Shinjuku Station

4.0

21 Reviews

Tokyo Shinjuku Kabukicho 1-24-1

0362738101

View All

08

Manboo Shinjuku Yasukuni Dori-Shop

Manbooo Shinjuku Yasukuni Dori is a model of the manga cafe where Hodaka, who came to Tokyo, was sleeping while working. The café has flat sheet booths, couch sofas and reclining sofas, so you have many ways to relax. In addition, there is a shower and abundant amenities available, so you can pretty much turn up empty-handed and be comfortable!

Manboo Shinjuku Yasukuni Dori-Shop

マンガ喫茶マンボー 新宿靖国通り店

東京都新宿区新宿3-20-5 ニューサンパークビルB1F

0353675837

View All

09

Shinjuku Kabukicho Atami Building

The Atami Building is where Hodaka met the stray cat, ironically called Ame (meaning rain), who had survived the rain. Located in Shinjuku Kabukicho and built in 1970, this is a multi-story building with a bar and other facilities. It's best to include this location in your pilgrimage itinerary during the daytime on a sunny day.

Shinjuku Kabukicho Atami Building