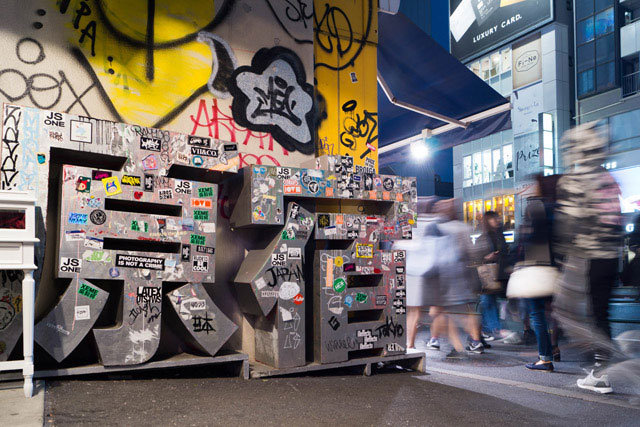 What's a Tokyo tour without shopping? With this guide, you'll have everything you need to know about the best clothing stores and shopping areas to buy fashionable clothes and unique souvenirs in Shibuya and Harajuku.

Turn yourself into a Harajuku girl (or boy) in this eclectic district which features everything from Gothic Lolita to cute and fashionable goods for 20-somethings. If you feel like spending some money, head to Shibuya instead, where towering super-malls will fulfill your brand-name fantasies.
01

― Shop 'Til You Drop at The Twin Fashion Capital

Shibuya and Harajuku are the twin fashion capitals of Japan. From reasonable items for young fashion lovers to more upscale mature fashion manias, these areas provide all kinds of fashion experiences.

▼ Related Articles
・Sneaker Shopping in Tokyo
・Shopping in Shibuya
・What to buy in Harajuku and Aoyama

Shibuya 109

Just 2 minutes off the famous Shibuya Crossing you'll see Shibuya 109.

All 8 floors of this tube-shaped building are filled with stores that specialize in the "Shibuya Gyaru" fashion – a trend that got popularized in the 90s.

The mall has stores selling brightly colored wigs of various lengths, fashionable shoes from classy to funky, and other high-quality costume items. There's also a lot of accessory shops that will help tie up your Gyaru ensemble.

Shibuya 109

Shibuya 109

Moreover, Shibuya 109 is flocked by young ladies for trendy clothing stores. Good examples would be Swankiss for those who like to look sweet, and chic and Murua for those who prefer minimalistic elegance.

Shibuya109

Tokyo Shibuya-ku Dougenzaka 2-29-1

0334775111

View All

Takeshita Dori Street

Shop all things "Kawaii" at Harajuku's Takeshita Dori. It is a vibrantly colored 350-meter street filled with stores selling everything extreme, from colorful big wigs to giant cotton candy on a stick. Some of the stops you shouldn't miss would be: LIZ LISA which sells sweet, pastel-colored Lolita outfits and ACDC RAG which specializes in Gothic Lolita fashion. Drop by PANAMA BOY– a thrift shop selling unique vintage clothing and accessories.

EISWELT GELATO

EISWELT GELATO

Meanwhile, Harajuku ALTA at Takeshita Dori Street is a one-stop-shop for all Harajuku Pop Culture-approved items. After shopping, stop by 'eggnam' Purikura and take futuristically edited Polaroid stickers. Don't forget to eat the Instagrammable giant cotton candy at TOTTI CANDY FACTORY, and have a super adorable ice cream by EISWELT GELATO.

▼ Related Articles
・Eddy's Ice Cream
・Where to Eat in Harajuku and Aoyama

Takeshita Street

Tokyo Shibuya-ku Jingumae 1

View All

4.5

16 Reviews

Tokyo Shibuya-ku Jingu-mae 1-8-5 Marron Building 1F

0368043103

View All

Magnet by Shibuya109

Shibuya 109 Men's "Magnet by Shibuya 109" has been renewed and the place is looking stylish thanks to the young creators/artists who designed the interior.

The highlights are "MAG7", a rooftop event area, and "Crossing View" where you can see the Shibuya Scramble Crossing.

MAG7

MAG7

Within the "Crossing View" area, you can get a "Crossing photo". For 1,000 yen (100 seconds, 1 time) you can access the camera overlooking the deck and the scramble intersection below and take the picture you want.

If you want to know more about the "Crossing Photo", click here.

Crossing photo

There are many shops for that foreigners can visit such as Shibuya En, a Japanese-style gift shop that combines Japanese and Shibuya culture, Hello Kitty Japan, or even One Piece.

▼ Related Article
・Money Exchange: Magnet by Shibuya 109

Cat Street refers to the 1-kilometer street full of trendy clothing shops and chic cafes connecting Harajuku to Shibuya. Contrary to Harajuku's "Kawaii" fashion, Cat Street is more focused on hipster clothing, attracting cool youngsters to the area. There are lots of big brands like RAGTAG, adidas, and White atelier by CONVERSE. There are lots of stores selling hip vintage clothing items and accessories.

FTC TOKYO

FTC TOKYO

You'll also find a handful of artsy and contemporary cafés along the stretch. THE ROASTERY and Gong cha Japan are a must-try here. There's also the famous LUKE'S LOBSTER known for its Classic Lobster Roll and The Great Burger which is one of Tokyo's best burger joints.

LUKE'S LOBSTER

▼ Related Articles
・Cat Street: The Backstreet of Harajuku and Shibuya
・Go Vintage Shopping in Ura-Harajuku
・Harajuku: Tokyo's Second Hand and Vintage Scene

The Roastery

Tokyo Shibuya-ku Jingumae 5-17-13

0364505755

View All

Cat Street

Tokyo Shibuya-ku Jingumae

View All

Luke's Omotesando

Tokyo Shibuya-ku Jingumae 6-7-1

0357783747

View All

06

Shibuya Center Gai Street

Shibuya Center Gai Street

Shibuya Center Gai Street is perfectly designed for the young and the young at heart. First of all, the area is very Instagrammable on its own with its neon-lit buildings.
It has big brand shops focused on youth apparel like Uniqlo and Bershka Japan. The street is also lined with cool hangout spots like Izakayas, karaoke hubs, and restaurants. It is almost always filled with high school students, teens, and those in their 20s, so most of the shops and cafés are pretty inexpensive.

Shibuya Center-gai shopping street

Tokyo Shibuya-ku Udagawachou

View All

OMOTESANDO HILLS

OMOTESANDO HILLS is known to be one of Tokyo's best upscale shopping malls. The building is filled with high-end fashion boutiques like JIMMY CHOO, VALENTINO, DOLCE & GABBANA, SAINT LAURENT, and DIOR to name a few. There's also a lot of luxury local shops like YOHJI YAMAMOTO and junhashimoto. While walking around, you'll come across elegantly dressed locals and tourists with big shopping bags in hand.

OMOTESANDO HILLS

OMOTESANDO

Experience posh dining in one of Omotesando Hills' wide selection of restaurants and cafés serving anything from freshly made Sushi to sumptuous steak.

The complex is brilliantly designed by popular Japanese architect, Ando Tadao and has since become the landmark of Omotesando area. This amazing architecture features a 700m Spiral Slope so you won't need an escalator or elevator to go up and down.

Omotesando Hills

Tokyo Shibuya-ku Jingumae 4-12-10

0334970310

View All

The 34-floor Shibuya Hikarie is on the Top list of Tallest Buildings in Tokyo at 182.5 meters.

It is home to a department store called ShinQs, which mainly sells locally made decors, housewares, and hand-crafted souvenirs.
There are also two floors of Depachika in the mall's basement offering a wide selection of food.
Meanwhile, the restaurant floors give you a chance to dine while soaking in the views of Shibuya, making for an unforgettable dining experience.
One that you must not miss is the d47 SHOKUDO which serves food inspired by all 47 prefectures of Japan.

d47 SHOKUDO

Another famous feature of this shopping mall is the Tokyu Theater Orb which holds concerts and musicals. But the best part is the 11th floor of the building – The Hikarie Sky Deck (Observation Deck). The entrance to the deck is free and will give you gorgeous views of the surrounding Tokyo neighborhood.

Shibuya Hikarie

Tokyo Shibuya-ku Shibuya 2-21-1

0354685892

View All

Laforet HARAJUKU

Laforet HARAJUKU

Right in the heart of Harajuku, is its most prized possession – Laforet HARAJUKU. This building of fashion is primarily focused on younger consumers, so prices here are inexpensive compared to upscale stores. It is considered the melting pot of Tokyo fashion and is well-loved by teenagers and young adults alike.

The mall is filled with locally known brands catering to Harajuku culture and fashion such as monomania or H>FRACTAL, and various accessories and shoe shops too.

If you're traveling during winter or summer, visit the biannual Laforet Grand Bazaar Sale and you can hoard as many fashion items as you want at a ridiculously discounted price.

LaForet HARAJUKU

Tokyo Shibuya-ku Jingumae 1-11-6

0334750411

View All

10

― Get Fresh Picks on the Newest 2019 Shops

Shibuya has been rebuilding the town, and the huge scale constructions have been taking over the city for past few years. Now we can enjoy the newly introduced Shibuya's landmarks.

Shibuya PARCO

Shibuya PARCO is a newly reopened department store complex in Shibuya. The mega shopping center is divided into five concepts: Fashion, Art & Culture, Entertainment, Food, and Technology. Each floor is brilliantly interior designed to reflect which concept it's catering to. The shops will represent Tokyo's diverse fashion, having everything from high-end boutiques, trendy vintage shops and its own pop-culture market.

5F SHIBUYA XR SHOWCASE

Shibuya PARCO

The famous GALLERY X will be moved from Spain-Zaka Street in Shibuya to B1F of Shibuya PARCO. The museum houses various art pieces representing Japanese fashion and culture. There will also be the Japan Culture zone which gamers and Otaku will surely enjoy. It will have shops like Nintendo TOKYO, Pokemon Center, and various comic book shops like Touken Ranbu.

SHIBUYAPARCO (Shibuya Parco)

Tokyo Shibuya-ku Udagawacho 15-1

View All

12

Shibuya Scramble Square

Shibuya Scramble Square

Just when you thought it can't get any better, a new shopping haven just opened in Shibuya. The Shibuya Scramble Square (or should I say tower) is a 47-floor skyscraper filled with everything you can imagine in a shopping center. This is the tallest building in Shibuya standing at 230-meters.

You can spend an entire day here as it houses everything from upscale international brands, major beauty, skincare labels, and other premium lifestyle choices.

Shibuya Scramble Square

Head up to the 14th floor with the futuristic elevator and experience breathtaking 360° views of the iconic Shibuya Crossing, Tokyo Skytree and many more. There's also an indoor Paradise Lounge on the 46th floor, with a bar and a gift shop it`s perfect for some late afternoon chilling after spending the day shopping on the lower floors. The lounge also offers 360° of unobstructed views as it wraps all the way around the tower, so if you go here at night you'll see the magnificent Tokyo skyline.

Shibuya Scramble Square

▼ Related Article
・Shibuya Scrambled Square & Shibuya Sky : Best Observation Deck in Tokyo

SHIBUYA SCRAMBLE SQUARE

Tokyo Shibuya-ku Shibuya 2-24-12

0334759497

View All

TOKYU PLAZA SHIBUYA

You might want to hold up on your Christmas shopping as the SHIBUYA FUKURAS or TOKYU PLAZA SHIBUYA is set to open in the first week of December 2019.

The commercial building will be the home to over 60 high-end boutiques that are designed to cater to more mature consumers. It is conveniently connected directly to the Shibuya Station so it is easily accessible. The 103-meter skyscraper will also have a rooftop garden that will give you stunning views of Shibuya and neighboring districts.

TOKYU PLAZA SHIBUYA

You will need more than a day to go through all these hot shopping spots, each one unique on its own and focusing on different aspects of Japanese fashion and culture.

Even if you're not a heavy shopper, you will enjoy walking around the districts or going people-watching, especially in Harajuku where you'll see a lot of locals and tourists dress up in Harajuku pop culture.