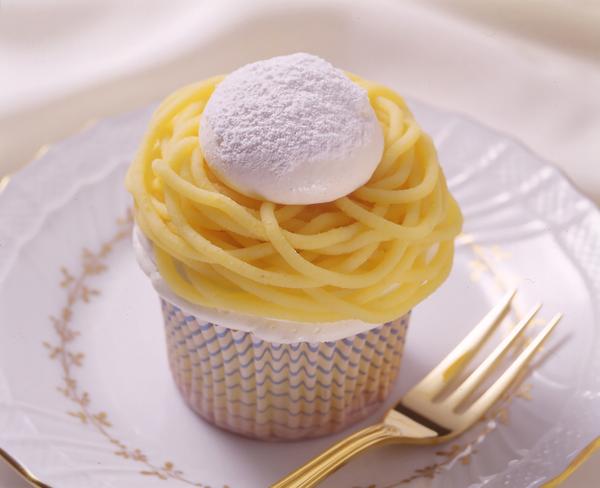 "Mont Blanc" is a chestnut cake that has been loved by Japanese people for a long time, and is so popular that it can be found in most Japanese cake shops. Mont Blanc is a Western confectionery that was made in Japan in reference to the Mont Blanc confectionery found in the neighboring regions of France and Italy (the name Mont Blanc actually derives from the mountain of the same name). The cake is not actually well known outside Japan and Europe.

The Japanese version of Mont Blanc is based on a pureed sweet and smooth chestnut cream, which is presented in a gradually rising, visually appealing mountain-like form, sitting on a base made of tart or sponge. There is also an adult version of the cake which includes sake. It's definitely something worth trying if you come to Japan!

In this article, we will introduce Tokyo's best Mont Blanc cake shops in order from Top1 to Top 10.
01

ANGELINA (Nihonbashi / Ikebukuro / Shiodome)

"Salon de The Angelina" is a French chain that first opened in Paris in 1903, and has been loved for more than 100 years by celebrities such as Coco Chanel. Mont Blanc, the signature product of the historic Angelina store, is a great example of a chestnut cake which also has plenty of vanilla flavor! The cream is actually sugar-free which allows the natural chestnut flavor to remain prominent.

4.0

266 Reviews

Tokyo Chuou-ku Nihombashimuromachi 1-4-1

0332413311

10:00-19:00[New Bldg 9/10F R…

02

Mont-Blanc STYLE (Yoyogi Park/ Yoyogi-Hachiman)

"Mont-Blanc STYLE" is a Japanese tea shop which is owned by "Waguriya", the only shop in Japan that specializes in Japanese Mont Blanc. The shop is unique as it is setup in a "sushi restaurant-like manner" where the Mont Blanc is made on the spot in front of the customers.

Tokyo Shibuya-ku Tomigaya 1-3-3

03

KANEJU-FARM(カネ十農園) (Omotesando)

Kaneju Farm Omotesando is one of the most sophisticated tea café-bars managed by tea farmer Kaneju Farm who has been in business since 1888. This tea café-bar has opened since June 2018 at the backstreet on Omotesando in Shibuya ward, Tokyo. Unlike other shops selling teas, visitors can enjoy blending tea and other ingredients corresponding to their preference based on the advice by the staff in Kaneju Farm Omotesando.

During the autumn season, their seasonal limited menu "Hojicha(roasted green tea) and Mont Blanc" is popular among the fans. The set comes with a combination of hojicha pudding, chestnut stuffings, and cream cheese while the outside is covered with freshly squeezed hojicha and chestnut blended cream.

カネ十農園

3.5

2 Reviews

東京都渋谷区神宮前4-1-22

0368129637

Kuriho in Jiyugaoka is a Montblanc specialty store that uses high-quality Japanese chestnuts. The store uses exclusively selected domestic chestnuts from Matsuo Chestnut Orchard that is favored by many high end restaurants. Their Mont Blanc combined with crispy meringue and fresh cream topped with thin slices of chestnut cream make it one of a kind.

和栗モンブラン専門店 栗歩

東京都目黒区自由が丘1-9-6 オハナビル 2F

0364595535

05

Marron Chantilly at Tokyo Kaikan (Tokyo)

One of Tokyo's luxurious halls and networking spaces, Tokyo Kaikan hosts a jaw dropping sweets using chestnuts. Marron Chantilly is their traditional sweets with soft and mellow taste and golden chestnuts inside. While the Earl Grey Marron Chantilly only available for a limited time has a flavour and aroma of earl grey tea leaves that has been fully extracted to add to the flavour of the cream. Also, another seasonal sweets, the Premium Marron Chantilly made from Japanese chestnuts are sourced from Kasama and are shredded with whipped cream for a light and fluffy texture. This is a paradise for anyone who loves chestnuts.

marron chantilly is only available from Oct 1st to Oct 31st 2020

marron chantilly earl grey is only available from Sep1st to Sep 30th 2020

marron chantilly poire only available from Nov1st to Nov30th 2020

4.0

11 Reviews

Tokyo Chiyoda-ku Marunouchi 3-2-1

0332152111

06

ASTERISQUE (Yoyogi-Uehara) 

Asterisque's white shop is lined with delicate, high-quality, colorful cakes. Among them, the Mont Blanc cake "Mont Blanc Crémer" is especially popular in autumn. The appearance of the marron (chestnut) paste standing tall atop the cake is a sight to behold, and the mascarpone cheese based cream inside the cake is plentiful also. It's a very tasty example of Mont Blanc; a taste further enhanced by the addition of nuts.

Mont Blanc Crème

Tokyo Shibuya-ku Uehara 1-26-16 Tama Techno Building 1F

0364168080

[Shop] 10:00-20:00[Cafe] 10:…

07

à tes souhaits!(Kichijoji)

Mont Blanc from "à tes souhaits!" has a tall, very distinctive form. Sitting on an almond meringue foundation, it has 3 layers comprising of a thick and very milky whipped cream, and a chestnut cream layered on top of a tall Japanese chestnut. Japanese and Western chestnuts are always kept separate, so you can appreciate the taste of both varieties. The store is very popular, to the extent of having queues outside during weekdays, which suggests it is a place to check-out based on the classic Japanese popularity tradition of "waiting in line = good"!

4.5

116 Reviews

Tokyo Musashinoshi Kichijoujihigashichou 3-8-8

0422290888

Housed in a beautiful, landmark purple building, "AIGRE DOUCE" in Mejiro is one of the Tokyo pastry industry's most famous shops. Seasonally limited to fall and winter, "Torche aux marrons" is freshly made in the kitchen upon ordering. The cake has an expiration date of only 1 hour, which might seem ridiculously short, but it's a time-frame set with the intention of preserving the texture of the meringue and maximizing the enjoyment of the flavor of the smooth, homemade chestnut cream. As such, it's obviously strongly recommended to eat the cake in-store at the time of purchase.

「AIGRE-DOUCE」外觀

4.5

58 Reviews

Tokyo Shinjuku-ku Shimo-Ochiai 3-22-13

0359880330

09

Hotel New Otani Patisserie SATSUKI

Hotel New Otani's Patissier Satsuki offers a variety of unique Mont Blancs, and one of the most recommended is the "Super Montblanc" made with carefully selected ingredients.

Super Mont Blanc

4.0

100 Reviews

Tokyo Chiyoda-ku Kioicho

0332217252

10

Japan's first Mont Blanc shop "Mont Blanc" (Jiyugaoka)

Mont Blanc in Jiyugaoka is the first shop that started selling Mont Blanc in Japan back in 1933. The founder, Mr Sakota tasted for the first time a Mont Blanc at Angelina in Paris, where he wanted to open his shop to introduce the sweets in Japan. He then got the permission to make this Mont Blanc in Japan and in the same year in1933, he founded the pastry shop, Mont Blanc in Jiyugaoka. A bit different from the one of Angelina, the Mont Blanc sold in Japan was yellow because Mr Sakota decided to use chestnuts in syrup whose colour was yellow, which was familiar to Japanese people at that time.The colour of Mont Blanc in Japan had been yellow for fifty years before Angelina of Paris opened shops in Japan in 1984.

The yellow chestnut cream is decorated with meringue that looks like snow on a mountain top. And the inside is stuffed with rich marron cream.

4.0

47 Reviews

Tokyo Meguro-ku Jiyugaoka 1-29-3

0337231181

10:00-19:00